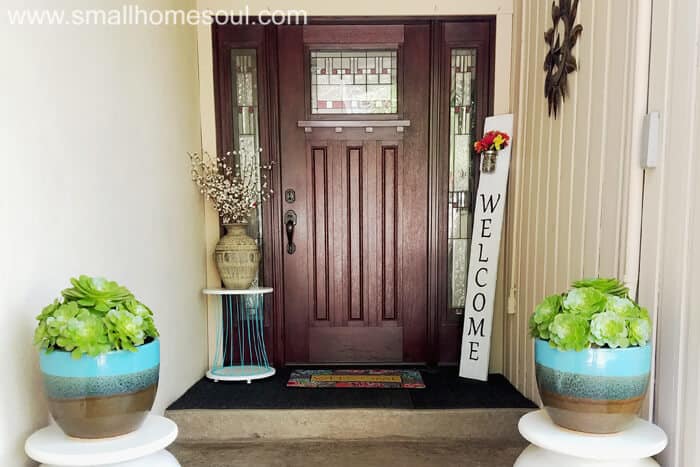 Most of us have a welcome mat at our front door, or at least something to wipe our feet on before entering.  But how many of those truly get noticed by guests, or even us as we're going in and out?  The easy answer is to display something welcoming and eye catching too.  Even better if it can be easily updated for the seasons.  That's why when I did my Porch Makeover recently I included a welcome sign.  I'll show you how easy it is to make your own.
This post contains some affiliate links.  If you click on a link and make a purchase it doesn't cost you extra but I earn a tiny commission which helps support my blogging habit.  See my full disclosure here.
I bought some fence boards last summer that I stained for another project.  Instead of buying something new I decided to just use one for this project.  Using a smooth piece of wood will make your project easier and faster but having a bit of a rustic look is good too.
I used some old Chalk Mix Paint from another project and gave my board a few coats of paint.  I let some of the darker wood show through in parts.  Be creative as you apply your paint, thicker in some areas and thinner in others adds dimension.  If you like the farmhouse look you could even distress it by giving it a light sanding.
While the paint was drying on the board I went to the computer and found a font I liked.  I ended up using Gabriola that came with Photoshop Elements but if you only have MS Word you can use Lucida Handwriting which is pretty close.  Any font you like will be lovely.
Do a little math to determine the spacing that will work best for your board.  I wanted mine to have the flower vase at the top so my letters ended up being 5″ tall with 1.5″ space between each letter.  After I taped them together with the proper spacing I placed them on the board.  Painter's tape hold them in place while you work.
Slide the transfer paper under your first letter and use the plastic cap of a pen to trace around your letters.  Be careful not to tear your paper or let it move while you trace.
Before moving on to the next letter lift the papers to make sure you get a good transfer.  You can easily retrace any areas that might be missed or too faint to see easily.
After you get all the letters traced you're ready to start outlining with the paint pen.  My board was bumpy so I had to go slowly; and I worked furthest away from me and traced toward me so as to not smudge the painted lines (yep, learned that the hard way).  If you smudge your paint don't panic.  When it's dry you can paint over it with white paint.
After your letters are traced you can start doing the fill in with craft paint.  Once everything is filled in you can touch up any rough spots, or paint over any black areas with white where you might have "colored outside the lines" 🙂
Remember I said my board was rough?  Check out my O below.  That took some finesse and some detail painting but it looks great on the finished welcome sign.  Next time I think I'll use a smooth pine board 😀
While the letters on the welcome sign dried I got the flowers ready for the vase I was adding.  I had a bunch I'd purchased from the dollar store that just happened to be in the same colors as the welcome mat.  I love it when things come together in a happy coincidence.  Well, there is no purple but that's my favorite color so I threw it in anyway.
I didn't take pictures of how I fixed the vase to the board.  You can read about that process in my post about how I made the Mason Jar Utensil Caddy.  Hose clamps are easy to work with and a great way to securely hold the mason jar to the board.  Tiny pebbles or glass beads are perfect for holding the flowers in place.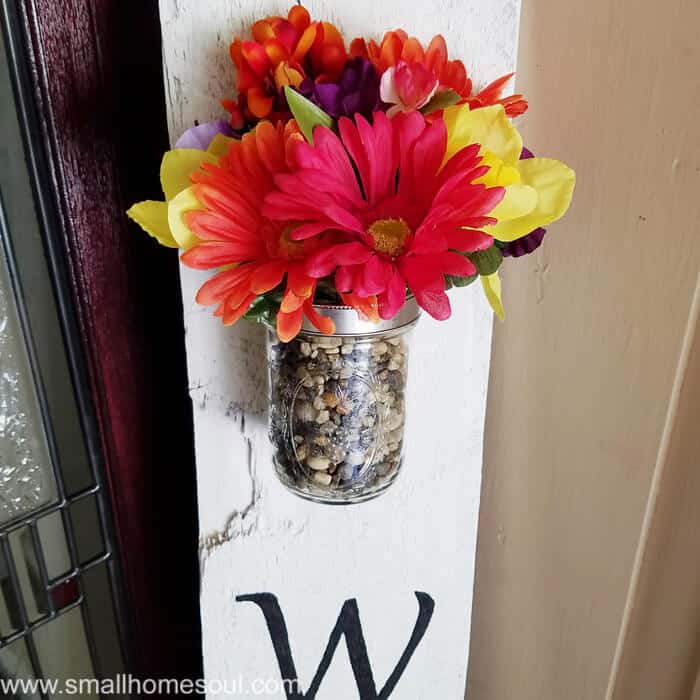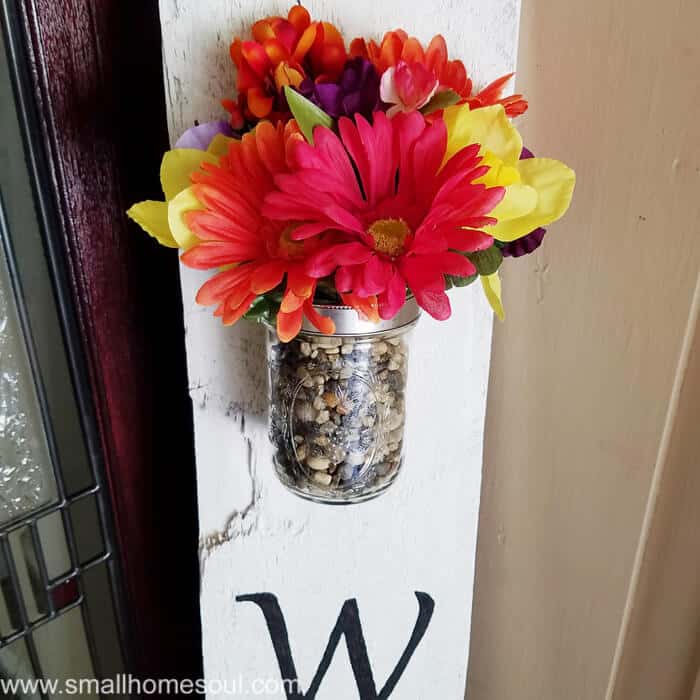 I'm sorry if some of my pictures aren't super crisp.  My camera was in the shop during this project so all these were taken with my cell phone.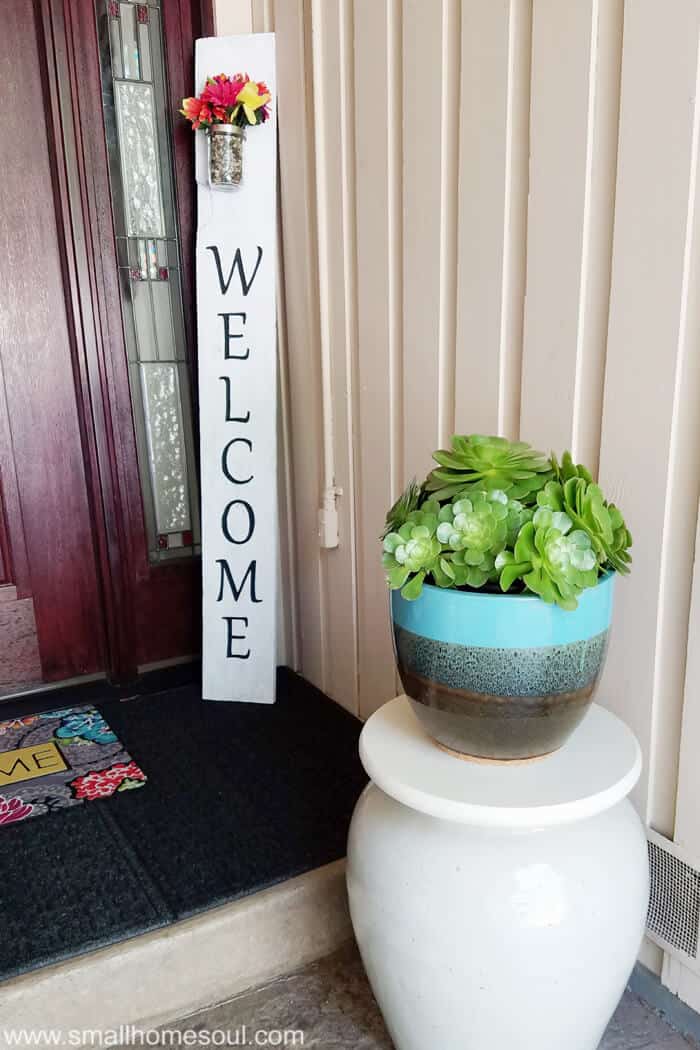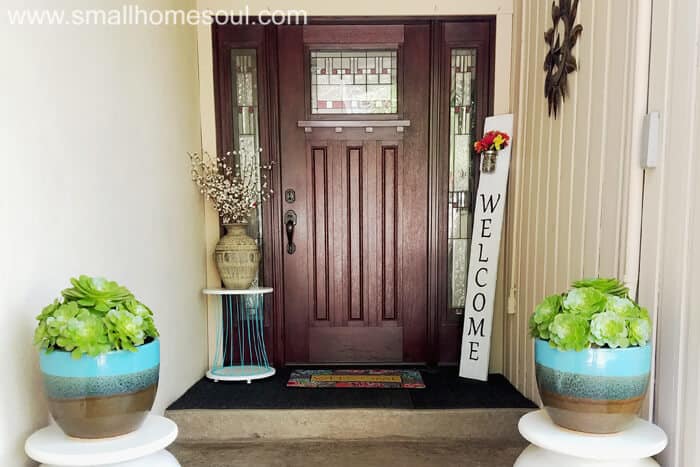 I really love how our new Welcome Sign brightens up the porch.  I can't wait to change the flowers out from time to time as the seasons change.
Don't forget to Pin It!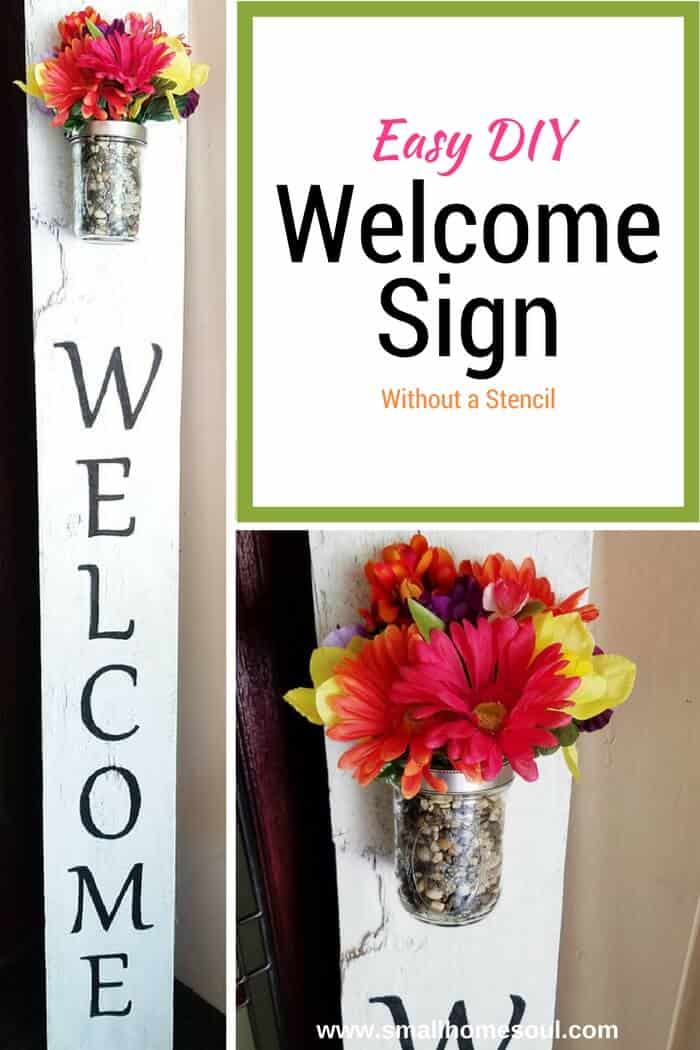 Now who's ready to make a Welcome Sign for your guests?
You might also enjoy: