Friends, I can't wait to show you this cute repurposed wooden rolling pin decor that I made for my sister's birthday.  I feel like it's super creative but I realize that it might give some vintage lovers pause, I'm OK with that because I love it and I'll show you exactly what I did to turn it into a beautiful gift.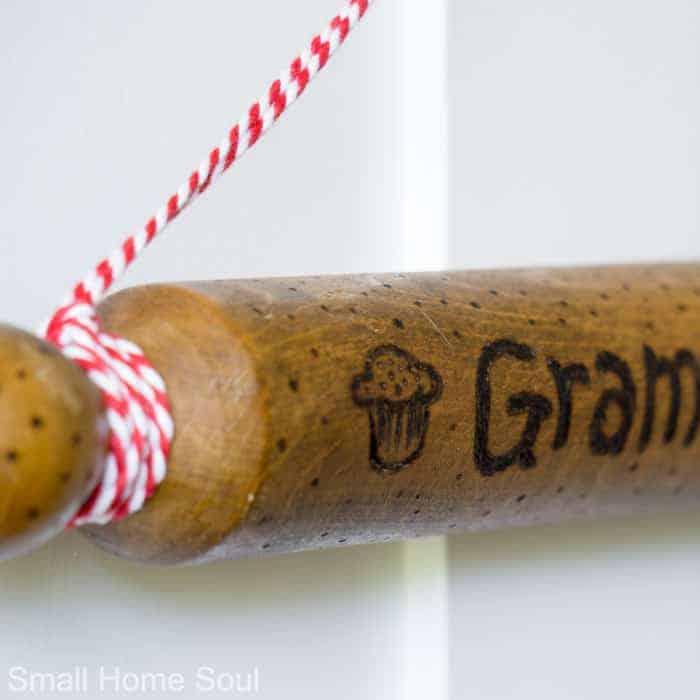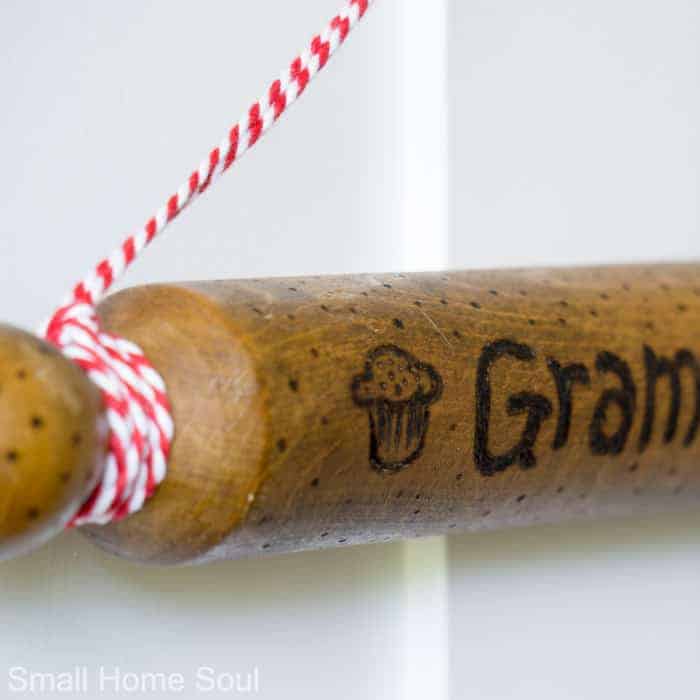 I'm sharing this project with you today as part of another blog hop I'm doing with a few blogger friends.  I love participating in the hops because it gives you an opportunity to see projects created by other talented people and it helps us reach a wider audience we might not otherwise be able to share our projects with.  Make sure you visit their projects via the links at the bottom 🙂
This post contains links to products, if you purchase something after clicking on my link I may earn
a small commission (at no extra cost to you).
Rolling Pin Decor Supplies
Vintage Wooden rolling pin
Design printed on paper
When my sister, one of my sisters, birthday was coming up I was stumped as to what to get her.  It was a milestone birthday so I wanted it to be something more special than a gift card or a trinket.  Once I knew I was going to use the old wooden rolling pin I'd bought at a thrift store I decided on the saying "Happiness is Homemade."  Until…..
My sister sent me a picture of some redecorating she'd done.  It looked loveley.  And then I spotted it.  A little wooden sign on her shelf with the exact saying I was going to use.  At first I thought, "just pretend you didn't see it, Toni, it'll be ok."  But I knew I couldn't do it because, lying is bad.
I was bummed and the days were counting down until her birthday party and I started to panic. Then it hit me, the perfect saying 🙂  My sister loves to cook but she also loves to bake, and she's also a grandma and I was thrilled when the perfect saying just came to me.  You'll see it in a minute but first let me share with you how to make your own.
I'm going to show you how to use a wood burning tool to make this cute DIY gift.  I'm still fairly new at it but my first Beginner Wood Burning project turned out pretty good and that gave me the confidence to try again.
Determine your saying and font and print it out.  If the rolling pin or board is wider than the paper, like my wooden rolling pin was too wide for the paper don't worry.  Split your saying on two pieces of paper and tape them together making sure the words line up.
Cut out your saying so there's not too much extra above or below.
Place a piece of transfer paper on the rolling pin the same size as the saying and tape your saying over the top so that it won't move.
Trace the outline of the letters with the end of a pen.  This mechanical pencil tip worked great.
Lay it on a towel or cloth so the rolling pin doesn't slide.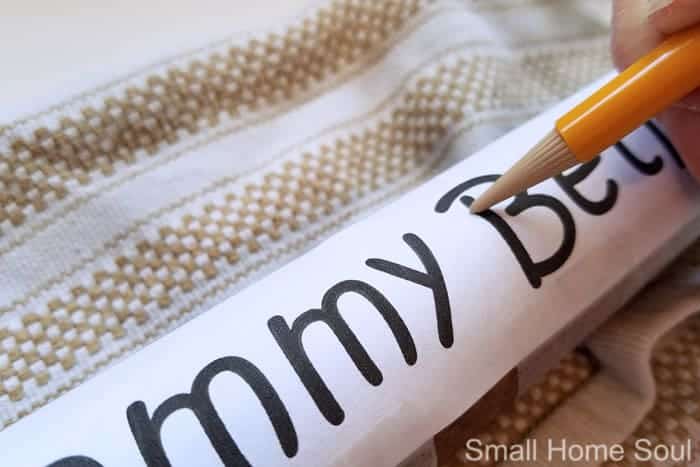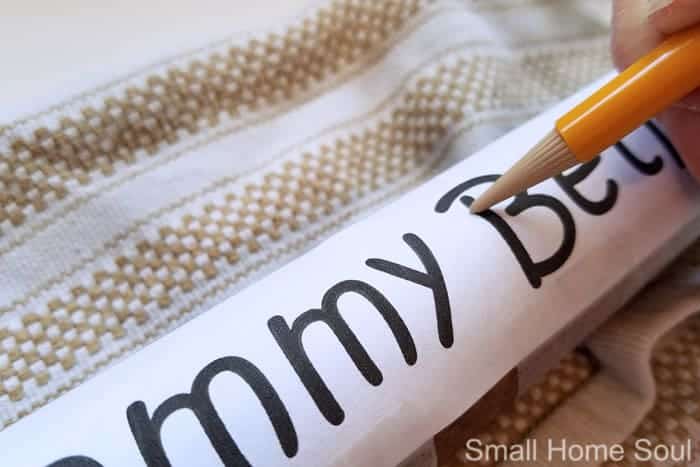 Carefully lift up the paper and transfer paper and check to see that you traced all letters and lines.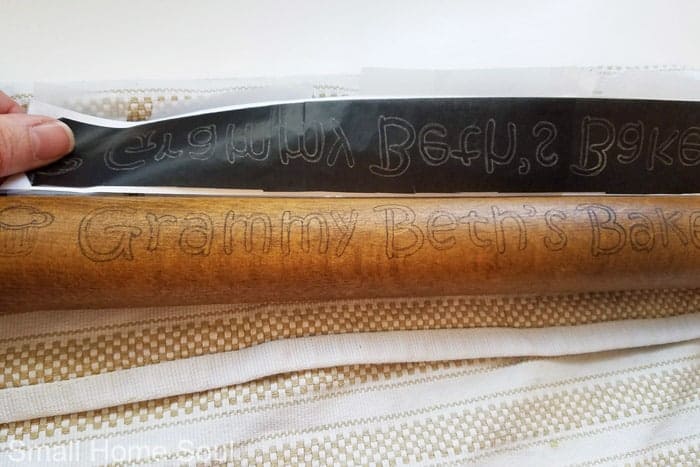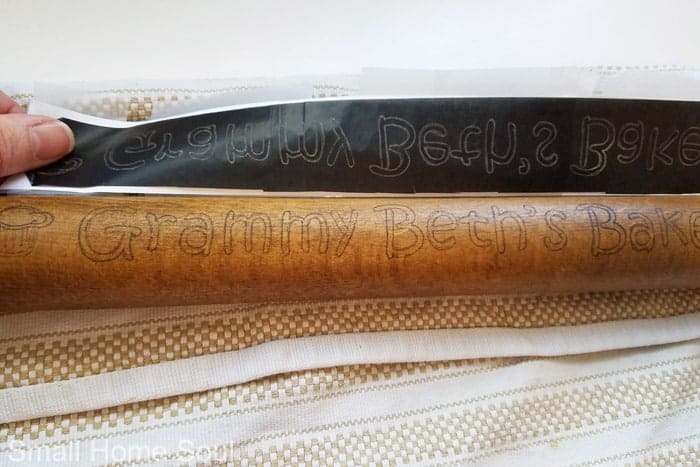 If some spots are too light or not traced at all simply drop the paper and trace over those spots.  I love transfer paper, I used it also to make a Welcome Sign for our porch without a stencil.
Preparing to Wood Burn your Rolling Pin
You'll want to take some safety precautions when you're wood burning.  I always have a coffee cup handy on a cork coaster to hold my wood burner when it's heating up and between uses.  They come with a little stand but honestly that doesn't work very well.  You don't want to ruin your table surface, or worse burn your house down.  Remember to turn off and/or unplug it when not in use.  Let's get started!
Roll or fold up a towel to rest your arm on while you wood burn and this will keep your hand steady while you work.
Start by outline the letters. I like to start by doing all up and down lines first and then going back over and doing the side-to-side and curves.  You should practice on a scrap board before you dive into your first project to get the feel for it.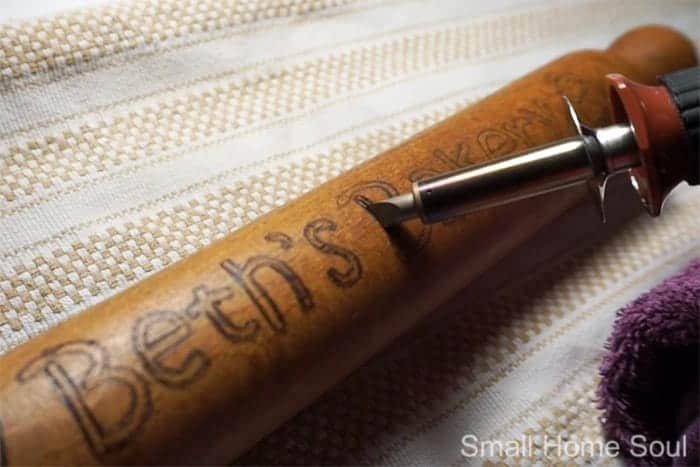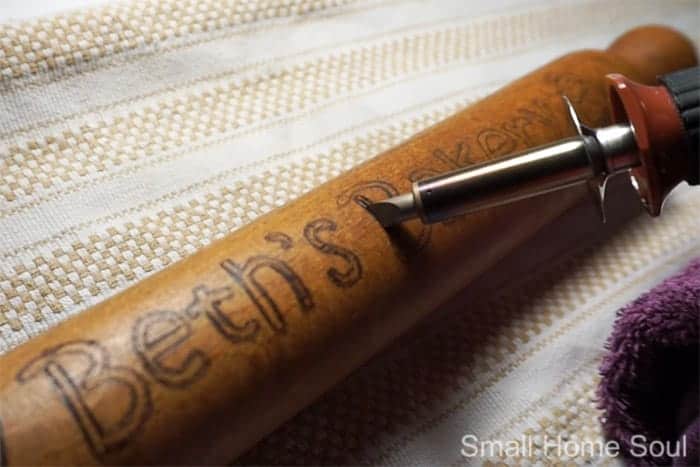 After everything is outlined turn off the wood burner and let it cool a bit before changing the wood burning tip to do the fill in.
Carefully burn the insides of the letters you just outlined.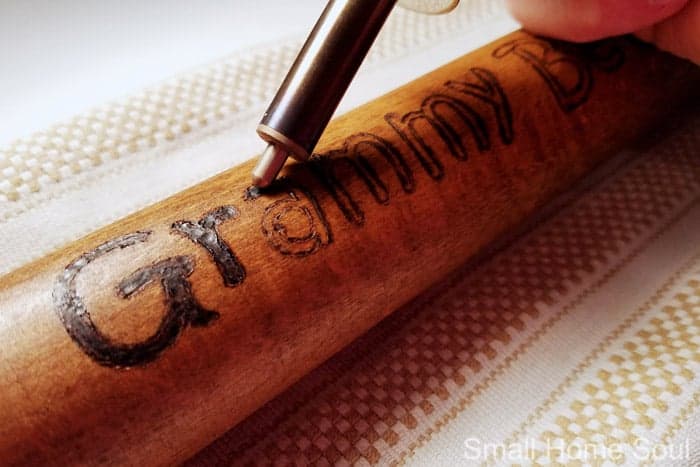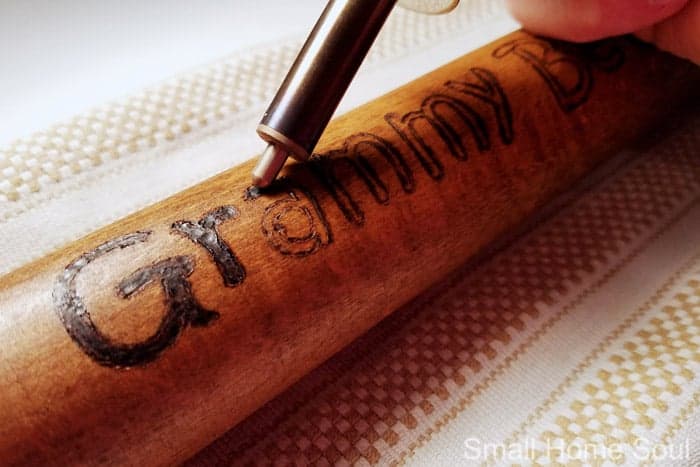 This is only the second free-hand project I've done with my wood burner.  I had fun playing around with burning letters when I made the Phone Charging Stand.  I'll be sharing my other free-hand project soon.
Anyway, after I was all done burning the saying I "signed" the back and decided to add some burned dots all around for some extra fun and interest.
Not knowing if my sister would want to hang it or put it on a shelf I decided to create a hanger with red and white bakers twine.  Perfect since she loves to bake and rolling pins are for baking 🙂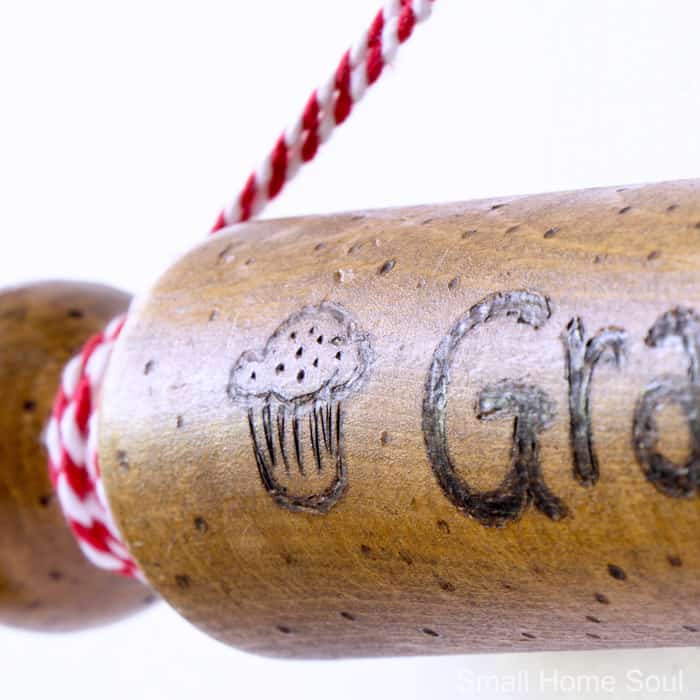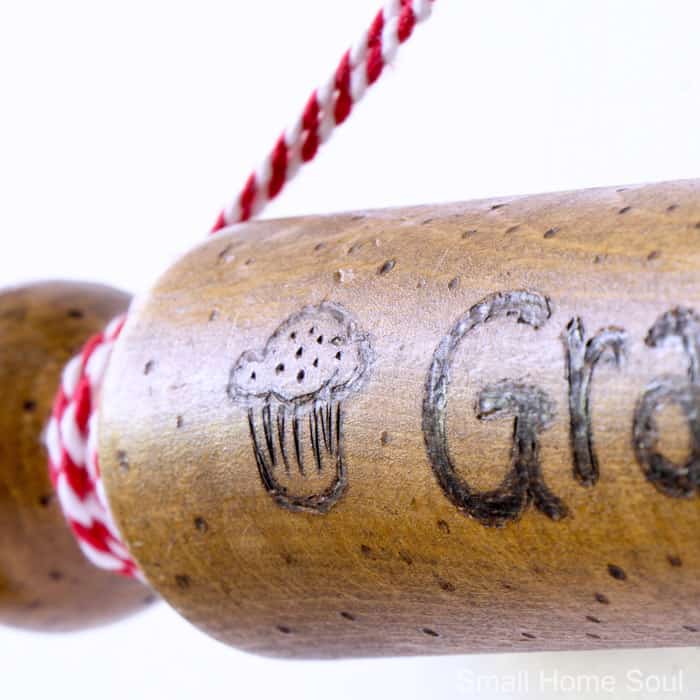 This little muffin turned out so cute, I was so worried.  I'm not sure that the cookies on the other end turned out as good LOL.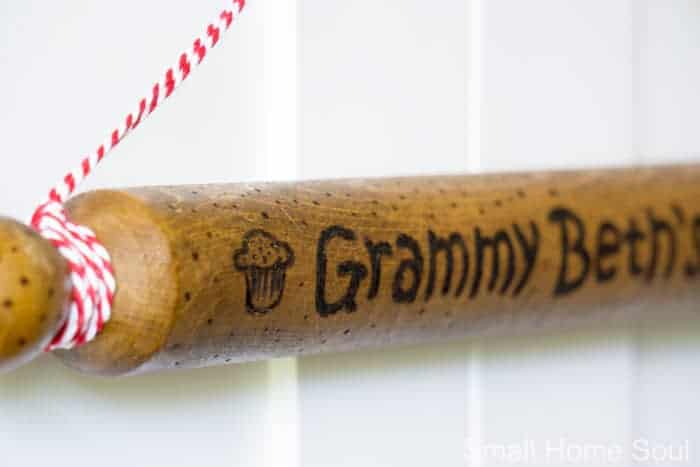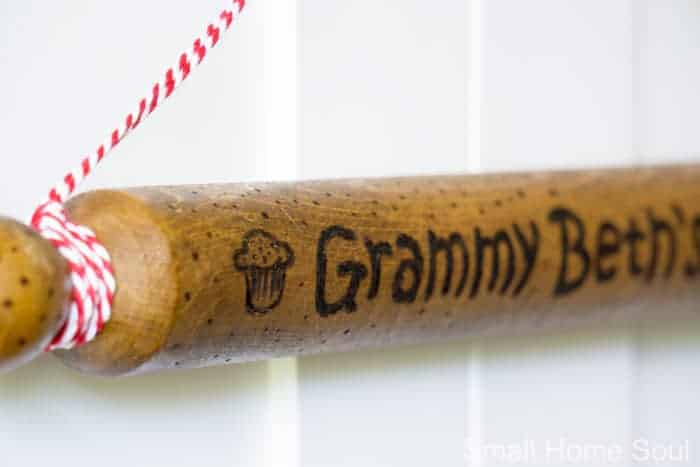 I wish I'd taken pictures of how I wrapped that baker's twine around the handle so I could tell you exactly.  A long length was doubled up and I tied a short knot in the end.  The I believe I wrapped the lengths around either end and tied a knot and buried the loose end under one of the loops.  It's nothing fancy but it holds well.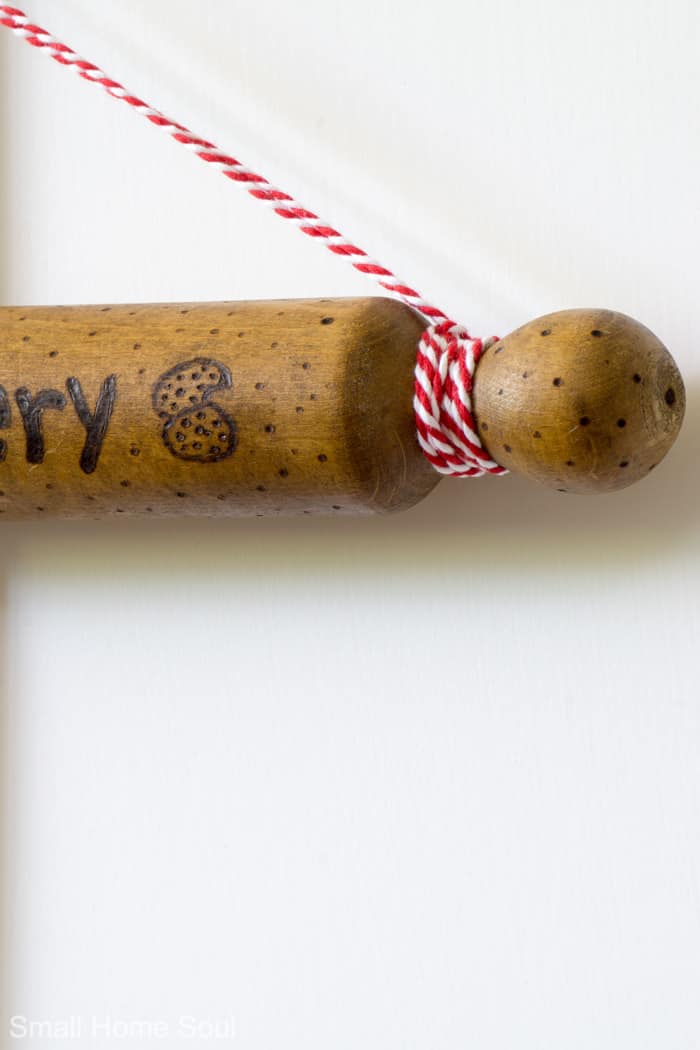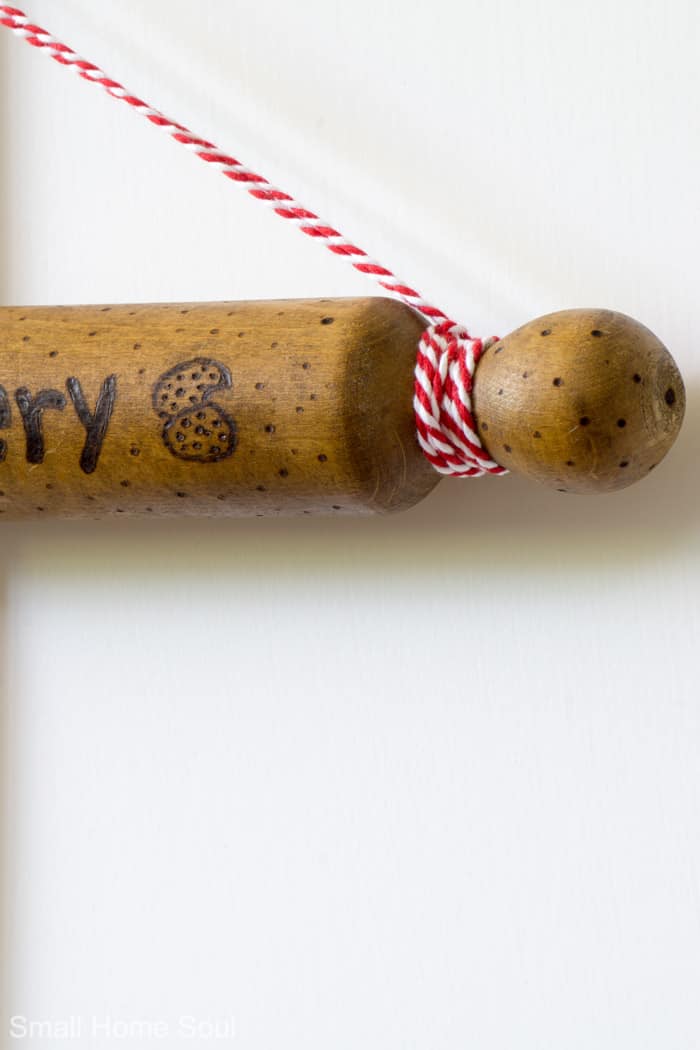 Here are the "cookies."  They don't look good enough to eat but not bad overall LOL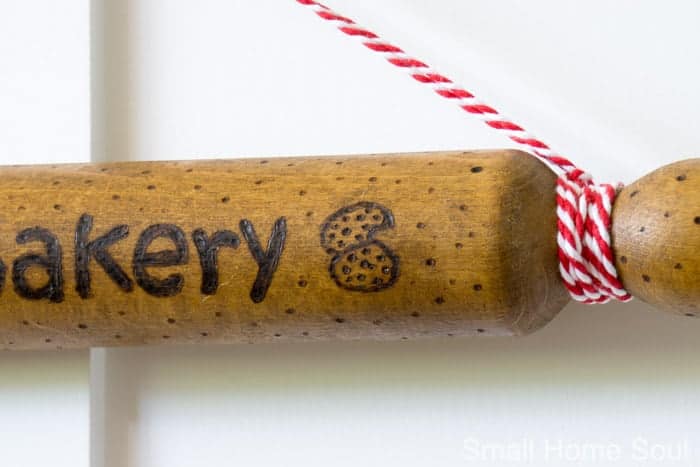 My sister loved her gift and last week she sent me a picture of where it's hanging over the wall leading into her kitchen.  That made me smile so big knowing she loved it.  Happy Birthday sis!!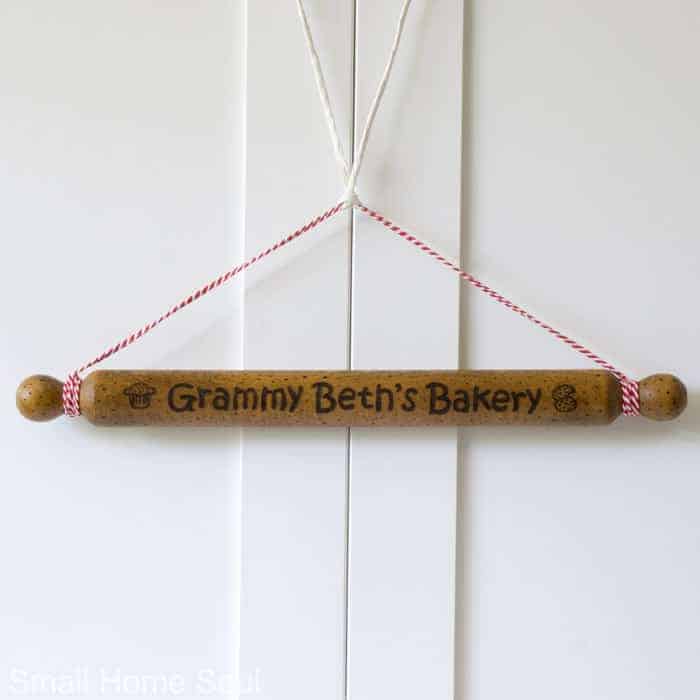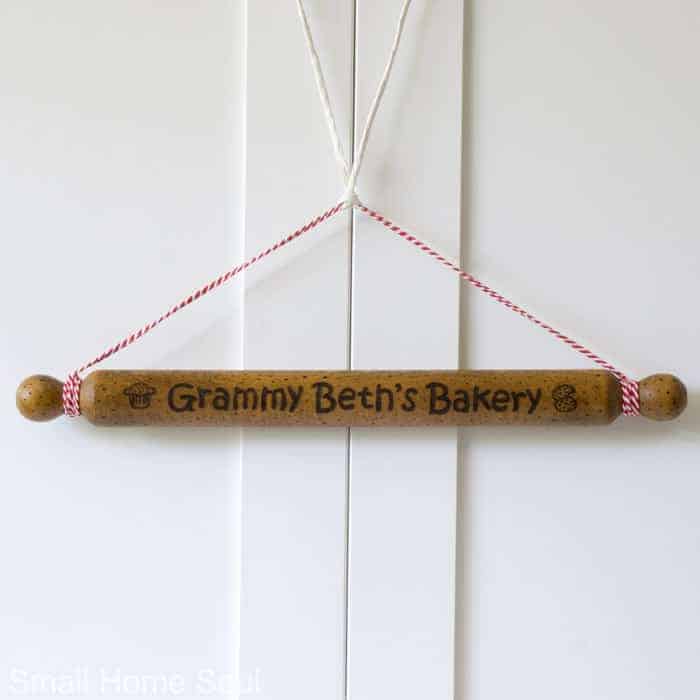 LOVE IT?! PIN IT!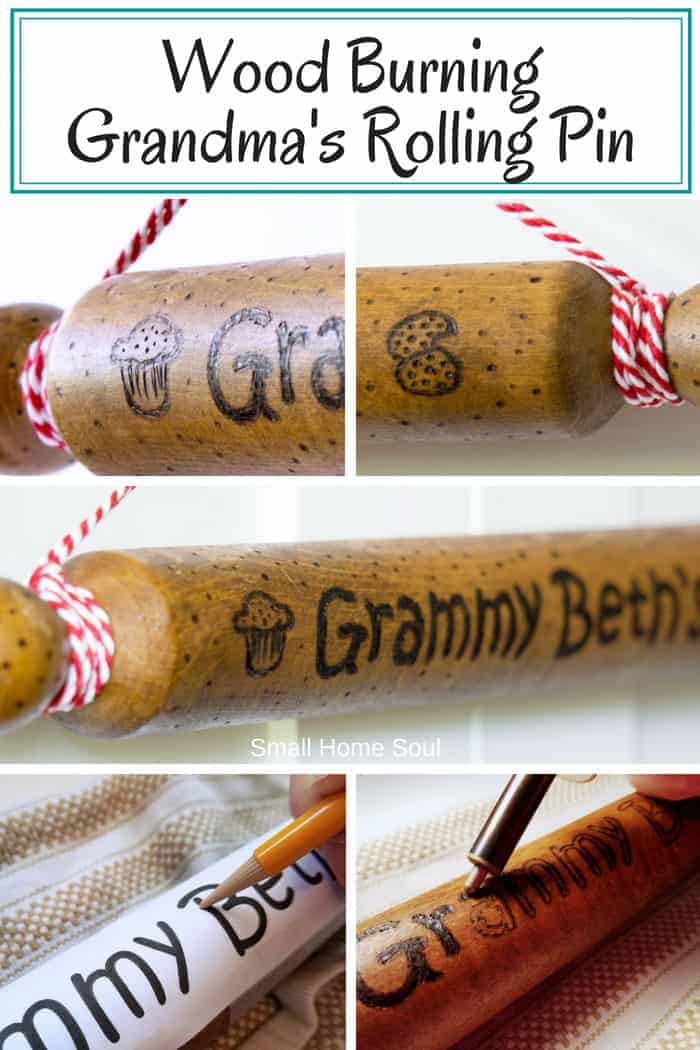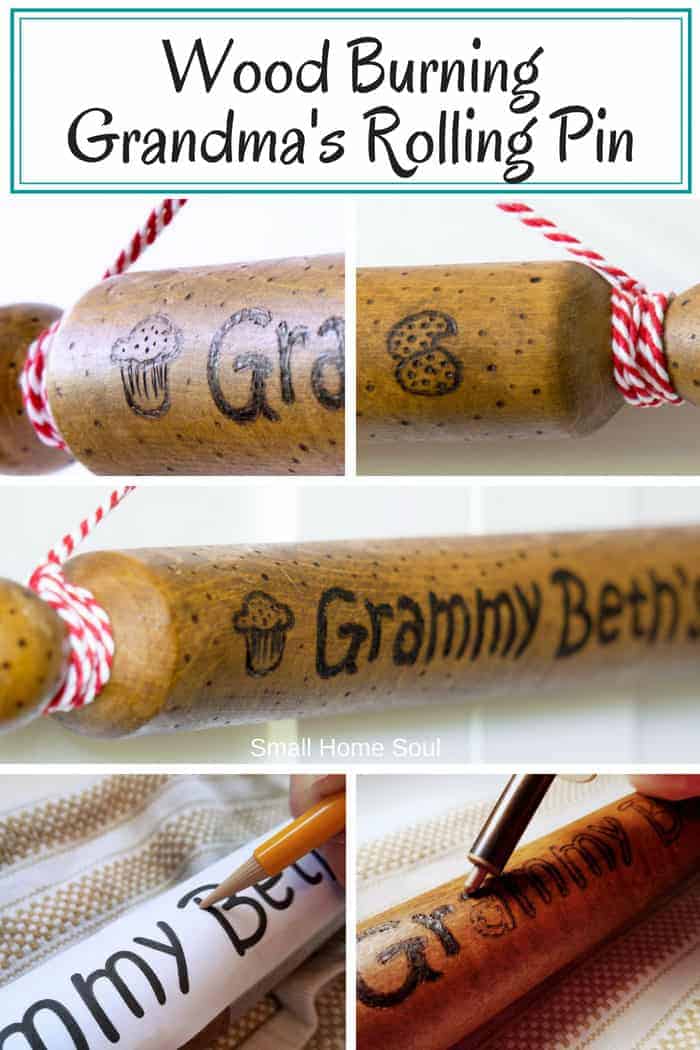 Now that you've seen my project don't forget to visit my friends' posts to see what creative projects they've shared this time.
XOXO
Toni

Welcome to Our Monthly Creative Blog Hop
Katrin | Kreativ K
Amanda | Life On The Bay Bush Blog
Toni | Small Home Soul
Sam | Raggedy Bits