Have you priced Christmas Pillows lately? The good ones are pretty expensive, and the cheap ones are, well, cheap. But you can get a quality pillow for little money and a little effort. This Christmas Pom Pom Pillow cost me less than $10 and it's as good a quality as you'd find in a department store.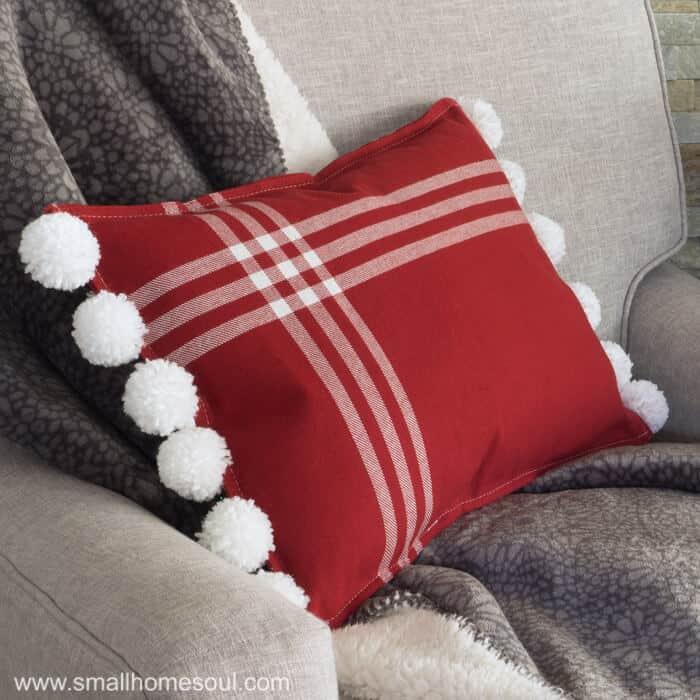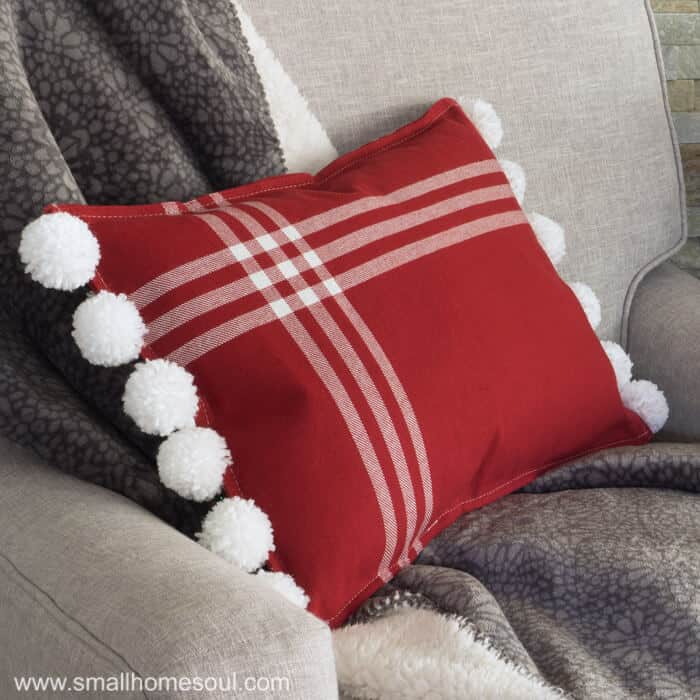 My secret is that I made mine from two Christmas place mats I bought at Target last year. Add in a skein of yarn for the pom poms and it's a low budget project with a big budget return.
Just like when I created my 2×4 Patio Table, I'm participating again with Remodelaholic but for a #CreativeChristmas Challenge this time. We were challenged to create anything Christmas related and a bunch of us accepted her challenge.
There are a ton of great projects from the bloggers who participated; so check out their projects at the bottom of this post. So much inspiration to get you in the crafting and diying mood!!!
This post contains links to products, if you purchase something after clicking on my link I may earn a small commission (at no extra cost to you).
Christmas Pom Pom Pillow Supply List
Gather your supplies
Step 1: Make 12 Pom Poms.
Click over to this link to learn how to make Perfect Pom Poms every time.
Step 2: Evenly space out the pom poms.
Evenly space 1/2 of the pom poms on either end of the backside of one place mat.
Using a piece of chalk make a mark where each pom pom will be sewn.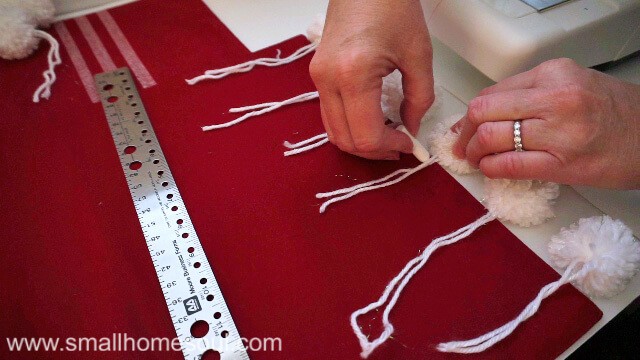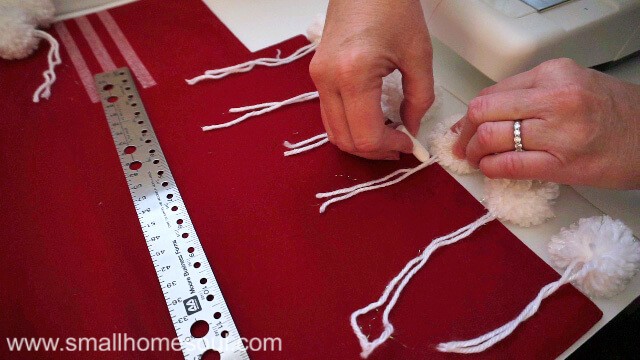 Step 3: Mark and hand stitch the pom poms.
With the placement marked hand stitch the long tie end of the pom pom in place. Be careful not to let the thread show on the face of the place mat.
If this is a bit confusing you can see the full process in the video below.
This will secure the pom poms during sewing. To keep them from slipping wrap the long end around a pin and secure it to the place mat. Do this on both ends.
When the pom poms have been stitched on both ends place the second place mat on top and pin together. The backsides of both place mats will be together.
Assembling your Pillow
Step 4: Sewing the pillow cover.
Lay the other place mat on top of the first which has the pompoms and pin together.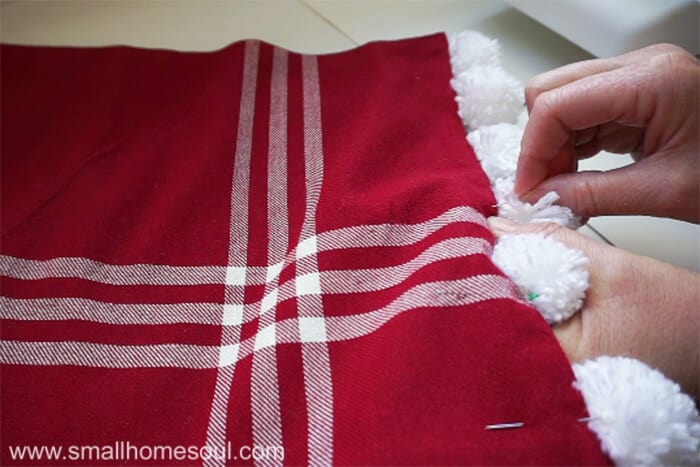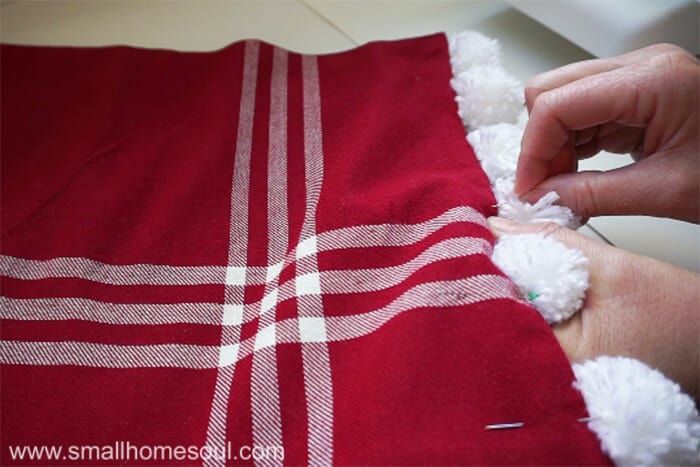 Top stitch the short ends approximately 1/4″ from the edge. Keep your pom poms out of the presser foot and needle. And keep your finger safe as well.
If you've ever had your finger pinched or knocked by that fast-moving needle tightening screw (what's it called?) you won't make that mistake again 🙂
Remove the pins that held the long tails of the pom poms and sew one long end from side to side. Sew the other long end leaving an opening of about 5″.
Step 5: Fill your pillow.
Grab your polyfil and get to stuffing your Christmas Pom Pom Pillow. You can either buy bagged poly-fil or use some from a cheap bed pillow (don't we all have some of those?).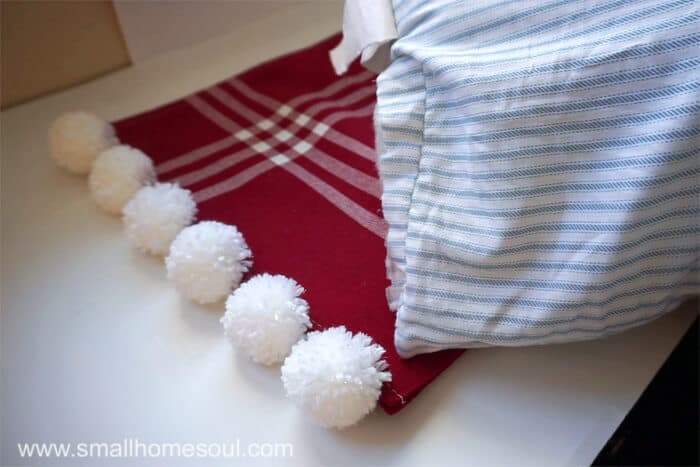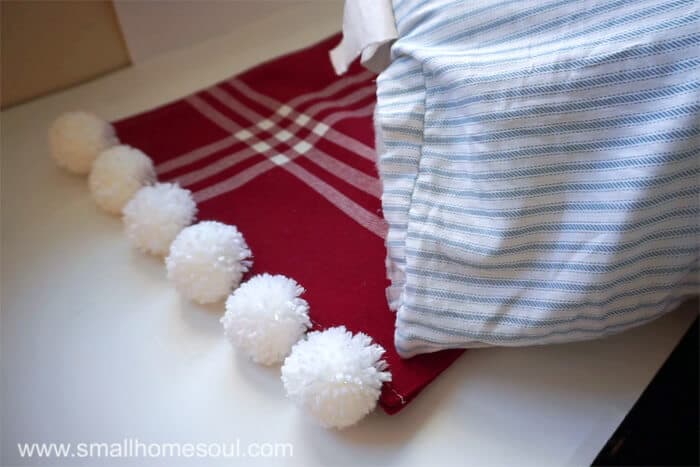 After your Christmas pillow is stuffed to your liking push the stuffing in quite a bit from the opening and pin the edges together. Take it back to the sewing machine and stitch that section shut.
You might have to man-handle the pillow a bit to get it under the presser foot. I had to rip mine out and sew it a second time because it slipped.
After that final corner is stitched shut move the batting around and into the corner. And that fast you have a beautiful Christmas Pom Pom Pillow that would cost you at least $35 if you bought at a department store.
More Christmas Projects
Wire Art Christmas Tree – Button Ornaments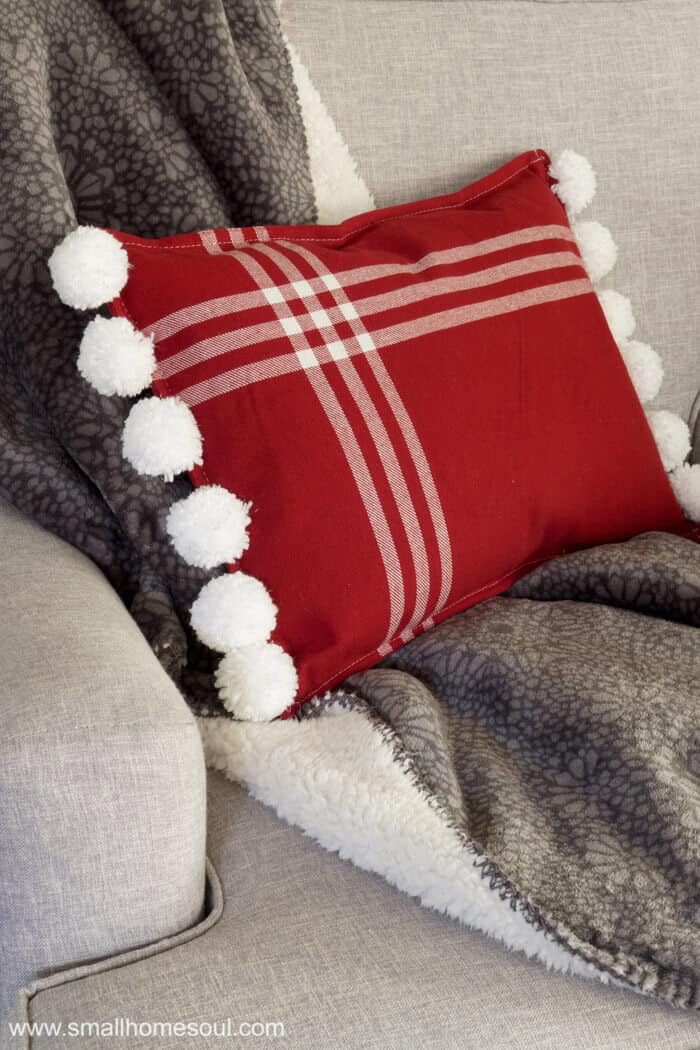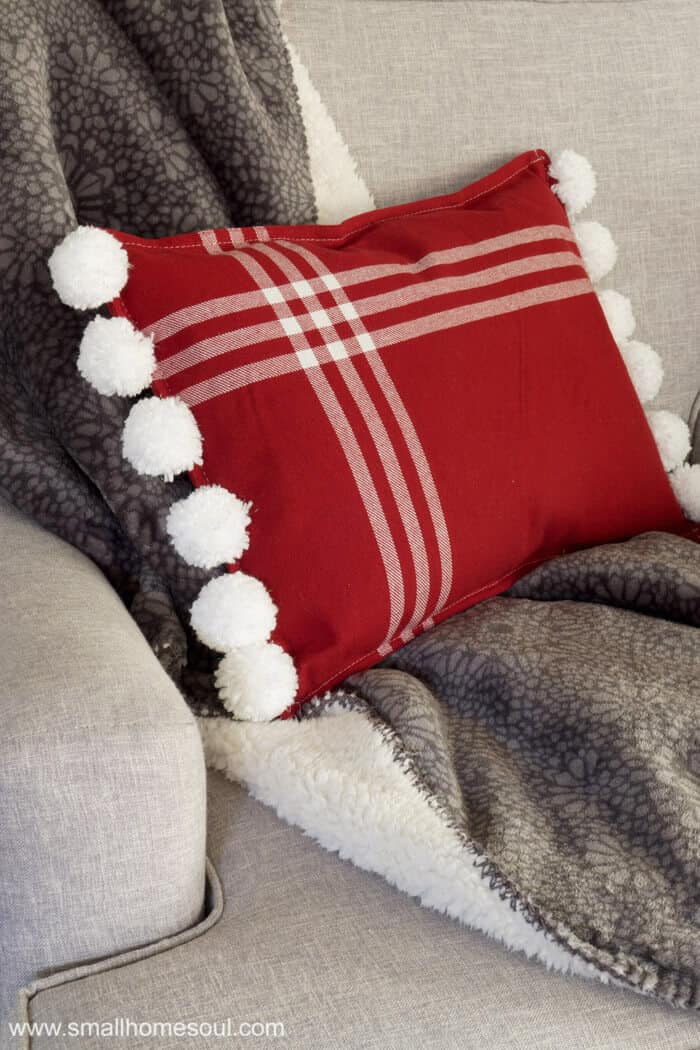 Pair it with a comfy throw and you're ready to cozy up by the fire and wait for Christmas to arrive.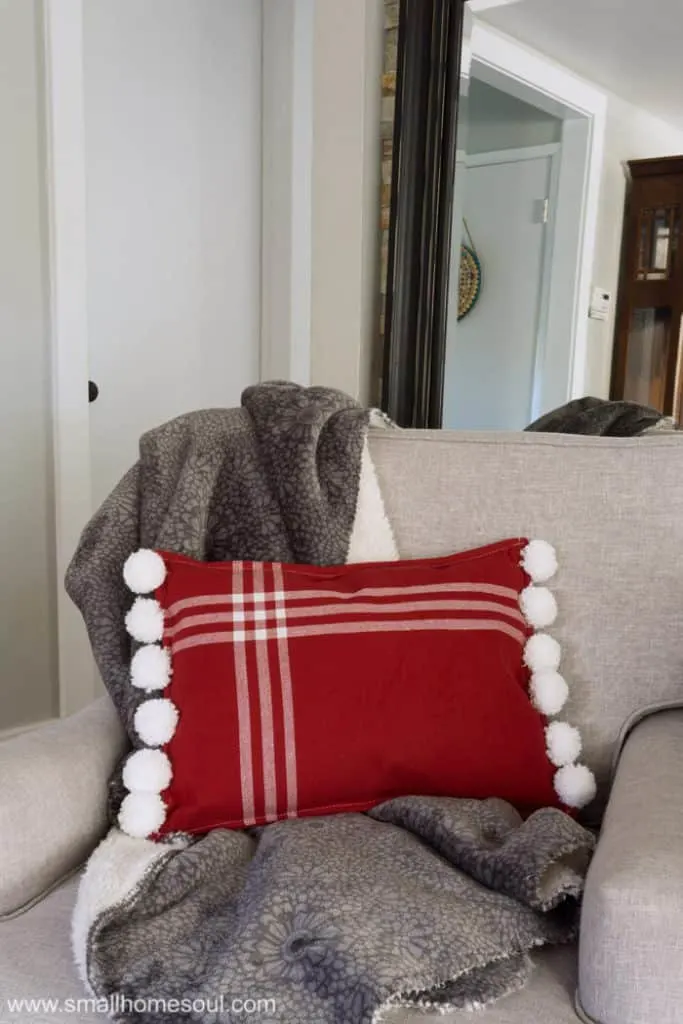 Love It, Pin It!
Thanks again to Remodelaholic for getting us crafting for Christmas! Visit my challenge partner's projects in the links below
DIY Christmas Gifts and Decor
Christmas Pine Hoop Wreath | This Mama's Dance
Gingerbread Man Candles | Nourish and Nestle
Wire and Glass Chandelier | Home with Cupcakes and Crinoline
Christmas Scroll Wall Art | Grace In My Space
Lighted Wood Trees | Frazzled Joy
Crocheted Christmas Hat | Luz Patterns
Christmas Card Photo Display| Hertoolbelt
JOY Porch Sign | Ginger Snap Crafts
Folding Bar Cart Table | Everyday Party Magazine
Wood and Burlap Christmas Sign | Leap of Faith Crafting
Wood Block Snowman | Anika's DIY Life
Holiday Candle Wrap | Dragonfly & Lily Pads
Christmas Pom Pom Pillow | Girl, Just DIY!
Handlettered Wall Art | Smiling Colors
DIY Christmas Trees and Ornaments
Wintry Silver Dollar Store Christmas Tree Decor | Remodelaholic
Marbled Christmas Ornaments | Doodlecraft
Scrap Wood Inlay Ornaments | The Ugly Duckling House
Woodburned Wood Slice Ornaments | Sisters What
Flocked Pine Cones | Practical and Pretty
Abstract Monogram Ornaments | Domicile37
Concrete Christmas Ornaments | The Palette Muse
Wood Slice Deer Ornaments | Our Crafty Mom
Vintage Gumball Machine Ornaments | Beth Watson Design Studio
Etched Glass Ornaments | Just Call Me Homegirl
Unicorn Inspired Christmas Tree | The DIY Mommy
Driftwood Reindeer Ornaments | Sustain My Craft Habit