This shop has been compensated by Collective Bias, Inc. and its advertiser. All opinions are mine alone. #OneTreeOneBag #CollectiveBias
Just when you thought you knew a lot about a company, you learn something that makes you love them even more. Enough to make them your favorite coffee. That happened to me recently and I'm excited to share with you something awesome I just learned.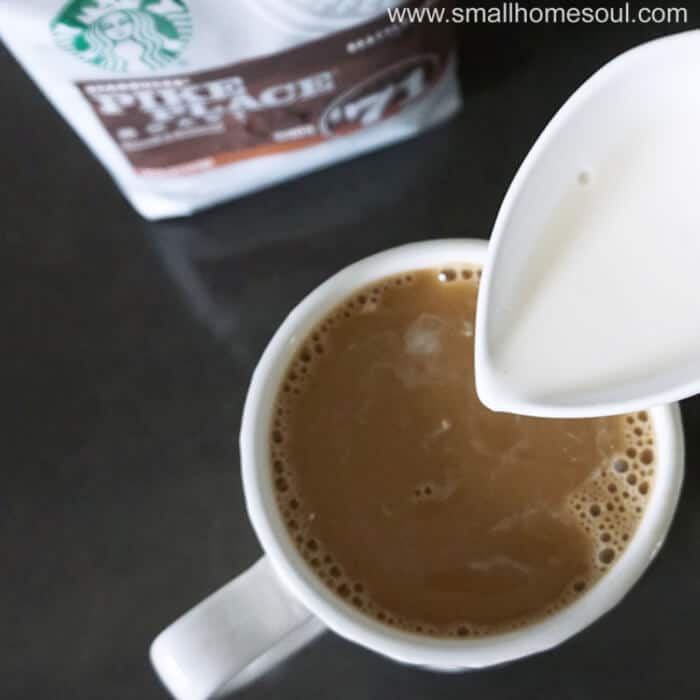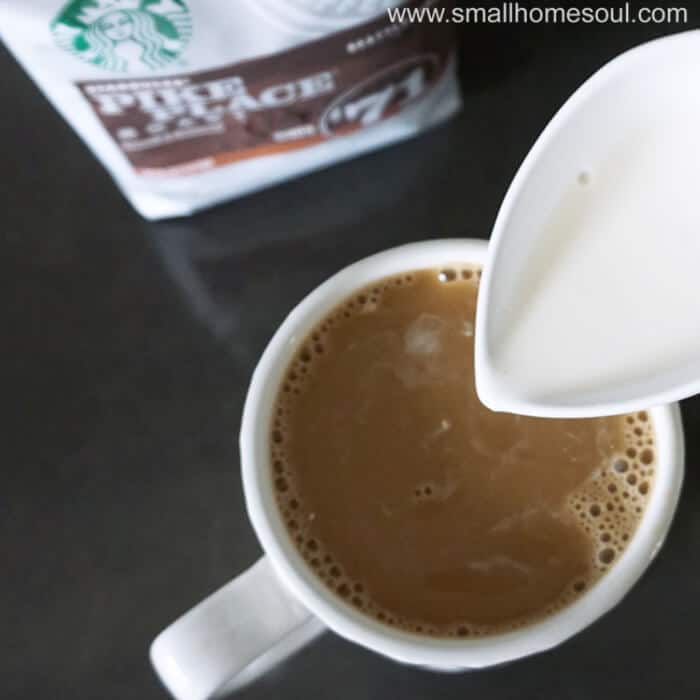 I've been a fan of Starbucks® coffee for a long time. Who doesn't love a steaming hot cup of coffee, or a yummy iced beverage? Purchasing their coffee in our local grocery store offers a nice variety of flavors. I can brew a cup or two (or a pot) any time I want and enjoy my favorite coffee while I work on projects for my blog.
I learned recently just how committed Starbucks is to helping the farmers and communities who grow their coffee.
Starbucks Commitment to Coffee Growers
For every bag of Starbucks® 10-12z & 20z Ground or Whole Bean coffee purchased at participating Albertsons Company stores in the U.S. from May 1st through May 28, Starbucks® provides one disease-resistant coffee tree to a farmer in Mexico, Guatemala or El Salvador by donating 70¢ to Conservation International to foster thriving coffee communities. To learn more, visit conservation.org/onetree
I headed to my local Safeway Store to support their cause and purchased a bag of pre-ground Starbucks® Pike Place® Roast. A win-win since my purchase will help Starbucks support a coffee grower, and keep me supplied with my favorite coffee beverage.
You can still find Starbucks® coffee on the coffee aisle. Safeway was having a big sale on coffee that day so I stocked up.
Check out the special Starbucks "One Tree One Bag" commitment display in the coffee aisle!
After I got home it was time to get busy on an upcycle project I'd been planning; but first, coffee. Brewed strong just how we like it at our house.
I love Starbucks message "We have always believed Starbucks can – and should – have a positive impact on the communities we serve. One person, one cup and one neighborhood at a time." It's so important for us all to be good stewards of our planet.
Lots of my projects are upcycled and repurposed using items that others might throw away. This does two things, it helps me save our hard-earned money on "new" things for my home; and, it keeps perfectly useful things out of the landfill.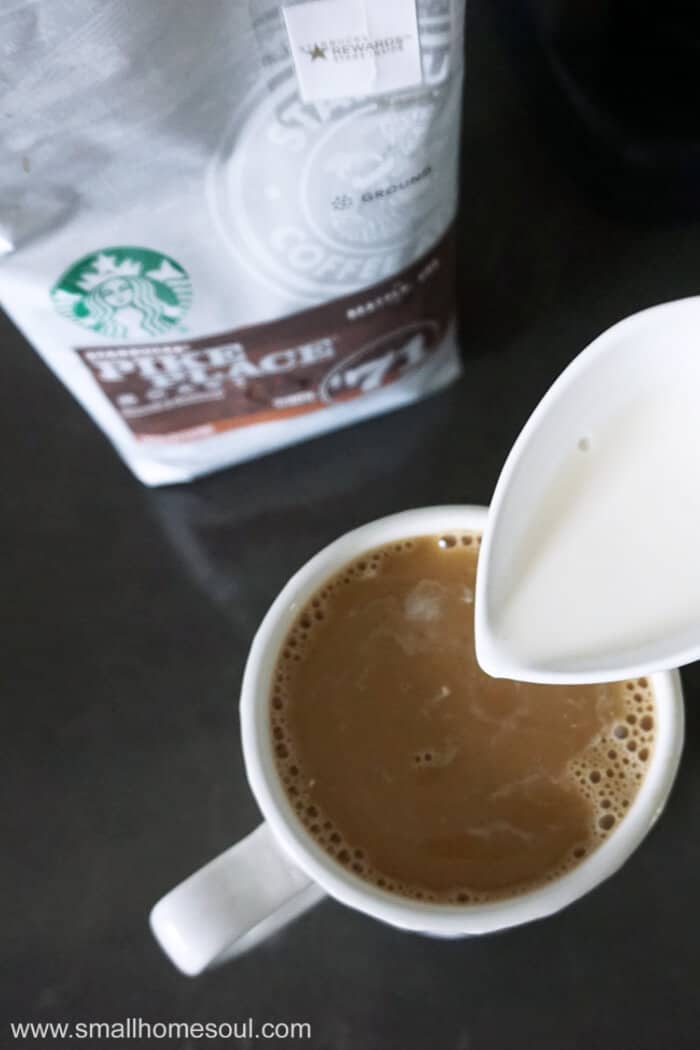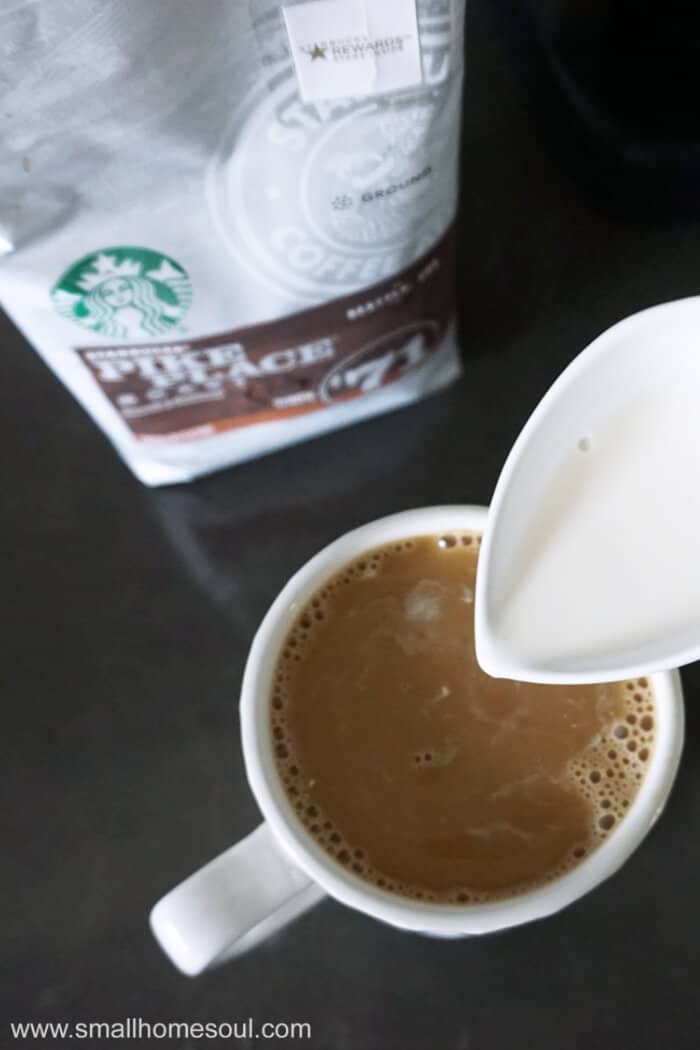 With my perfect cup of coffee, a little sugar and some cream, I'm ready to get to work.
My Commitment to Repurpose
If you've been around here for any length of time you know I'm a saver of stuff. And a buyer of perfectly good stuff from thrifts stores that just needs updating. A few months ago I found these cool coasters at a local thrift store for $3 and I'm going to give them a fun update. We had a set of these when I was a kid; heck, these could have been ours. Um, yes, I'm that old 🙂
It's a sad moment for me when the coffee pot is empty so I like to savor my coffee, bringing it with me to the garage or table when I'm working on my projects. Lately I've seen beautiful flat lay photos using yummy cups of coffee. Since this post is about my favorite coffee I thought I'd try my hand at it. I might still have some work to do on my styling 🙂
When I bought the coasters I also bought this awesome "retro" sander for $0.50. Everything was 50% off that day so the coasters and sander cost me only $1.75. Yes!! Two more items saved from the landfill and an inexpensive new item for my house.
When I'm done with my project and I've taken the pictures some of the photos need a little editing. You can be certain my favorite coffee goes with me to the computer, and maybe some cookies for a snack too.
Some editing sessions go quickly, and others take longer, requiring a second cup of my favorite coffee.
That's not a bad thing. I'm always looking for an excuse to enjoy another cup.
Thank you for letting me share with you what I learned about Starbucks. I think now you can see why they're my favorite coffee company. I hope you'll take some time to visit Starbucks and learn more, visit conservation.org/onetree
Pike Place is a registered trademark of The Pike Place Market PDA, used under license.