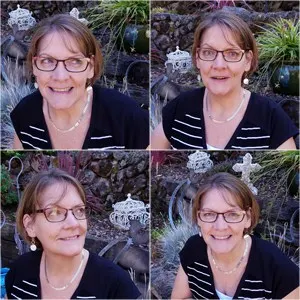 Hi, I'm Toni and I'm so glad you're here! If you're new here welcome, welcome, welcome!
I've been on this blogging journey more than a few years now and there's never a dull moment. I used to have a boring corporate job but after being outsourced I focused on being creative, build things, and making cool stuff to share with you.
God gave me this opportunity to shift gears and for that I am so grateful! I'm very thankful to my husband too because he fully supports my job shift that lets me be more creative.
Our adult daughter made us grandparents in 2022 and we're thrilled that our grandaughter will have a sibling in 2024! Life is good! My daughter and son-in-law are a big part of my support system. But my hubby deserves a special shout out for putting up with the constant chaos in the garage and the office. That, friends, is true love.
I'm not an expert (be sure you read my disclosure page) and I've had my share of failures. But experience, necessity, and lots of home improvement DIY projects for 20+ years in our "starter home" have taught me a lot. I'm so happy that I get to share my experience and my projects with you. I hope they encourage you.
Our "starter home" turned into our forever home. She's a 60 year old 1300 sq ft "mid-century modern-esq" home that we've fixed and tweaked to our liking.
We've done most every improvement ourselves, doors, windows, bathrooms, floors, all of it was sweat equity. Mostly because we couldn't afford to hire anyone when we first moved in, and partly but we love knowing "we did that!"
My tastes have changed over the years and I'm tired of playing it safe with my decor. I'm a color-loving girl so I'm determined to get more colorful around our house. And I'm not just talking about my language 😉
Life would be boring if our surroundings didn't change from time to time. Sometimes all you need is a few "new" things to give your home new life. Those new things don't have to cost a fortune.
I'm so happy to have you along on this adventurous DIY ride with me. It's always fun creating some really cool stuff and I hope it inspires you.
Let's get DIYing,
Toni
---
I'd love to hear from you! Send questions or feedback to me by Email