You know you can't use spray paint when it's too cold, right? If you didn't know there is a sweet spot for temps when it comes to all paints. I know better, but I tried it anyway this week. Being the procrastinator I am I'd waited too long to start my project for this month's Thrift Store Challenge. I managed to save the project and I turned a scratched up Dollar Spot chalkboard from the Goodwill into a bright Magnetic Memo Board with really cute button magnets.
I was only able to save this project because I bought two of the chalkboards for $0.99 each 😀 Otherwise I'd be showing you a different project entirely LOL.
Make sure you check out all the Thrift Store projects this month linked at the bottom of this post.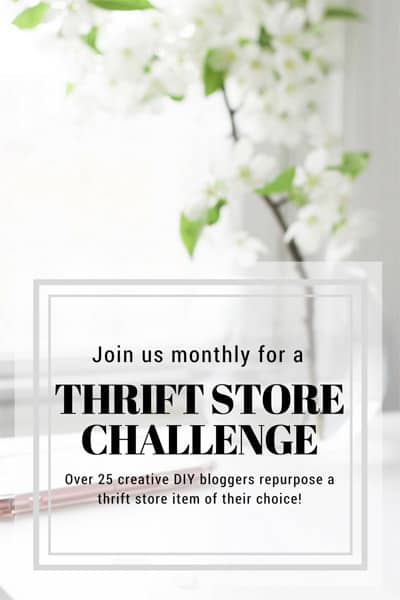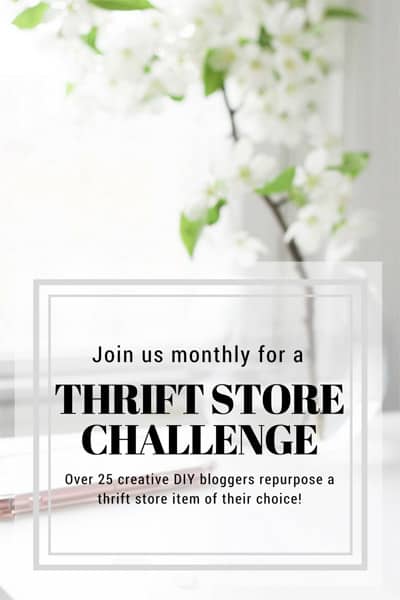 The Rules:
Upcycle an item(s) from a thrift store, resale store, or garage sale into a new piece of decor.
There's no monthly theme.
There's no budget to stick to.
Meet the Hosts
Amanda | Domestically Creative – Pili | My Sweet Things
Angela | Simply Beautiful by Angela – Jeanie | Create and Babble
Molly | Just a Little Creativity – Marie | The Inspiration Vault
Shirley | Intelligent Domestications – Dru | Polka Dot Poplars
Pam | P.S. I Love You Crafts – Gail | Purple Hues and Me
Jennifer | Cookies Coffee and Crafts – Toni | Small Home Soul
Sue | A Purdy Little House – Kathleen | Our Hopeful Home
Victoria | Dazzle While Frazzled – Marie | DIY Adulation
Michelle | Our Crafty Mom – Debra | Shoppe No. 5
Denise | My Thrifty House – Michelle | Michelle James Designs
Florence | Vintage Southern Picks – Ann | Duct Tape and Denim
Yamilette | The Latina Next Door – Maureen | Red Cottage Chronicles
Make sure you follow our board on Pinterest for more upcycled decor inspiration!
We all know the items at the Dollar Spot aren't the highest quality, but even I was surprised at how thin the chalkboard coating was on these things to get so scratched up.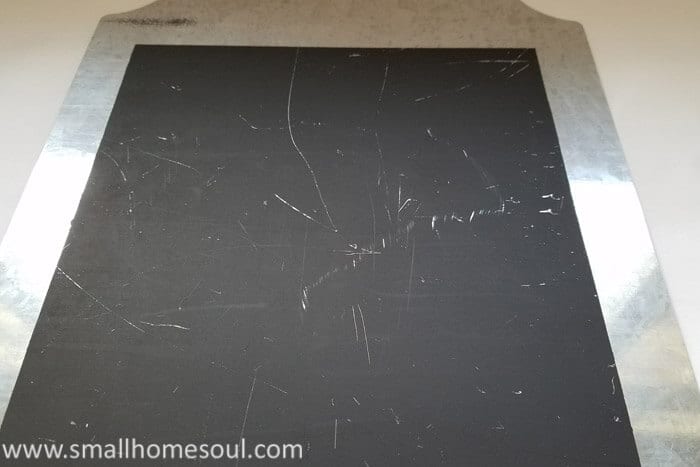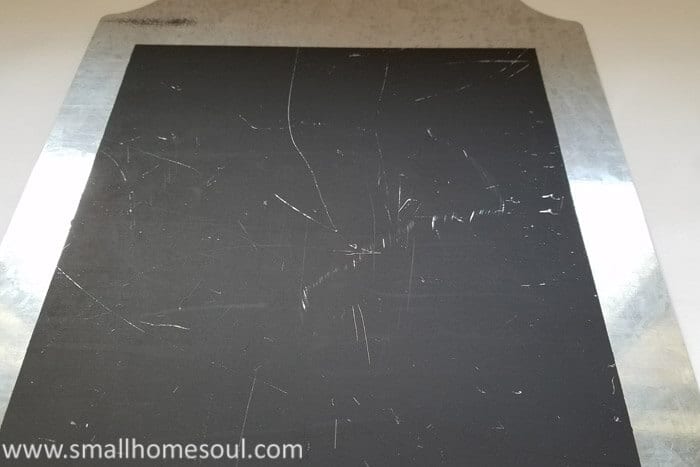 When our local Target has stuff that won't sell they send it to the Goodwill. It's not always the best deal but since these were normally $3 I figured 99 cents was a bargain.
This post contains links to products, if you purchase something after clicking on my link I may earn
a small commission (at no extra cost to you).
Magnetic Memo Board Supplies
I know how it feels to mess up a project; I'm telling you so you know you're not alone. We've all been there. In my case I used cold spray paint that had been in the 50-something degree garage without warming it up. It all started nice and then the paint started to separate. Ugh, maybe I can scrape the too thick paint off and try again. So, read the instructions on your paint cans…..
Anyway, I'm glad I had a spare. So on to Plan B similar to when I made my Egg Market Sign. I grabbed the other one and outlined the scratched up chalkboard area with painter's tape. Then I grabbed some craft paint in the closest shade I had and got busy with the first of three layers of paint.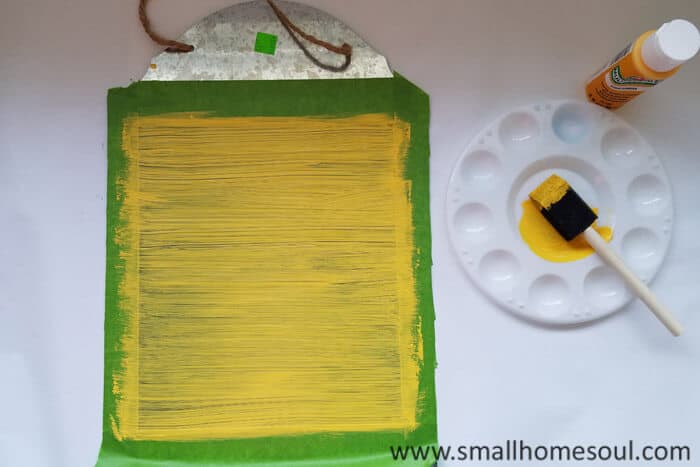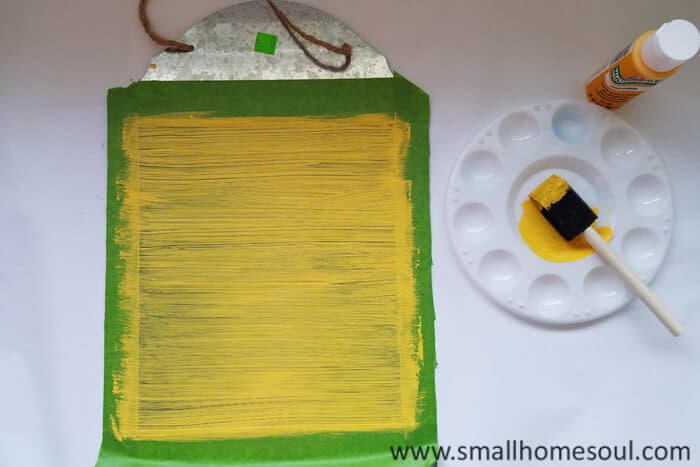 While the paint dried I got busy making the button magnets for my new magnetic memo board. These were fun and easy to make. I don't have a tutorial because they are super easy to make:
Play around with the buttons and choose a cute combo.
Carefully glue the buttons together with the glue gun.
Cut and affix a piece of self-adhesive magnet to the back.
That's it, super easy and fun to make, like this one.
After the paint is fully dry (mine took 3 coats) or after you've applied the final coat; carefully peel the painter's tape. Pull the tape at a sharp angle away from the paint line, this keeps the paint from pulling. I had a couple spots along the edge that got goofed up but I can live with it.
That's it, super easy to turn this scratched chalkboard into a magnetic memo board in an afternoon.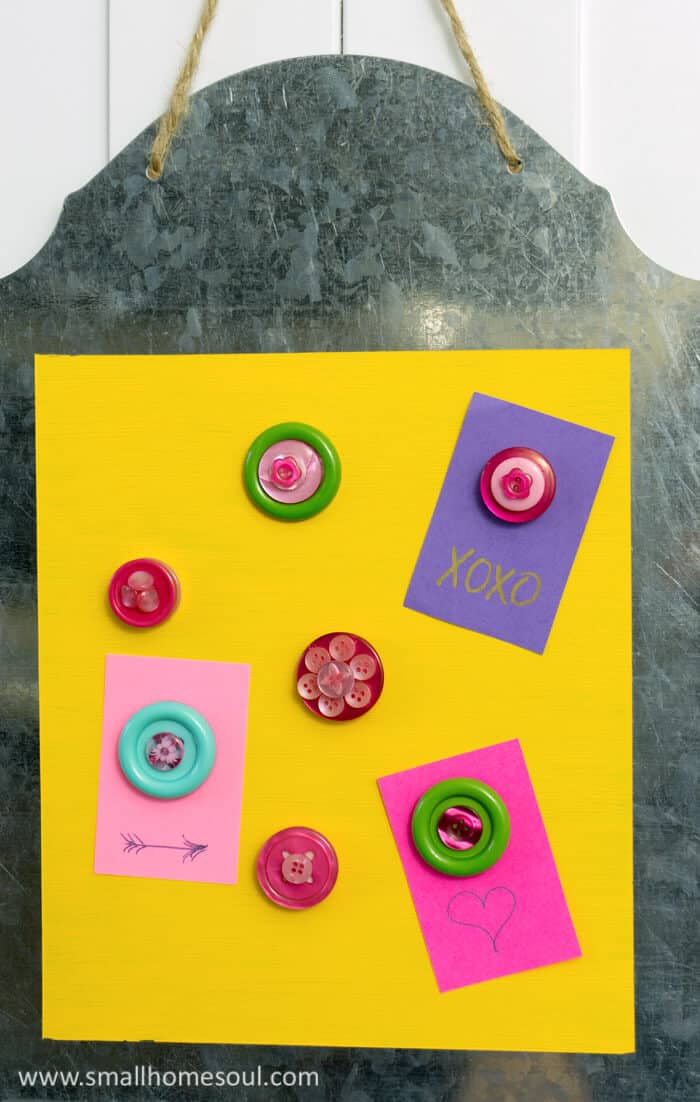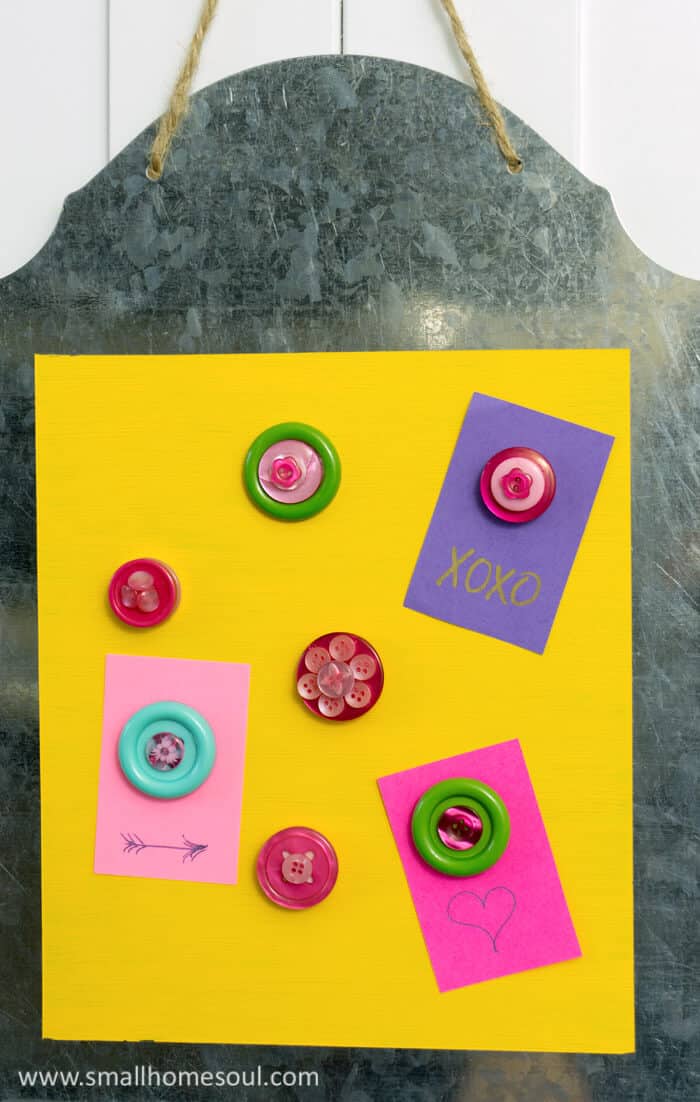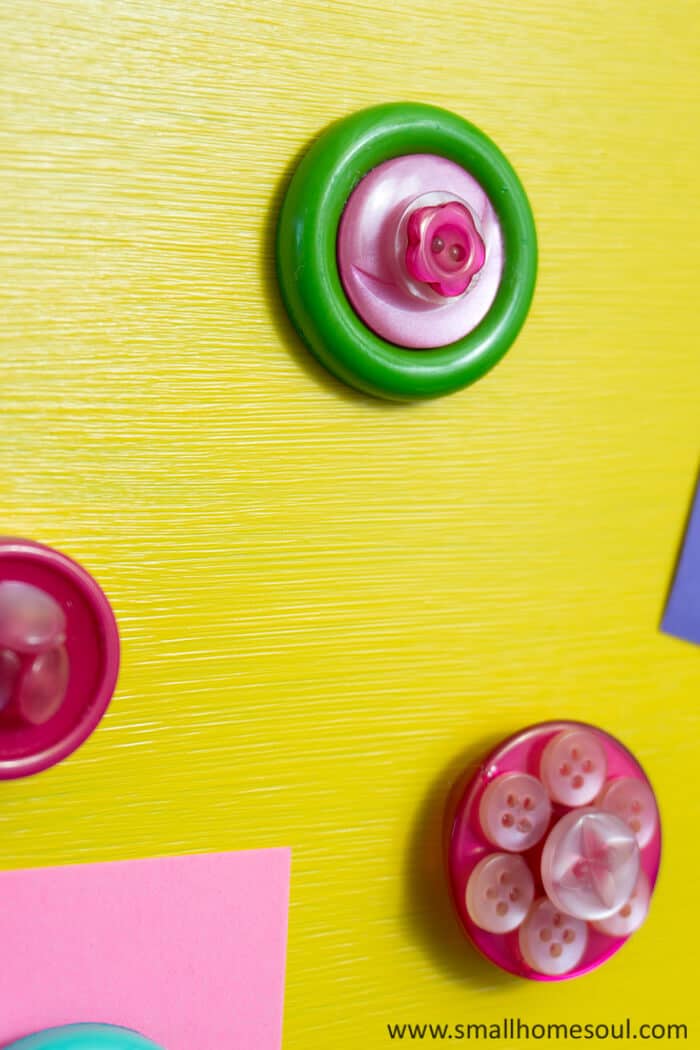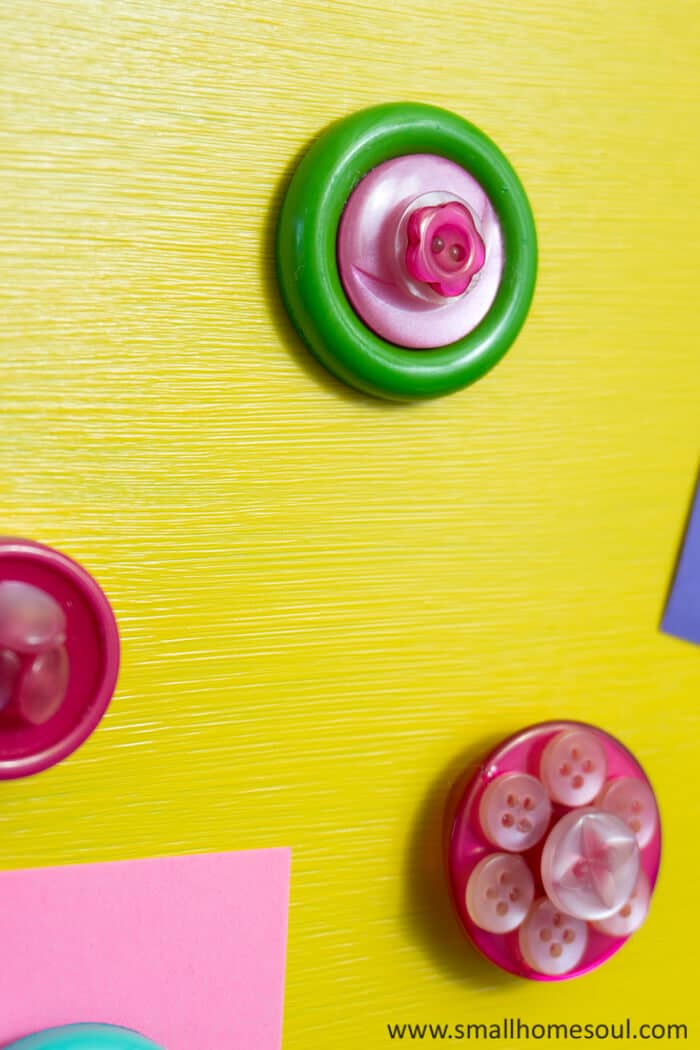 LOVE IT!! PIN IT!!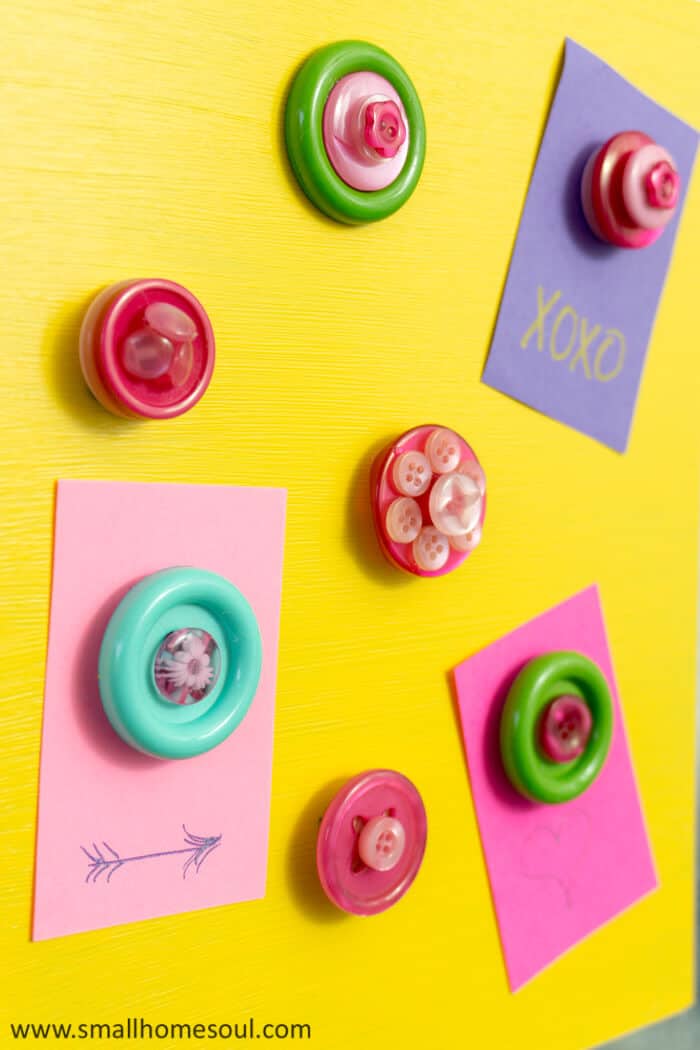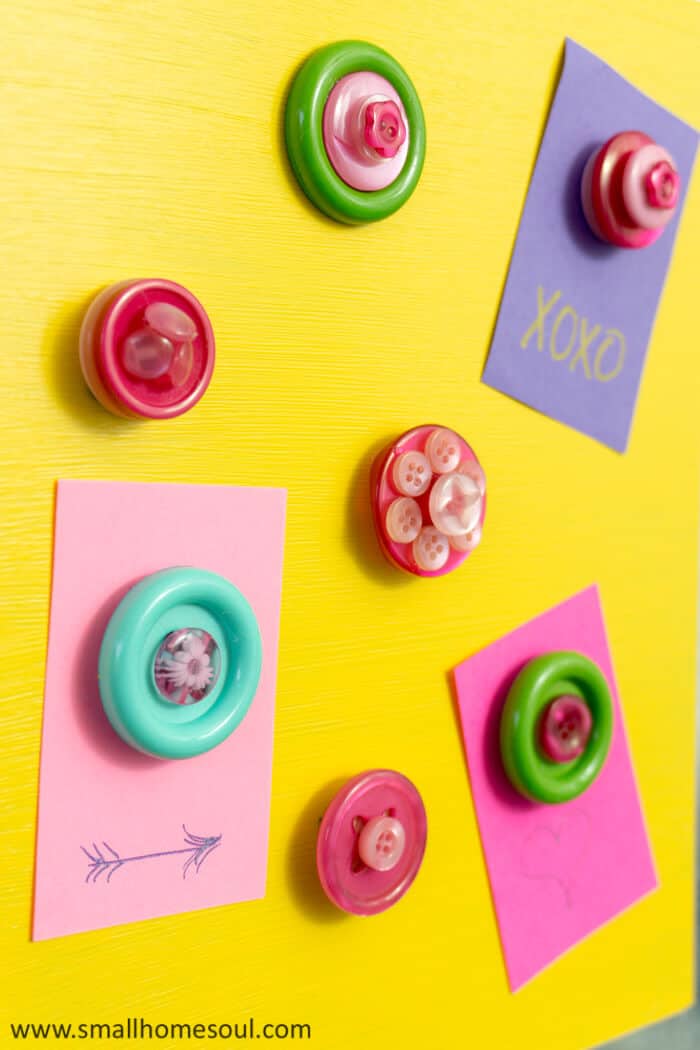 Sorry for my less than photos, the weather and lighting was not cooperating but I think you can see how cute they all turned out.
I hope you were inspired to create your own bright and fun magnetic memo board for your home or office. Now I hope you'll be inspired further by more great projects below.
---
And now for more thrifty goodness!
Check out what my fellow upcyclers created below!