Are you ready for a quick and easy project? These 4th of July Paper Plate Fans will be a big hit at your BBQ. And after the start to 2020 we've had we're ready to party big and celebrate our Independance!
These are so fun and fast to make, you can knock out a dozen or more in no time flat. It's easy enough to get the kiddos involved in too.
This page contains links to products, if you purchase something after clicking on my link I may earn a small commission (at no extra cost to you). You can read about affiliate links here.
Step 1: Determine your perfect shape
You can use any shape you like, stars would be fun, a simple circle or square, or a heart like I chose.
I searched my computer programs for this heart and sized played with the size until I had what I wanted. Mine ended up being 4.75″ tall but I could have made it a tiny bit bigger.
I cut the heart shape from the back of a old planner. You can use cardstock which will hold up to be traced several times.
Step 2: Find the perfect placement
Figure out what you want to highlight on your plate and trace it with a marker.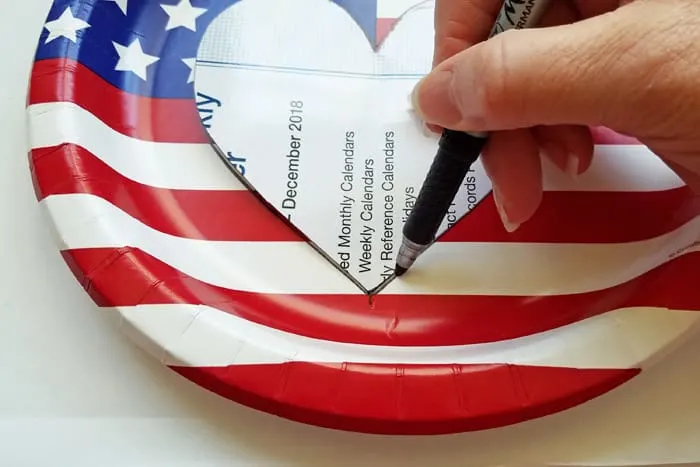 I wanted mine to have the union (the blue area with the stars) in the upper left like a flying flag so I placed mine mine as shown below.
Step 3: Cut out the traced shape
Cut off the edges of the plate first to make it easier to work with.
Cut out your shape on the previously traced line with sharp scissors for a crisp line.
How many pieces should I cut for my paper plate fans?
I made my fans double-sided so figure out how many fans you want to make and cut double that amount. They might work being one-sided but they'll hold up better if you double them.
Step 4: Assembling your paper plate party fans
You really don't need anything more than a glue stick to join both sides of theses cute party fans. I got this jumbo glue stick at the Dollar store during back to school. I pick up a few each time I see them.
Start by completely covering the back side of the cutout around the edges and up the center.
Don't be afraid to use too much.
Position the jumbo craft stick in the center about 3/4″ from the top of the cutout.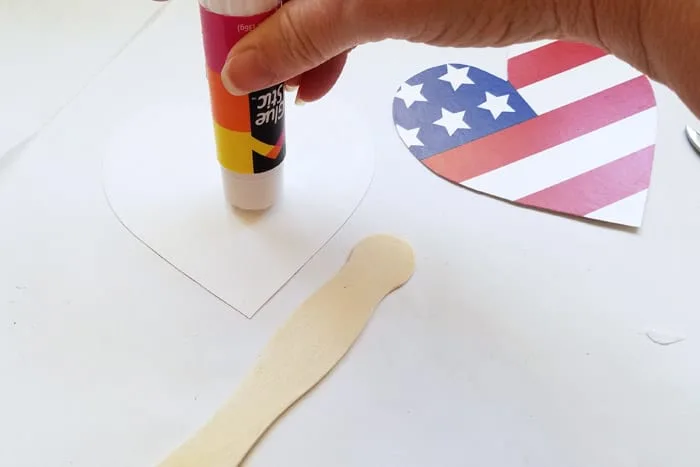 Cover the back side of a second cutout the same way with glue stick.
Pick up and center over the side with the stick and push into place.
If your two sides aren't perfect you can do a little trimming if you like.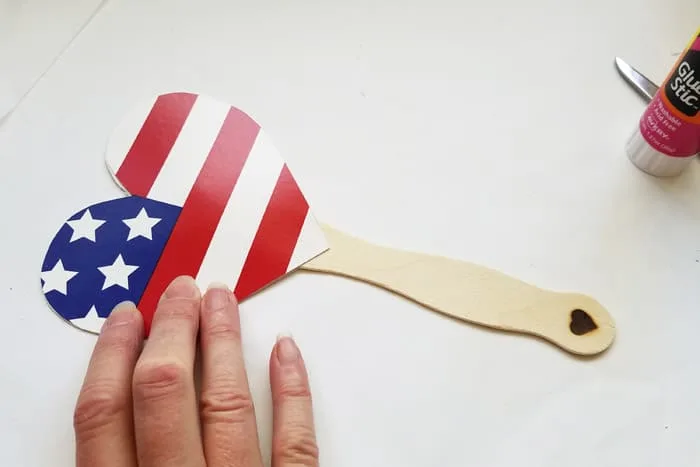 What size paper plate should I use for my 4th of July Party Fans?
For mine I used dessert size paper plates that were 7.25″ across. If you want to use a regular paper plate size then you might want to use paint sticks that can be place higher into the fan to keep them rigid.
Finishing details for Patriotic Party Fans
You could also use a colored marker to color just the edges of the cutout plates. Use a similar color or contrasting color like black or navy. I'd do this before you assemble your 4th of July Fans.
If you're making these with kiddos they could attach some colored gems or color the sticks with markers.
Isn't that simple? And don't they look great displayed in the Patriotic Mason Jar Centerpiece made? I'm ready for the BBQ!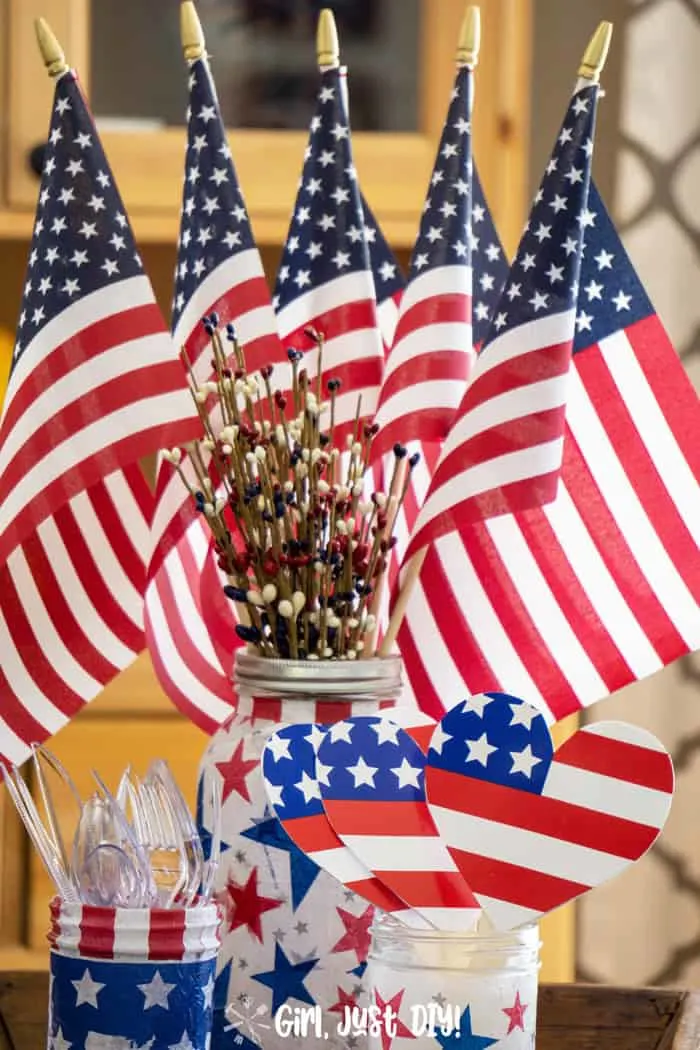 What shape will you use for your Patriotic Party Fans?
Pin it to your favorite 4th of July Board!
4th of July Paper Plate Fans
Materials
Marker for outlining and decorating
Instructions
Find your perfect shape. Size it to fit inside the flap portion of your plate and cut it from card-stock or some other material that will hold up to be traced multiple times.
Place your shape onto your patriotic paper plate and outline the shape with the marker.
Cut out your traced shape. (Cut double the number of fans you're making.)
Outline the back of of your paper plate with a glue stick and up the center as well.
Place the Craft Stick in the center 3/4" from the top edge of your shape.
Cover the back side of a second cutout the same way with glue stick.
Pick up and center over the side with the stick and push into place.
Trim to make uniform as necessary, if desired.
Notes
You can have the kiddos glam these up with some gems or paint the sticks with markers. Your friends will love these on the hot July 4th afternoon.