Have you ever found yourself trying to complete a project with an already small budget and suddenly you realize you need something else? One. more. thing. that you have no money for? Thankfully it's not really a serious situation but part of a fun challenge with my blogging friends. I'm sure you've all faced something similar. You want to do something new, change up your room a bit but cash is tight. Been there… I had zero money left in the budget when I was finishing up my Master Bathroom Makeover, and I needed some Art. What's a girl to do but whip up some DIY Bathroom Art with what she has on hand.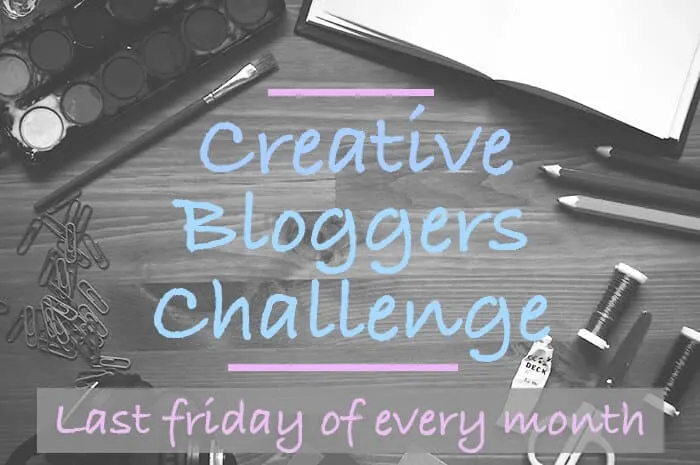 This post contains links to products, if you purchase something after clicking on my link I may
earn a small commission (at no extra cost to you).
Just like with the Bathroom Makeover Challenge I've joined with my group of blogging friends to bring you our creative Drop Cloth Projects. When you're done here please visit them to see what awesome stuff they've created. You can find their projects linked up at the bottom of this post.
DIY Bathroom Art Supplies
I rummaged through all the picture frames I have stashed here and there and finally found one big enough. It had some bumps and dings on it but it was the best one I had. Since I didn't have time to paint the frame I decided to go with it and blend in the dings with some more dings, with my hammer.
So, be careful hitting your picture frame with the glass still inside. I should have removed the glass and thankfully there were no mishaps that would have made me want to cuss 🙂
The result is subtle but now the frame looks like it was supposed to be like that versus some random dents.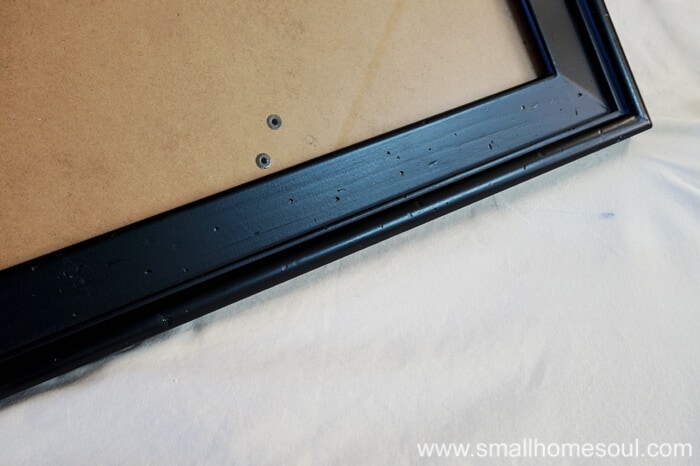 I already knew what I wanted my DIY Bathroom Art to say so I got busy at the computer picking just the perfect style and size font. Then I printed it out on some heavy photo paper I already had. But now I needed a mat, or something because my frame opening was too big for my paper.
With no money to purchase a mat I pulled out all the scrapbook paper I have but none were tall enough. Then I had a great idea, I'd use some left over drop cloth as my matting and mount the phrase over it.
Do you see all the glue on the edges of the frame backing? Well that was attempt #1 that didn't go so well. I'd tried to wrap the drop cloth around the backing and glued it. It wasn't until I tried to put it into the frame that I realized it was now too thick to fit back into the slots of the frame. Take 2.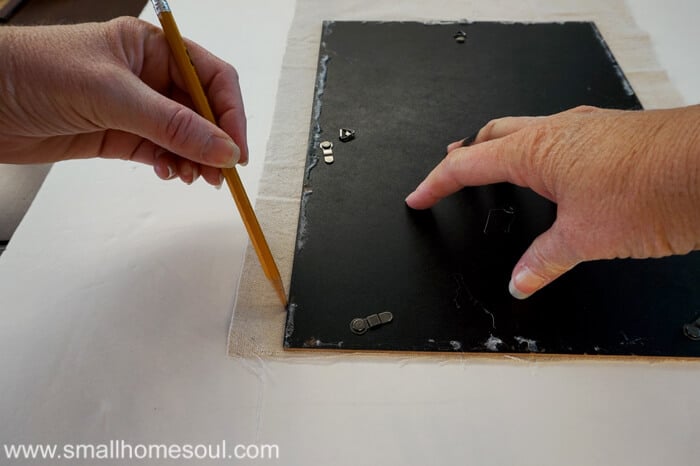 I traced around, cut and then glued it along the edges.
Then I just had to center the printed phrase on the drop cloth matting. I held it in place with a few small folds of clear tape, and put it into the frame. Here it is sitting on the Mid-Century Modern Night Stand I painted a few months back. I love having that table in my office.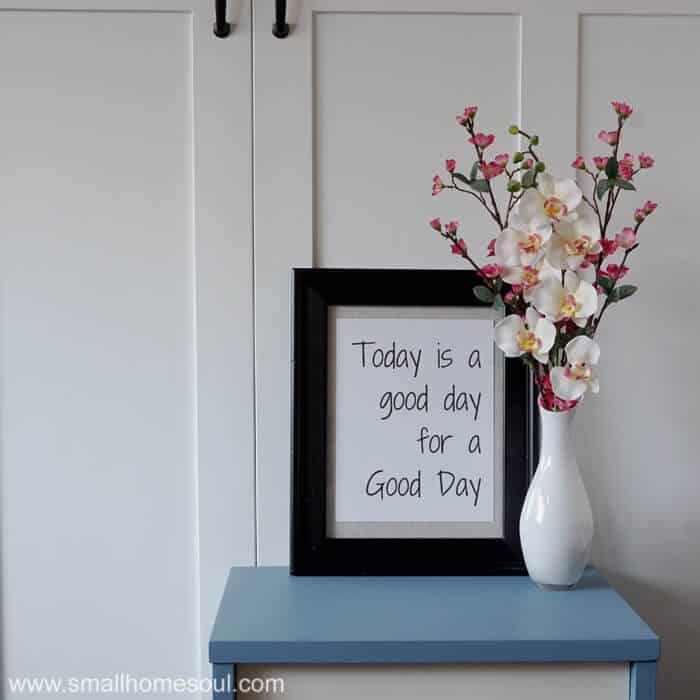 I couldn't get a good shot of it hanging in our tiny bathroom because the angles were all wrong but I want to show you where it really lives.
My husband said he liked it, but that the words should be on the left. I told him it's artistic that way. We agree to disagree 🙂
It's that simple to whip up some DIY Bathroom Art, or anyroom art, when you need it and when your budget tries to say "not happening." DIY for the win 😀
You might also enjoy:
Don't forget to see what my creative friends made.