For this month's Thrift Store Challenge I decided to use some old sheet music I found at hmm, where was it? Oh yes, a thrift store 🙂 I've seen so many projects recently using sheet music so I'd been on the lookout for some. I knew I wanted to combine it with one of my favorite things, mason jars!!! So I got busy this weekend (yep, procrastinated again) and created Sheet Music Mason Jar Vases.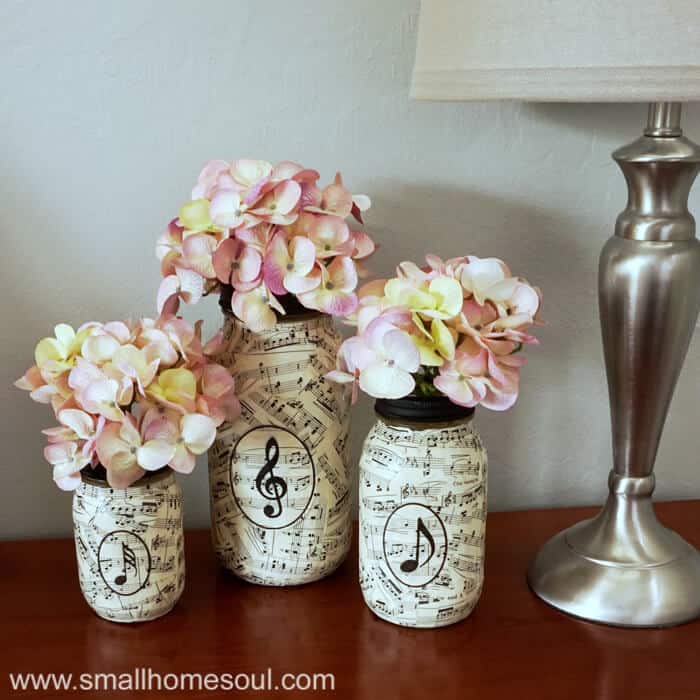 Don't forget to visit my Thrifting friends and co-hosts who are linked up at the bottom.
The Rules:
Upcycle an item(s) from a thrift store, resale store, or garage sale into a new piece of decor.
There's no monthly theme.
There's no budget to stick to.
Meet the Hosts
Amanda | The Kolb Corner  –  Maureen | Red Cottage Chronicles 
Kim | Made in a Day – Dru | Polka Dot Poplars
Erlene | My Pinterventures  –  Colleen | Life on Kaydeross Creek
Pili | Sweet Things – Shirley | Intelligent Domestications
Debra | Shoppe No. 5  –  Marie | DIY Adulation
Chelsea | The Johnsons Plus Dog
Lindsay | Crazy Organized  – Molly | Just a Little Creativity
Ashley | 3 Little Greenwoods  – Megan | C'mon Get Crafty
Michelle | Our Crafty Mom
Sue | A Purdy Little House – Sara | Twelve on Main
Claire | Pillar Box Blue  –  Chelc | Inside the Fox Den
Kim | Farmhouse Made  – Victoria | Dazzle While Frazzled
Sherry | Savvy Apron  –   Jennifer and Vicki | 2 Bees in a Pod
Lora | Craftivity Designs – Denise | My Thrifty House 
Toni | Girl, Just DIY! – Ann | Duct Tape and Denim


---
Many months ago I found a stack of old sheet music at the Teen Challenge Thrift Store. I like shopping there when I can because they're a Christ-Centered treatment program to help people get clean and sober. They staff the stores with program graduates and all proceeds go to support the Teen & Adult treatment facilities.
That day I bought a bunch of stuff for around $20 (their prices are low too-bonus!!). Oh, that might be where I picked up the Brass Platter that mysteriously appeared in the garage 🙂 Anywho let me show you how easy and fun this project is.
This page contains links to products, if you purchase something after clicking on my link I may earn a small commission (at no extra cost to you).
Sheet Music Mason Jar Vases – Supply List
Ready to have fun making your new Sheet Music Mason Jar Vases? This project reminded me so much of when I was in grade school and I made a tissue paper vase for my grandma from a red wine vinegar bottle 🙂
Start by tear your sheet music into 2″ pieces. Any shape is fine. I tore up 3-4 pages for 3 vases.
Tear one more straight long piece for the neck 3/4″ tall by the circumference of the jar. I didn't use scissors for the upper edge but you could.
Tear along the length of the paper about half way up. This will help it wrap around the jar without buckling.
Using your craft brush apply a thin layer of

mod podge

around the neck, enough so all the paper touches the mod podge.
Apply and adjust the sheet music until it's snug at the rim.
Brush more mod podge on top of the sheet music.
Now start applying your pieces in the same manner as above overlapping the edges to cover the glass.
Use your fingers to press out any excess glue near the ridges in the glass before you layer your next piece.
When you get to the bottom edge use the same tearing method as the neck but this time use the regular size pieces as shown below.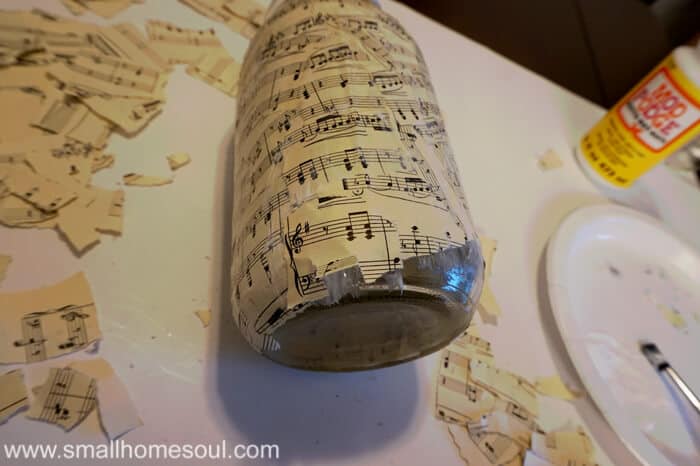 Wrap your sheet music pieces onto the bottom edge of the jar slightly.

Psst-don't lay your jar down if the mod podge on that side is still wet or it will stick and pull off some of the sheet music 🙂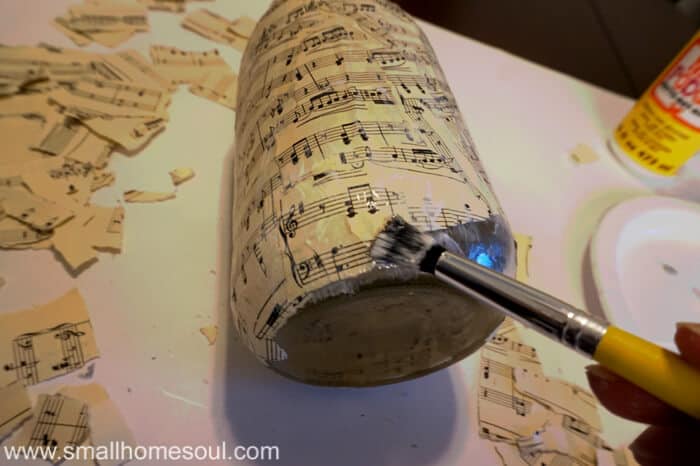 When the jar's covered press down any edges that are sticking up.
Give it one all over coat of mod podge and set it aside to dry.
While the vases are drying paint the metal rings of the jar lids with a few coats of

black Chalkboard Paint

and let them dry.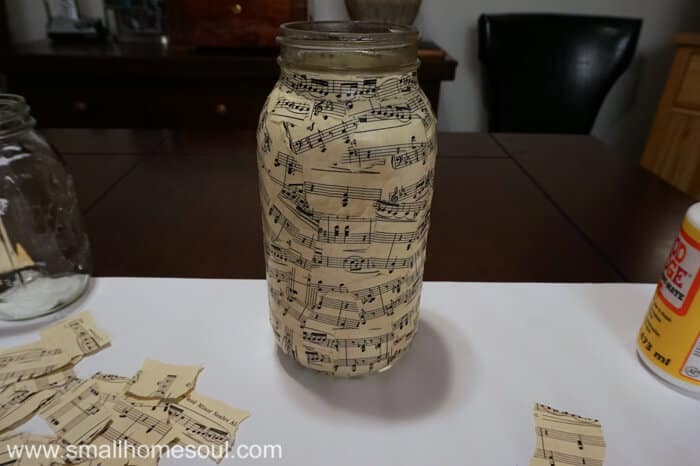 To really make the jars look beautiful give them a little something extra and add some labels with musical notes. I made mine using Word to fit inside the raised oval area on the jars. If your small mason jar doesn't have a raised oval (mine didn't) do a little math, and trial and error, to find the right size to scale.
Print off a few samples on white paper to find the size for each jar that you're happy with.
Then feed a page of sheet music into the printer to get the perfect labels.
Lastly cut out the circles and mod podge them onto the vases.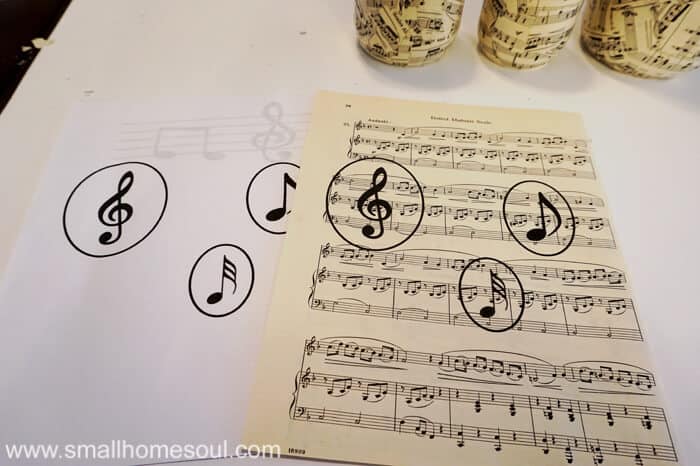 If you plan to use your sheet music mason jar vases for fresh flowers you'll want to protect it. Give them a spray coat of the Polycrylic to protect them from water drips on the outside of the vase.
That's it, Simple Simon right? And now you have three beautiful Sheet Music Mason Jars to display your favorite fresh or faux flowers.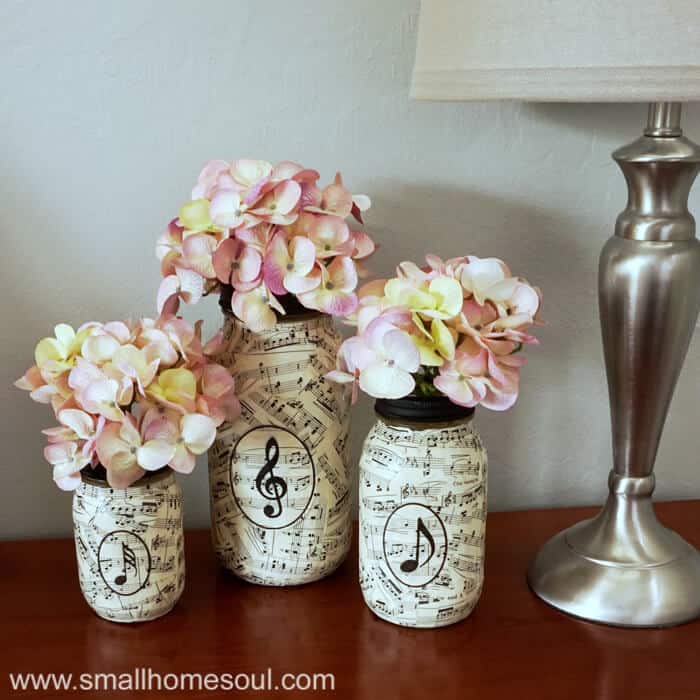 More Mod Podge Projects
Easy Market Sign – Easy Map Art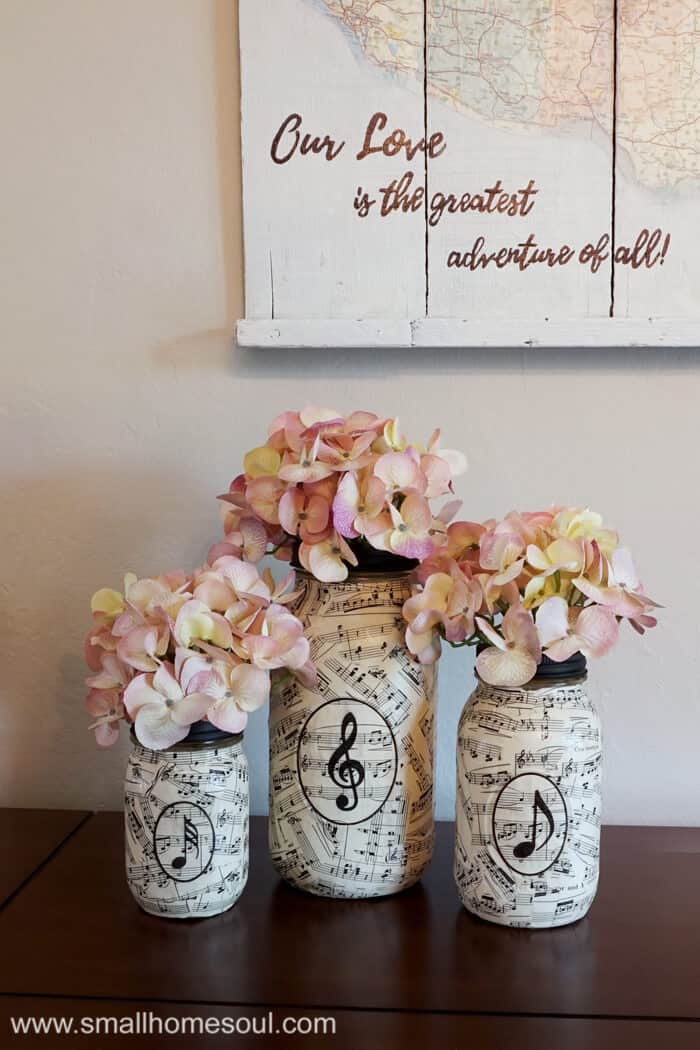 More Mason Jar Crafts
Bathroom Organizer – Mason Jar Utensil Caddy
Aren't these faux hydrangea blossoms beautiful, and so realistic looking too? You can see how I used more of them in my tutorial for making a DIY Hydrangea Wreath.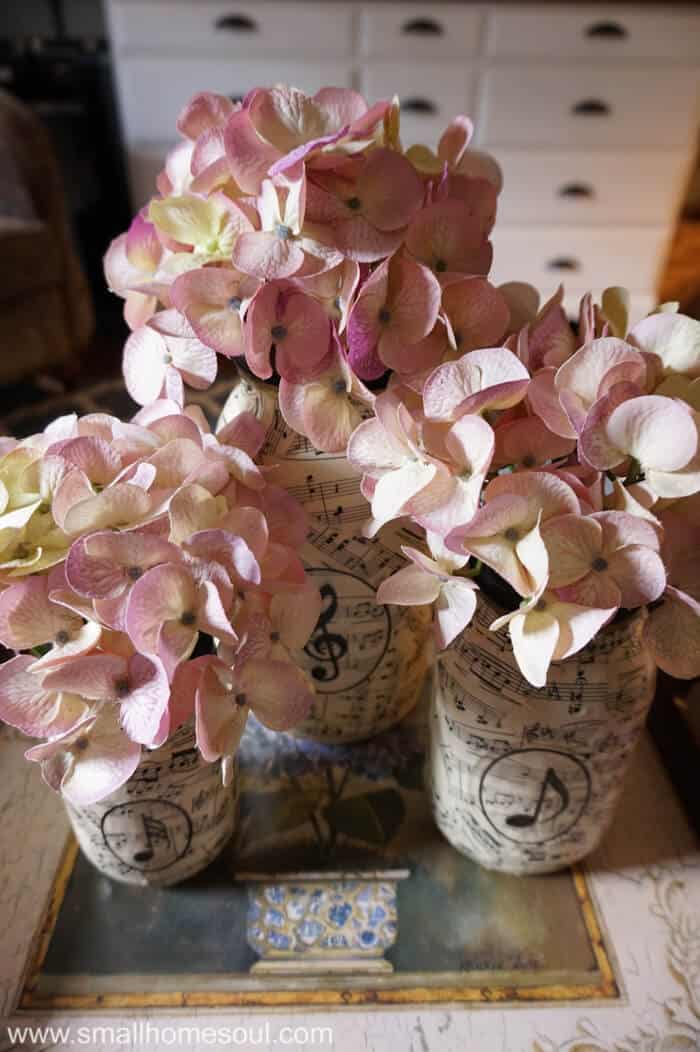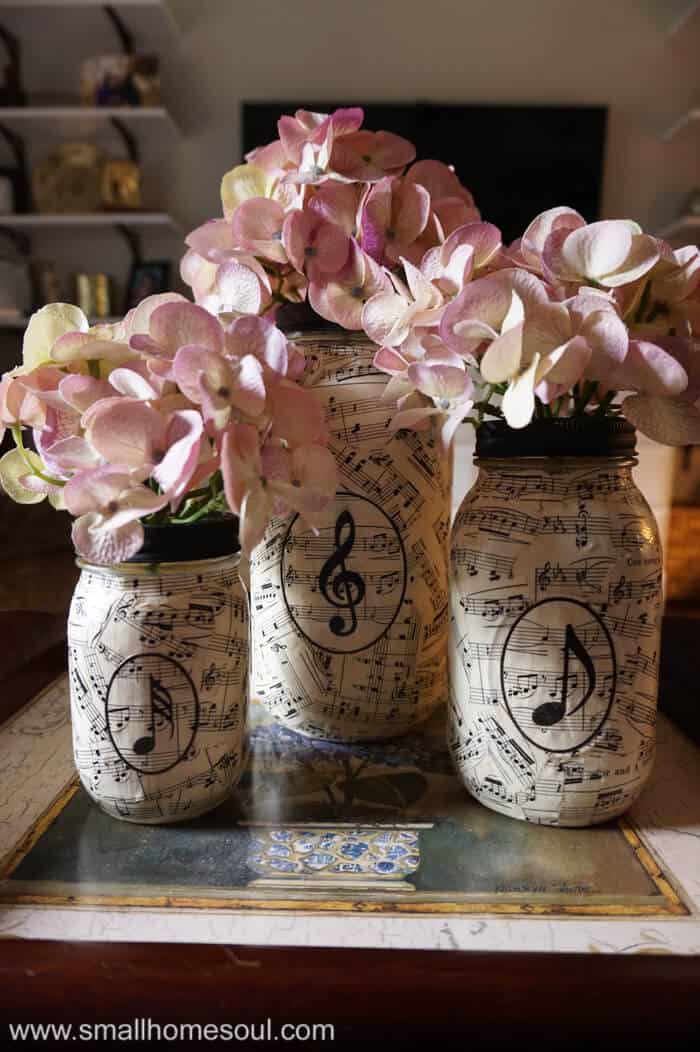 For more design and decor inspiration follow me on Pinterest
I can't wait for you to see what everyone else created!
---
And now for more thrifty goodness!
Check out what my fellow upcyclers created below!