Have you ever stumbled into a recipe so easy that it instantly becomes one of your go-to dishes? This happened to me last year when I found an easy way to make Chili Verde that's just as tasty as my favorite Mexican restaurant. This recipe easily serves six people and costs less than feeding one person at a restaurant, so that's a gigantic bonus to your budget. You can cook it in a crock-pot or on the stove-top and I want to share this recipe with you so you can add it to your list of go-to recipes.
This post contains some affiliate links for your convenience. You can read my full disclosure here.
Easy Chili Verde Ingredients & Supplies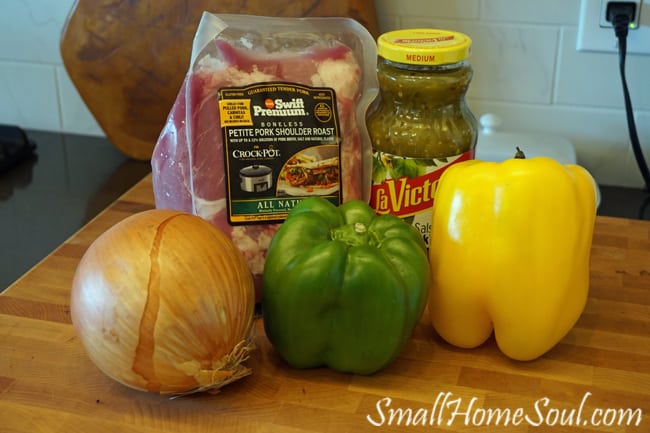 3-lb Pork Shoulder cut into 1.5″ cubes

You could also use chicken if you want but you'd have to adjust the cooking time.

1 Jar Salsa Verde, Buy whatever spice level your taste buds can handle. I used medium and it had a nice kick.
1 Medium Onion chopped
2 Bell Peppers chopped
Chef's Knife, I love my Miyabi Chefs Knife
Start by cubing your onion and bell peppers and set them aside. I use a separate cutting board for onions and garlic so I don't have flavors transfer onto veggies or fruits that won't mix. We don't want our apples tasting like garlic, yuck! No matter how I wash them I can't seem to get around it so now I just keep a separate board, easy peasy. I have this cutting board from IKEA.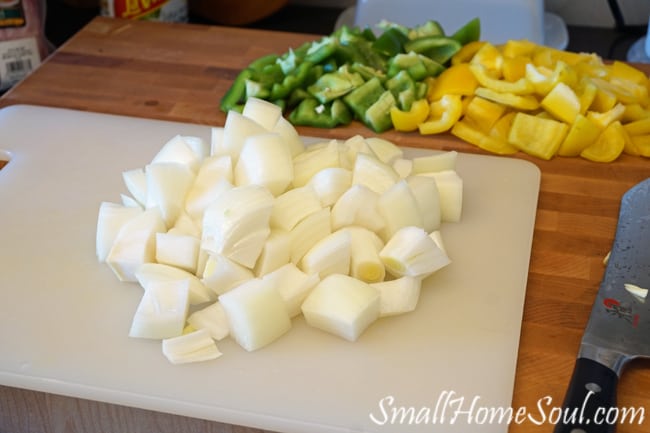 Next cut the pork shoulder into 1.5″ cubes. If you've never cut one of these guys before it's a bit challenging at first. I've made this chili verde at least eight times and I've found through trial and error if I first slice it into thick steaks and work with each "steak" to remove excess fat as you go it's easiest. I used to try and cut apart each section first but that takes forever. Also, I used to try and cut out all the thicker membranes (or whatever it is) but those cook down nicely so I leave them to get all the nutrients possible. Or you can cut them out, it's totally up to you 🙂
Be sure to read my tips below for making this yummy chili verde.
Once you have everything cut put it all into the Crock-pot and add the jar of Salsa Verde. Now give it a good stir to get every piece coated with the salsa.
I actually doubled this batch because I was taking some to Bocce and I wanted left overs for home. Your crock-pot won't look this full with a single batch.
Turn your crock-pot to High and cook your Chili Verde for approximately 3 hours. You can test it after a few hours; once the meat is tender it's ready to serve. See how saucy this gets? That ensures plenty of sauce for rice.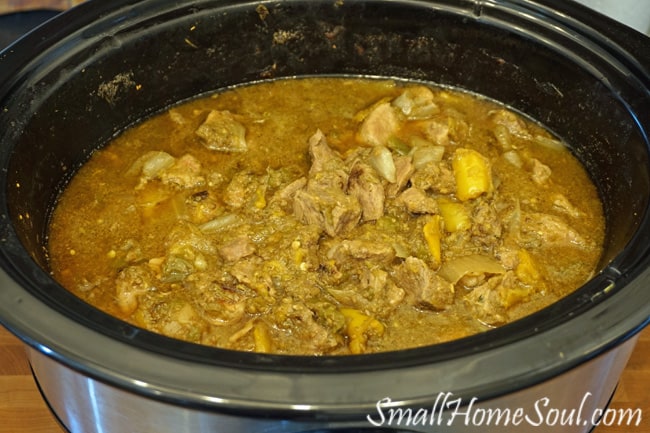 I realize that Chili Verde isn't a beautiful dish so taking photos that capture the yumminess was a challenge. You'll have to trust me when I say this stuff is ahhhhmazing and you have to try it!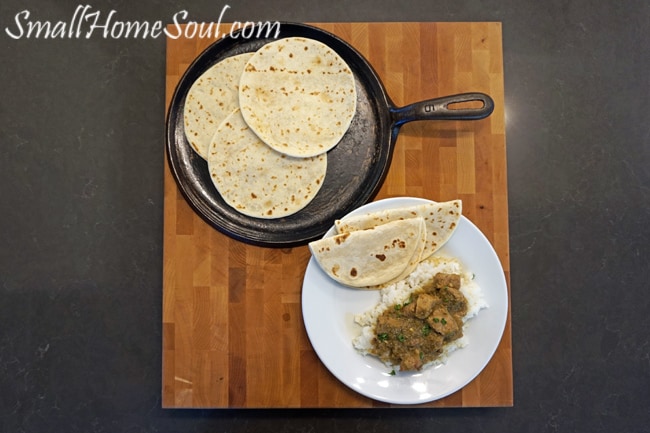 Toni's Tips for Easy Chili Verde
You can cook this on the stove top (which I do from time-to-time) 1.5 hours on Medium heat is about perfect.
No need to brown the meat first, just dump it all in and cook.
Make sure your knife is sharp and remember to use general knife safety practices in the kitchen.
This cut of the pork is slippery, be careful not to cut yourself.
If you want to trim large portions of fat from the meat but still have the benefit of its flavor, cook the large piece of fat in the pot and remove it before serving.
Add a few dashes of cumin to add an extra layer of flavor.
Make sure your jar of Salsa Verde is made with tomatillos and

not

green tomatoes. The two are not the same, trust me, I learned this the hard way, the flavor is not the same.
Serve over rice, with hot flour tortillas, or with tortilla chips and sour cream. Or throw calories to the wind and server it with everything.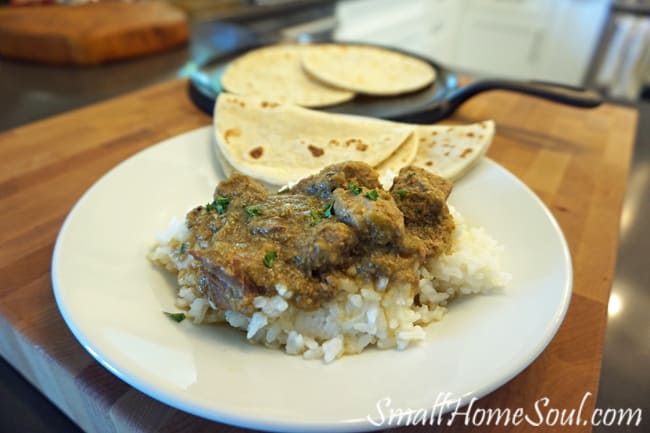 I'm so glad I made a double batch because this is what we had for dinner last night, with rice, sour cream and tortillas 🙂