Have you been planning your dream kitchen?  Pinning images of every gorgeous stove, backsplash, and granite counter?  Me too!  Well that was me until recently.  Since I've been living with our new kitchen for eight months I thought I'd share what my five favorite kitchen features are.  Of course, I love the entire kitchen but I narrowed it down to just five(ish) favorites in case you have the opportunity to update your own kitchen and need some ideas and inspiration.  These should be on your must-have list.
Do you remember when Pinterest was invitation only?  That's how long I've been on Pinterest so I've seen a ton of gadgets for organization to make kitchens function better.  I've probably pinned them all so I had a good idea of what I wanted before we started seriously talking about the renovation.  Our Kitchen Renovation was a complete gut; you can read that post to see where we started and why I love all these things so so much.
This post contains affiliate links for your convenience. If you make a purchase after clicking a link I may earn a small commission, at no extra cost to you.
My Five Favorite Kitchen Features
In no particular order here is the list of my favorite kitchen features.
Number One – Pot and Pan Storage
This first item of my favorite new kitchen features is an awesome product and I don't know how I lived without it.  It's called Glideware Pull-out Pot and Pan Organizer.  It mounts inside a base cabinet and can hold up to 100 lbs.  The lids slide over the pot handle for easy storage and the rack slides out smoothly for easy access.
There's also clearance below to store splatter screens, or larger lids of needed.  Two of these can be mounted side-by-side if you have a wider cabinet and more cookware.  I can't believe I ever lived without this!
My old pans didn't have slotted handles so, darn it, I had to buy a new set of pans 🙂  That was ok with me because the farberware pans we bought with wedding gift money were 20 years old and looking tired.  I was so lucky to score this Cuisinart Cookware Set on clearance at Sams Club for $89 but the everyday price is a pretty good bargain too.
Number Two – Dead Corner Storage
Next, and right beside the Glideware is the Wari Corner we had installed so we had access to the corner next to the dishwasher.  When we renovated the kitchen we were able to add some depth to the breakfast bar and I knew I needed something that would give me the most storage options.  This thing is awesome; in the back I keep my Crock Pot and some cake and pie pans as well as my large pot, the steamer basket, and some lids in the front section.  It's easy to operate and makes good use of otherwise wasted space.



Magic Corner is another brand you may have heard of and there are some less expensive options such as Rev-A-Shelf but they don't have the storage capacity of the the Wari or Magic Corner.
Number Three – Sink and Faucet
Moving clockwise around the kitchen, next is the gigantic Kraus Stainless Steel Sink.  I cannot begin to tell you what an upgrade this is to the old shallow two-bowl sink I had before.  It had rounded sides and I couldn't even stand and fill a pitcher without it falling over.  It was so cheaply made I could press the sides and the sink wall would pop.  Not this baby, it's solid and 10″ deep.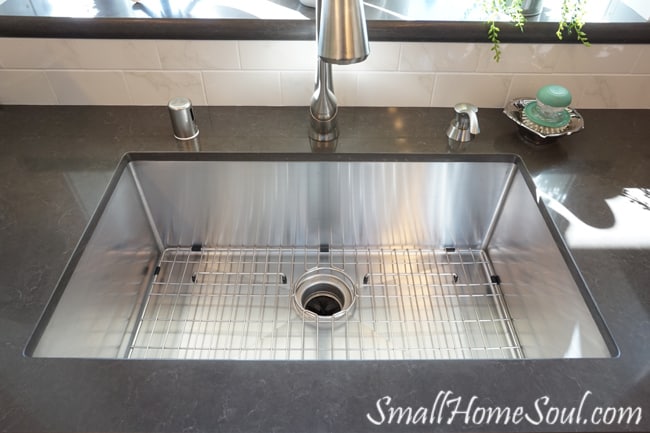 Since we're at the sink can I tell you that our new Ashton Faucet by Delta is awesome?!  We bought ours locally at Lowe's. The sprayer head snaps back in place with a magnet when you aren't using it which is great because we had issues with our old one drooping.  We installed this one with the handle in the front instead of on either side (as you can see in the picture above).  I copied this awesome idea from my sister and I tell everyone I know who's getting a new faucet to do the same.  Installing the faucet with the handle at the front keeps puddles from happening on the counter behind the sink from wet hands.


Number Four – Smart Storage
Ok, we're almost at the end of my list of favorite kitchen features but there's still good stuff to share.  This space before the Kitchen Renovation was U-G-L-Y, you have to see it to believe it.  Literally we had 7″ gaps on either side of the stove and they were big crumb and spill catchers.  No, that wasn't our design, we inherited it that way.  I can't believe I never came up with even a temporary solution.
At first I wasn't sure I would like the slide out oil and vinegar drawer but it makes finding the bottles so much easier, and nothing gets lost at the back of the cabinet any longer.
And I really love the deep narrow shelves on the left for cookie sheets and cutting boards!


Searching on Amazon I found plenty of options for Slide Out Storage Towers that I could have purchased.  I really wish I had searched for options to fill those huge gaps years ago.
Number Five – Lighting
Who wouldn't add lighting to their list of favorite kitchen features?  It's like jewelry for the kitchen.  When we first bought our house there was nothing pretty about the lights.  We had one tiny light over the sink behind frosted glass, one dome light on the ceiling and a vent hood light.  With all three together there wasn't nearly enough light for working in the kitchen.
Goose neck lights are awesome and I knew I wanted them over the sink.  I love how they look, and the graceful curve is a nice visual relief to all the angles of the open beam ceiling.  Considering the thousands of options for goose neck lights I found them relatively quickly on Wayfair at a great price.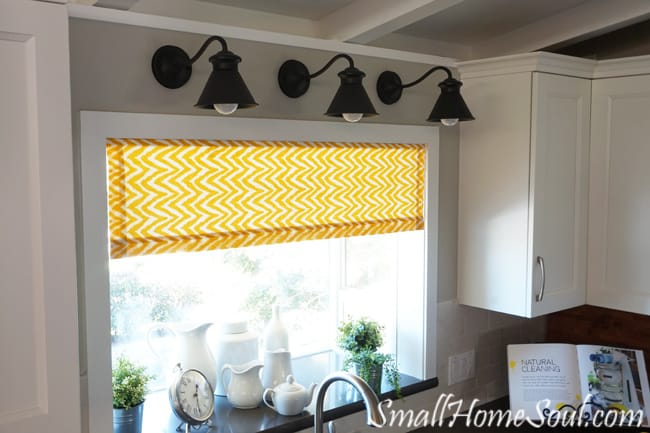 I got my Goose Neck Lights on Wayfair but they're not available there any longer.  I was, however, able to locate them for a much less at Home Depot.  They're really outdoor lights but I new the industrial feel of the lights would contrast the white cabinets and shiny stainless appliances perfectly.
The industrial nature of these lights looks perfect in our classic kitchen.  Can you see why they're one of my favorite features in my kitchen?


No kitchen renovation would be complete without under-cabinet lights.  After tons of research and reading gazillions (yes gazillions) of reviews on amazon I chose the LightKiwi Dimmable LED lights.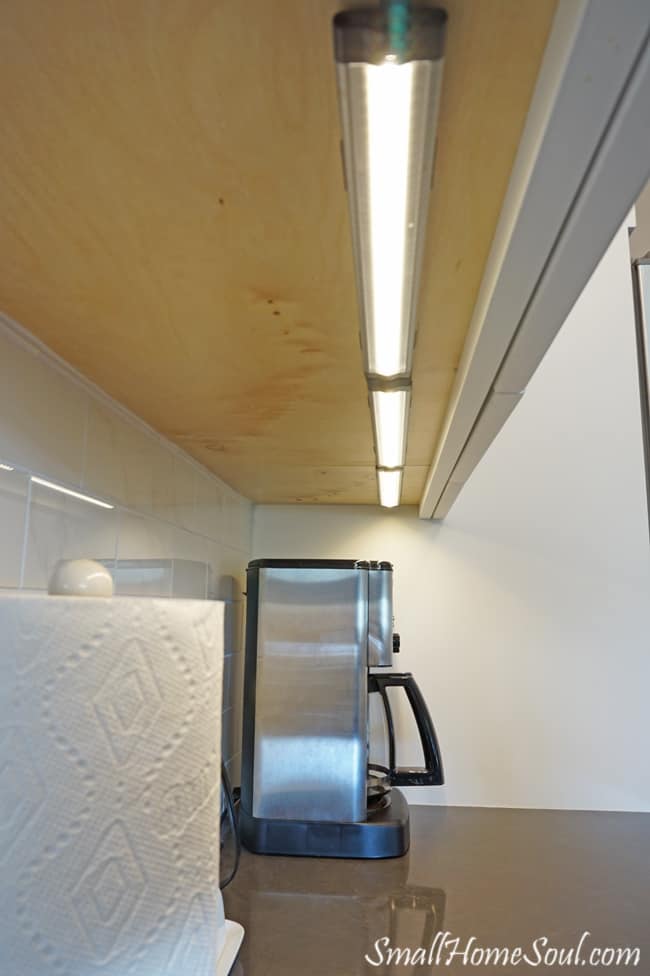 The lights come in kits that can be daisy chained together and plugged into a wall.  Or you can do like us and wire them to a transformer with a master dimmer.
I love that they have a shield to protect the bulbs and it gives some moisture protection from the coffee pot or steam from the stove.  If you are in the market for under-cabinet lights, these are what you want.  You can see a few other options below.


If you're in the market for a new coffee pot I can't recommend the Cuisinart Brew Central enough.  It's uses cone-shaped filters which saves coffee, and it's a work horse.  We've bought a few over the years to give as gifts.
There are many more things I love about my kitchen; but, it's really too many to list here.  I wanted to keep it to five(ish) favorite features so I don't bore you.  I can't say I have one favorite thing over the others and I really recommend every single one.  All of them together makes my kitchen function better than ever!
Thanks for taking my mini kitchen tour today.  I hope you found some great ideas and inspiration for your next kitchen project.  Don't forget to pin the things you love to your favorite boards.
Until next time,
Toni
If you liked this article you might also like these other kitchen-related articles: