Hey friends I've been a busy Christmas Crafter of late and I don't think I'm done yet… Today I'm sharing how to make easy ornament updates to plain store bought ornaments and really make them fabulous.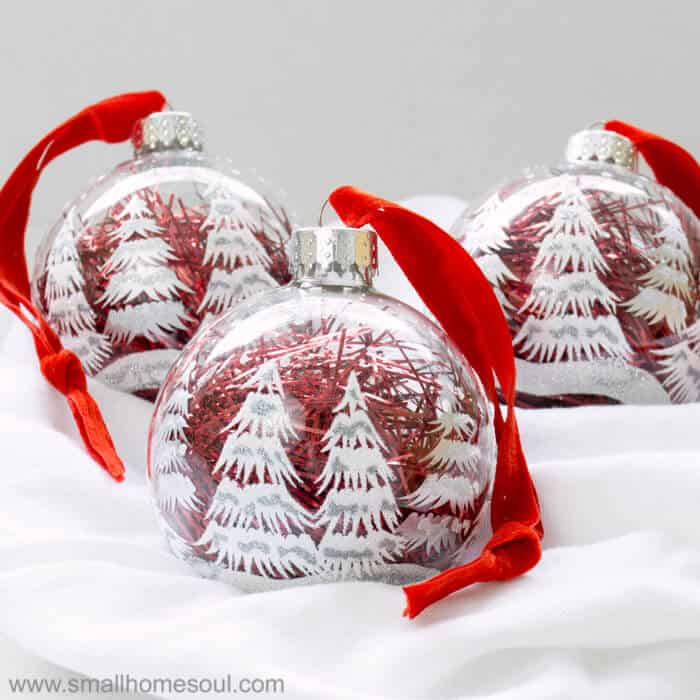 But first! I'm so happy to be participating in The Colorful Bloggers' Colorful Christmas Blog Hop. If you're new here, welcome! A Blog Hop is bloggers get together to create projects around a theme. Today's Hop is with a group of ladies who all joined up recently. We call ourselves The Colorful Bloggers, because we all love decorating with color.
Click on the links to their blogs below and be sure to check out and Pin their projects for tons of Christmas decor inspiration.
The Colorful Christmas Blog Hop
Easy Ornament Updates | Small Home Soul
Birch Wood Sign Holiday Decor | Welcome to the Woods
Christmas Lamp Shades | Dixie Delights
Colorful Wood Slice Christmas Tree | Anika's DIY Life
Pottery Barn Inspired Christmas Napkin Ring | The Chelsea Project
Colorful Christmas Tree Centerpiece | Pearl Street Designs
Our Hop theme this time was anything colorful for Christmas. And if it's easy that's a bonus for us and you too because we're all busy this time of year 🙂
This post contains links to products, if you purchase something after clicking on my link I may earn a small commission (at no extra cost to you).
Easy Ornament Updates Supplies
I spotted these ornaments at Hobby Lobby and with my 40% discount they were a good price. Especially if you want to give them away as gifts or in an Ornament Exchange like the one I participated in earlier this week. But these were kind of boring so they needed some glamming up so they didn't look so plain.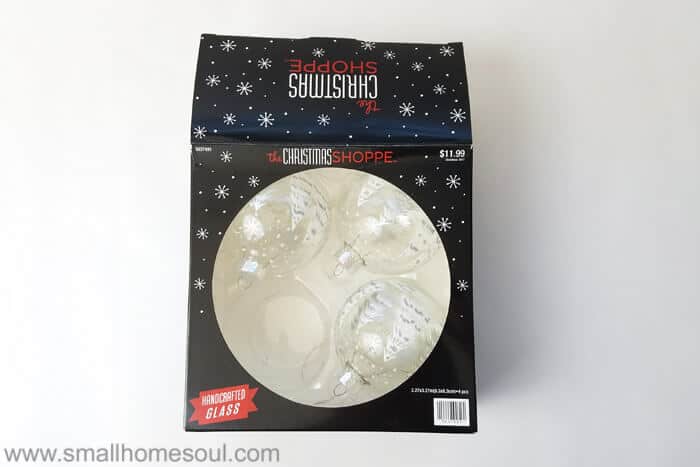 While perusing the aisles I also spotted the colored tinsel. Hobby Lobby had lots of different colors but originally I was going to use these for my ornament exchange so I went with red because that's what my partner likes too. But then I re-read the rules and they had to be handmade. I'm not a rule breaker soooo.
This is such an easy project I still wanted to share it with you; in case you need a quick gift/ornament for someone. Maybe co-workers or neighbors you never know what to get them (we all know a few people like that).
Start by carefully taking the top off the ornament and set it aside.
Prop it in a dish or in a roll of tape with a cloth over it (that works really well).
Grab about 10 or more strands of the tinsel/icicles and cut them or pull them from the pack.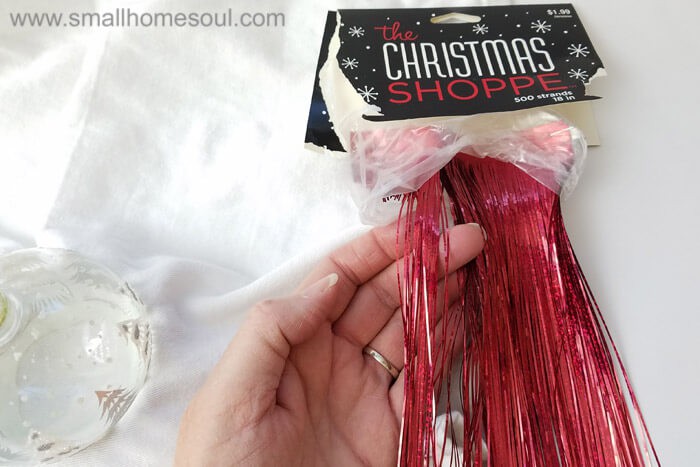 Gather the ends and slip them into the neck of the ornament.
Push them down into the ornament and clip with scissors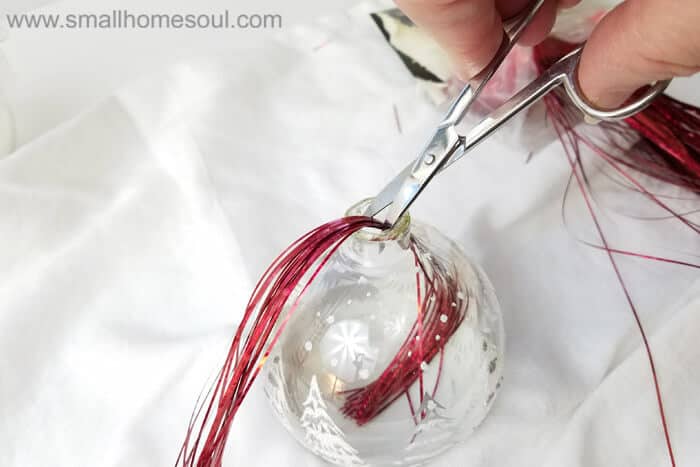 Repeat until the entire length is in the ornament.
Grab another grouping of tinsel and continue the process as above.
You can vary the length of tinsel and you can spool it up a bit and slip it into the ornament.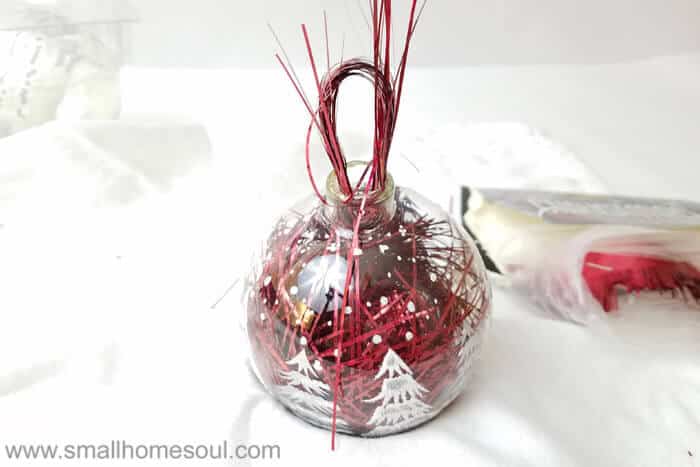 It doesn't have to be perfect, you can move them around with a pencil or bamboo skewer if needed.
If any of the ends won't go into the ornament (be careful not to cut your fingers) use a pencil eraser to push them inside.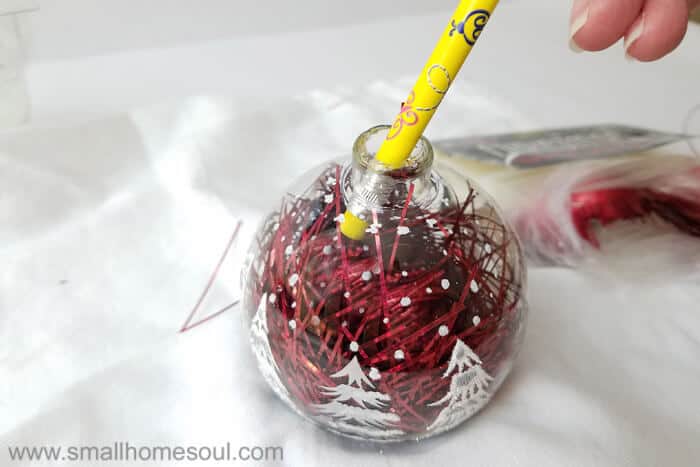 When it's all full replace the top.
Cut about 16″ of the velvet ribbon for the hanger
And, you're done! Yep, it was fast wasn't it? Check out the before and after. Which would you rather hang on your tree or receive as a gift?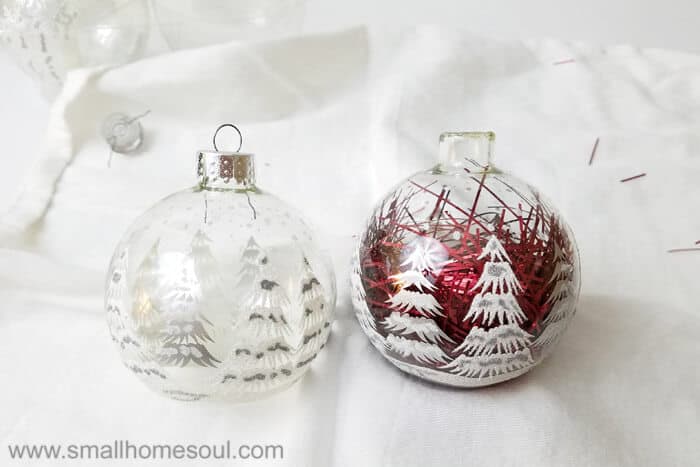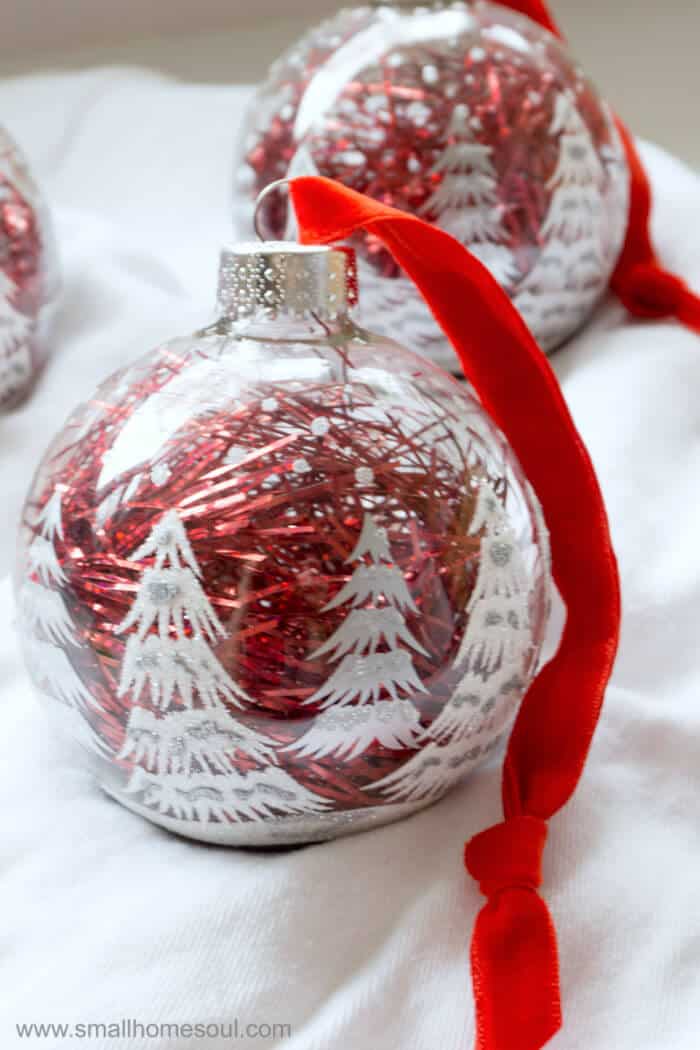 Who are you going to make some for?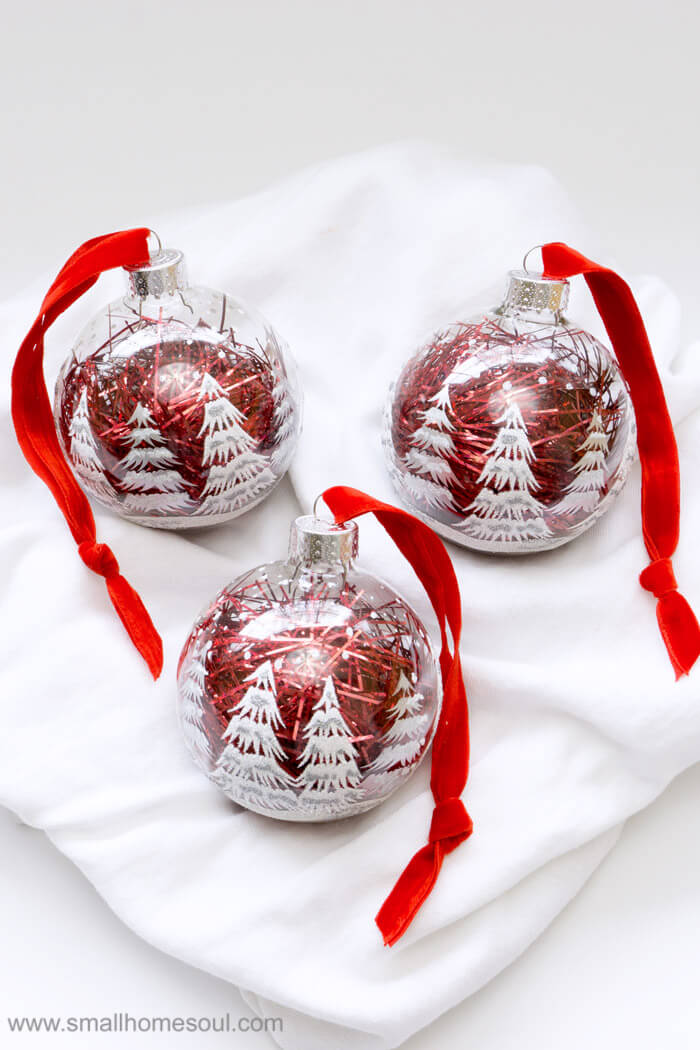 Pin It for later!