Hey friends, I have another easy Christmas Craft project similar to the Easy Ornament Updates from the other day. But this time it's a super Fast Ornament Update you can do in less than 5 minutes for 4 ornaments (excluding drying time). It's been a busy few weeks of creating and sharing Christmas projects that I hope will inspire you to try some new and fun projects. Just like with my other recent projects this one I created as part of a group challenge. But this one's a Linky Party with a group of blogger friends. And this time all the bloggers have more experience, life experience that is.
Yep, we're all bloggers who happen to be 50 years and above. We may have a few more years on some of the other bloggers we know but we all share the same heart and passion for creating and inspiring.
Today's challenge and theme was to create anything Christmas related. You'll find 50+ Christmas projects by 50+ Bloggers at the bottom of this post 🙂
When I shared the Easy Ornament Updates the other day I planned to include this one as well, but I ran out of time getting everything together. So this new Linky Party was my perfect chance to share them with you. It's going to go quick, I promise! And this would be a fun project to do with kiddos (just not the glue gun part).
I'll apologize right now for some of my photos. Winter lighting at my house is tough for photos and I was too lazy to get out a proper light to take most of my in process photos 🙁 (true confessions) and I didn't realize the blur on a few shots until after I'd finished (boo). But I know you'll give me grace when you see the end result 🙂
This post contains links to products, if you purchase something after clicking on my link I may earn a small commission (at no extra cost to you).
Fast Ornament Update Supply List
Girl's Holiday Hair Tie
Craft Paintbrush
The Super Fast Ornament Update
If the tops of your ornaments are gold, give them a coat of white craft paint. It doesn't have to be perfect, mostly the top will show.
Let the paint dry fully.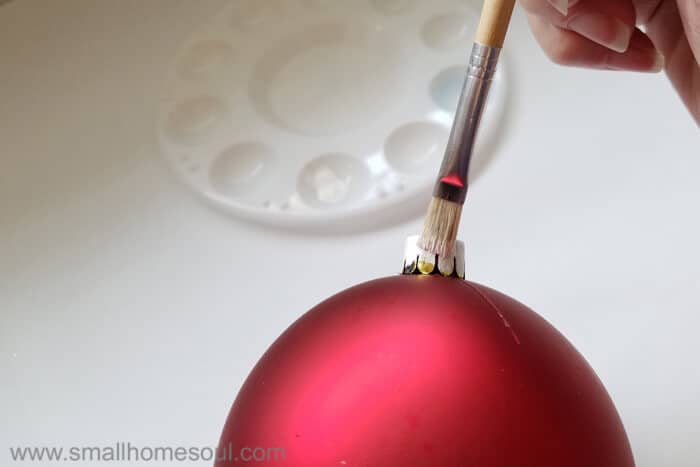 Take one of the Hair Ties and give it one twist so it makes a smaller circle.
Place the Hair Tie over the neck of the ornament and hold it in place with your finger.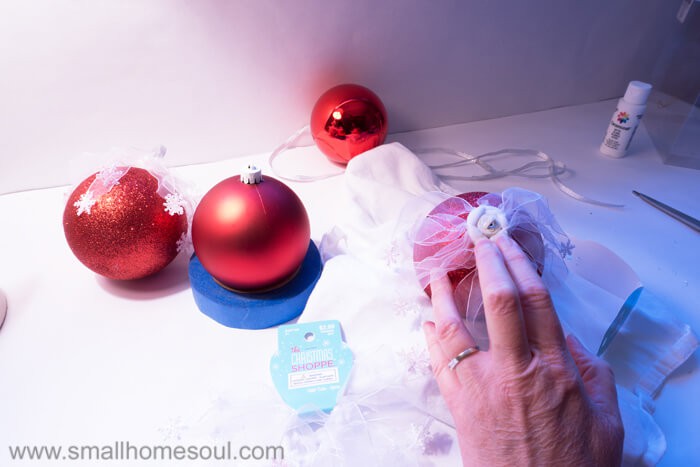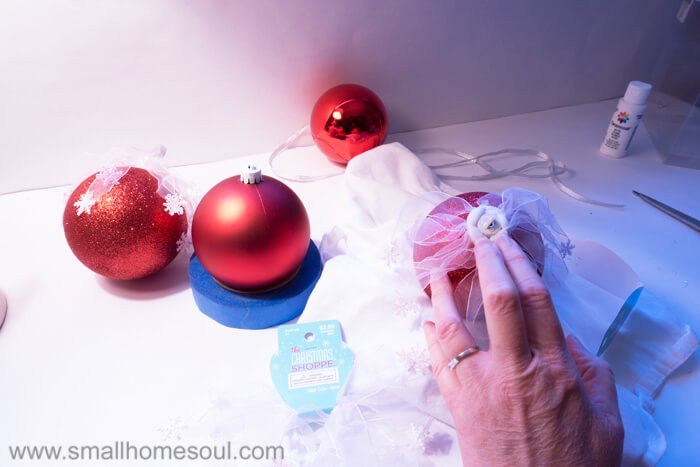 Using the glue gun place four small drops between the hair tie and the neck so it doesn't slip off.
Slip about 12″ of ribbon into the hole and tie a knot at the top.
That's it, that fast and you have a Fast Ornament Update that's much more interesting than out of the box.
The fancy hair tie used in this fast ornament update looks great on the sparkly or the matte ornament.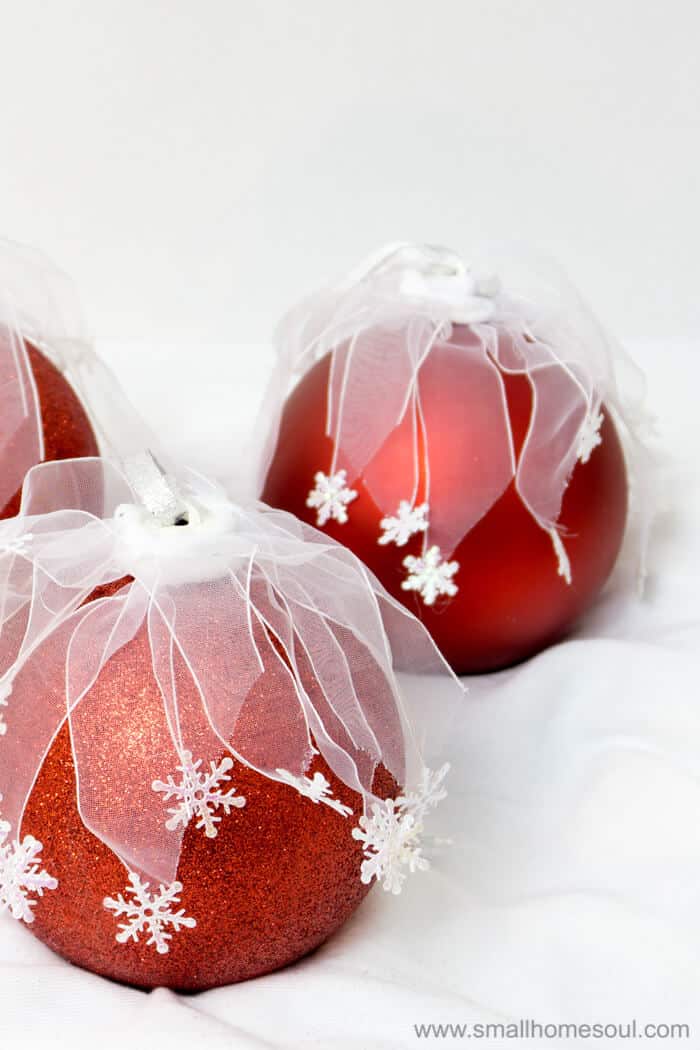 What special hair tie will you use for your Fast Ornament Update?
Love it! Pin It!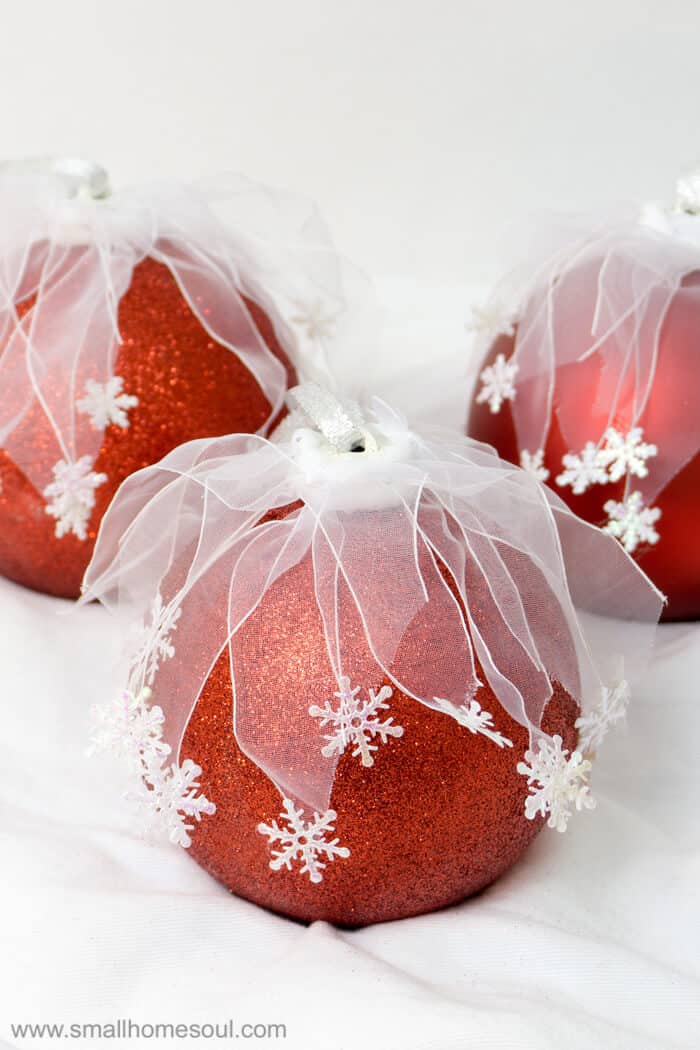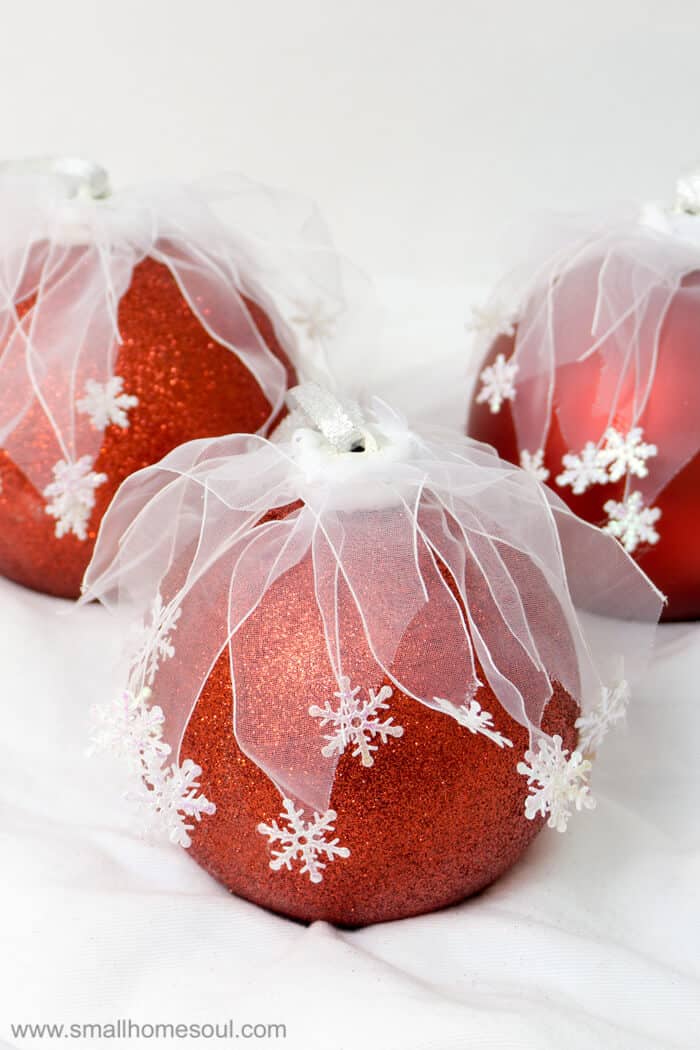 ---
Now for the 50+ Creative Christmas Linky Party
The Creative Christmas Link Party is hosted by Janet of
Shabbyfufu
and the the bloggers of Blogging 50. Please visit all of the talented bloggers below!