Friends, how many of you have struggled with making a bow? If you're like me the struggle is real. But you'll love this Five Minute Fancy Bow I'm going to show you how to make.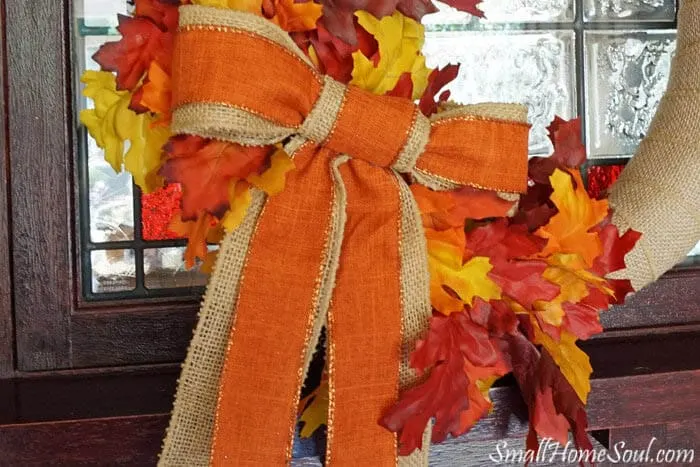 I've struggled over the years with tying the perfect bow….on presents, on dresses, and even for my daughter's hair. A friend I used to work with tried to show me how to make them easy. And for a time I had it down but when I tried to make one for my Easy DIY Fall Wreath it was just. not. happening.
Yes, I searched Pinterest for inspiration and tutorials but nothing seemed to click. So I set my mind to figure it out myself and I'm happy with what I came up with. Literally, it will take you less than 5 minutes.
This post contains some affiliate links for your convenience. You can read my full disclosure here.
Five Minute Fancy Bow Supply List
Ribbon of your choice in contrasting colors
Scissors
Wreath
Five Minute Fancy Bow Tutorial
This tutorial is image-heavy because sometimes a picture really is worth a thousand words 🙂
Cut 2 lengths of ribbon 19″ long and 2 lengths of ribbon 25″ long. The wired burlap ribbon I used is 2-1/2″ wide, the orange ribbon is approx 1-1/2″ wide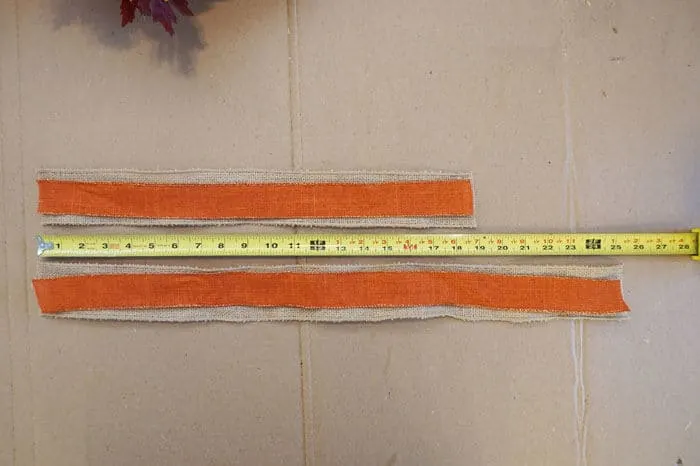 Fold the longest piece in half so that the narrower ribbon is on top. Now turn it over and twist the back piece so that the narrower ribbon faces toward the front as shown below.
Lay the ribbon on a table and fold the top edge down about 1″.
Take the two shorter lengths and fold each end toward the center so the narrower ribbon is on the outside. Overlap the ends by about 1″ and glue them together with a glue gun.
Place the folded piece on the longer ribbon with the overlapped section facing you.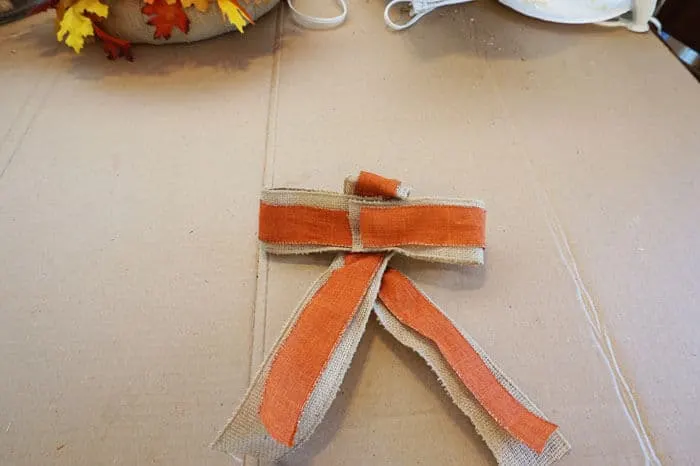 Fold the 1″ flap down over the overlapped center ribbon and hold.
Continue folding until the overlapped sections are flat against the bottom ribbon and hold it tight.
Pick up the ribbon and flip it over so the tails fall away from the bow. Adjust the two tails of the ribbon until they look nice. Dab on some hot glue to glue the ribbon tails to the folded piece.
Turn it over and glue the twisted back piece.
Fold and snip the ends of each ribbon into points.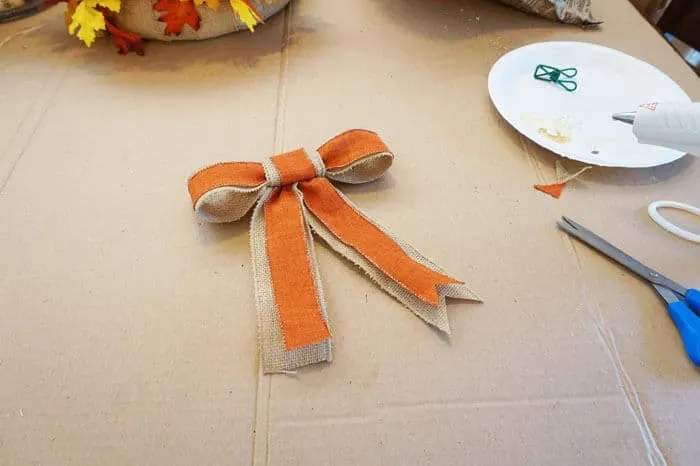 Using your wire cutters cut about 8″ of floral wire. Now stick one end through the back of the ribbon and out.
Wrap the two pieces of wire together to make a pick.
So easy right? Now all you need to do is attach it to your favorite wreath, and enjoy!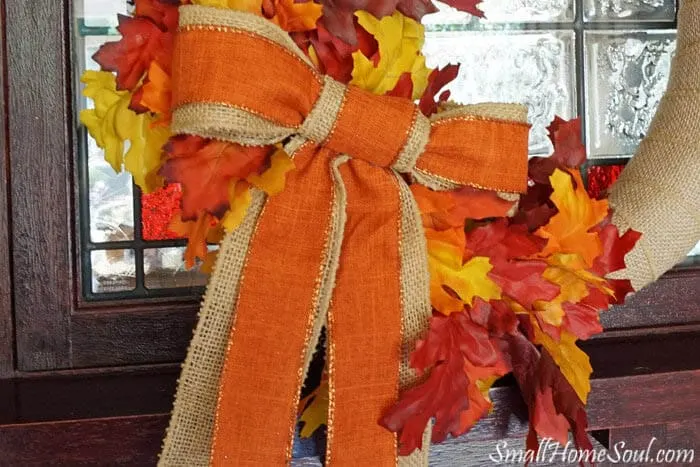 Make sure you Pin it so you can find it fast when you're ready to make your own awesome fancy bow.
I hope you enjoyed this tutorial.