Friends, I made it!!! I am so thrilled today because it's finally time that I get to reveal to you my Office Makeover. Whoot whoot, happy dance, celebrations, cocktails, and all that is how I feel to have this room finally completed. I'm so excited to show you all the pretty after pictures. It looks so good that I don't want to sully this post with any of the horrid before pics. I'll let you hop on over and see those embarrassing pics from the Week 1 post on your own.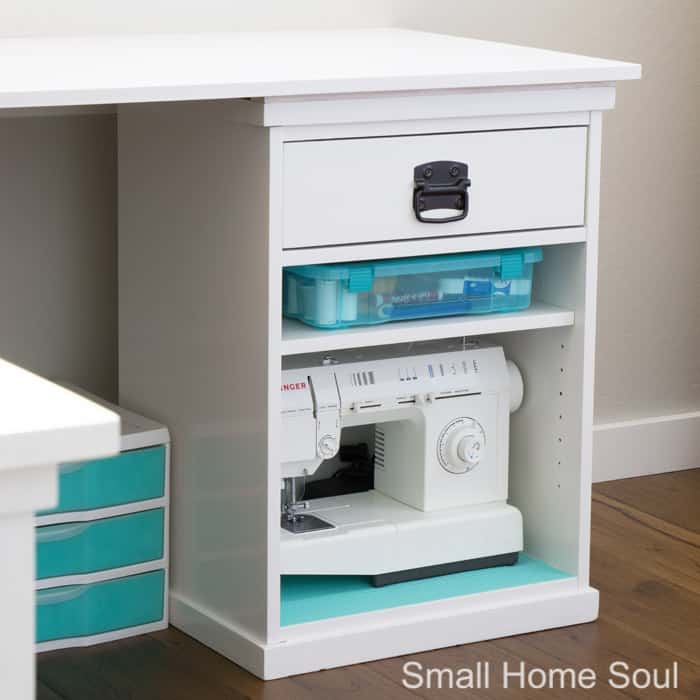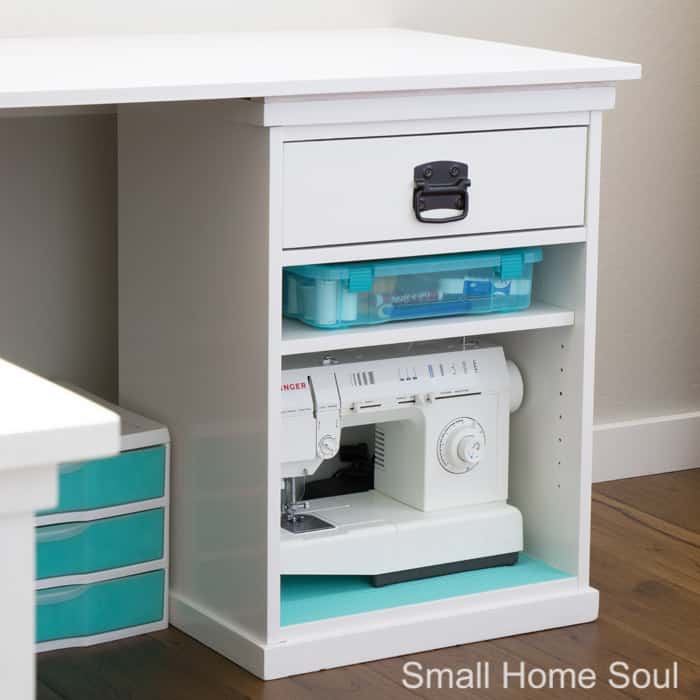 Our hard work paid off with a new home office space that's well organized and more functional for working, crafts, and DIY projects.
Planning and Designing
When I jumped in with both feet weeks ago on Week 1 I had no real plan other than what I'd been thinking about. I love colorful things and one thing I knew before I started was that I wanted to infuse some fun colors into the room. The furniture would likely be white but there'd be plenty of opportunities to jazz up the room with color here and there.
I am happy to say my new office is everything I wanted it to be.
If this is your first visit I joined the One Room Challenge where you make over one room in your house over 6 weeks. It's really 5 weeks (even crazier) but 6 Thursday reveals. The challenge is hosted by Calling it Home with House Beautiful as their media partner. I got to participate as a Guest Contributor so be sure to check out the links at the bottom to see all the other wonderful reveals happening this week.
This post contains links to products, if you purchase something after clicking on my link I may earn
a small commission (at no extra cost to you).
Office Makeover Tour
Ok, I've made you wait long enough, it's time for the tour. Come along and let me show you my new office.
This view is just a sneak peak, the real action is hidden on the left of the room. I never found a rug I loved for the room and I've decided to leave the floor bare for now. The floors are gorgeous so why cover them up if you don't have to. A rug will be nice for when guests stay over and use our Murphy Bed. This is a multi-functional room that finally functions like it.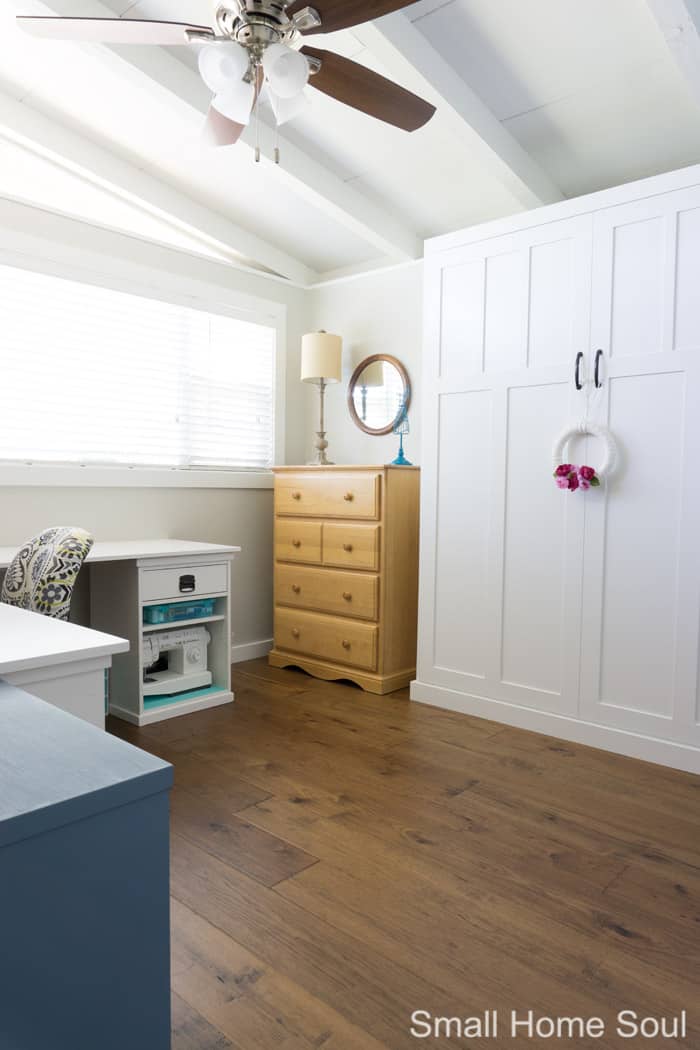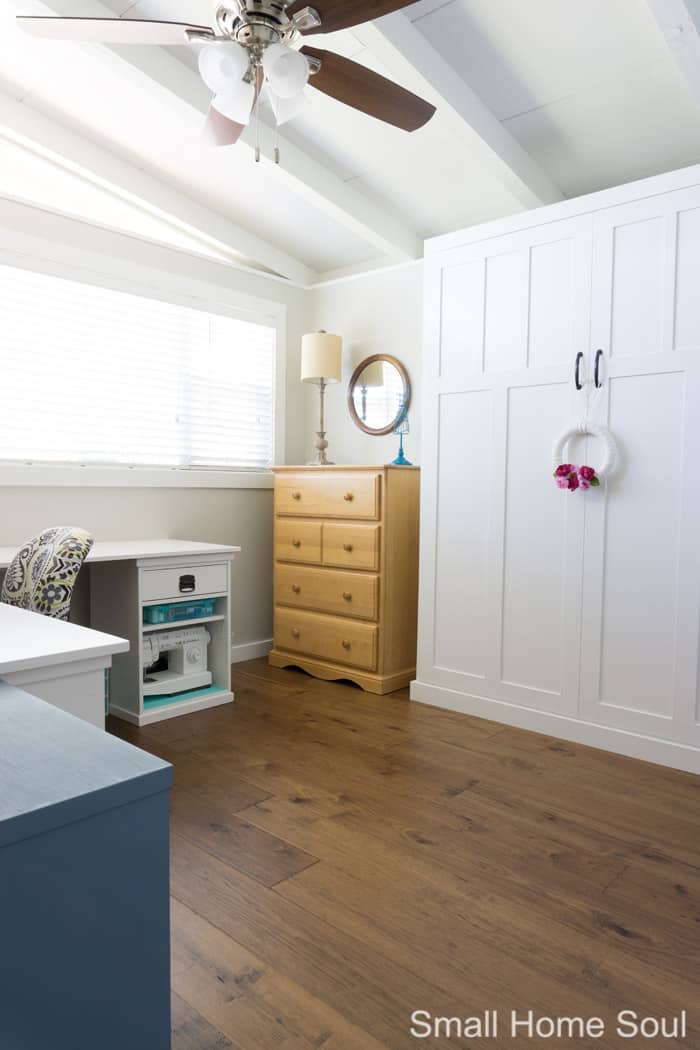 Are you ready? Here it is, in all it's glory. That fabulously large new L-shaped desk we built for this office that seemed to take forever. It was worth the wait!! I'm finally back in here working my part-time job and using it as my command center to build my blogging empire. Haha, ok, building up my blogging business LOL I never want a blogging empire, that requires too much maintenance.
All the space, look at all the space I have on the right side of the desk!!! There used to be a huge gap between desks and a big hole in the corner where the printer hung out. And now everything that I could need is right at my fingertips. And check out that beauty of a Desk Lamp, I seriously catch myself still admiring how great it turned out. I gave my old metal stapler and tape dispenser a matching makeover. Now they look like a set.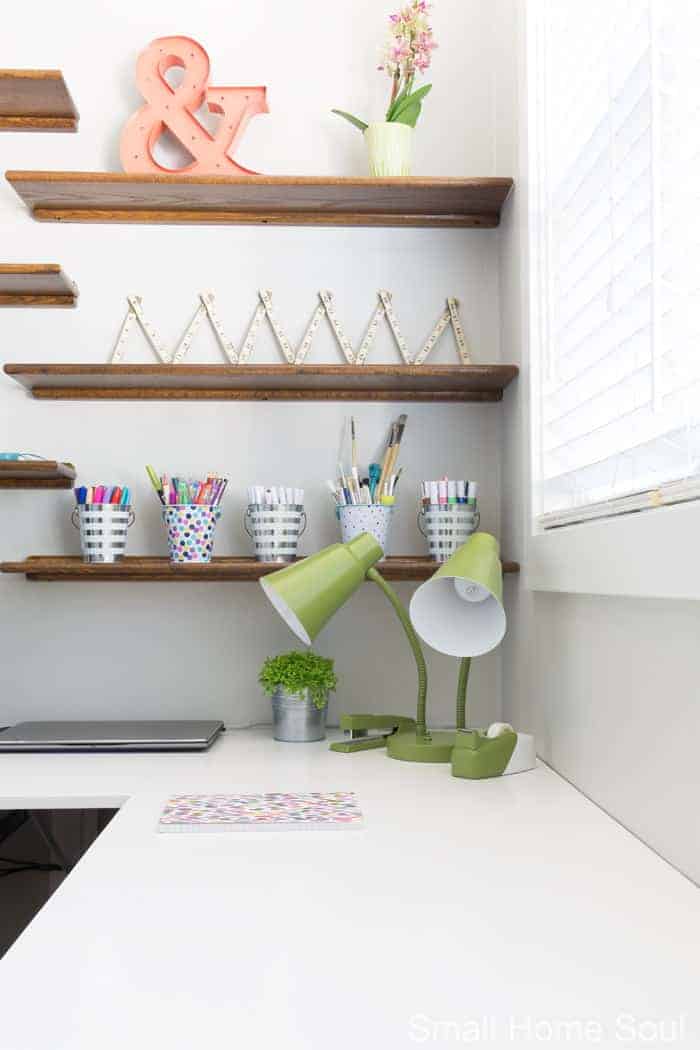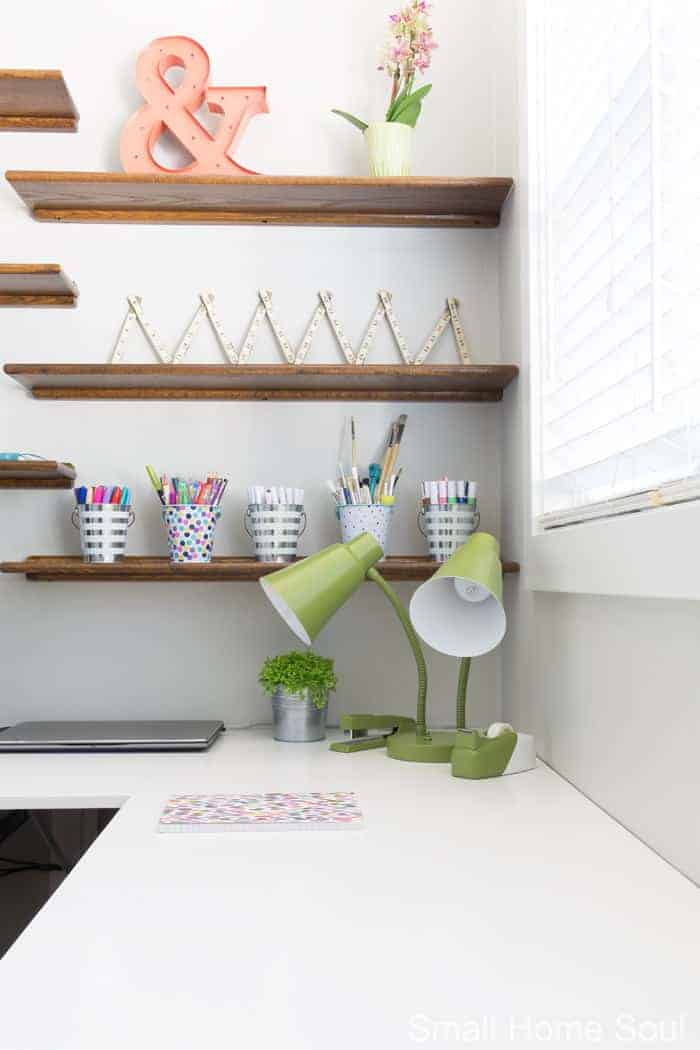 More views of that awesome lamp but also those fun galvanized buckets that are holding all my markers and brushes.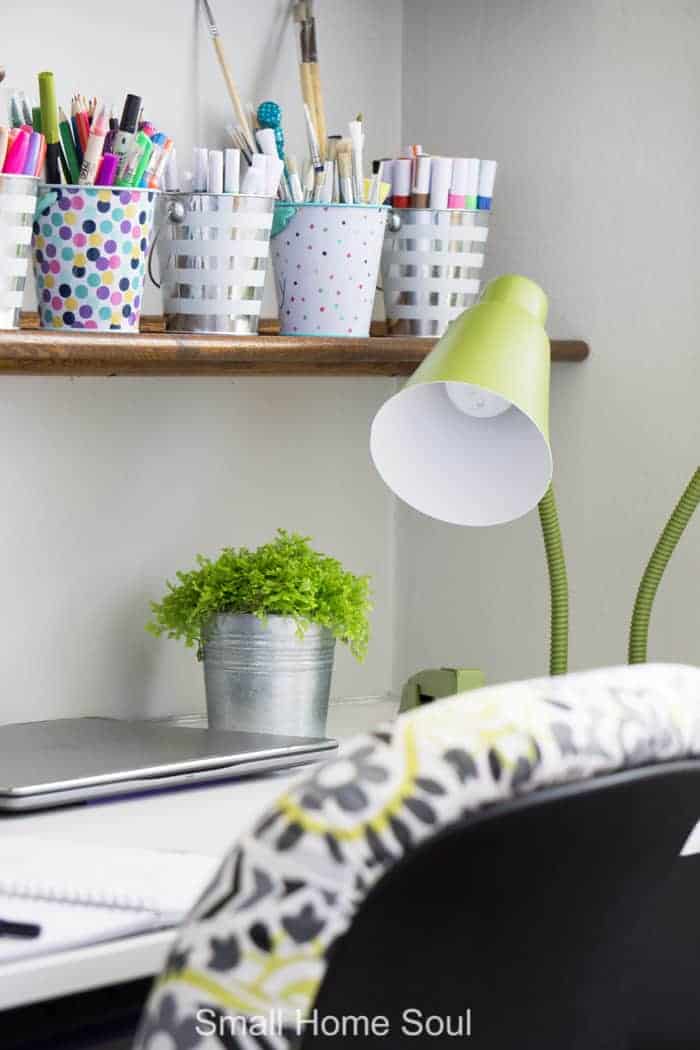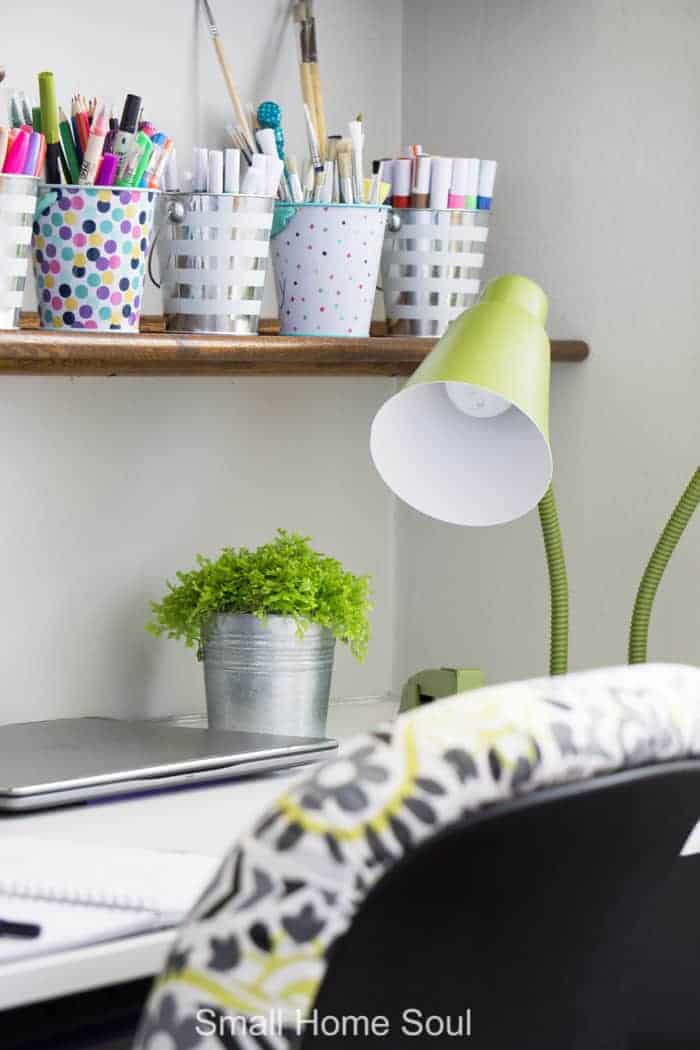 Finally, I have a spot to store my sewing machine. I lucked out that it fit perfectly in to the desk component with just enough space for one of the Creative Options Project Boxes. I picked mine up at Costco for about $20 for the 5 pack but they also have them on Amazon but I honestly wouldn't pay the Amazon price.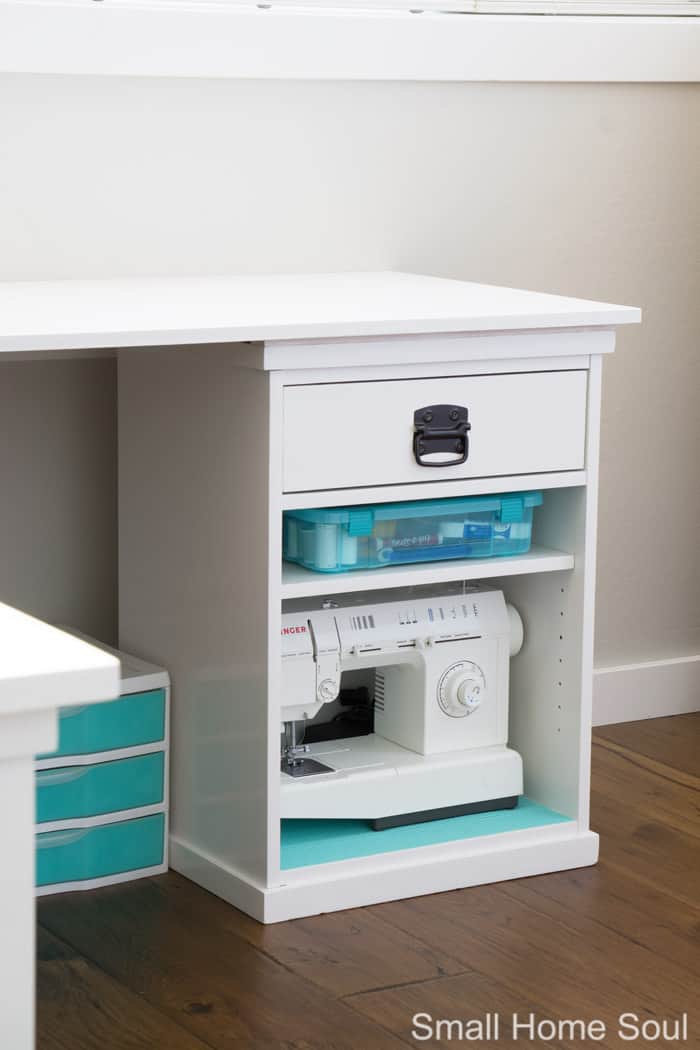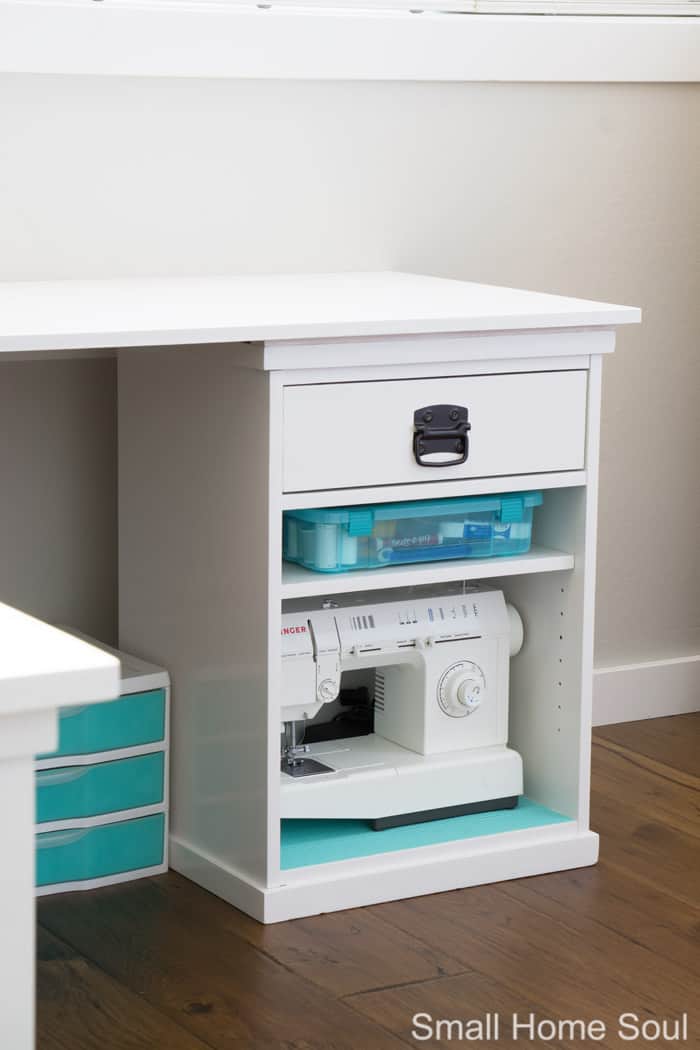 There are a few projects you're getting a first look at today in this reveal. When you're DIYing an office makeover there are a ton of little projects you can get done quickly. I'll be sharing some of those projects in the next few weeks.
These shelves are one of those projects you'll be seeing. You know how I love cheap or free stuff, right? Yep, I got those for free; another score from a Facebook Buy/Sell group. They just needed a little bit of love. I still need to find a few things for the top shelf but it's this view so much better than the TV that used to hang on that wall?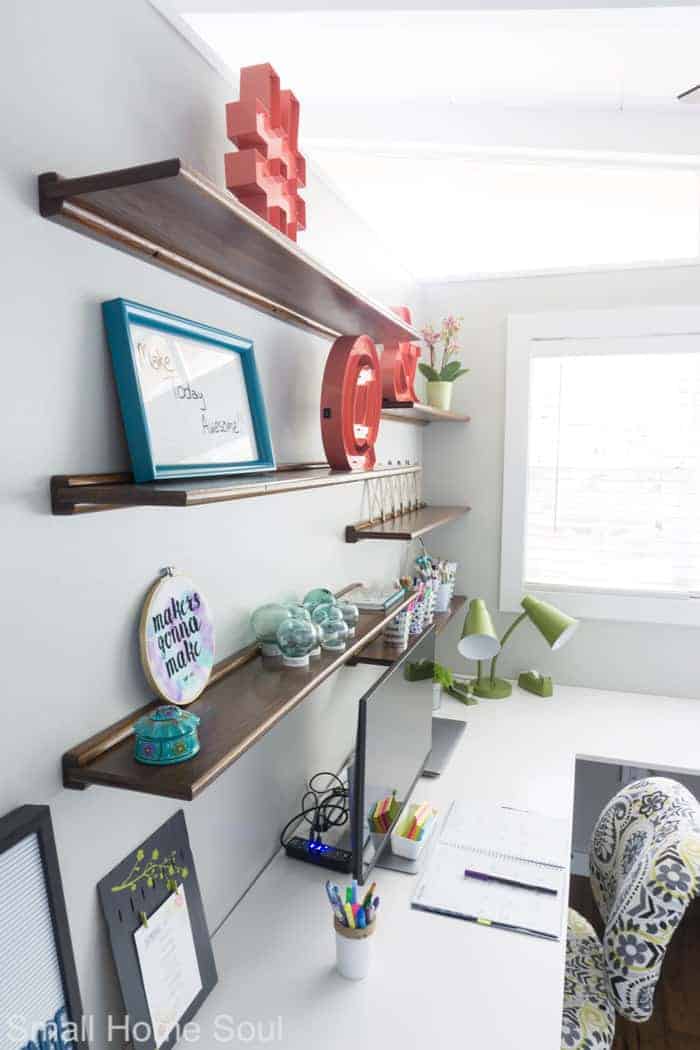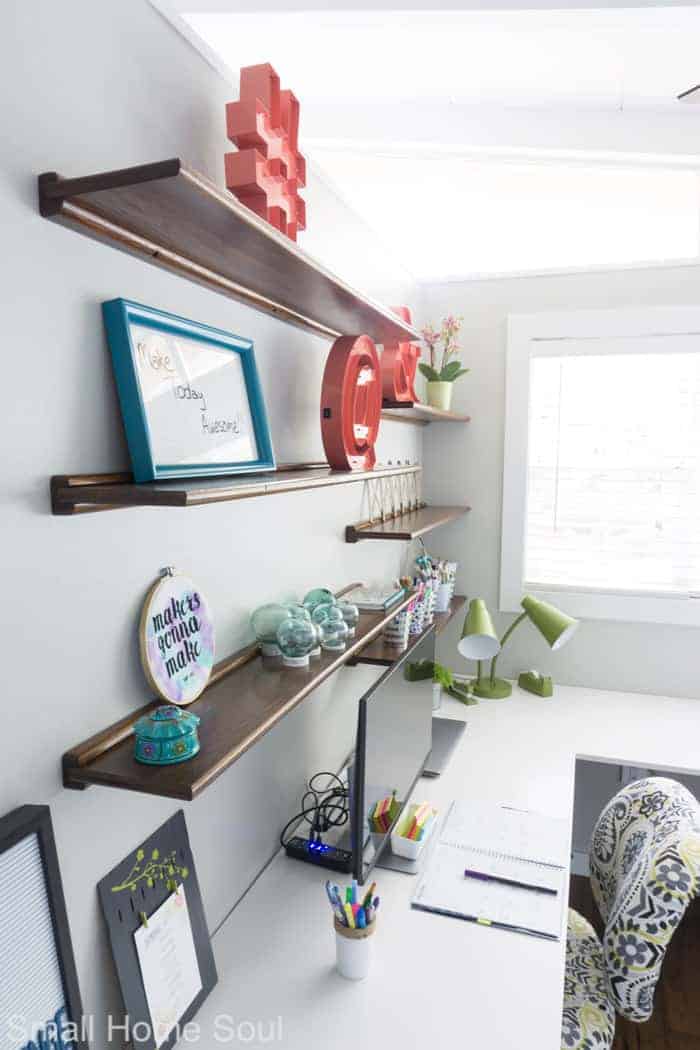 Since my free desk components only had one drawer each those Creative Options boxes are handy for odds and ends and paperwork we don't use often. I just need to add some labels on the fronts.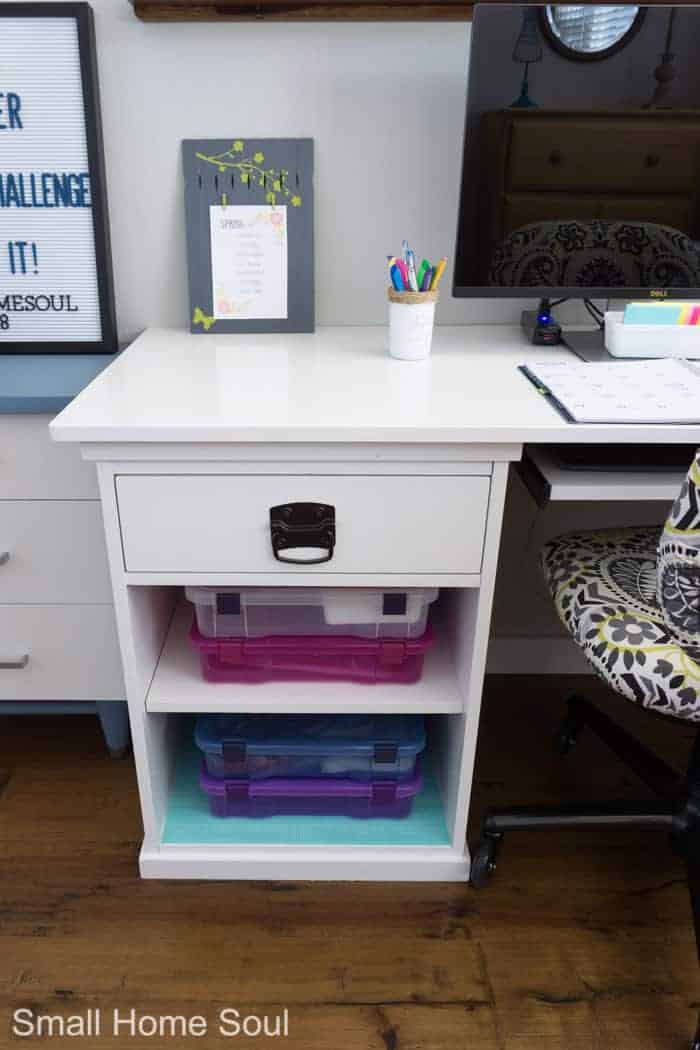 An office makeover wouldn't be complete without a new chair. Or a new to you chair, or better yet a newly recovered chair you already own. I'm so glad my brother told me about the new wheels. They make the chair roll much more smoothly and protect the expensive hardwood floors from damage.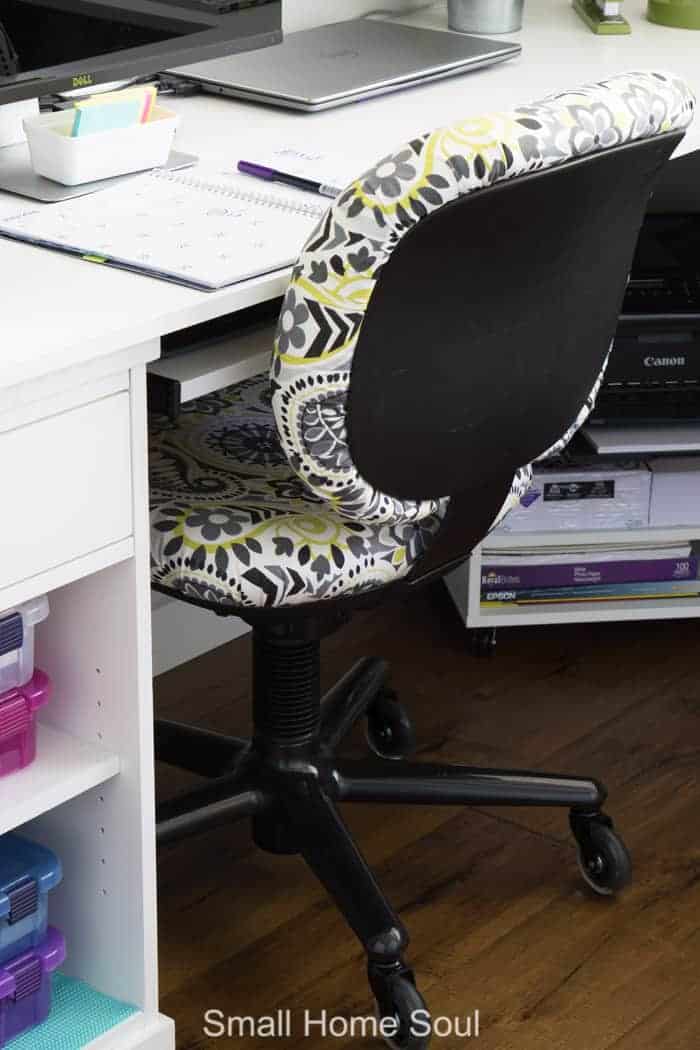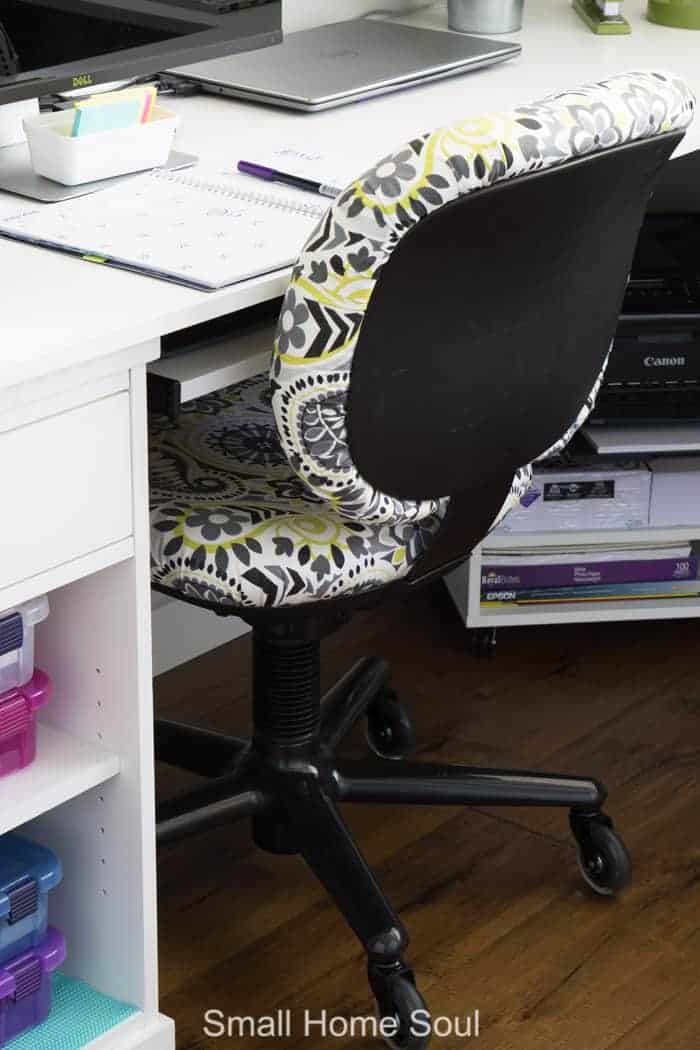 The office makeover wouldn't be complete it I didn't find a new home for our printer; and I knew I'd have to build one to get the one I wanted. I'll be sharing the post for the build very soon so watch for it if you need a rolling printer cart for under your desk. Oh, and don't you just love the wall-mounted power strip? The cord situation was making me nuts so this solution was free. I even posted about it on Instagram.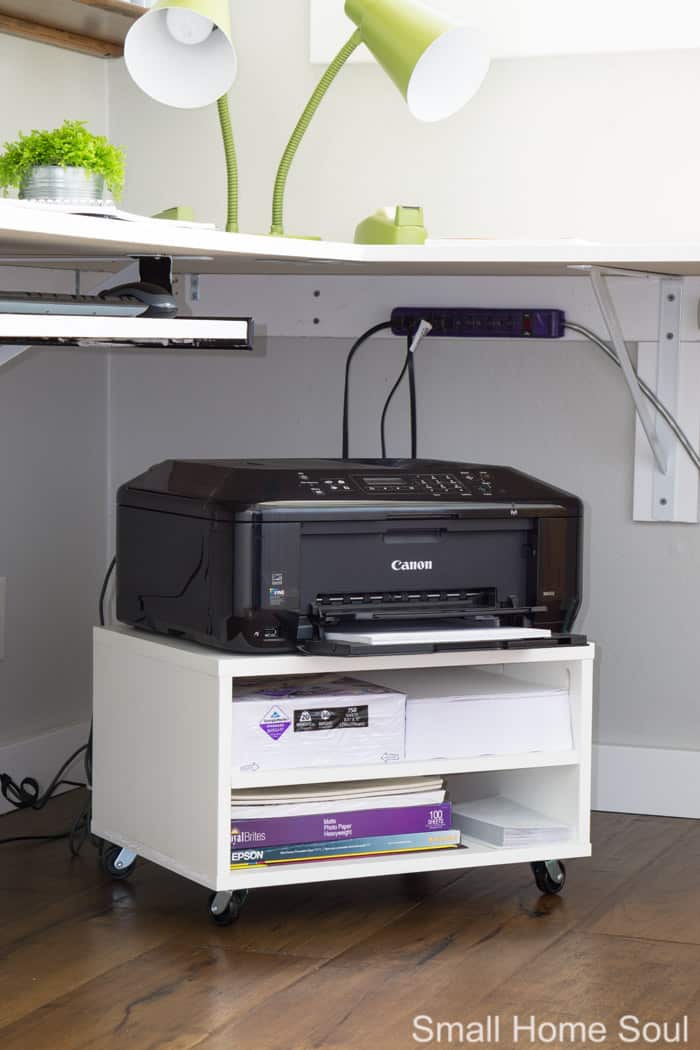 I know some people don't love ceiling fans but we use ours all the time. And the light on the old one in this room was busted so we headed to Home Depot and bought a new one for $99. You guys, I can't believe I lived and worked in such a low light situation for such a long time. Isn't she so pretty?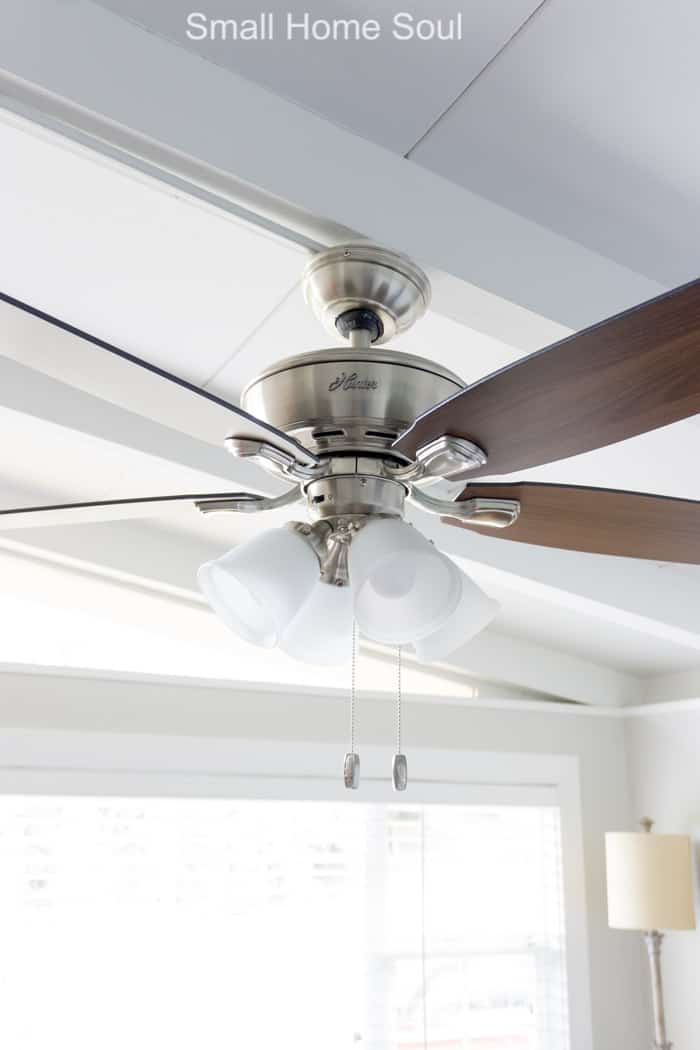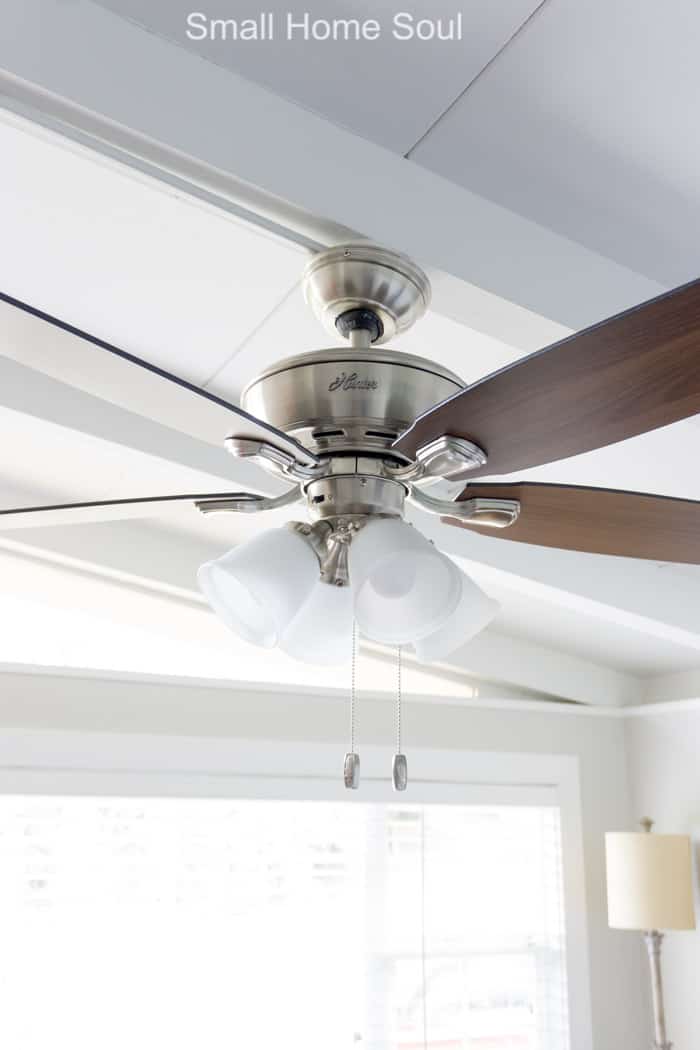 If you've seen the mess that was my old office you know I needed a little extra storage. I was looking at the Container Store but couldn't spend the money and lucked out when I found these Room Essentials baskets at Target for $3.50 each, and they're made in the USA.
The tour is almost done, are you still with me?
I needed some place to store my craft paints (they were in three different drawers before) and came up with a cute little storage system from old sewing machine drawers. The only place I had to hang this in the room was in the corner above the dog crate. I didn't take a picture of that corner because I still haven't sewn the cover for the crate. But I've had the fabric for a few years #procrastinator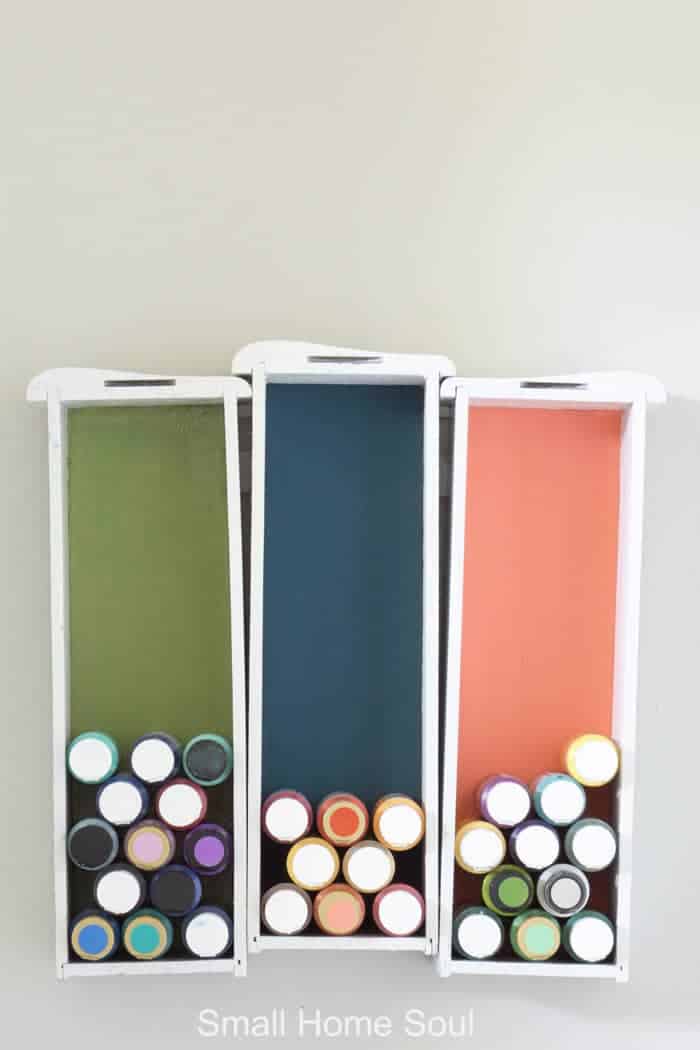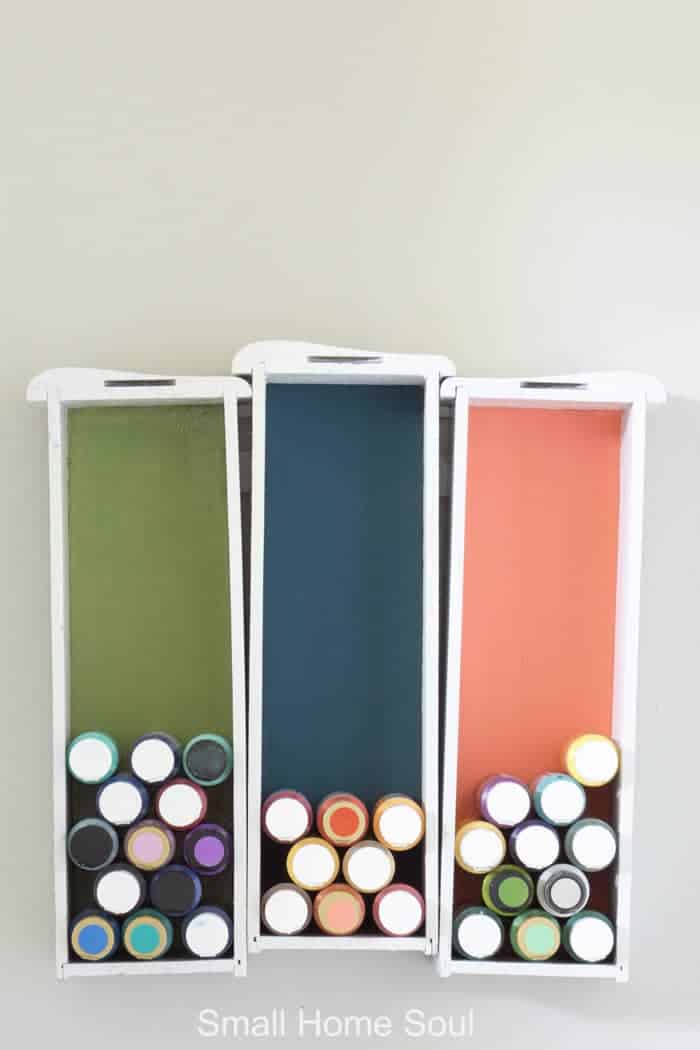 So the main tour is over but I wanted to share some fun stuff around the room now. I've had these Sharpie Markers in a Ziploc baggie stuck in a drawer since I bought them. Which means I never really used them. Now that they're out on display they fill the colorful quota and they're easy to get my hands one when I need one.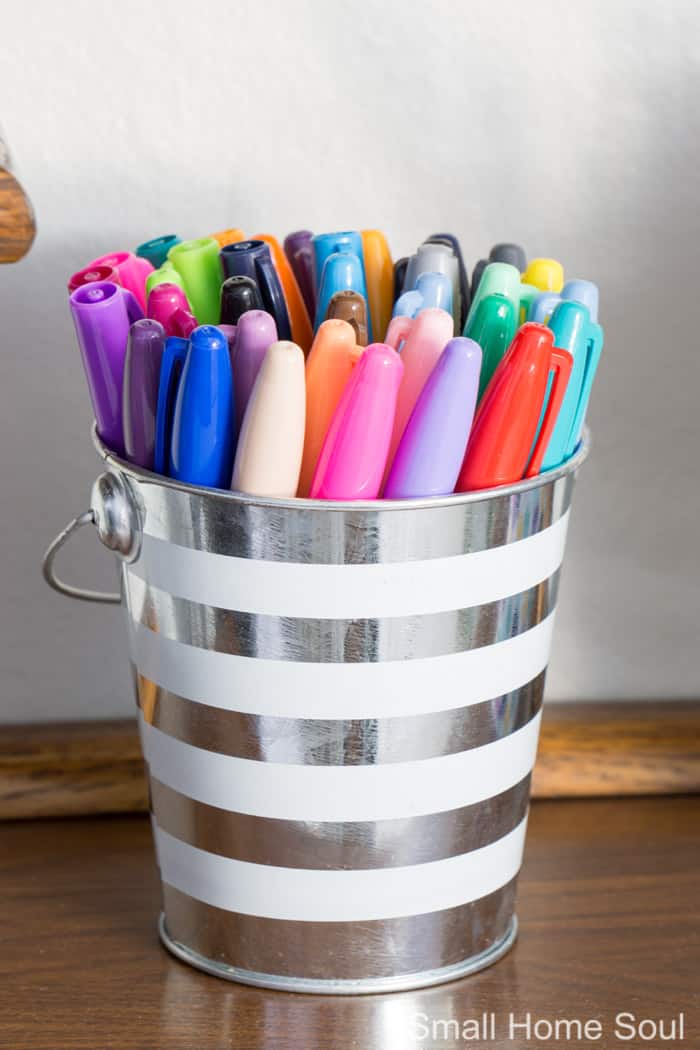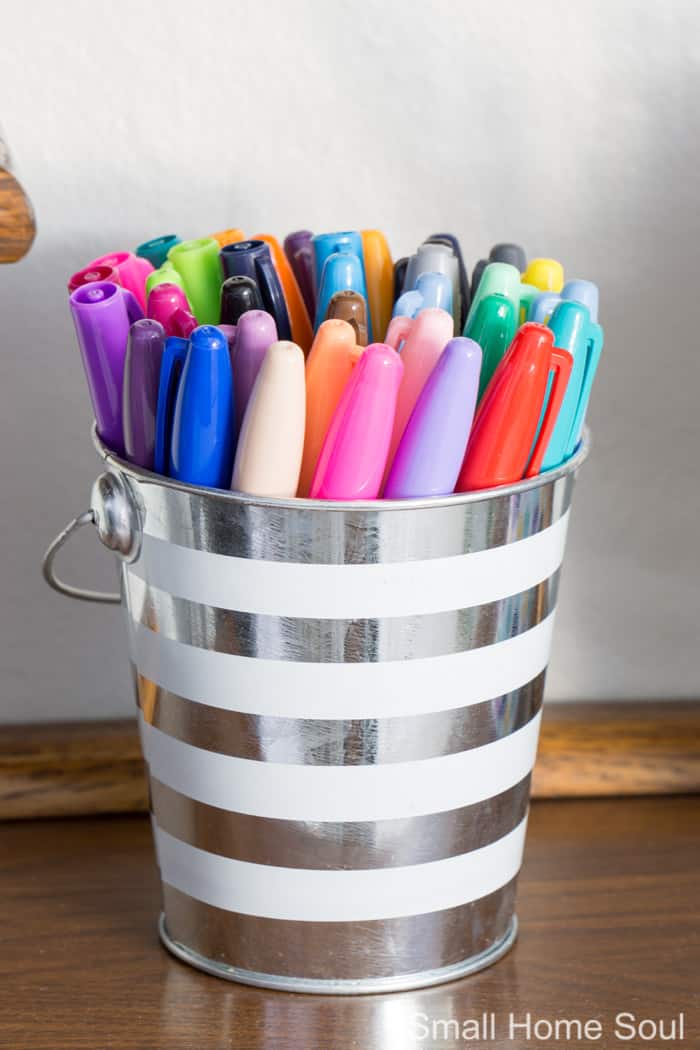 While I was shopping for storage stuff for the room I happened on this cute polka-dot hammer. It's a 5-in-1 Mini Hammer and I couldn't pass it up because it reminds me of days at my sweet grandma's house. She used to have one I when I was little I loved pulling it apart and putting it back together. I may never use it for it's intended purpose but it makes me happy to see it on my shelf 🙂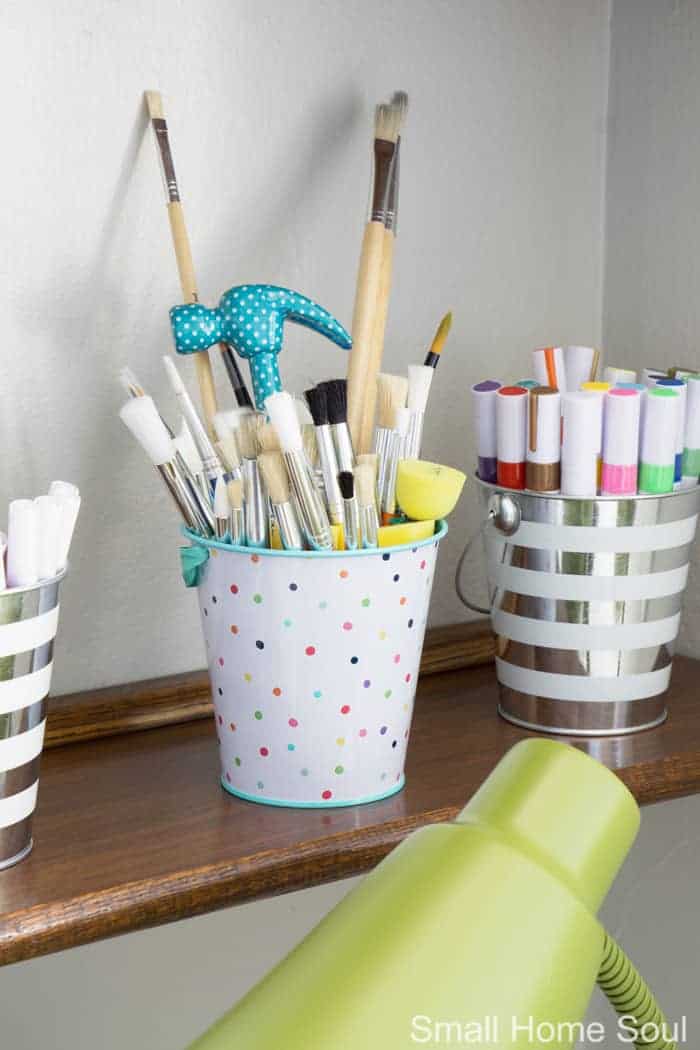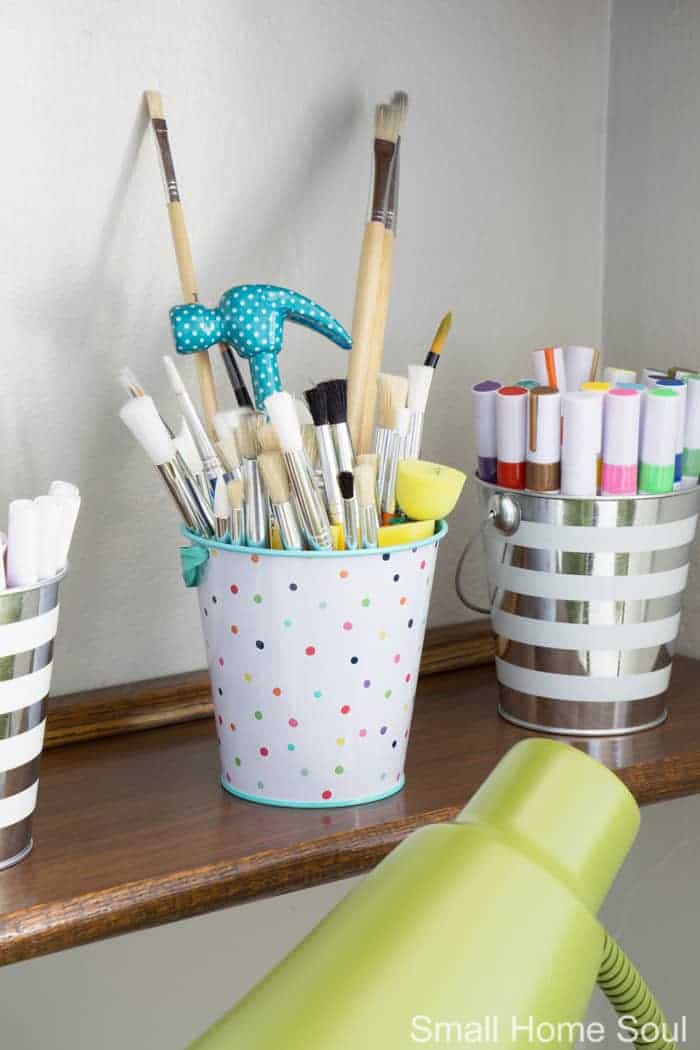 And lastly there's this little cutie. I started a little makeover on her but ran out of time. I'll try to get her finished in the next few weeks.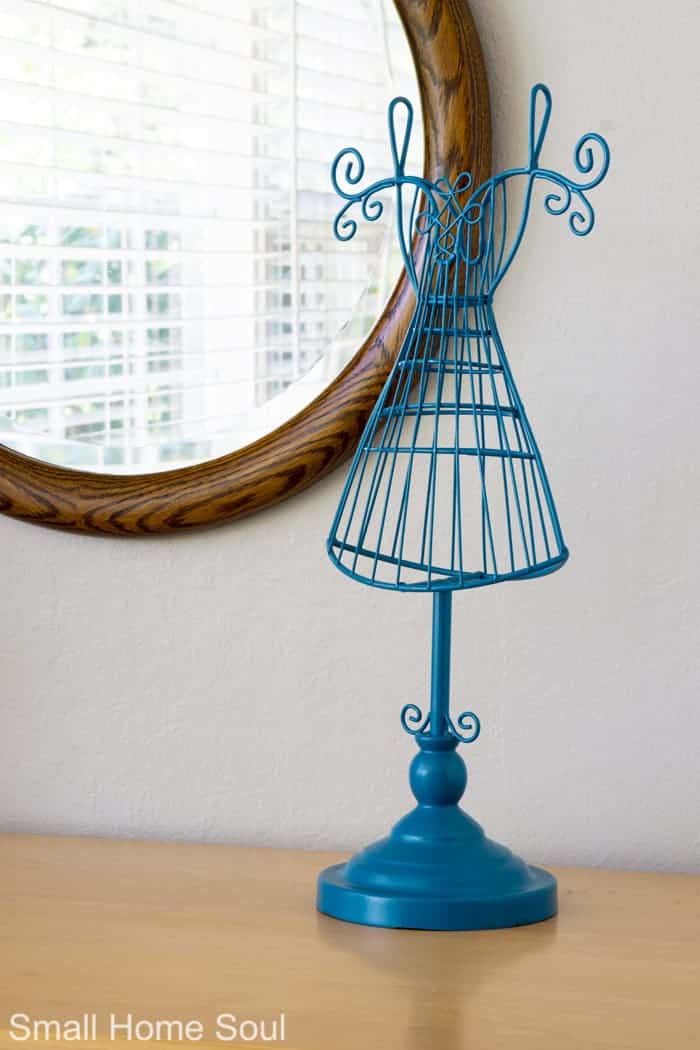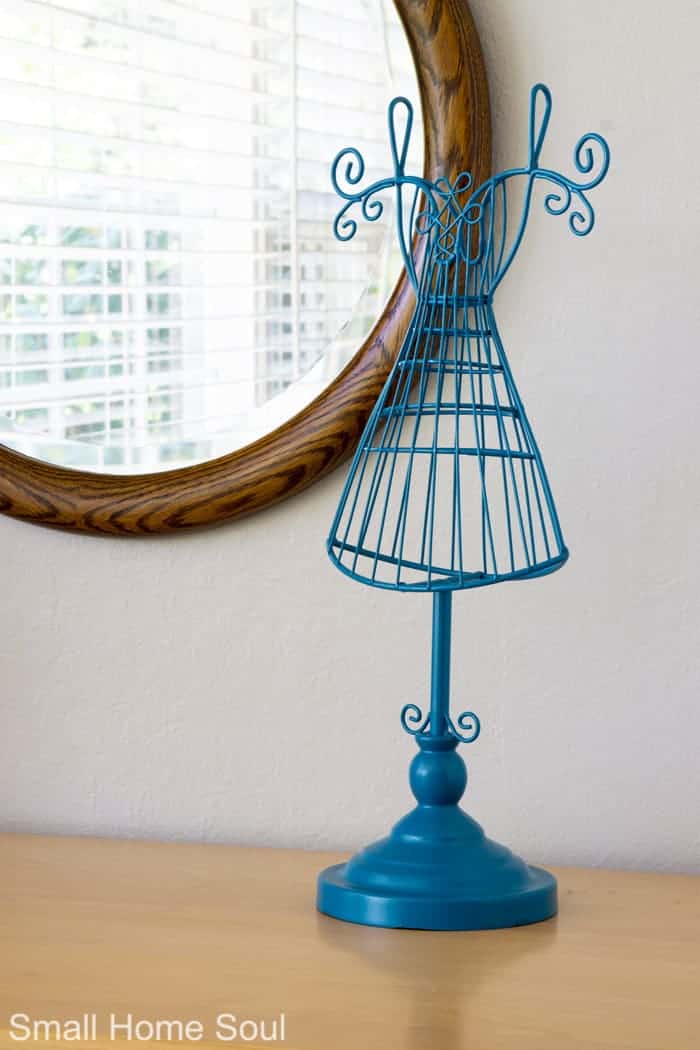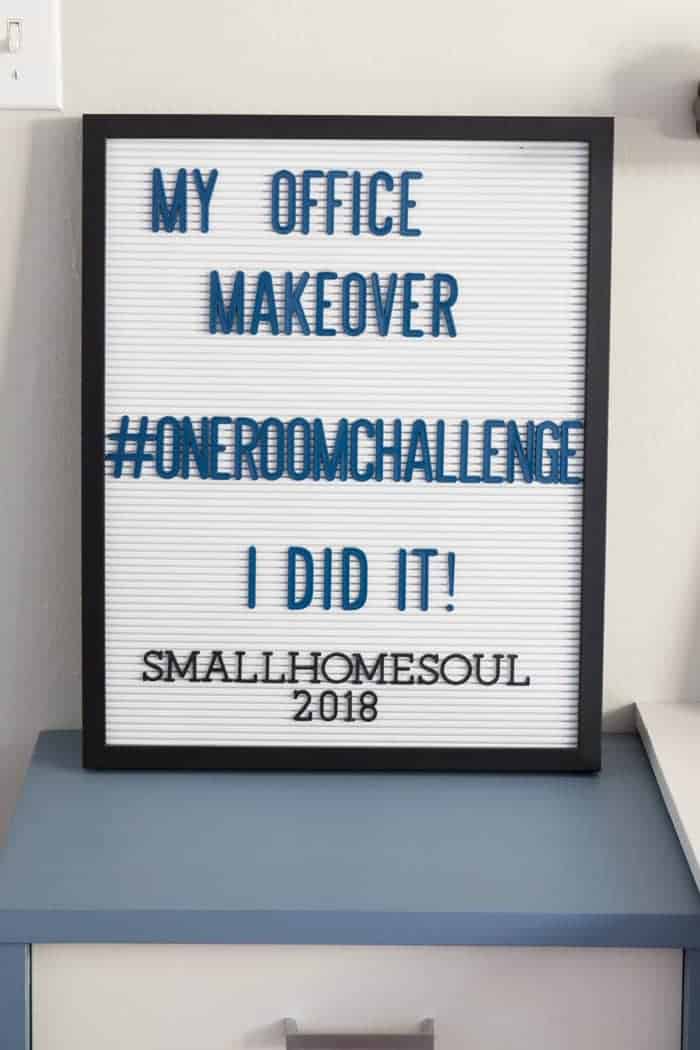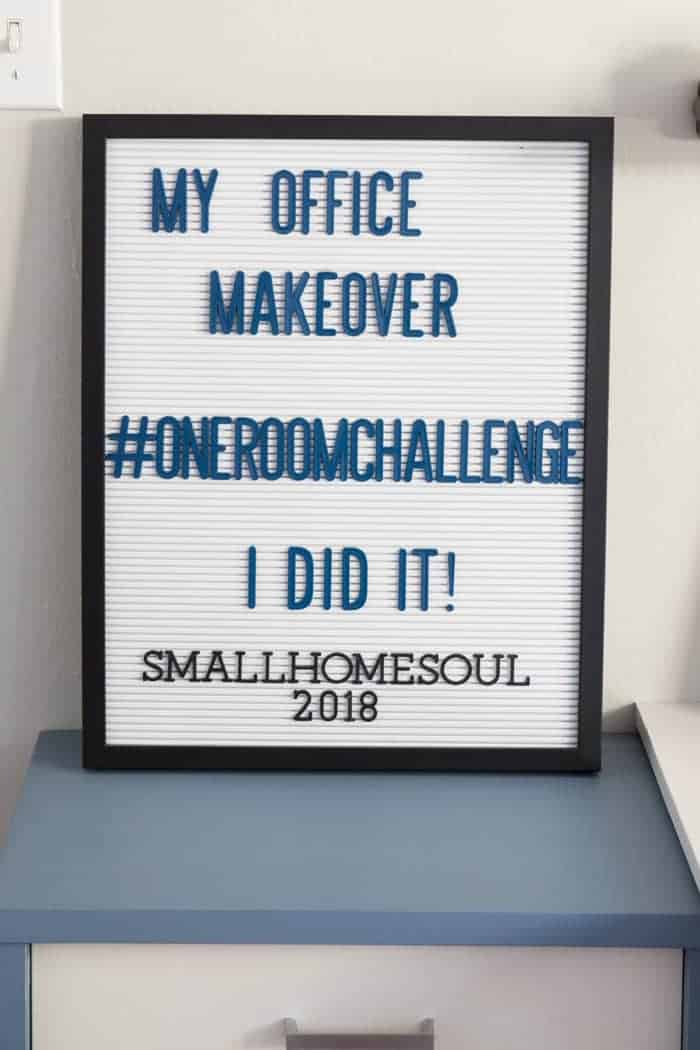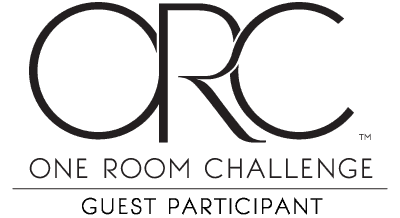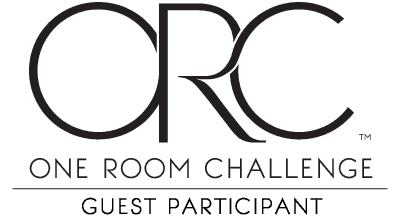 Be sure to check out the big reveals of all my blogging friends who worked tremendously hard on their rooms
via this link – ORC Guest Contributors
#oneroomchallenge #ORC #housebeautiful
Thank you for joining me on this journey! It was worth all the work to get my Office Makeover completed.
LOVE IT!!! PIN IT!!!