Hey friends, have you ever just thrown a dish together that turned out super tasty and then couldn't remember exactly what you put in it? I've done that too many times so I started making notes on an app in my phone of the ingredients as I throw them in so I can recreate that dish later. That's what I did for this super yummy savory quinoa and chicken. And I remembered to put it into my notes so I can make it again.
This recipe will feed a crowd since I was taking it to a friend's for a BBQ. You can easily cut it in half for your family. Or you could do like I do and enjoy leftovers for dinner another night. I love to bulk cook for this reason since there are only two of us in the house, that way I don't have to cook as often 🙂
This post contains some affiliate links for your convenience. You don't pay more but I make a small commission for every purchase.
Savory Quinoa and Chicken Ingredient List
1 Small Onion diced
1 Lg Clove Garlic minced
1-1/2 Tablespoon Fresh Thyme Leaves
1-1/2 Teaspoon Chopped Fresh Rosemary
1 Tablespoon Chopped Fresh Sage
6 Cups plus 1/4 cup Chicken Stock
3 Cups Quinoa (this is my favorite brand)
2 Tsp Salt (I love pink himalayan)
1 Tsp Black Pepper
3 Tbsp Olive Oil
3 Chicken Breasts (optional) and more olive oil for pan frying.
Thankfully I have all the herbs I wanted to use for this savory quinoa dish growing like crazy in my garden. You can use dried herbs but according to Martha Steward "Because dried herbs are generally more potent and concentrated than fresh herbs, you'll need less — use 1/3 the amount when substituting with dry (I paraphrased)."
Most people think of sage, rosemary, and thyme as Thanksgiving spices but they go together nicely any time of year.
As you dice and/or mince the onion, garlic, and the herbs keep them separated. Heat the 3 Tbsp olive oil in a 12″ skillet on medium. Add the onions and saute until they start to become translucent. Add the 1/4 c of chicken stock and the garlic. The chicken stock will keep the garlic from burning and becoming bitter. Saute for a few minutes before adding the herbs. Continue to saute until yours looks like this.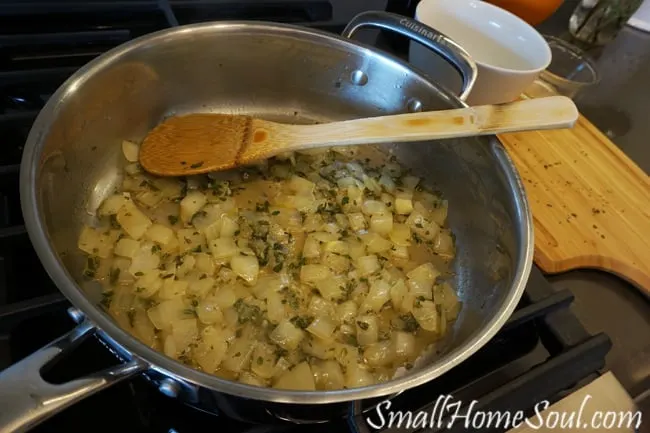 Set the pan aside and start on the Quinoa. Heat the chicken stock until it comes to a boil, add the quinoa, the salt & pepper, and the herb and onion mixture to the chicken stock. Return to a boil and give it a stir before putting on the lid and reducing the heat to simmer on low for 15 minutes.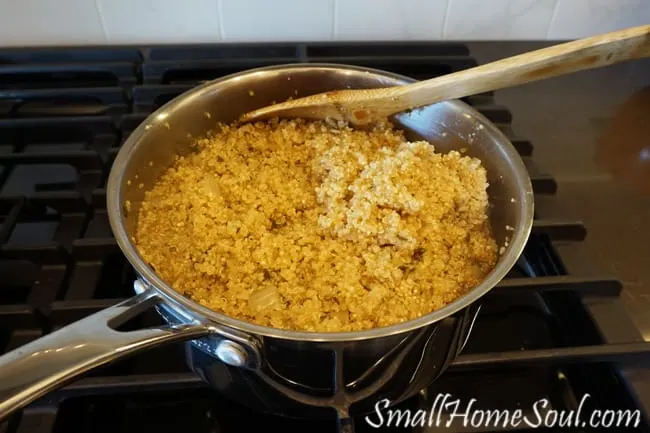 The quinoa will be done when you see the little white rings (the germ). Be careful not to overcook or it will become mushy. Remove from heat and fluff it with a fork. Return the lid and let it sit for 5 minutes. When you check it at 15 minutes if it's still a tiny bit firm to taste and there's a lot of liquid left leave it on the heat uncovered for a few minutes to let some evaporate as it continues to cook. Check it often and once done remove from heat and cover for a few minutes .
When you start heating the broth for the savory quinoa start cooking your chicken breasts. I like to use a complimentary spice on the chicken such as Mrs. Dash Garlic and Herb. When they're done let them rest under tented foil for 10 minutes to retain all the juices.
Transfer the savory quinoa to a serving dish and top with sliced chicken breast. I like to put mine into this old casserole dish that was my grandmas.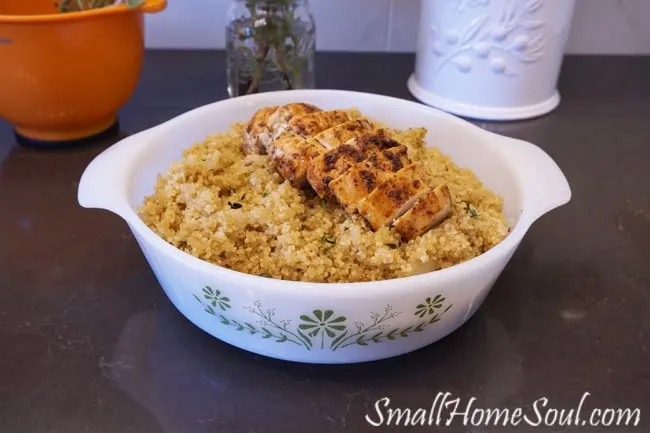 An ancient dish for an ancient grain 🙂 ahh, I miss my sweet grandma.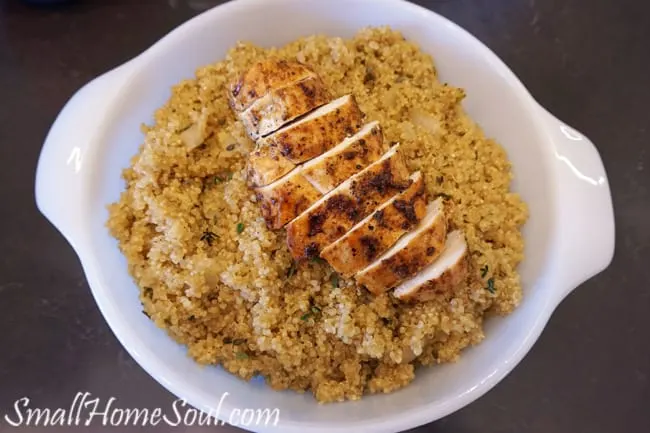 Doesn't this just make your mouth water?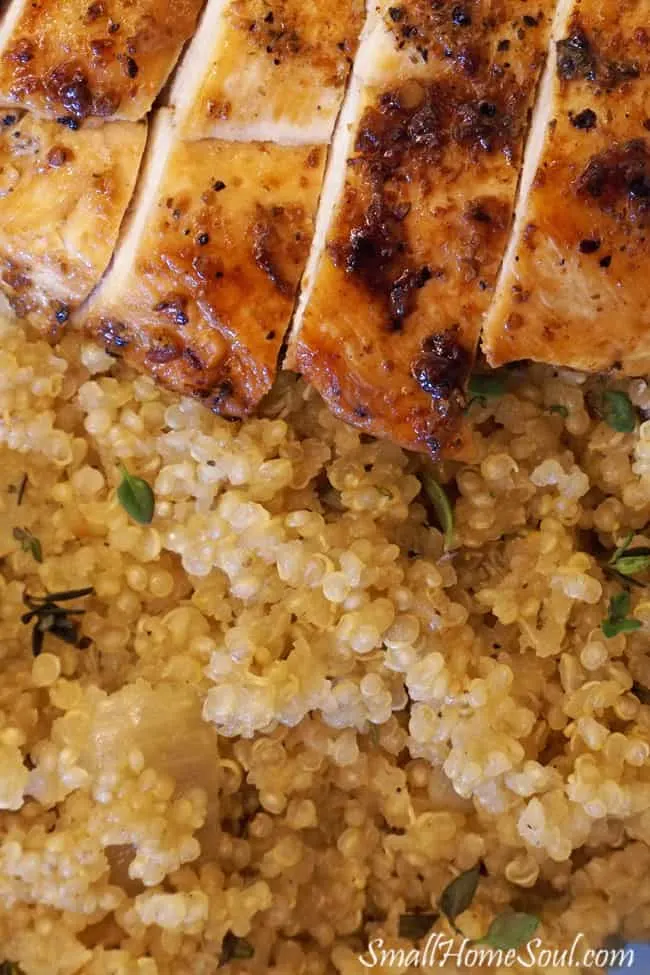 I hope you have a chance to make this dish soon, it's even better the second day.
If you like this recipe you may also like my Easy Chili Verde, it's a huge hit in my house!
Shop this Savory Quinoa Recipe