Hi Friends, I've finally gotten around to writing the follow up post to my Antique Fair Deals from the Summer. If you remember I bought some really awesome letters and had a plan for a cool personalized decor project. Well, I finished it about a month ago but time gets away form me with so much stuff to keep on top of. Today I'm going to show you how to use vintage letterpress blocks to make personalized decor for your home.
I just love these vintage letterpress blocks! With everything so computerized and digital today they're a reminder of the extra effort and work it took to produce newspapers and books.
My husband and I had fun picking through all the bins to find the perfect letters for our project. I'm excited to show you how I did it and how it turned out so a-w-e-s-o-m-e!
This post contains some affiliate links for your convenience. You can read my full disclosure here.
Vintage Letterpress Decor Supply List
Vintage Letterpress Blocks or some other wooden letters
12″-24″ Carpenter's Level or Straight Edge depending on project width
Tube of JB Weld Clear Weld
BBQ Skewer or narrow Craft Stick
Paper Plate
After you determine the word and design you want to create it's time to put it all together. Lay your letters out on a flat surface near your carpenter's level. Make sure you aren't working directly on your table or other delicate surface. I used a foam board to protect my dining room table. I put a large piece of parchment paper directly under where I planned to lay out my letters.
On your paper plate squeeze out about a dime-size circle of the JB Weld Clear Weld. It's a two-part mix so be careful to read and follow the directions. Mix it with the end of your skewer or craft stick.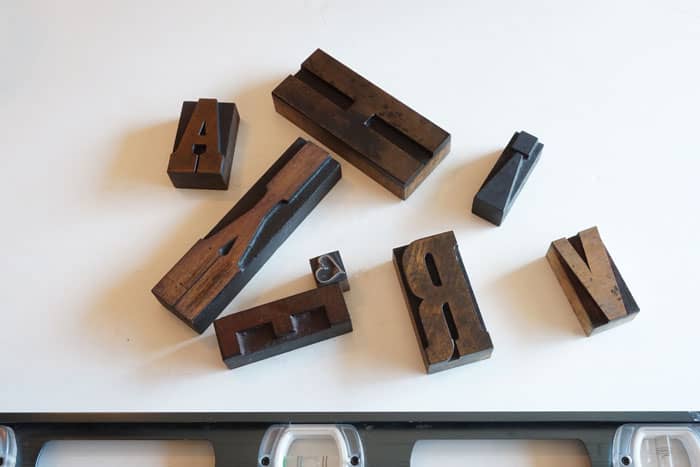 Connecting Vintage Letterpress Blocks
Start with your first letter against the level and apply the second block. Only apply the Clear Weld to the areas that will touch. It dries clear but you don't want to see any extra as it might change the look of the surface when the light hits just right..
Apply a thin layer, it really doesn't take much at all. Less is more here. If you aren't sure how it will hold try it out on two paint sticks or something you don't care about (seriously, it's that strong). I tested it on two scrap pieces of wood and there was no way it was coming apart after I let it sit for the 1 hour cure.
This stuff is great and it dries like cement. You'll have about 5 minutes of working time to make sure all your pieces are straight and level. The benefit of using the JB Weld over a glue gun for this type of project is once it's applied there is no discernible gap between your pieces.
Keep working until you have all your blocks together in your perfect design. If your Clear Weld gets goopy on the plate (like mine did while I was stopping to take photos) while it's exposed to air just squeeze out and mix a little more.
Right after you finish putting your pieces together, and while your design is still against the level, straighten each piece so they sit squarely against each other and the level.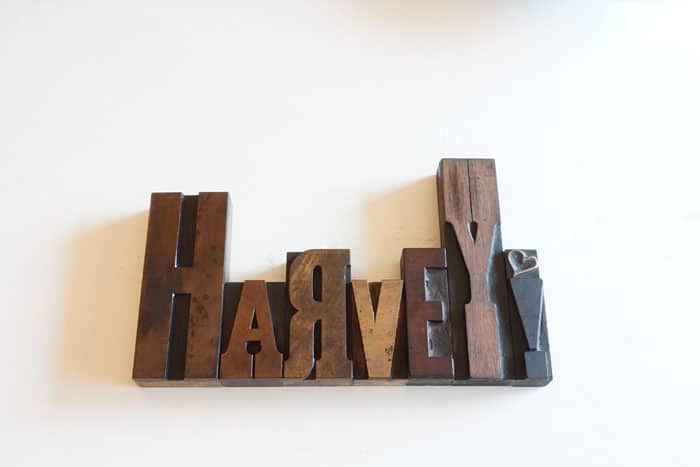 I let my newly connected vintage letterpress blocks sit for the full 1 hour before I moved it to it's new home.
Personalized decor for your home
Do you know what I love about this? The only letter in our last name that actually looks backwards is the R. The E is actually upside down so it looks normal. Every other letter in our name looks the same forward or backward 🙂 And I especially love the unique look from the various types and shades of wood that the craftsmen used to make these vintage letterpress blocks. The years of embedded ink really adds a beautiful patina.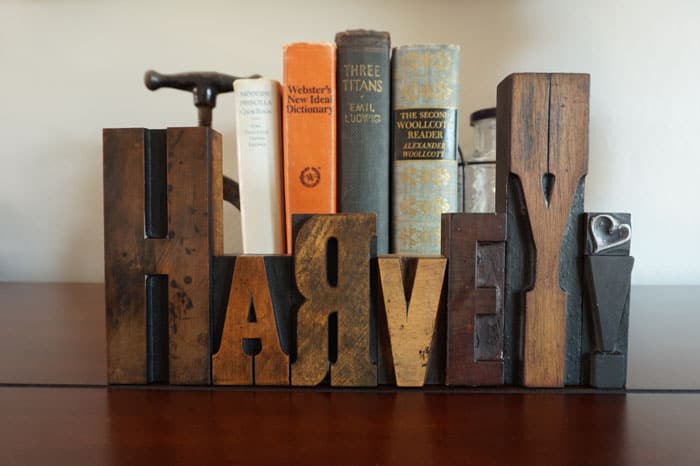 I would love to create more decor items like this with a crazy combination of letters. They make such unique gifts that everyone would love!
I hope you like my quick project! Until next time,
Toni
Don't forget to Pin it to your favorite board. You can also follow my Decor Board for other great ideas 🙂