Hello friends! With the weather cooling off who's ready for some easy chili? Today I'm excited to share another recipe with you. I've only shared a few recipes on the blog so far but with cooler weather the cooler weather makes us think of warm comfort food.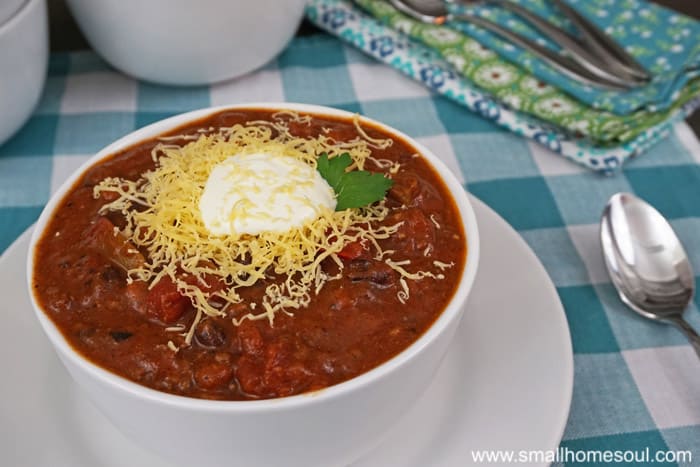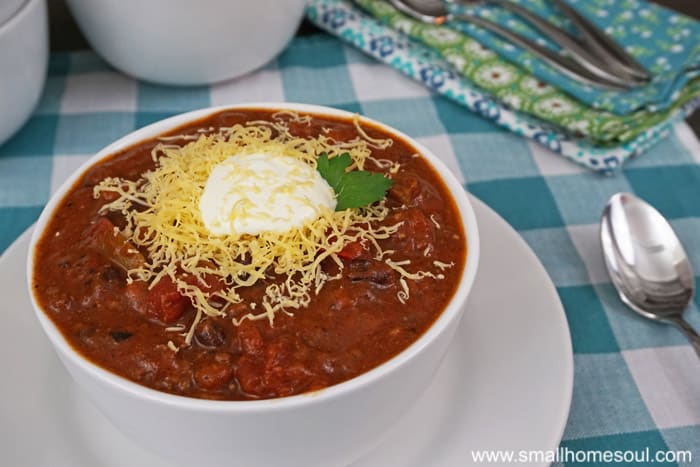 Today's recipe is part of a group challenge titled "Bloggers Best Chili – Cook-n-Share." It's a virtual chili cook off and I'm submitting my Easy Chili With Beans Over Rice.
Down below you'll find links to all 18 recipes that were submitted. We hope you'll try a few, or all, of the yummy recipes we're sharing.
Now I know that's a lot of chili eatin' but it'll be fun to try several different recipes during the winter to find your very favorite easy chili. No two are alike. Most people don't eat their chili over rice; I never did either until I met my husband. That's how they ate it growing up. And being the super nice wife that I am 🙂 I always make rice for him. Actually it's very yummy that way and I like mine over rice now too.
Gather up all the ingredients and let's get started. Just look at all the yummy spices that will get your mouth watering! Don't worry, you won't be adding all those spices to yours…I made a double batch so I could freeze some for later. I love having freezer meals at the ready.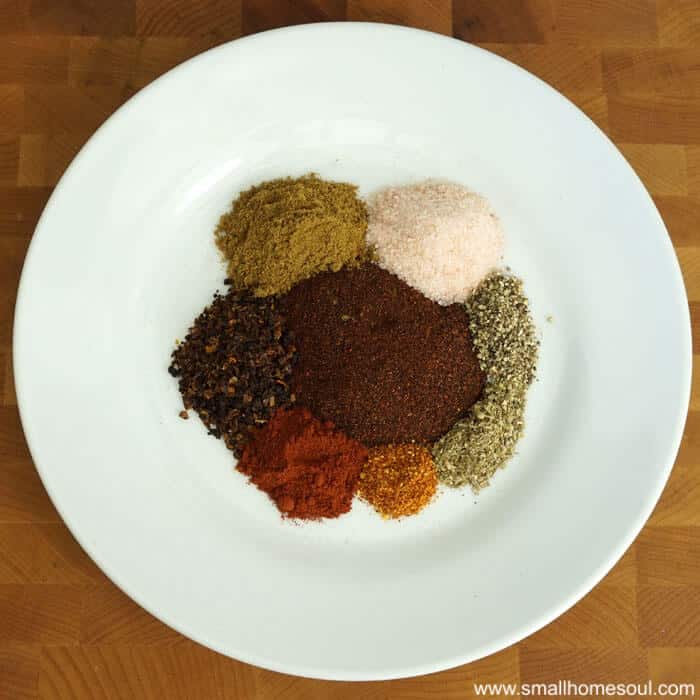 This post contains some affiliate links for your convenience. You can read my full disclosure here.
Easy Chili with Beans over Rice
Here's what you'll need
2 pounds Ground Beef
1-1/2 medium-sized Onions, diced
1-1/2 Bell Pepper, diced
3 Tbsp Olive Oil
3 14 ounce cans Diced Fire Roasted Tomatoes
2 -14 ounce cans Tomato Sauce
3 tablespoons Simply Organic Chili Powder
1-1/2 teaspoons Simply Organic Cumin
2 teaspoons Pink Himalayan Salt
1 teaspoon Hungarian Paprika (regular is fine too)
3/4 teaspoon Ground Pepper
1/2 teaspoon Simply Organic Oregano
1/4 teaspoon Cayenne Pepper or Red Pepper flakes
2 teaspoons dried Fire Roasted Tomatoes (optional)
2 cloves Garlic or 1/2 tsp Garlic Powder
2 cans Chili Beans and or Pinto Beans
1 can Black Beans, rinsed
(I love using Simply Organic spices but it's not necessary to make a yummy chili)
Optional Additions
Sour Cream
Shredded Cheese
Diced Avocados
Rice
With a sharp chef's knife chop onion, garlic (if using fresh) and bell pepper. Next saute in olive oil in an 8 quart stock pot until the onion is slightly softened. Next, add the ground beef and brown. You can drain the fat if you like but I use grass-fed beef with very little fat so I never drain it because it has so much flavor.
Next add the tomato sauce, the diced tomatoes (I love this brand), and all the spices and stir. Cover and simmer on medium to medium-low heat for 45 minutes stirring occasionally. Adjust the temperature so it doesn't stick or burn. Add all the beans and simmer for another 30 minutes.
That's it, easy peasy, now serve your easy chili with beans over rice and add the yummy toppings you love best.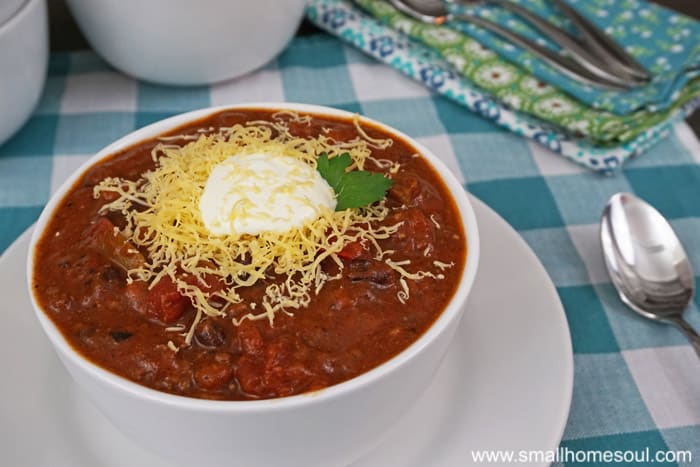 How yummy does that look?
I hope you enjoy this easy chili recipe. Please visit my friends below and try out their recipes as well.
Update: I posted this recipe a year ago. If you've made it I'd love to hear what you think of the recipe in the comments below.
Love it, Pin it!