Hi friends, welcome back to Part 2 of my Patio Refresh series. Today I'm going to show you how I fixed this old wicker table and gave it a much needed face lift. As I mentioned in Part 1 of my series all the brown tones have been killing me. I need color, or at the very least some contrast. This table was part of a set I got from my sister's friend several years ago. The couch and coffee table eventually made their way to my brother's house a few years back but we kept this table because we had no end tables for drinks and such.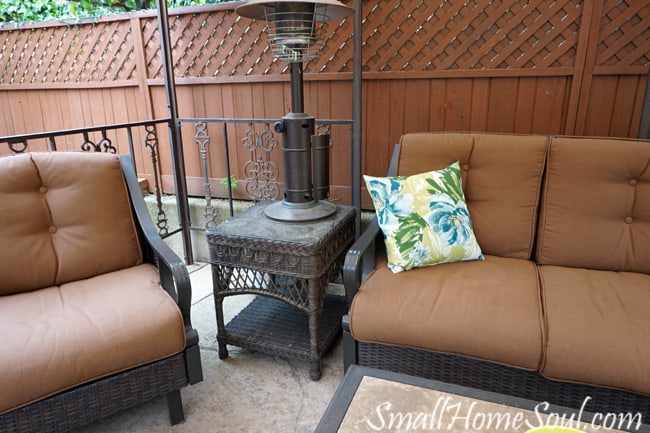 Yes, it's super dusty, sorry I guess I could have given it a quick wipe down. It's pretty dusty in our back yard because of the open space behind us so that's a constant battle. This wicker table has been sitting out in the weather for a very long time, even before we got it. It had been stored in a garage where some critters got to it (no, I don't want to think about that, yuck) and we received it with some damage to the leg but otherwise good condition.
This post contains some affiliate links for your convenience. You can read my full disclosure here.
Wicker Table Repair Supply List
After a good scrubbing it's been perfectly fine, except for that leg. You'd think I would have repaired it before now. Nooo….I just turned it around so you couldn't see the bad side (out of sight out of mind, right?).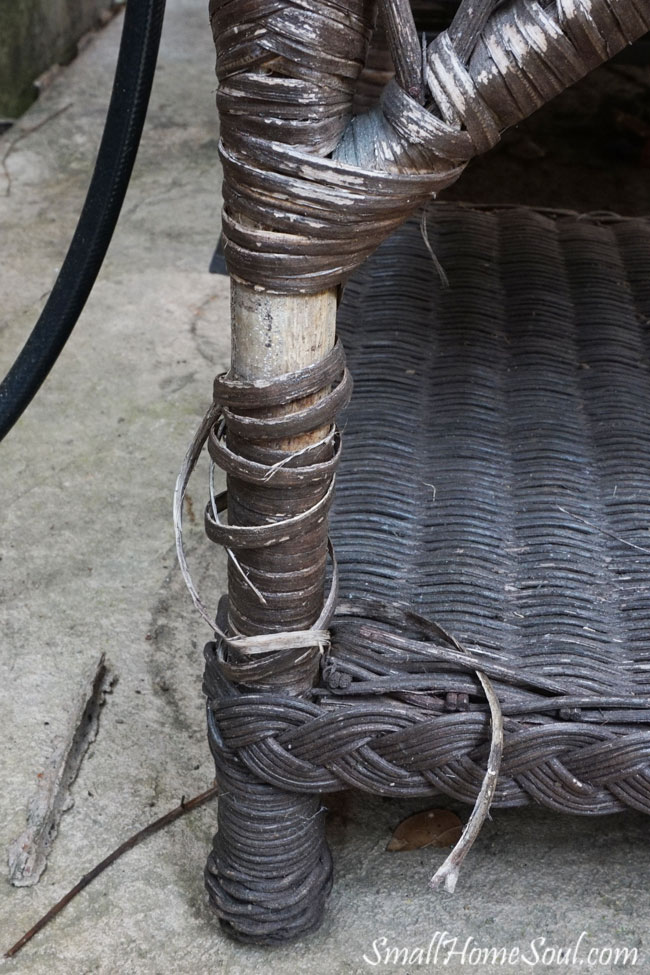 It's sort of embarrassing because with my handy little glue gun I had it fixed good as new in a few minutes. Thankfully my caning was just unwound and I had enough to re-wind the unraveled section so that it looked good as new. I glued it in a few places as I wound it, simple as that.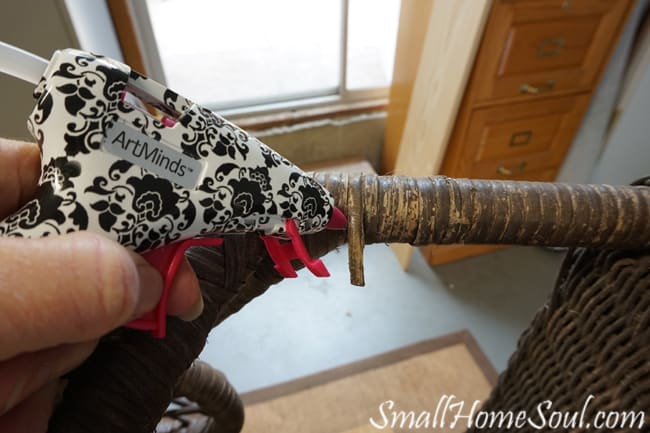 Next came the painting fun. Well, it's always breezy at my house so sometimes it's frustrating too as I pause and wait for a lull in the wind. One of these days I'm going to buy one of these painting tents so I don't waste so much paint and risk the wind pushing it onto my car.
This tired old wicker table was so dry from all the years of weather that it took almost two full cans of white spray paint to get her covered. I used gloss paint to make clean up easier and this picture was taken after the first coat. Of course it's hard to get it into all the nooks and crannies without globbing on too much. It sits outside so if I didn't get good coverage in a few hard to reach spots I won't lose sleep over it.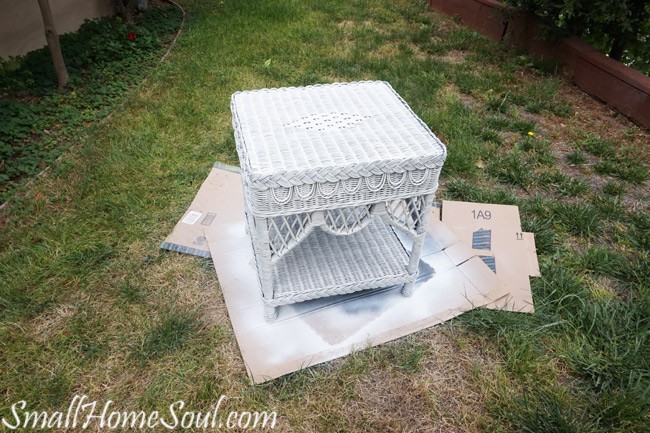 I gave a sneak peak of the wicker table in Part 1 of the series but here are a few more pics of her all fresh and ready for the next round of relaxation on the patio. Maybe a good book and an ice cold drink…..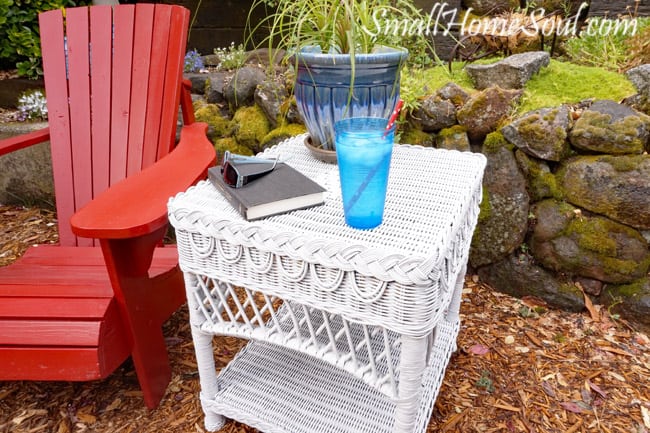 …..or a cigar and some good music. My husband likes to enjoy an occasional cigar while he sits on the patio listing to music or comedy on his phone. She looks so good now I can't believe I waited so long to give her some attention!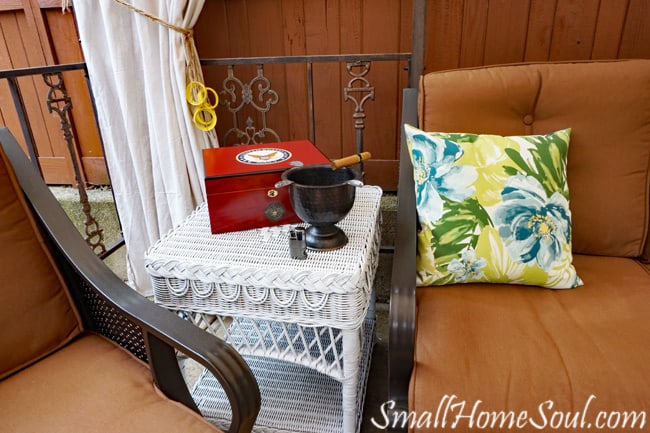 Next on the list for Part 2 of the Patio Refresh series are two plastic folding side tables that I bought at a drug store chain about 5 years ago for around $10 each. They've been good tables but the tops were looking rough, even after a good scrub you could tell the sun had etched them.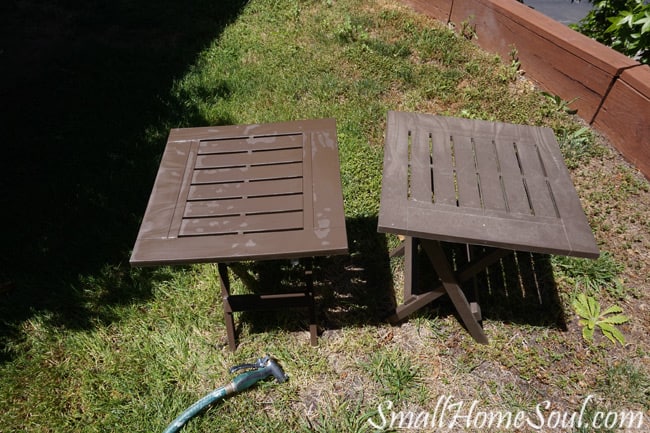 I thought I'd pop off the tops and start there before I tackled the legs.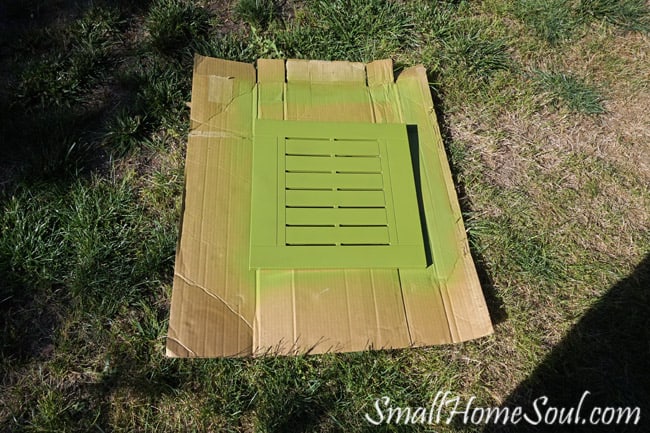 I decided to leave the legs brown for a little interest. I'm glad because I think all green would have been too much. I love color (just ask my husband) but that would have been too much even for me. The matching table is sitting in the the other corner making comfortable seating for 6 with plenty of table top access for snacks and drinks.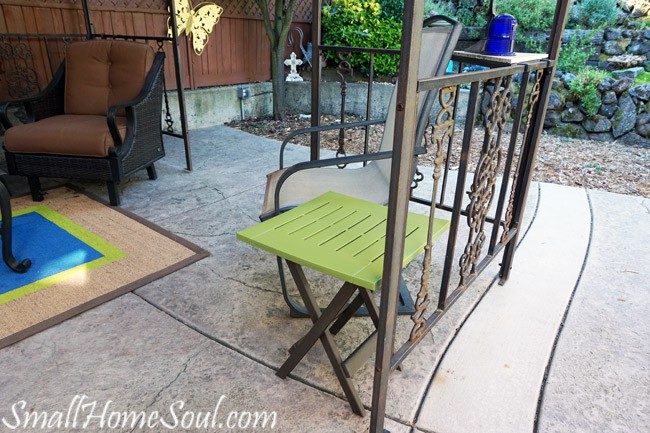 Thank you for checking out Part 2 of my Patio Refresh series. I am so happy with how it's all shaping up.
Don't want to miss a post in the Patio Refresh series? Sign up for my newsletter, there's a sign-up box in the sidebar over there at the right 🙂