Amazon Prime Day is finally here. Ugh, what a year it's been so finally a bright spot. I mean we've all been doing extra online shopping because of stupid Covid. At least now we have Prime Day Deals as a welcome distraction. Deals will come and go from 10/13/20 – 10/14/20.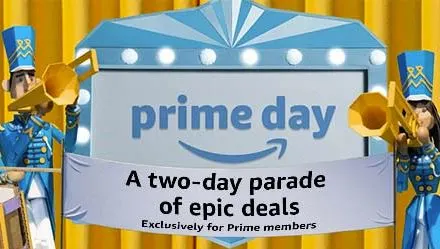 This page contains links to products, if you purchase something after clicking on my link I may earn a small commission (at no extra cost to you). You can read about affiliate links here.
Amazon seriously has something for everyone, and they deliver it right to your door, such a sweet bonus!
Prime Free Trial & Other Offers
Not a Prime Member? No problem, they've got you covered with a 30 day free trial. Just click below to sign up so you can take advantage of all the great deals too!
I'll be watching and updating this post throughout the day with new deals through Prime Day so keep checking back.
You can also check out the Girl, Just DIY! Amazon Store and all the lists of amazing products I've curated.
Not an Amazon Shopper?
Here are some alternatives for you for amazing Deals:
Let's get to the PRIME DAY DEALS
I took some time to create a few categories that should be helpful in your shopping adventures 🙂
Come back and click these links
for an updated list of Prime Day Deals:
Deals under $25 – Shop all current deals under $25
Live Deals – All the stuff on discount right now!
Upcoming Deals – create a Wishlist to get notified when a deal's about to start. Or click the "Watch this Deal" button.
Tools & Home Improvement
Do you see the words ALL?
Come back and click those links for an updated
listing of Prime Day Deals:
Crafting Deals
Home and Kitchen Deals
Don't forget to check this post throughout the 14th to see what other deals I've discovered for you. There's going to be plenty of bargains for everyone.