Amazon Prime Day is so awesome, and this year the big event runs from 7/15/19 – 7/16/19. It's a little like waiting for the numbers to be drawn at a raffle or the lotto. Will or won't my numbers come up? Anxiously checking and rechecking your numbers as each number is announced.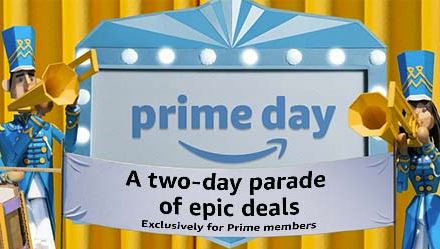 Will you be a winner? It's so exciting checking in to see what they've added next.
This page contains links to products, if you purchase something after clicking on my link I may earn a small commission (at no extra cost to you).
UPDATE!! New Deals Added 7:30 pm PT 7/15 – sorted by deal expiration
Amazon seriously has something for everyone, and they deliver it right to your door, such a sweet bonus!
Prime Free Trial
Not a Prime Member? No problem, they've got you covered with a 30 day free trial. Just click below to sign up so you can take advantage of all the great deals too!
I'll be watching and updating this post throughout the day 7/15-7/16 with new deals through all of Prime Day so keep checking back. All times noted are PDT – Pacific Daylight Time.
You can also check out the Girl, Just DIY! Amazon Store and all the lists of amazing products I've curated.
Crafting Deals
Tools & Home Improvement
Home and Kitchen Deals
Yard & Garden
Special Prime Day Launches
New this year is Prime Day Launches just for Prime Members, and for a limited time once they launch. I can't wait to see what it's all about but it looks like it's going to be pretty cool.
Each category linked to below is already stocked with products so go check them out now so you can make your wish and watch list.
Prime Day Deals
Fire Stick 4K – If you travel you're going to love 50% off – through 7/16
Chromebooks discounted $70 – $90 – various deals through 7/16
Cell Phone Deals – various deals through 7/16
Don't forget to check this post throughout the 15th and 16th to see what other deals I've discovered for you. There's going to be plenty of bargains for everyone.
Not a Prime Shopper? Hobby Lobby wants your Business
Get
Free Shipping on orders of $50 or more at hobbylobby.com.
Some exclusions apply. Free Shipping ends 11:59pm PST on 7/16/19.