Friends, do you want or need a guest room but have no space? Maybe what you need is one of those Wall Bed Thingies. Specifically what you need a DIY Murphy Bed! I'm going to walk you through how you can make one too.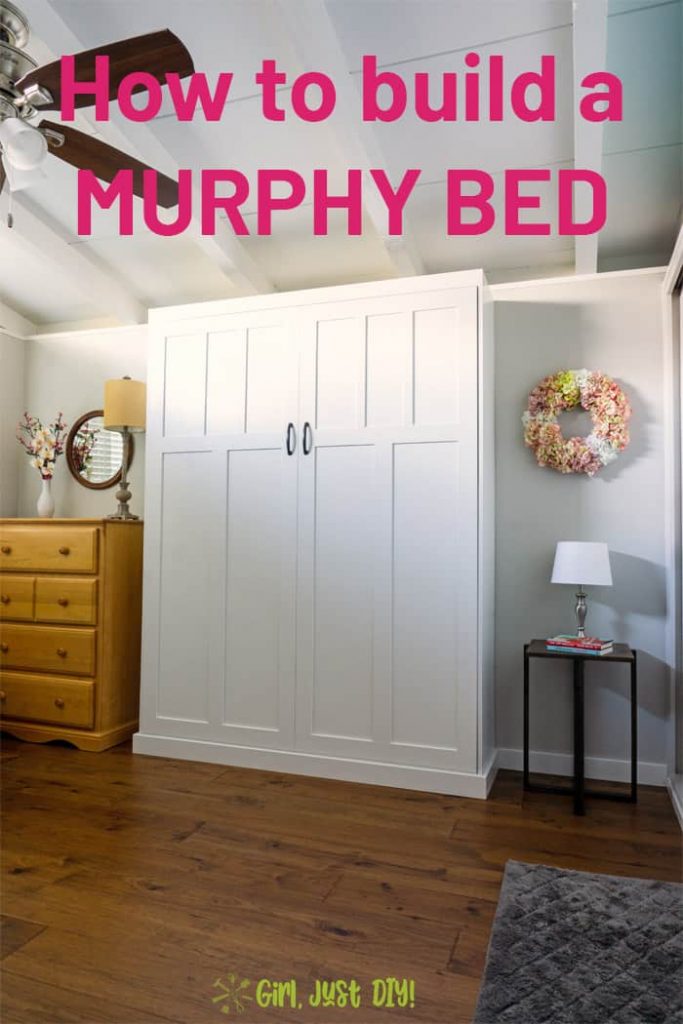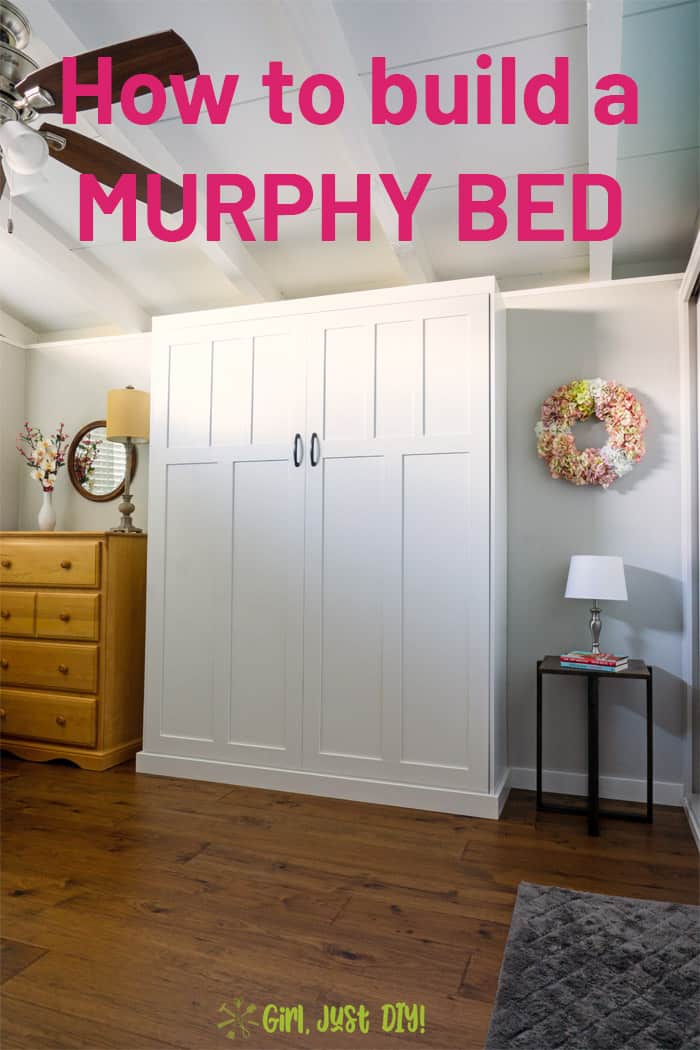 Murphy Bed, Wall Bed, Fold Down Bed, they're known by many names. Whatever you call it they're making a comeback, in a big way. They're not the old clanky metal Murphy Beds of the past.
How much space does a murphy bed take up?
Not much at all! I'll show you how you canbuild a "guest room" that takes up less than 9 square feet of precious floor space.
That's right, when our queen size murphy bed is closed it takes up less than 10 square feet.
We have a 2 bedroom house so finding a space for guests usually consisted of a blow up mattress on the floor. After our daughter moved out we had a little debate about what we should do for guests. A bed was out of the question because I already had plans to move the computer and desk out of the dining room (small house, remember?) and into that room.
I always wanted a Murphy Bed but hubby wanted a hideaway sofa bed. Being the nice compromising wife I am I said, "ok, but it has to be comfy."
So off to many furniture stores we went. The price tags gave us sticker shock, and they weren't that comfy, even with an expensive "upgraded" mattress.
Being the negotiator I am I did the math and convinced my hubby we could build a Murphy Bed for about the same price as an upgraded sofa bed. I planed to move a chair out of the living room into the spare room for TV watching so it was a win win and the compromise moved in my favor 😉
Make sure you check out my list of tips at the end of the post.
This page contains links to products, if you purchase something after clicking on my link I may earn a small commission (at no extra cost to you).
DIY Murphy Bed Supplies
Here's a general idea of what you'll need to build our own Murphy Bed. A full parts-list is included in the kit as well as all the hardware. You might need to buy some screws separately.
How to Build a DIY Murphy Bed
We bought the Create-A-Bed kit and it comes with two instruction sets (you need both) and a DVD. It has very detailed step-by-step instructions that were easy to follow. Before this project we hadn't built furniture (I have since and you'll find posts to some projects linked below).
This DVD is super helpful to watch and then review as you build your Murphy Bed. The paper instructions include templates for rounding the ends of the bed platform side panels, as well as drilling templates.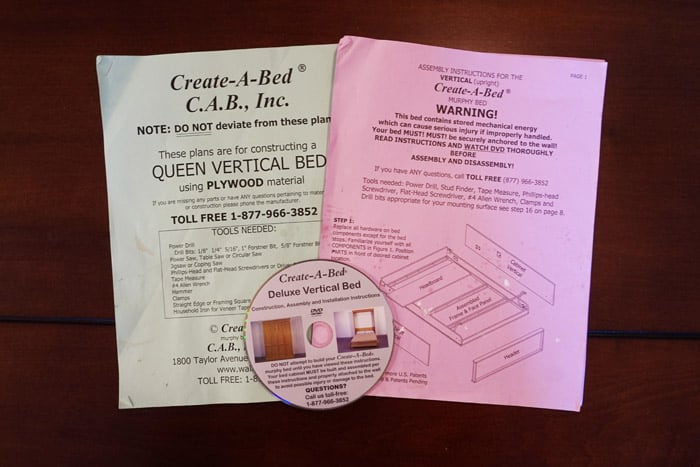 Step 1: Cut the Plywood parts for the Murphy Bed
Cut out all the plywood parts as laid out in the kit instructions.
Follow the instructions and the included patterns to pre-drill all the holes for assembly
Trace and use the included patterns to trim the platform sideboards using the jigsaw.
Step 2: Pre Paint or Stain your Bed Parts
After the plywood parts are cut follow the instructions to build the murphy bed platform, side panels, the headboard, and the header.
If painting prime all sides of each part shown below. The bed platform is hiding on the table behind the side panels.
If staining your cabinet bed pre-staining your parts will be helpful.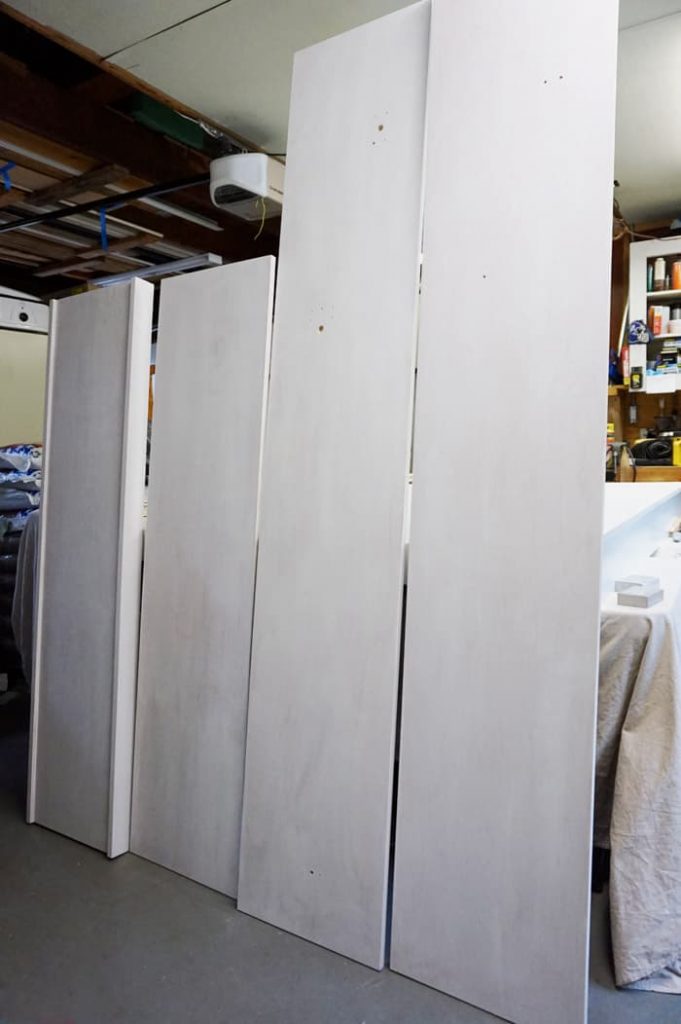 Designing and Planning the Cabinet Face
Step 3: Plan and install the Face Panel Trim
I wanted our Murphy Bed to look like an armoire with doors. We went to a local moulding store ("The Moulding Company" if you live in the SF Bay Area) and bought pre-primed trim to create the look we wanted.
Most molding companies can help you purchase the correct amount if you give them measurements of all cuts. The help and service was wonderful and we bought the exact amount needed based on their great advice. And, huge bonus, it was 1/4th the price of a big box hardware store in our area. Call around to lumber and molding stores in your area and compare prices.
We started with the wood gluing and nailing the long vertical pieces first.
Then we measured, cut and installed the shorter horizontal slats.
Your assembly might be different for the look you want. Just make sure you plan it out well before making any cuts.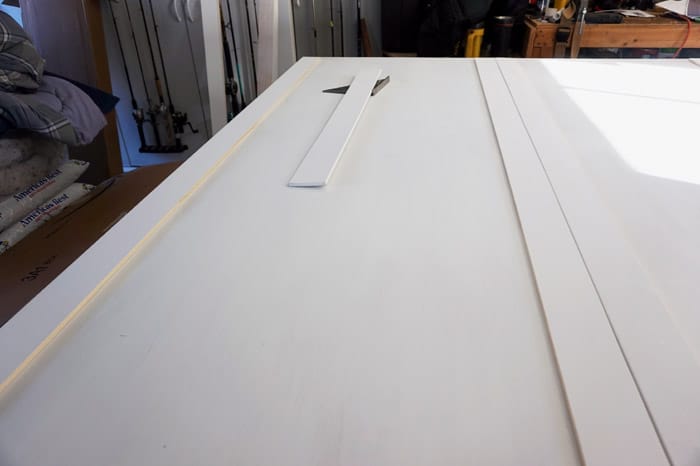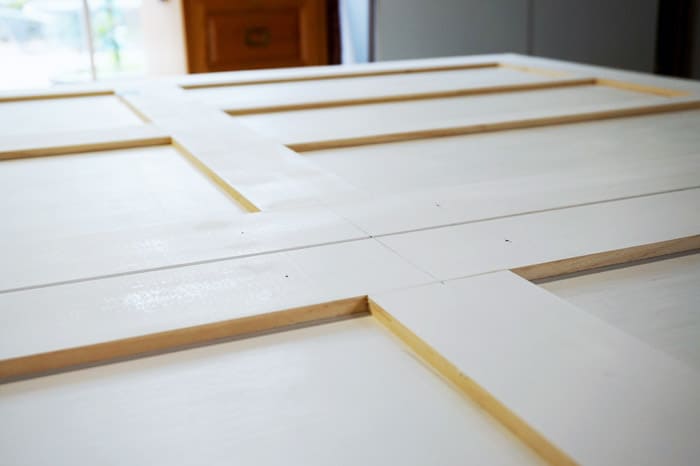 Step 4: Mark and Install the Door Pulls
You have to install the door pulls to the face of the murphy bed before assembly. Once they're installed and the bed is assembled you can't access the screws without partially disassembling the bed platform.
Once you figure out where you want your door pulls take care to make sure they are properly centered.
Measure the distance between the holes on the back of the pull. Place a piece of painter's tape on the backside of the pull and punch through. You can use this tape as your guide for placement.
Using the metric side of your tape measure might help to get them perfectly centered with minimal math.
Indent the drill holes with a scratch awl. This tiny indent makes drilling more accurate.
Drill the holes using a bit that's slightly larger than the screw.
Attach the pulls after pre-painting or staining.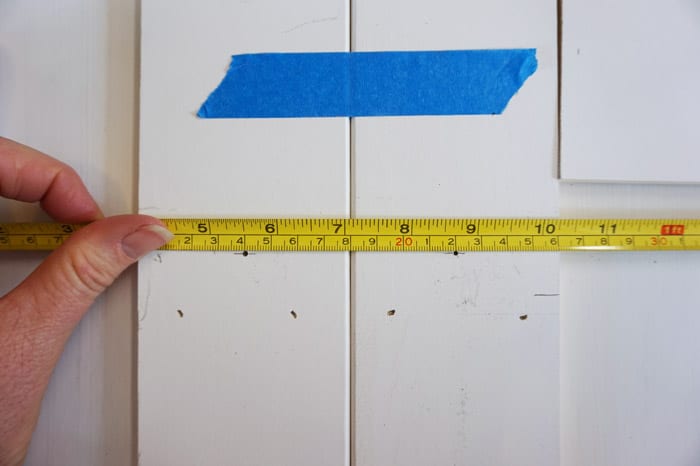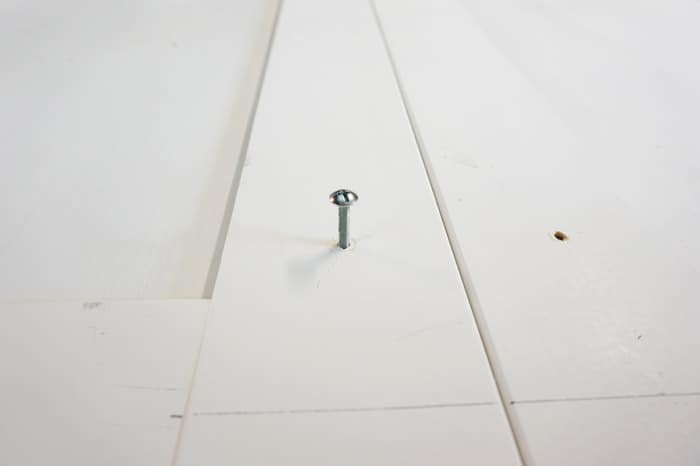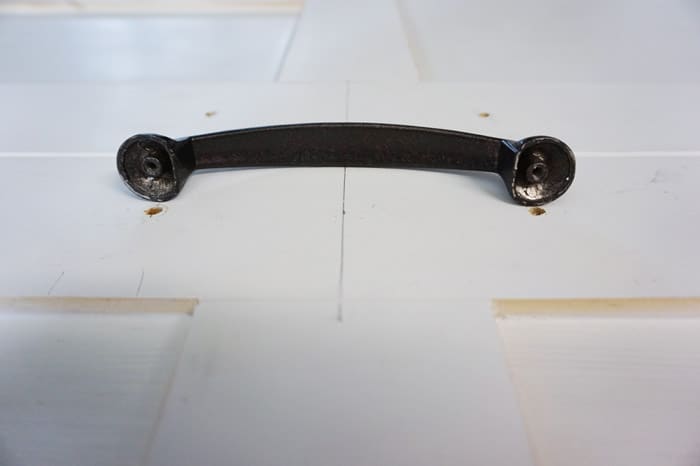 Step 5: Painting Prep
When you're done adding the trim detail it's time to spackle all the nail holes. That is, if you're painting your DIY Murphy Bed. I love this Spackle because it starts out pink and turns white when completely dry.
Use a putty knife to push the spackle into the nail holes. Leave it a little proud to allow for shrinkage.
Add a small line of caulking where the trim meets the face of the murphy bed. Use the corner of a credit card, or spray alcohol onto your finger tip, and smooth away the excess.
After the spackle is white lightly sand to smooth away all but the spackle that's filling the holes.
Let caulking dry fully.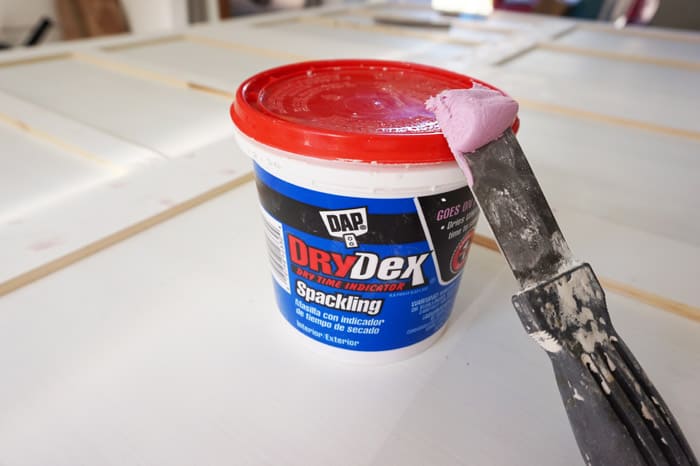 You can see the spackle below is dry in some spots but not in others where it's still pink. The pencil lines helped make certain our center slats were aligned properly on either side of our "doors" before they were nailed into place. This will make more sense when you see the finished Murphy Bed below.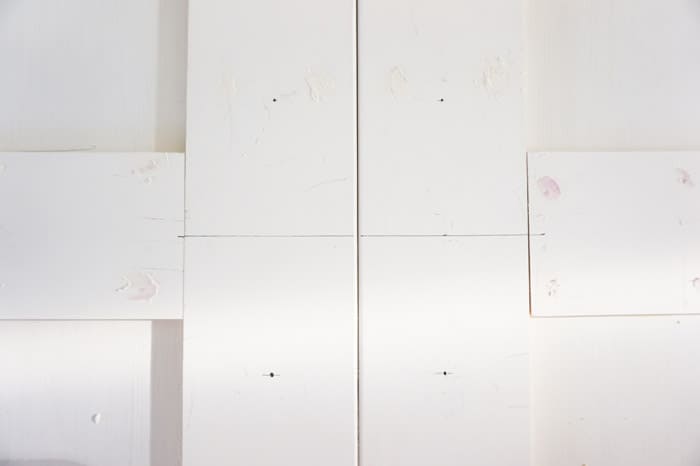 Step 6: Painting or Staining your Wall Bed
Now that the platform has been assembled and with the individual components it's time to paint, or stain. We painted our murphy bed so this is how to proceed with painting.
Just like when we painted our 8×10 Shed, we used the 5/8 HP Paint Sprayer with semi-gloss cabinet paint for a smooth finish.
Yep, that's our yard, as small as our house 🙂 and the grass had finally started coming back after the drought.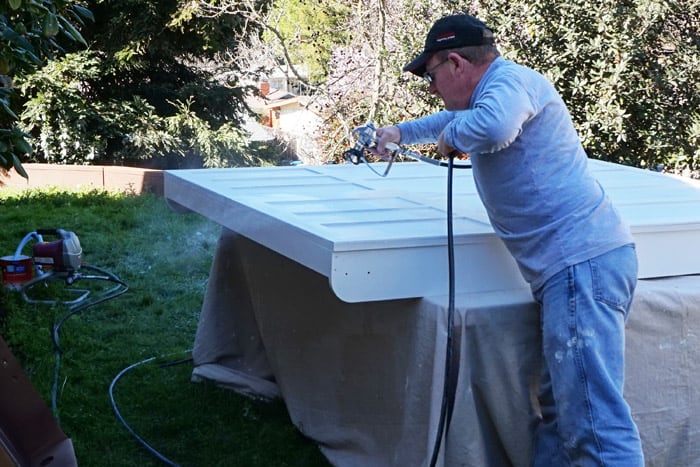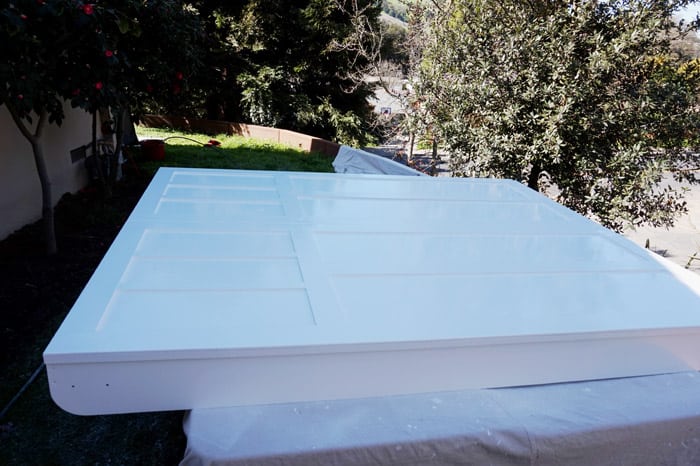 All the parts took up a lot of room but you really need to pre-painted before assembly because you can't get to all the surfaces once it's in place.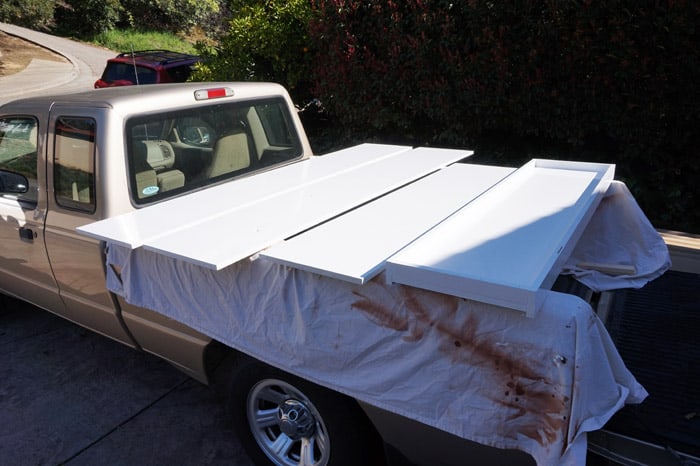 You could use a paint brush and roller but we have a sprayer and figured it would go faster. We had just finished spraying our "final" coat and before we could get it in the garage to dry safely a big ole black bee plopped his furry butt and was doing backstrokes in the paint. I almost had a stroke!!
I plucked him out and inspected the damage. There was no fixing it right then. We had to wait for it to dry, yet again. We lightly sanded it and when the weather was nice we tried one more time. We moved quickly to get it into the garage so no bugs could ruin it this time.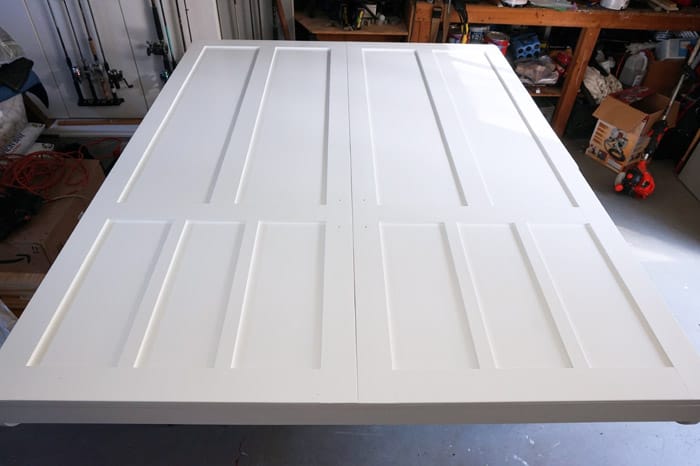 How to Assemble a DIY Murphy Bed Kit
Yay, assembly day finally arrived. I won't go over every detail about assembly since they're included in the murphy bed kit instructions. Be aware that the bed platform is pretty darn heavy after you attach all the hardware.
Attach the Door Pulls and screw in tightly. Depending on your trim thickness you may need to use Break Away Screws.
Nail the 1/4″ plywood sheathing in place on the back side of the platform.
Install the Leg Assembly parts (in pic below).
Forearm Forklifts will come in handy for carrying it into place. Once we finally got it out of the garage and up two steps to the house we slid it on old comforters into the spare room.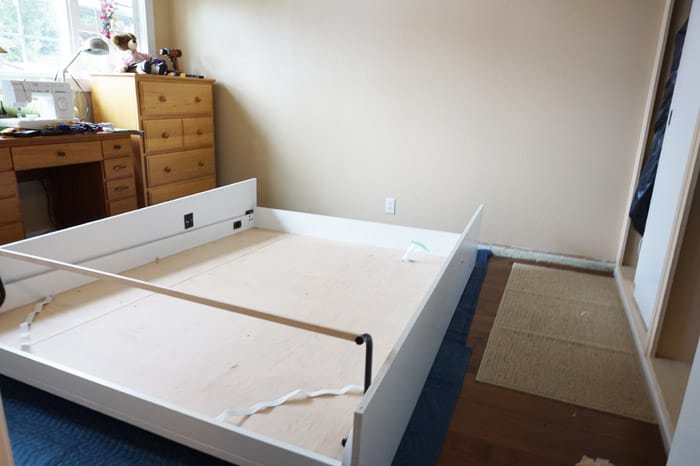 Keep the Instructional DVD in a safe place. It includes instructions for disassembling and moving your DIY Murphy Bed should that be necessary.
How do you anchor a Murphy Bed to the wall?
You need to make sure you anchor your Murphy Bed to the wall. I saw an article where a woman was killed by a murphy bed that wasn't secured to the wall.
The bed goes together in a funny order but it all works out so be sure to review the video again for each step. Once the header is attached you'll use L Brackets to secure the header to at least two wall studs.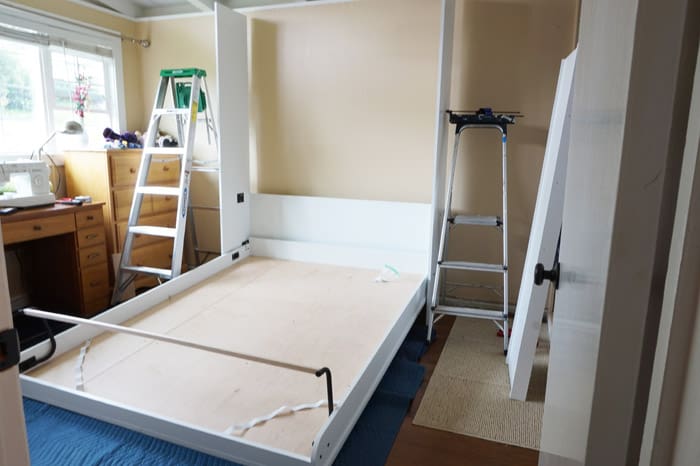 Clamp the header onto the side panels, Drill pilot holes, and screw it all together.
Mount the header of the bed frame to the wall. This is very important so it doesn't fall on you or someone else.

Locate at least two wall studs behind the header.

Predrill and drive 2-1/2″ wood screws into the studs.

Connect the lift pistons to the bed platform and frame as directed.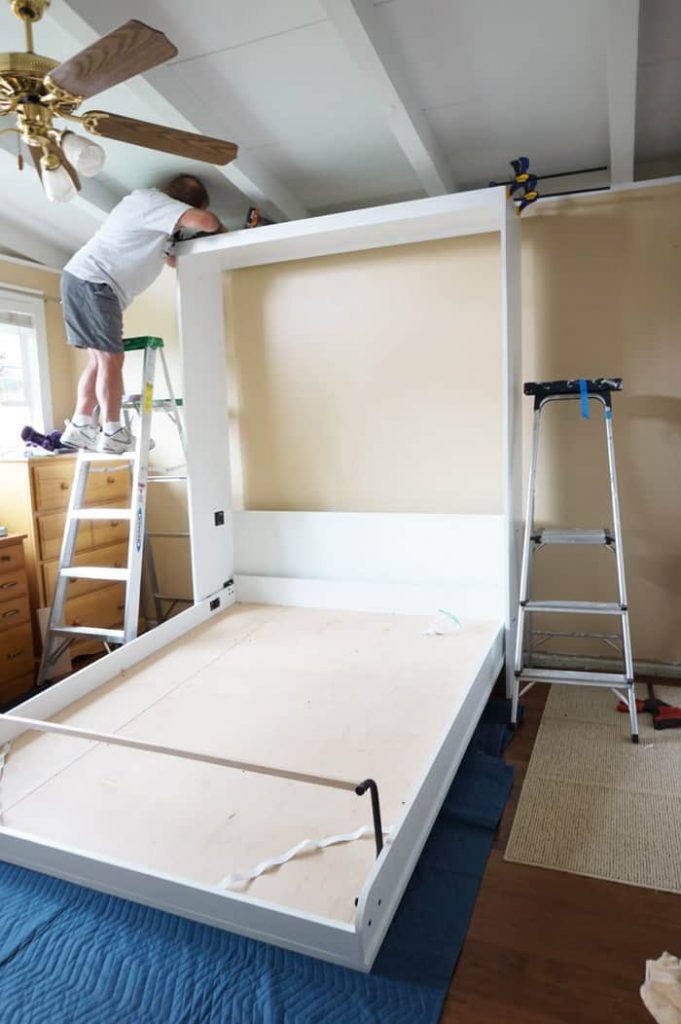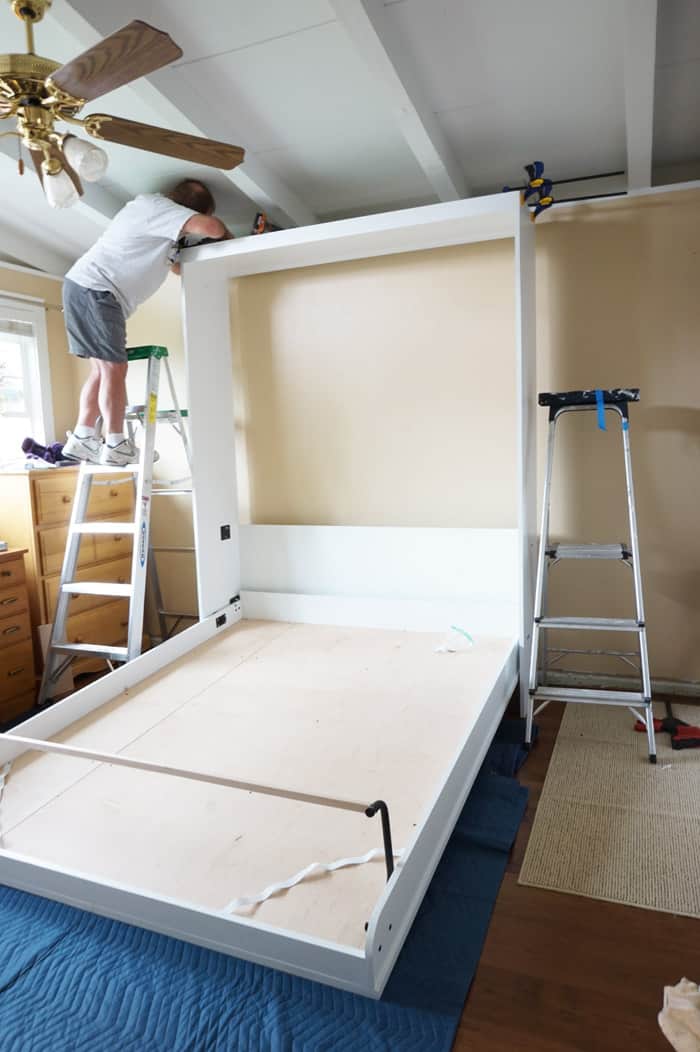 How do you secure a mattress to a Murphy Bed?
The mattress is held in place by two elastic straps (included in the Murphy Bed Kit) at the foot of the bed. I keep a mattress pad and mattress topper on so it's quick and easy to make up for company.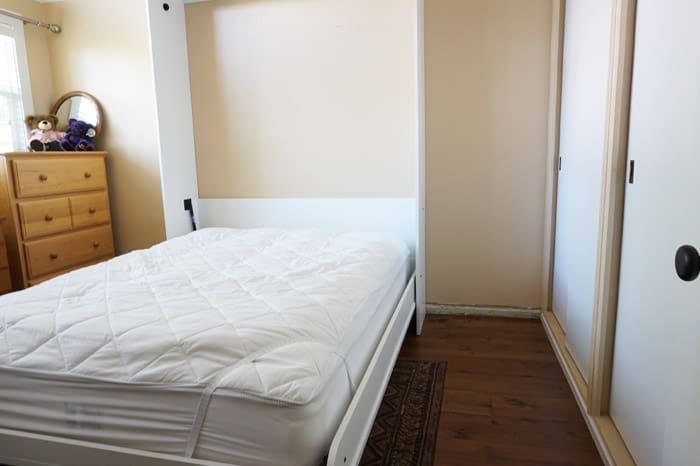 Please ignore the walls on either side of the bed, we didn't install baseboards immediately after installing our floors. We knew the Murphy Bed would flush against the wall so we waited.
Here it is after we repainted the room, doesn't it look so good?
I love the way the Murphy Bed cabinet turned out and it really does look like an armoire, success!
With comfy linens and pillows and a painting hung above this bed makes an inviting and comfy space for our guests.
Murphy Bed FAQ
I did a lot of research before we decided on a DIY Murphy Bed so I thought I'd answer some of the questions you might have before you get started. Some I've already answered above so here are the rest.
How much space do I need for a Murphy Bed
This is the best best part of choosing a Murphy Bed. Our Queen Size bed takes up less than 10 square feet of floor space! This allows me to have our big L-Shaped Desk in the same room which we use mostly as an office.
A Queen size Murphy Bed measures as follows:
87-1/8″ Tall by 65-7/8″ Wide by 15-7/8″ Deep
When open the bed projects 87″ into the room
How much does it cost to build a DIY Murphy Bed?
I touched on this above that the cost was the same as as buying a quality sofa sleeper with an upgraded mattress. The Queen Size Murphy Bed kit runs around $300, the Mattress we purchased cost around $350, and the wood and trim cost around $250 totaling around $1,000.
You can't purchase a quality murphy bed for this price. You could try to make one without the kit but I wouldn't recommend it. The safety features of the piston hinges were important to me.
I'm completely happy with our decision to buy the Murphy Bed Kit. If you want to try building one without the hardware kit you can find plans like these online.
What size mattress fits a Murphy Bed?
We chose a Serta mattress that's 10″ thick. You could probably go a little thicker but you have to ensure it closes. If the mattress is too thick it could keep the bed from closing fully into the cabinet.
I have a soft mattress topper and a mattress pad. All those things measure 12″ thick and the bed closes perfectly. I tried to leave the comforter on one time and that extra thickness (with the sides folded onto the top of the bed) made it too thick to close.
You might be able to get away with a 12″ pillow top mattress but I wouldn't go any thicker. The interior space between the platform and the wall is only 12.5″ and there's a "headboard" piece which brings it down a bit.
Can you use any mattress for a Murphy Bed?
Yes and no. There are special mattresses made specifically for Murphy Beds but they're costly. We purchased a standard 10″ Innerspring Mattress and as of this update nearly 5 years later, we haven't experienced the "slumping" that used to occur.
Historically Murphy Beds ruined traditional mattresses over time. But with all the advances in mattress design I'm not sure that's an issue any longer. After doing lots of reading on the newer mattresses you can also use a Gel Foam mattress or a Memory Foam Mattress.
Just take the mattress weight into account for the overall weight a Murphy Bed can support. Generally a Murphy Bed can hold up to 1500 pounds.
LOVE IT…PIN IT!!
Toni's Tips for Murphy Bed building:
Buy the Deluxe kit, the legs are much easier to install than the standard kit.
Buy the largest size kit to fit your space and your pocketbook, your guests will thank you.
Measure twice, cut/drill once.
Be patient! I can't stress this enough. It's hard to work with another person when you both think you're right 🙂
Have fun! After all, a project shouldn't be a chore.
Well, that's all for today, until next time!
Toni
You might also enjoy: