Let's talk lighting. I did a bathroom light makeover recently and I'm excited to tell you all about it! There are so many options and styles of lights out there. I know because I spent hours and hours searching for lights for my Kitchen Renovation. The prices range from reasonable for an ok fixture to seriously outrageous.
Our tastes change over time so when you've spent hard earned money for something that no longer works in your space that's a big bummer. One minute you love it and just have to have it and then before you know it you're more like "meh" or "blech, what was I thinking?"
It really becomes a problem when you have no budget to replace them, but you still want something that looks new. I am not into replacing stuff just to replace it so you're in luck because today I'm going to show you a quick bathroom light makeover using only paint. It's taken me a while to get this posted but I did mine as part of my Master Bathroom Makeover. Seriously, it made me fall back in love with this light. You'll see why in a minute.
We gutted our master bathroom in 2002 so that makes the light 14 years old. I thought I was picking really great stuff but over the years the bathroom started to look builder beige. But the light worked perfectly and fit well in space.
I still liked the style but that chrome had to go because it wasn't the look I was going for, and over the years the metal got etched from the moisture. Money was seriously limited, only $100, for the entire bathroom makeover so I had to get creative. I'll show you a few before shots so you can see what I started with.
Bathroom Light Makeover – Supplies
See what I mean about builder beige? But the light has good bones doesn't it? 🙂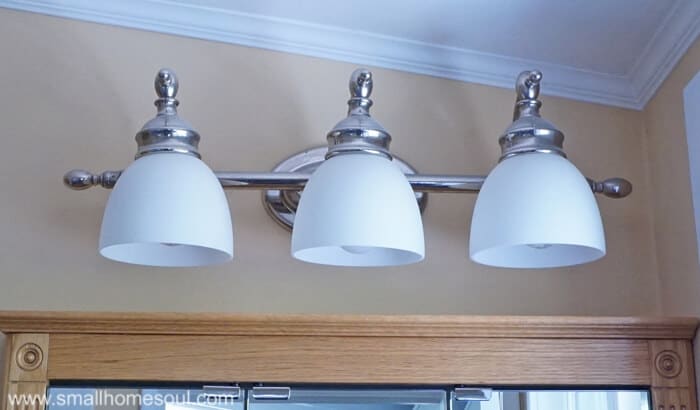 This isn't the best photo but you can see the etching on the metal bar at the back. It was getting ugly.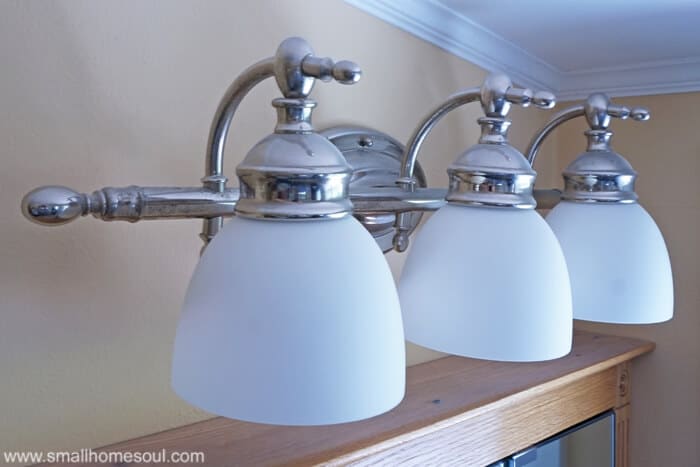 I went to the hardware store looking for paint and came home with a can of Rustoleum hammered Antique Pewter. I've used the hammered look on other things and been happy. Before I started spraying anything on the light I tested it on a wood scrap. I liked it but not for my bathroom light makeover, it needed to be more awesome because I wanted all the awesomeness.
Next I tried some glossy black spray paint I had in my stash, as well as a section of Flat Antique Nickel. Not one of the three was really wowing me. I was getting bummed that I'd have to go back to the store when I decided to try a little, just a dusting, of the Flat Metallic Antique Nickel over the Glossy Black. JACKPOT!!!!!
My hubby had already taken the light down so I was ready to paint. If you've never worked with electrical before, get an electrician to help, or watch one of the many YouTube videos for guidance. If you do it on your own use a Power Tester to be certain the power was off before you attempt to disconnect the light.
I took the light out to the garage and gave it a good cleaning. This ensures the paint will stick properly. Next I covered the light sockets with painter's tape and got it all set up in my Small Spray Shelter. First I sprayed on the glossy black paint to cover every spot of chrome. While it was still wet I dusted it with the Antique Pewter until I had the look I wanted. You can see examples of the process in my post about my Beautified Foaming Soap Dispenser.
This is what it looked like right after I sprayed it. And, seriously, you need one of these Spray Shelters if you do any kind of work with spray paint.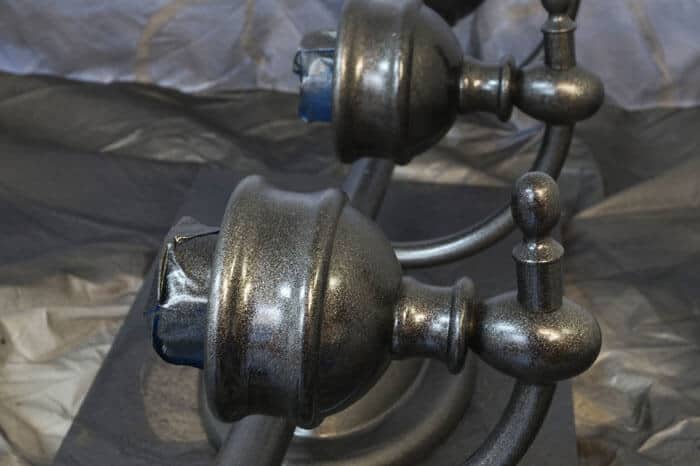 Yummy, it looks so good, totally new and I couldn't wait to get it hung back up in the bathroom. It's like it's not even the same light. I love the dark and light contrast I got with this bathroom light makeover. Of course the new wall color and the painted medicine chest really help set it off.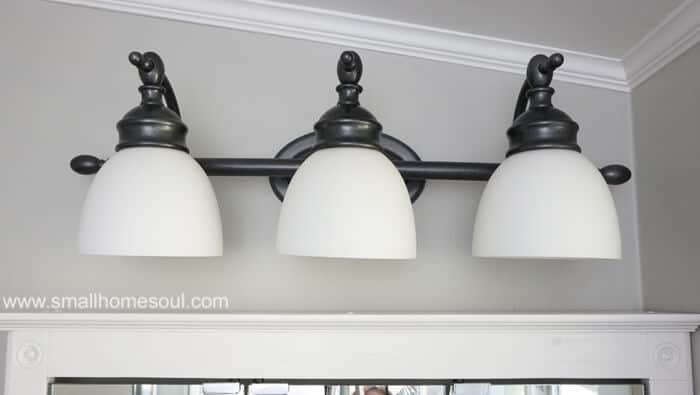 This closeup….. gasp, swoon 🙂
I still can't believe how a little spray paint transformed that boring light into something I love again! This quick makeover saved us a ton of hard earned $$. I love hearing about projects others have done in their own homes so leave a comment and let me know what you've made over with spray paint lately.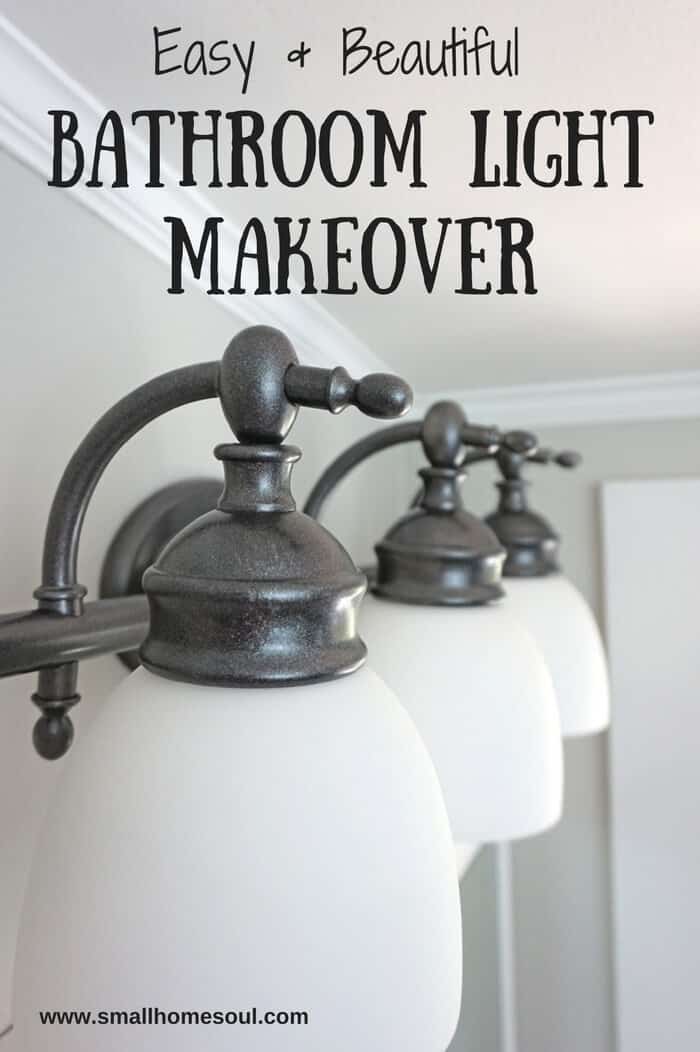 If you enjoyed this paint makeover, you might also like: