Hi friends, who's ready to talk Christmas trees?  Over the years we've had real and fake and then real and then fake again.  I'm not talking about the big trees that usually fill our homes at Christmas, I'm talking about a wooden Christmas Tree.  You can make this project fast and from any scrap wood or trim board you have laying around.  And yes, you can even use pallet wood to create your wooden Christmas Tree.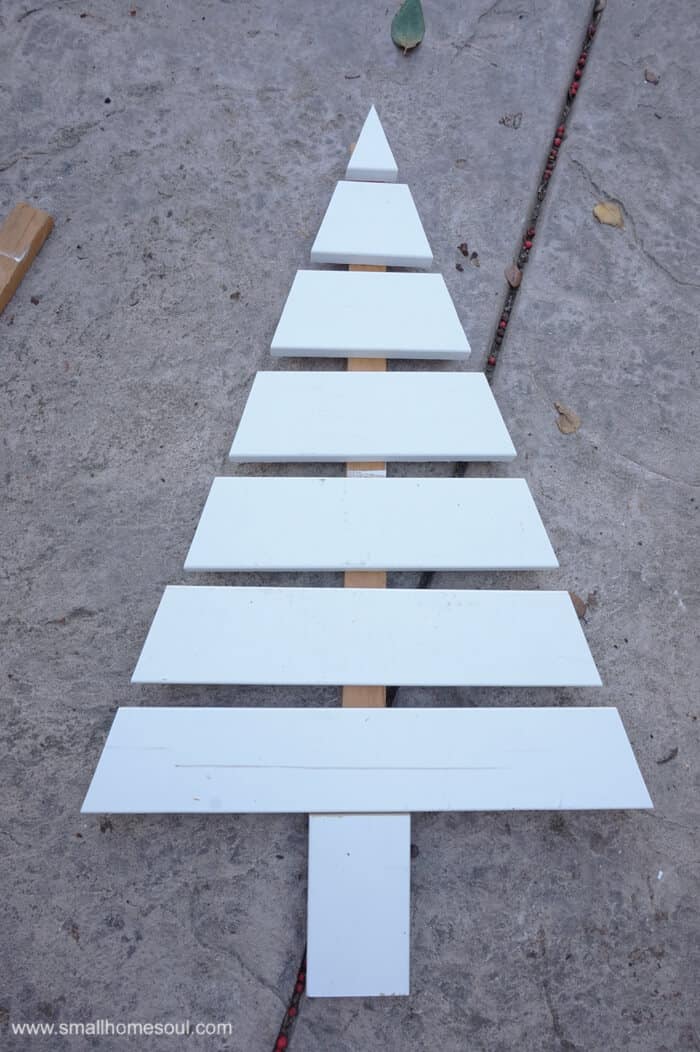 I created this as part of a trash to treasure project with some of my blogging friends but I didn't get mine done in time but now that it's ready I'm excited to share it with you today.  The concept is to use something that you no longer want or would otherwise be considered trash, and turn it into something useful.
My husband and I were cleaning up the side yard a few weekends ago and as he was throwing scraps into the garbage bin I'm thinking to myself "but wait, I can make something out of that."  He is surely tired of hearing me say stuff like that so I kept it to myself (this time LOL).  Then the next morning I went dumpster diving and got busy.
This post contains some affiliate links. If you make a purchase after clicking a link I may
make a small commission, at no extra cost to you.
Wooden Christmas Tree Supply List
Scrap wood or pallet material
Pencil
Exterior Screws
White Paint, if desired
Making the Wooden Christmas Tree
I pulled out all the pieces and arranged them according to size.
To the bottom board I attached a 20″ wide piece of blue painters tape with a mark in the center.
Working from the bottom up I used a piece of scrap wood to set the spacing between each board.
I used my straight edge and a carpenter's square to mark the point on the top board in alignment with the center mark of the bottom board.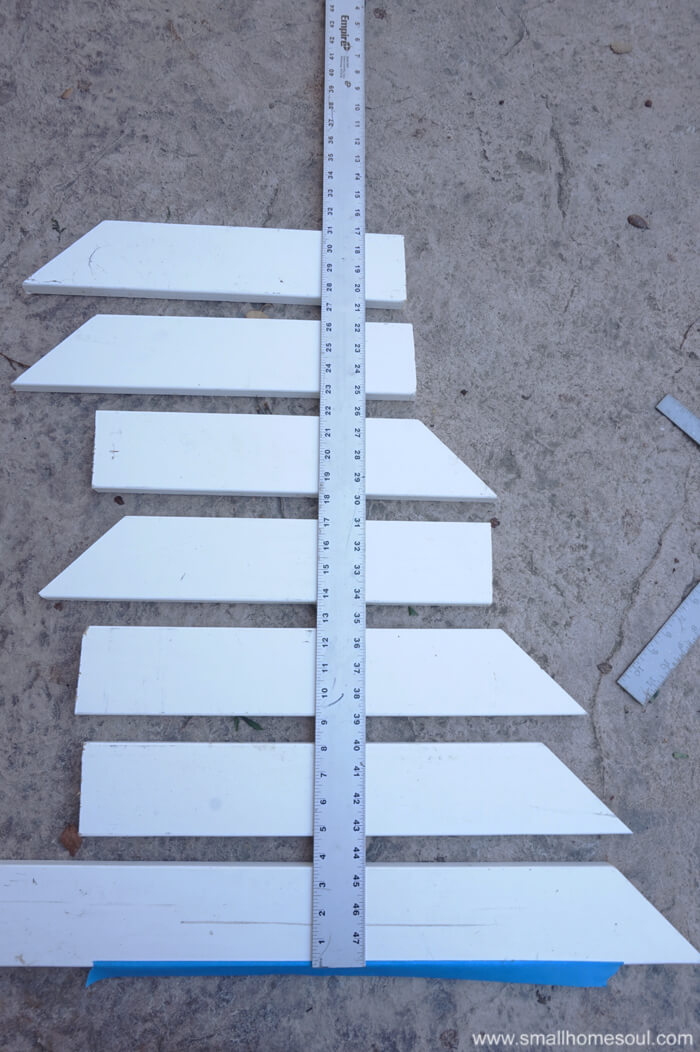 Next I lined up the straight edge to the tip and the bottom right edge.
Pressing down on the straight edge I carefully drew a line across all the boards to mark the boards for my cuts.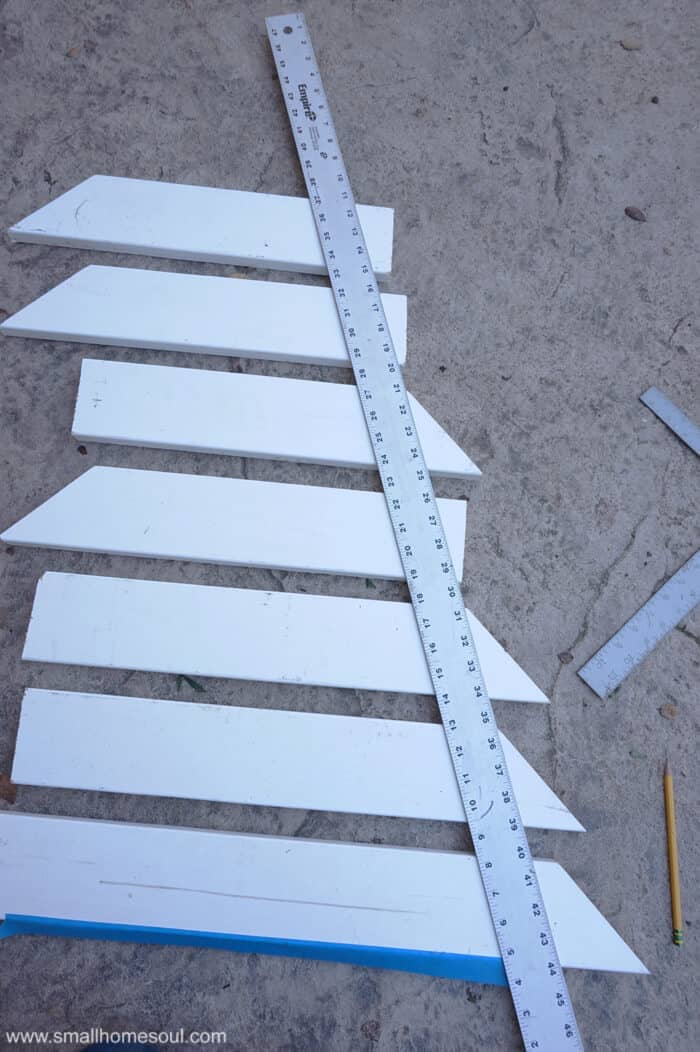 I did the same steps on the left side to mark the boards for my cuts.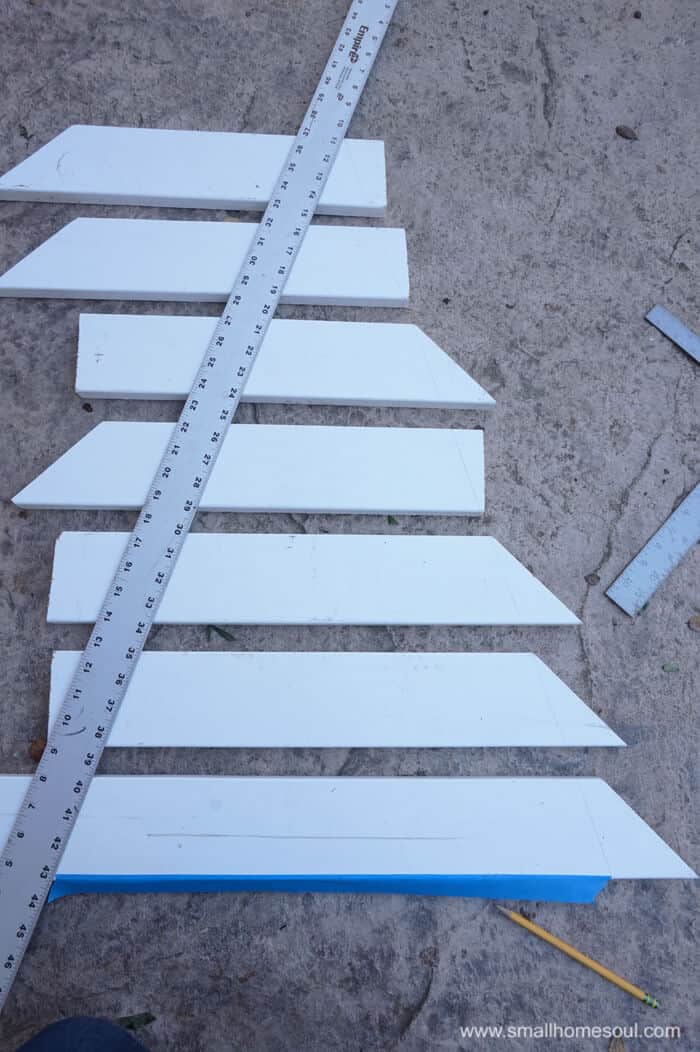 You can make these cuts with a miter box but I used our Miter Saw.
Since I didn't know the exact angle of my cut I adjusted the turn table on the saw a little at a time until my blade was lined up with the pencil mark.
I made a test cut about 1/4″ on the outside of the line and adjusted the blade until I had it right.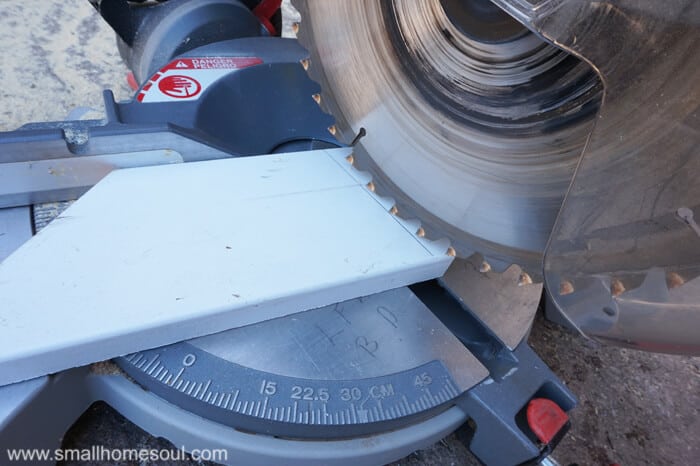 Go slowly until your blade just barely marks the surface of your board as shown below.  ***Always keep your fingers away from the blade***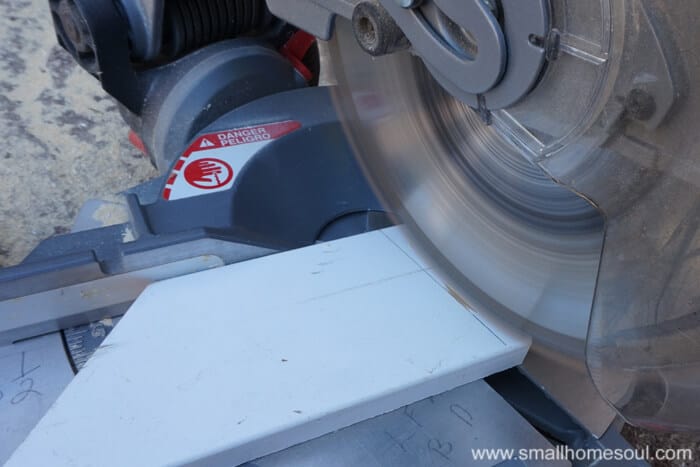 With nearly all the boards cut I was stumped for a minute about how to cut the small tree top keep my fingers attached to my hands 🙂  I joke, but power saws are serious business, I can't stress this enough.
The angle of the blade and the small size of the tree top made it hard to hold the other side of the board and see where I was cutting.  I decided to use a longer piece of scrap to hold the shorter piece in place while I cut.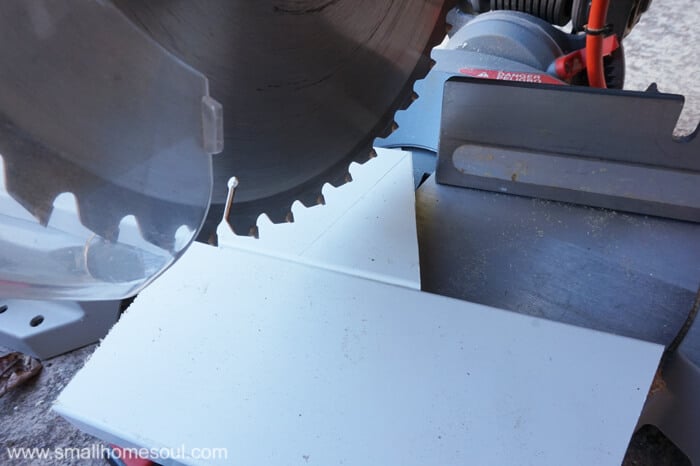 I held the bottom piece firmly against the top piece and cut carefully.  Success, and I still have all my fingers!  Seriously, safety first at all times.  Make sure you have no distractions while you're using a power saw.
Next I grabbed another piece of scrap and did a dry fit of my pieces.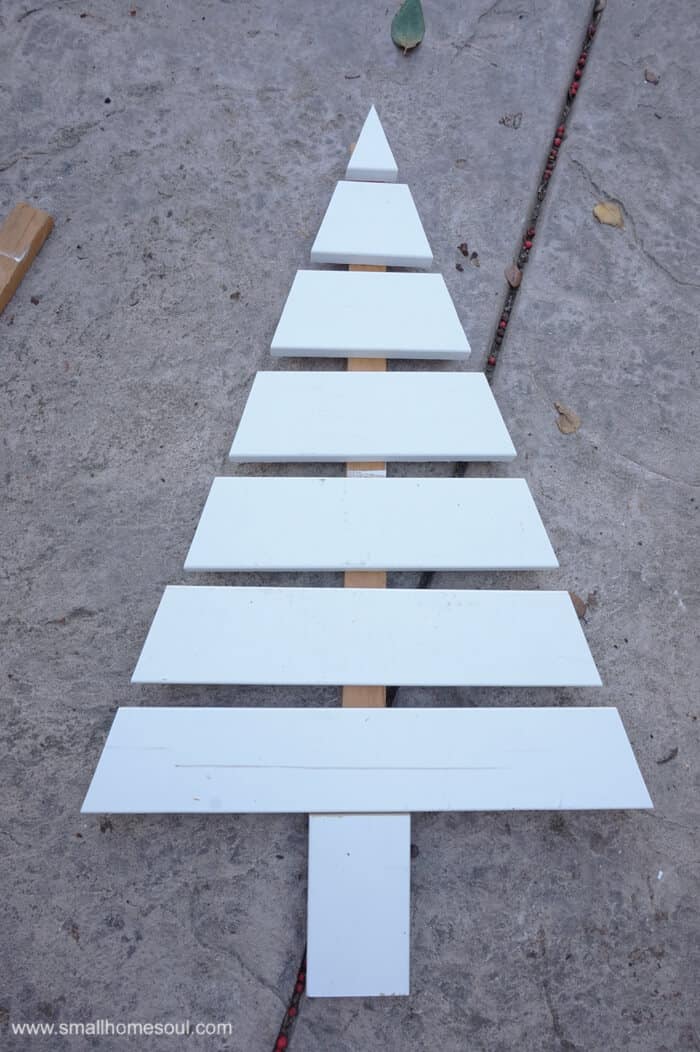 I cut one additional square piece of wood for the trunk (in the end I decided not to attach the trunk) and got busy putting a coat of white chalk paint on the raw sides and across the top of the trim pieces to dull the glossy painted surface.
Assembling Your Wooden Christmas Tree
On a flat surface lay out the boards in order face down as shown below.
Use the piece of scrap spacer again between each "branch" and attach the scrap trunk with two screws per board using your cordless drill.  (Sorry, I forgot to take pictures of the attached screws.)
It's a good idea to pre-drill your holes so the screws don't split the wood.
I'll share a secret, I had to attach the trunk 3 times.  The first time I attached it with the raw wood facing the front (seriously frustrating, had I painted all sides of that board I would be done).  The second time I had my spacing wonky and ran out of trunk when I got to the top piece.  Well, thankfully the third time was the charm so please learn from my frustrating lesson 🙂
As I mentioned above, I decided not to use the bottom trunk because it would be too hard to prop it.  I like it better sitting on the ground or floor anyway.  Here's what it looks like on our back porch with some cute tinsel trees and a few Christmas picks.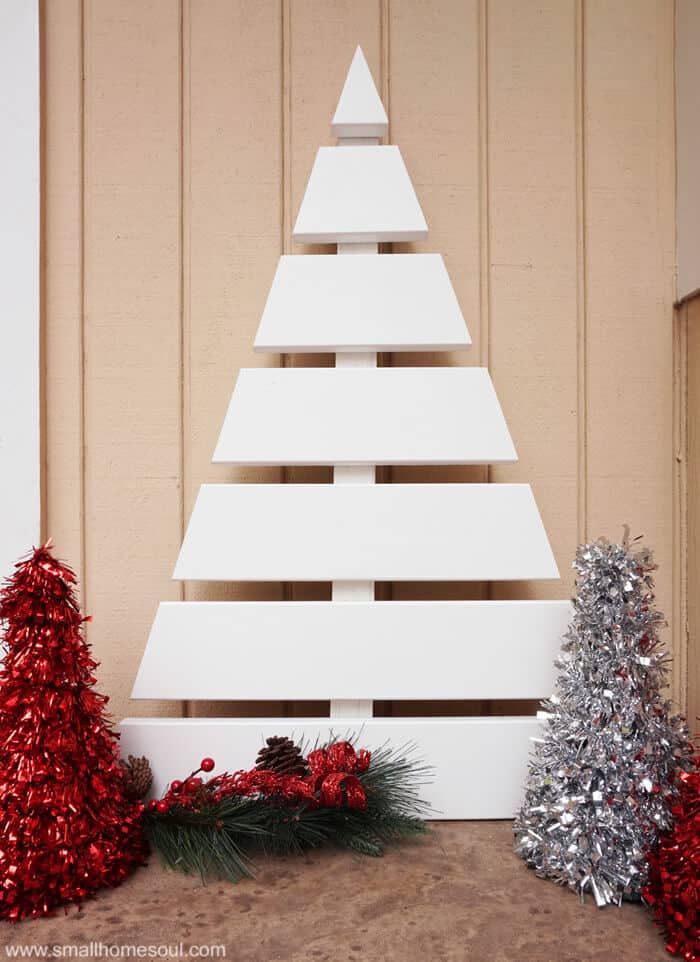 Didn't it turn out great?  I hope you love it as much as I do and are inspired to make your own wooden christmas tree!  There are so many design options you can play with to make them uniquely yours.
Thanks for stopping by and don't forget to pin this to your favorite Christmas Board.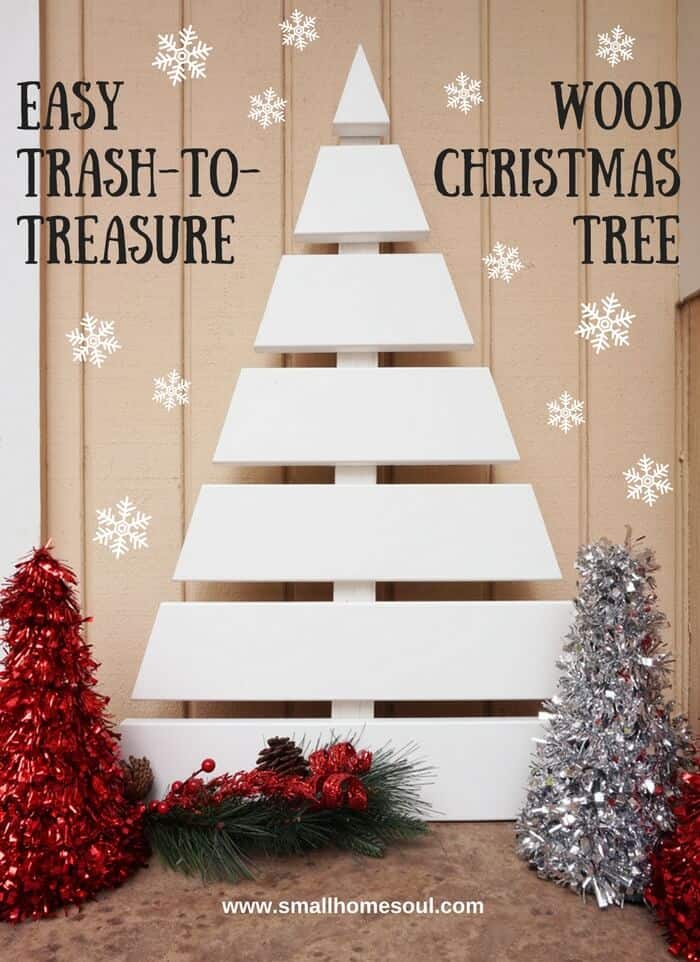 If you enjoyed this project might also like: