Hi friends, I have an easy project I'm sharing with you today that I just finished for my kitchen. So I'm calling it DIY Kitchen Art, because well, you make it yourself. And, I've created a free printable so you can make one just like it for your own kitchen.
Last Summer I found these wall hangings at a thrift store. These were originally sold at Target's Dollar Spot but when Target doesn't sell all their stuff they've been donating it to our local thrift stores. They had a stack of these 8×10 signs for $0.99 but they were all the same. That wasn't going to work for me but I had an idea! I've been planning to make a sign for my kitchen and these would be the perfect canvas.
This post contains some affiliate links for your convenience. You can read my full disclosure here.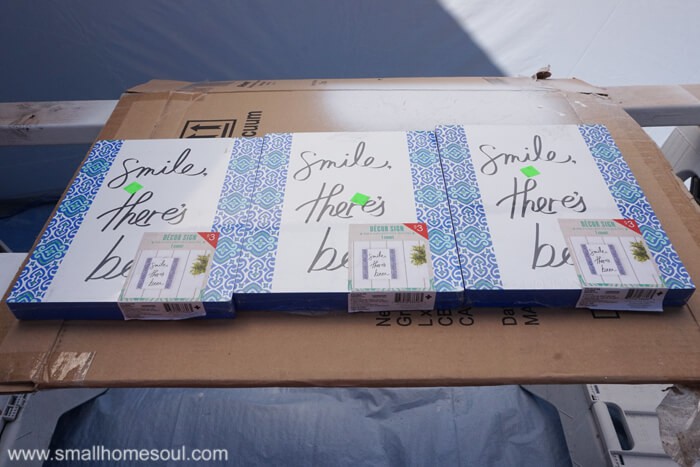 If you don't have something on hand you could use something like this or canvas boards.
Since I already had my large Spray Shelter set up in the front yard to paint the boards for our Living Room Shelves I pulled these out and gave them a good spraying with Rustoleum's Chalk Board paint.
When I was ready to get started I found a font I liked and after much trial and tweaking I finally had them the size that looked perfect on the 8×10 boards. All I had to do was line up the center of the paper with the center of the board and tape it flush at the top. I used a small piece of transfer paper between the paper and the board and traced around the outside edges of the letter.
Originally I used the edge of a pen but the transferred line was too faint so instead I used the rounded cap of a chalkboard marker which made the outline a little fatter.
You can see the traced outline in this pic below. Black on black was a bit hard to see but I held it angled toward the light while I made the initial outline.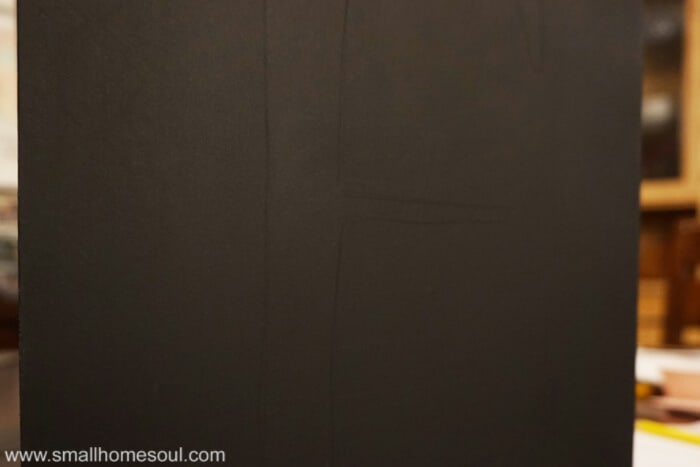 At first I thought I wanted make the letters in chalk but finally decided to use these cool Elmer's Acrylic Paint Pens. I had no idea these existed until my friend Sarah at 1915 House used some on one of her projects.
I bought the medium tipped pens. In the future I would use the chisel tipped to make the fill-in process go faster. (The marker shown below is the one I used to transfer the outline.)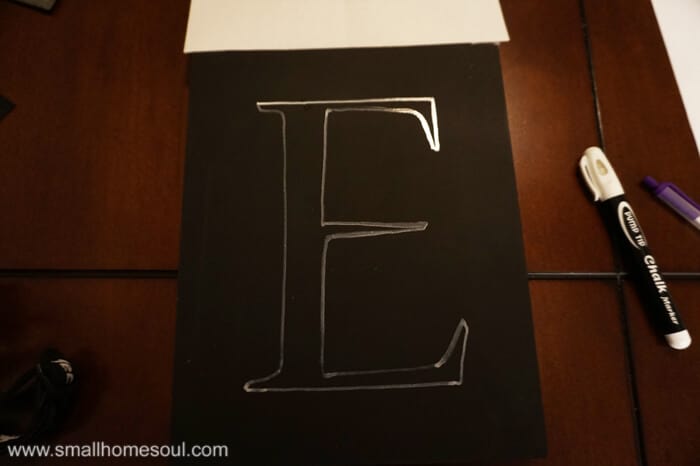 I'll admit that I don't have a steady hand with a small paint brush so these pens worked great for me. In the "in process" pic below you can see I had a bit of a learning curve getting the right flow. After a few coats on each, however, they all look great.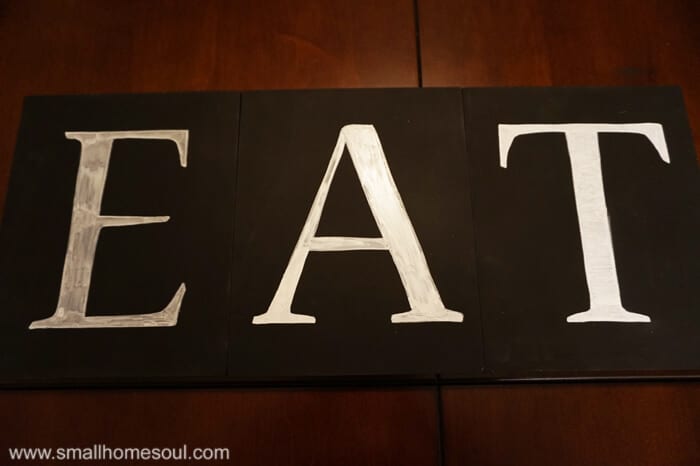 To hang them I didn't want to put any nails into the pantry cabinet so I used some 3M Hook & Loop hangers. This way if I decide to change things up I haven't put holes into my cabinet.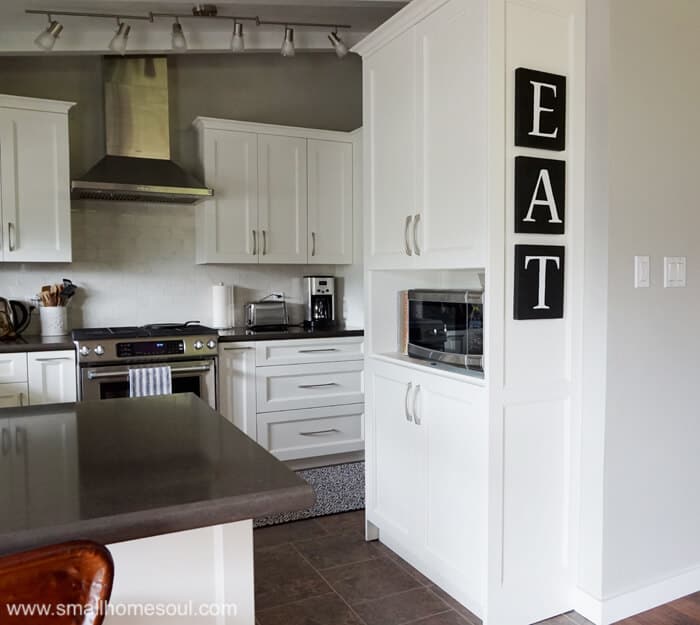 Didn't this DIY kitchen art turn out great?
I haven't done much as far as sprucing up my kitchen since we did the Kitchen Renovation. I'm slow like that I guess 🙂 other than making the Easy Lined Kitchen Curtains. There are a few still projects for the kitchen on my to do list. More to come on those soon, hopefully 🙂
I hope you enjoyed this project! Don't forget to PIN IT! And keep reading below to find the Free Printable.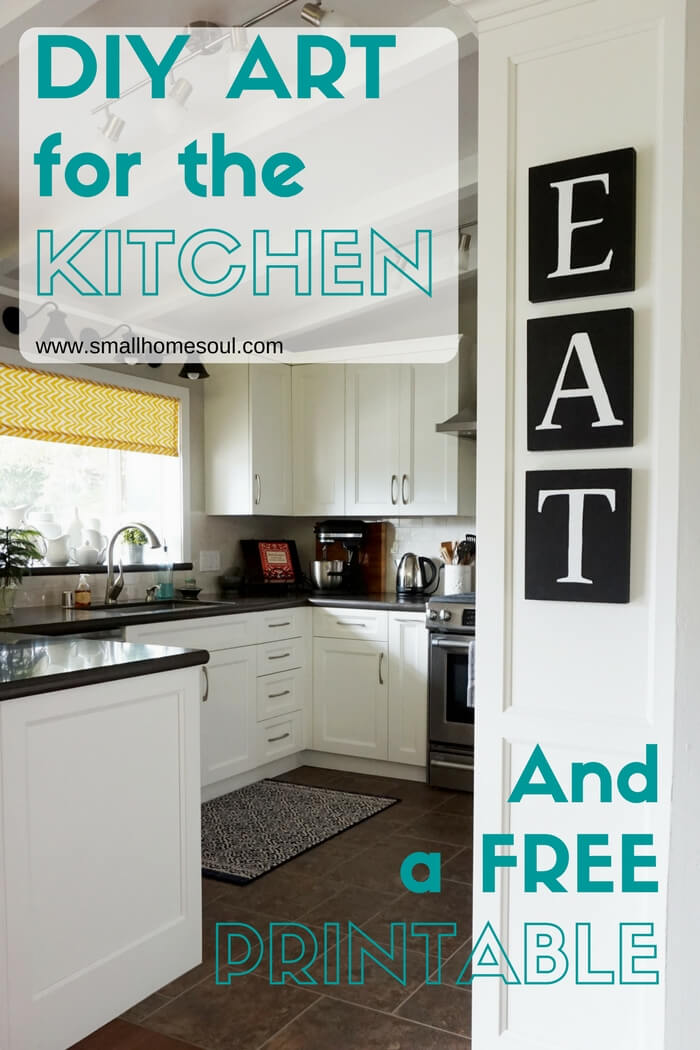 DIY Kitchen Art – Free Printable
A big part of blogger is about inspiring you to make beautiful things for your own homes. Since I'd already done the work for this project I want to share it with you. I've made my very first Free Printable that you can access through this link below. I hope it saves you some time as you create your own DIY Kitchen Art.
YOU MIGHT ALSO LIKE: