Everyone thinks they have the best recipe for whatever it is their baking. I think it's human nature to believe what we make is the best. "But you haven't tasted mine yet," is usually what we tell each other. Well, I'm certain you'll be convinced this banana bread is the best you've ever tasted. Why? Because I have a secret ingredient I use to get the best tasting banana bread; and I'm going to share it with you. More on that in a bit.
If you've ever been to Hawaii then you know everyone on the islands claims to have the best banana bread. When we went to Maui several years ago we drove all the way around West Maui Mountain to find the best banana bread, according to our tour book.
It's a long drive but we decided we were ready for the adventure. The narrow road takes you through some beautiful parts of Maui most tourists don't explore. Honestly the locals prefer to keep it that way but the woman who sells her banana bread loves the tourist traffic.
After we took some pictures (of course we flashed the shaka sign) and said our thanks we hopped back into our rental car with two fresh loaves, some napkins and a plastic knife. When we were underway I cut us each a generous (ok, they were huge) slice. It was tasty, but…. We looked at each other after our first bites and my husband said, "it's not as good as yours." 🙂 Ok, I'll admit he might just be a little biased. If you're a baker of banana muffins, cake, or bread, and think you have the best banana bread recipe I'll let you be the judge. If you prefer your recipe that's cool too, but I bet you could use my secret and make yours even tastier 🙂
I got this recipe from one of those community cookbooks the ladies groups used to sell. You know, in the days before the internet (am I aging myself just a bit with this statement?). It was my mom's book and I've been baking this recipe for at least 30 years. 30 years!?! Yes, remember, I started baking when I was a youngster 🙂 I add more bananas than the original recipe and salt, because the original recipe didn't call for salt.
There are a few benefits to making your own banana cake, bread, or muffins. Baking at home is easy on your budget since it costs so much less to make your own compared to anything you buy at a store or bakery. And you know exactly what ingredients are included. No mystery abbreviated ingredients or names too long to pronounce. Healthy eating can include homemade sweet treats.
This post contains some affiliate links for your convenience. You can read my full disclosure here.
Banana Bread Recipe
1/2 Cup Butter at room temperature
1 Cup Sugar (I like to use organic sugar)
3 Eggs
4 Bananas mashed
1 Teaspoon Vanilla
1 Teaspoon Baking Soda
3/4 Teaspoon Salt
2 Cups Flour
1 Cup chopped pecans, walnuts, or whatever nut you prefer (optional)
Let's mix it up. Gather all your ingredients and supplies.
Hand Mixer
Spatula
Baking Pan
Boy that mixer is looking tired. It's been a workhorse for 22 years but it was starting to wear out. I'm so thankful my daughter bought me a new KitchenAid Hand Mixer for Christmas 🙂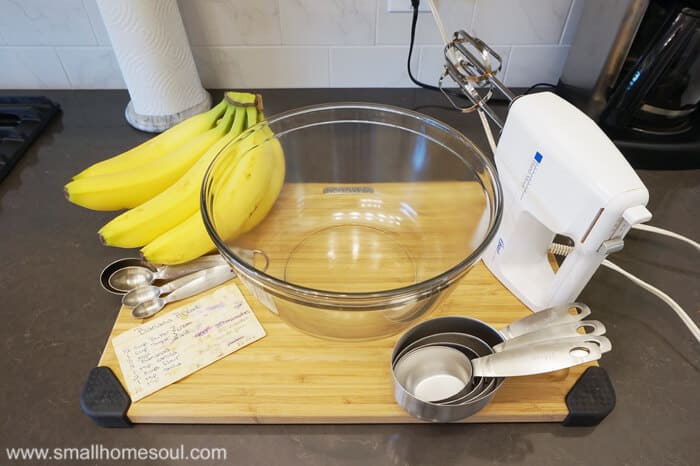 Cream together the Butter and Sugar, then add Eggs and mix well. Add the Bananas, Vanilla, Baking Soda, and Salt and mix. Gradually mix in the Flour. Add nuts last if desired.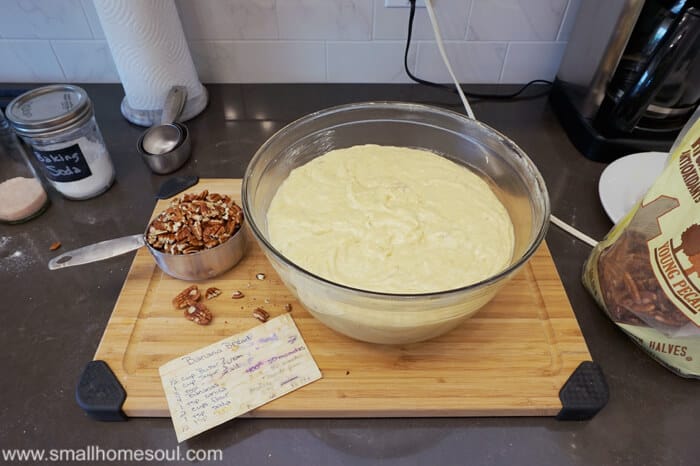 Pour into a pan prepared with either non-stick spray or use the butter/flour method (I prefer the latter).
Here are several baking options to choose from, I've used them all. Just remember oven temps can vary. The banana bread, muffins, or cake, is done when a toothpick inserted into the center comes out clean.
Bundt Pan or loaf pan – 375 for 40 minutes
Muffin Pan – 375 for 12-14 minutes
Double the recipe and cook in a 9×13″ cake pan:

375 for 35 minutes, then reduce to 350 and cook 20 minutes more.
Doesn't this look the tastiest? I cooked this batch as a double recipe in a cake pan (thus the square shape). We were sharing some with our friends and I needed wanted to have enough for us.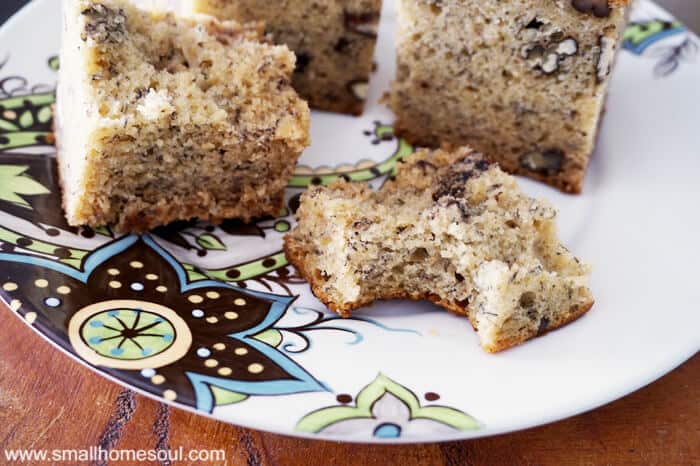 Mmmm, check out all the dark banana bits and nuts. It's making my mouth water. I just might have to make some more today, I know my hubby would be happy.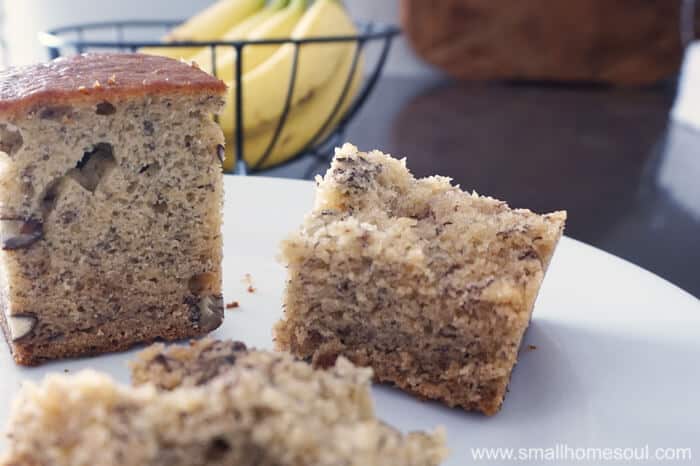 Best Banana Bread Secret
Are you ready for my secret?
You might think it's yucky.
Ok, you've waited long enough. Here's the bananas I use when I make banana bread. Not the pretty ones you can see on the right.
I put my bananas in the freezer when they're too ripe to eat fresh so I can save them for a banana bread baking day. Honestly, these aren't even ripe enough (for me) to make the best tasting banana bread. The best ones are almost liquified. I know it might sound gross but trust me on this 😉
So that's my secret. What do you think, are you going to try out my secret ingredient (and maybe my recipe) the next time you make banana bread? I'd love to know what you think about my secret so leave me a comment below.
Pin it for later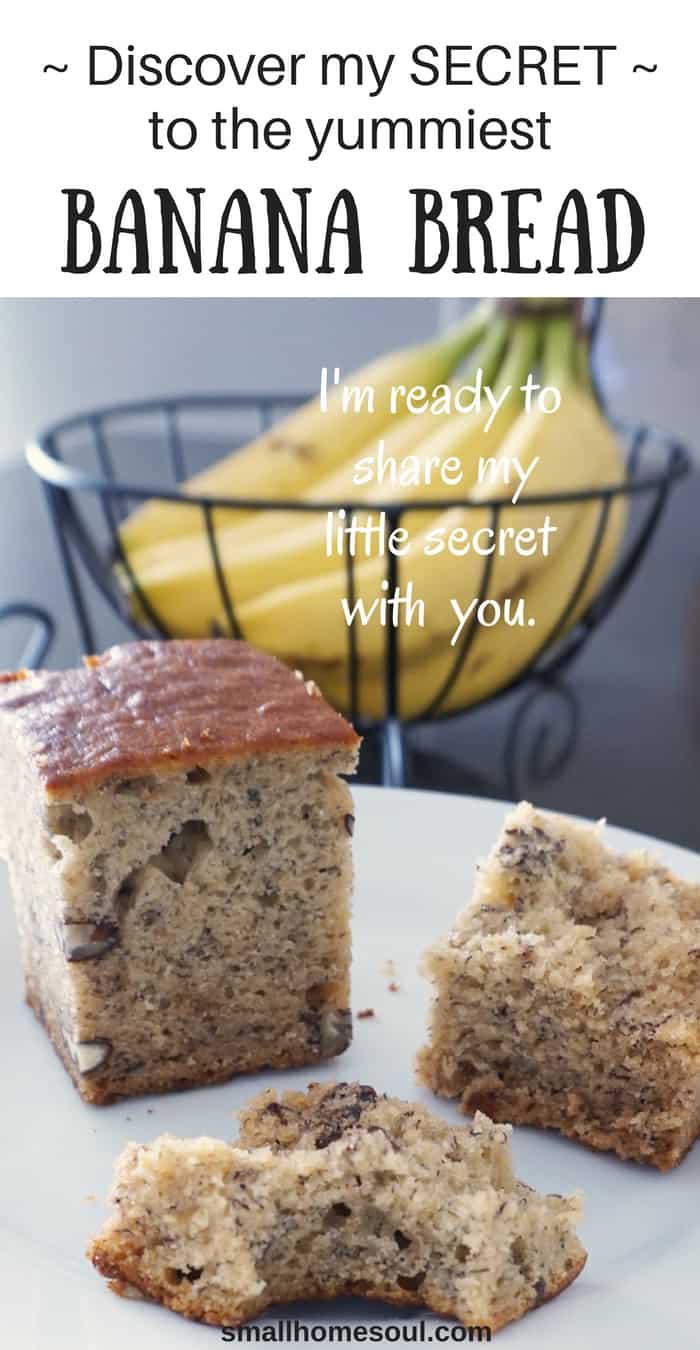 You might also like: