Hello friends, today I'm sharing cute Mason Jar Pencil Holders I made recently. Let me just tell you that this project almost didn't get finished. It was nearly scrapped because it wasn't at all what I envisioned. I'm glad I didn't give up, however, because I think they turned out pretty great. If this tutorial seems backwards, that's because it is. But that's because I didn't give up when it didn't first go my way. Thankfully I love them now 🙂
This post contains some affiliate links for your convenience. If you make a purchase after clicking a link I may earn a small commission, at no extra cost to you.
DIY Mason Jar Pencil Holders Supply List
Two Mason Jars in your choice of sizes (I used one 8 oz and one 16 oz)
Scissors
Spray Paint
Keeping it real and honest I am far from perfect and mess up plenty of stuff that gets tossed. I did it backwards so just bear with me while I show you how I made them. Trust me, you'll quickly see the proper order to make these mason jar pencil holders.
Starting with my first jar I wrapped the jute string around the jar several times. I estimated the amount to cover the top portion where the lid threads onto the jar and cut it. Next I used my hot glue gun to glue the end of the jute string to the lowest part of the lip. I held it there a few seconds until the glue was dry.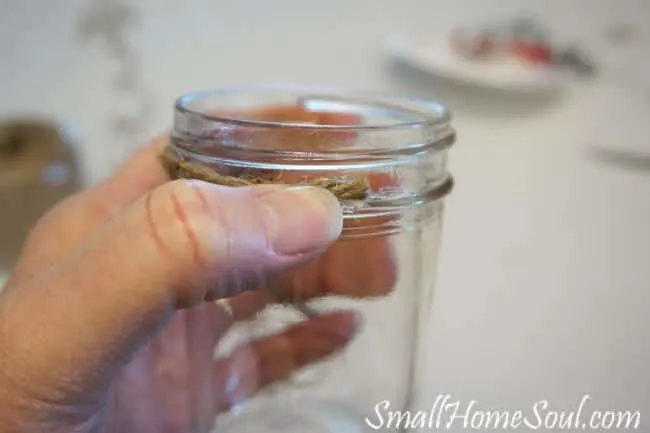 Working around the jar I glued the jute string in a few places every time I circled the jar. I continued wrapping and gluing until I got to the very top. I cut off the excess and glued the end of jute string so it didn't show.
I also kept the layers of string bunched together as I worked so there were no visible gaps. After I finished the first jar I moved on to the second.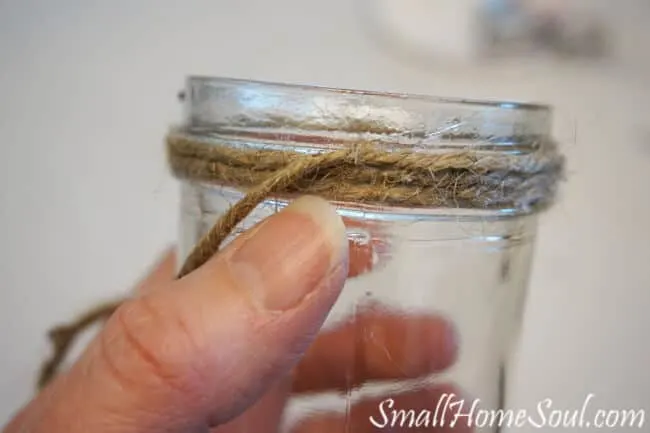 When they were both finished I put some pens into them and got ready to take pictures. This is where I quickly realized I didn't like them. Wah Wah, big bummer of a failure!! I didn't like how messy it looked seeing the pens through the glass. Irritated and disappointed I set the jars aside in the garage and forgot about them while I worked on some other projects.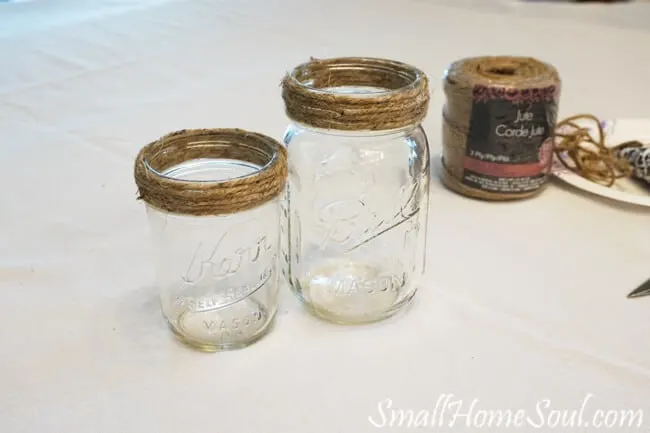 Mason Jar Pencil Holders Part 2
Then one day when I was working on my Mason Jar Utensil Caddy I decided to resurrect these mason jar pencil holders and see if I could save them with some paint. I got out the Frog Tape and carefully taped off the jute string and stuffed in a little newspaper so paint wouldn't go inside.
I held them up by the newspaper and gave them a few coats of white paint.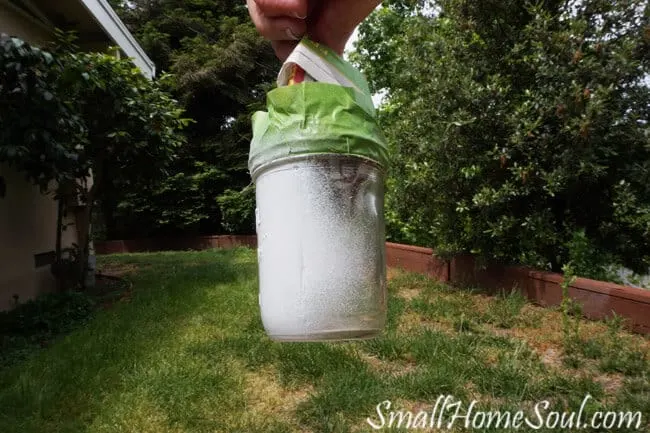 When they were dry I distressed the raised labels with an emory board. You check out how to do it in my Mason Jar Utensil Caddy tutorial.
They look so nice on our desk in front of my DIY Chalk Board.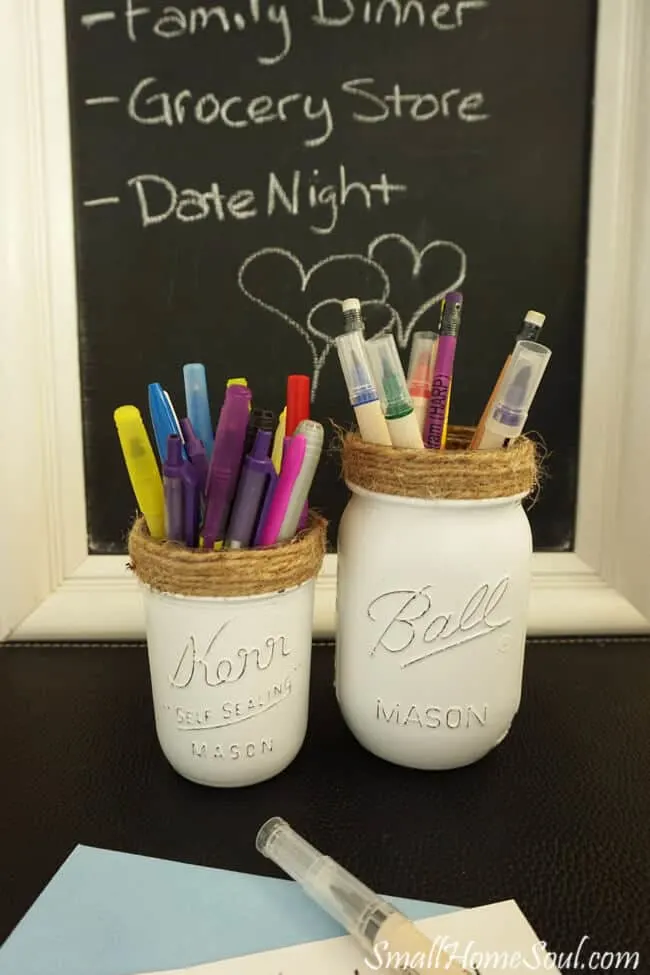 Now we don't have to dig through the drawers to find the perfect pen.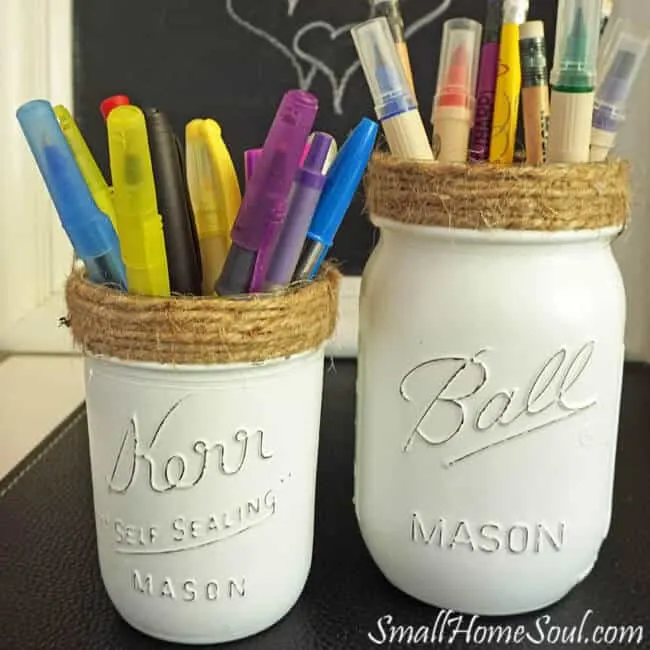 It's especially nice to have two sizes for separating longer from shorter pens and markers.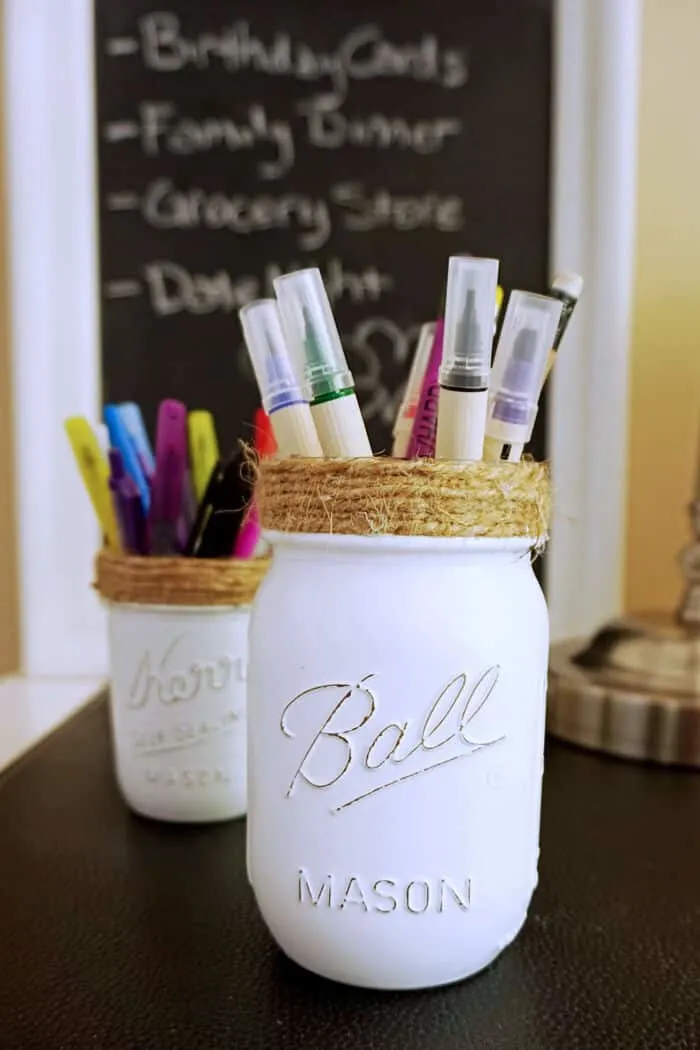 Now you can clearly see that if you want to make your own mason jar pencil holders you'll work in a slightly different order than I did. You're welcome for that 🙂 This is a nice reminder why we shouldn't be quick to throw things away (um, my husband wishes I would toss more stuff); but you just never now what awesomeness you'll end up with.
Please don't forget to pin this project to your favorite Mason Jar or Craft board 🙂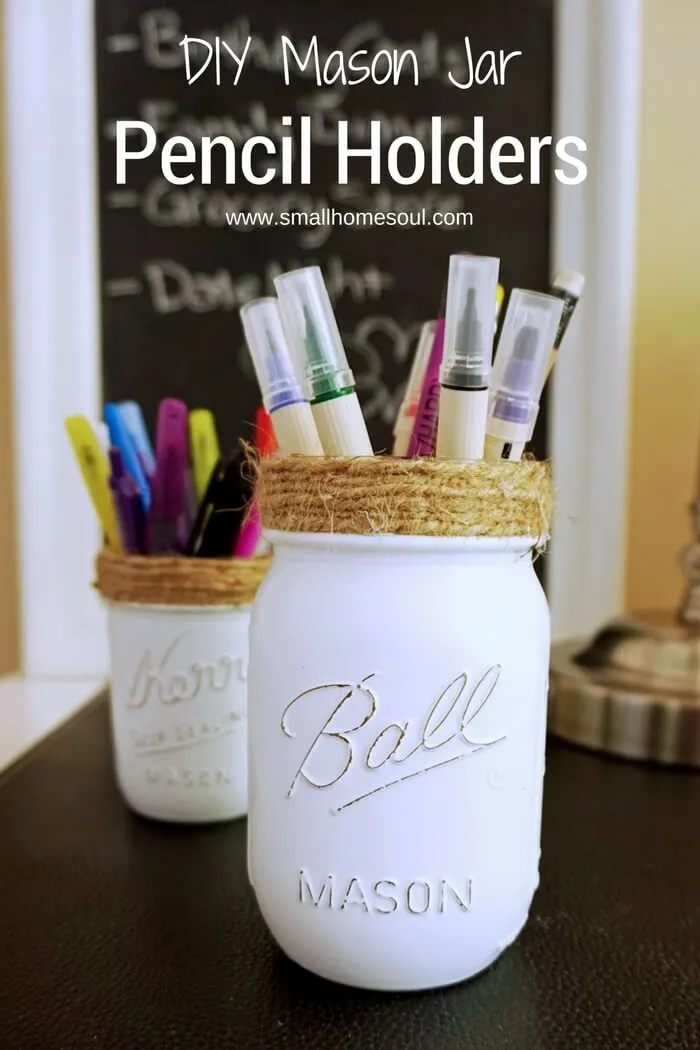 Until next time,
Toni