"You need a chalkboard," my husband kept telling me. Not because he thought it would be a great project, but because I kept forgetting things he'd ask me to do. It became such a running joke about my memory and my need for a chalkboard reminder that he'd send me texts with "the chalkboard says…call the repair man 🙂 ," or whatever the reminder was for that day. He almost went out and bought a whiteboard but I convinced him to wait because I didn't want to buy one when I had most of the supplies to make something cute and functional.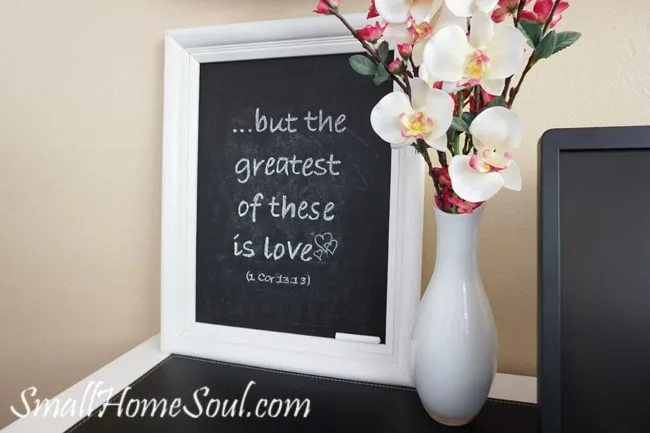 I finally got off my butt and made one so I could be more organized and I thought I'd show you how easy it is so you can make one yourself. Please be sure to read my tips at the bottom of the post for lessons I learned on this project.
This post contains links to products, if you purchase something after clicking on my link I may
earn a small commission (at no extra cost to you).
DIY Chalkboard Supply List
Here's what you'll need:
A picture frame
A piece of thin plywood or other hard board
Zinser 1-2-3 Primer for the frame
Paint for the frame
Chalkboard Paint
Paintbrush, I have this one by Purdy
Paint Roller or Foam Brush
Mounting brackets
Hammer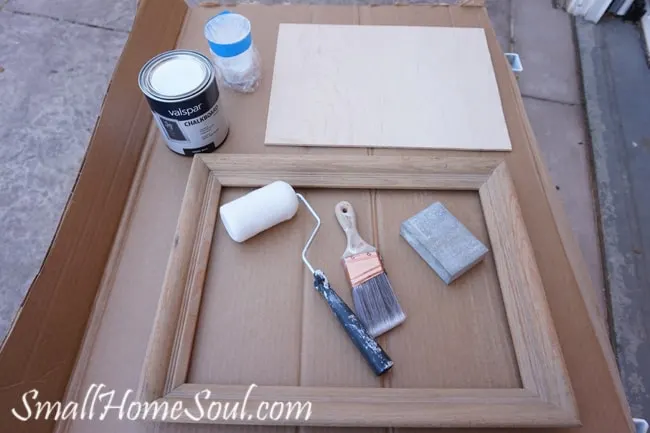 This frame has been around for a few years tucked into a cabinet in our garage and it's the perfect size. Start by sanding the frame with a sanding sponge to rough up the original finish and wipe it with a slightly damp cloth. I didn't sand too much because I wanted the grain to show through the paint for a more rustic look. Next prime the frame with Zinser 1-2-3, it's the only primer we use.
After the primer was dry I painted the frame using my Purdy paintbrush and some white paint I had left over from another project. I started out going for a dry brush look then decided a few thin coats gave me the look I wanted.
Before I painted the frame I measured the opening in the back so I knew how big to cut my board. We already had some scrap 1/4″ plywood laying around so I transferred my measurements and used the skill saw (always wear your safety glasses please) to cut my board.
I started applying the chalkboard paint with the roller but I didn't care for the the texture I was getting so I switched to a wide foam brush instead. Since I had applied the paint with the roller I painted with the foam brush in one direction making sure the entire surface was covered. I set it aside to dry for several hours. Then I applied another coat of chalkboard paint in the cross direction and let it dry for a few days.
More Chalk Board Paint Projects
DIY Kitchen Signs – Music Sheet Mason Jars
After I was sure the everything was dry I assembled my chalkboard. I didn't plan to hang my chalkboard but I used the tiny nails from the mounting kit as my brackets to hold the chalkboard in the frame.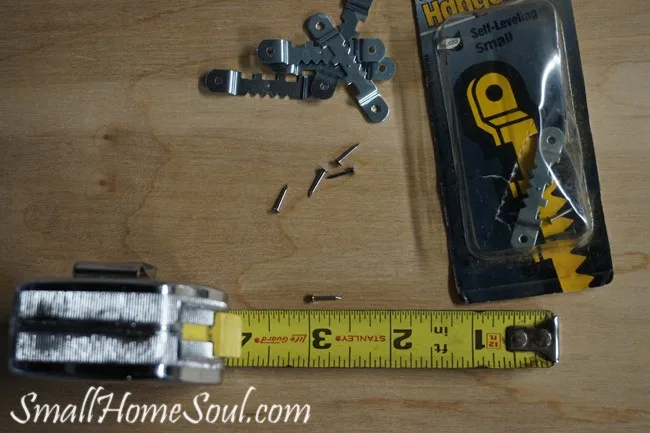 I used six of the tiny 1/2″ nails. You can hold them in place with needle nose pliers when hammering into the frame. I put two nails in both short sides and one nail on the other two sides. Trust me, you'll want to use needle nose pliers to hold that tiny nail. It hurts when you bash your fingers; yep, I've done that a few times.
That's all there is to it, super simple, right?
I couldn't wait to write something cute on it and get it onto my desk.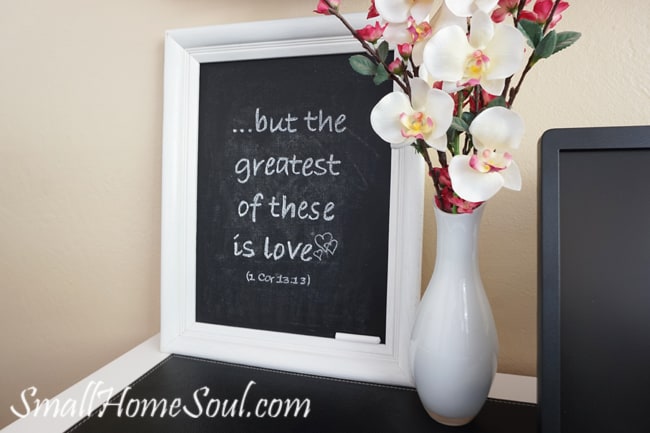 So pretty, and thankfully my hubby hasn't erased it yet to give me errands to run or jobs to do 🙂
I sure hope you'll try this easy project, it makes a great decor addition to any room. You could even try some of the new tintable chalkboard paint for a chalkboard in any color you could imagine.
Toni's Chalkboard Tips:
I promised you tips, and here they are.
Use the biggest frame you can for ease of list making. If you have small kiddos you can leave a space for them to doodle.
Chalkboard paint is thick so be patient and test it on a piece of cardboard first. This will ensure you get the texture you want.
Season your chalkboard before the first use. You do this by rubbing chalk all over the board and really rub it in and let it sit a bit. I didn't know this until I saw my friend Sarah at 1915House mention this when she made hers. Apparently this is a must and a great tip to ensure no etched words remain on your board even after you wipe it clean 🙂
Well, that's all I have for today, thanks for stopping by and checking out my latest project.
Until next time 🙂
Toni