Do you have a favorite cake recipe? I do and it's a chocolate cake. But not just any chocolate cake, it's The Best Chocolate Cake You'll Ever Eat! I promise!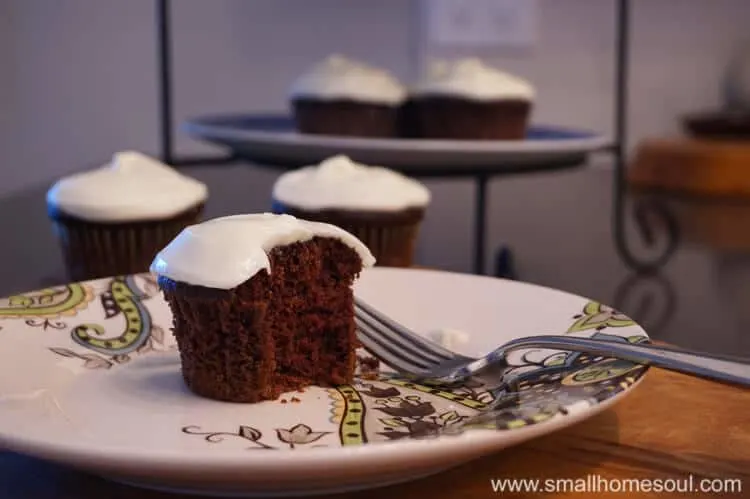 This is the cake that has been in my family for a few generations. We all love it!
The first time I made this cake I was about 12 years old. My first attempt was a disaster and a long story I won't bore you with today. But my dad, ever the lover of sweets, ate every bite of that cake, mostly because no else would touch it.
Now that's love 🙂
I think my mom got this recipe from my grandma and it probably came out of a cook book or off a cocoa can but it doesn't match exactly any recipes I've seen. You're so lucky because I'm going to share it with you today!
This post contains some affiliate links for your convenience. You can read my full disclosure here.
Chocolate Cake Recipe
3/4 Cup Butter (softened to room temp)
2 Cups Sugar
2 Eggs
1 teaspoon Salt
2 teaspoons Baking Soda
3/4 Cup Cocoa (I love Hershey's cocoa for baking) but recently I switched to this cocoa powder that I love even better.
1 Cup Buttermilk (see buttermilk alternatives below)
2 teaspoons Vanilla
2-1/2 Cups Flour (I love King Arthur Flour)
1 Cup Hot Water (not quite boiling)
I'm giving you the mixing instructions I've always used and it's always worked perfectly.
Preheat the over to 350 degrees.
With an electric mixer (I'd love this retro mixer) on medium-high cream together the Butter and Sugar. Add both Eggs and mix at medium speed for a few mintues.
Sift together the Salt, Baking Soda, Cocoa and Flour and add alternately with the Buttermilk .
Add Vanilla and the Hot Water and mix on low until it's all blended nicely. The consistency of the batter will be thick, not quite as thick as pudding.
Prep your pans with either non-stick cooking spray or the old fashioned buttered and floured method. If you're unfamiliar with this process here's a website that shows it step-by-step. I never, ever use shortening in my cooking so you can substitute butter or olive oil without an issue. And, I use my fingers or a paper towel, use whatever works for you.
Bake using the guidelines below. If you're planning to make a stacked layer cake I like to line the bottom of my round pans with a circle of parchment paper. The parchment paper ensures the bottom of the cake won't stick to the pan.
9″ x 12″ cake pan bake 30 minutes*
Two 8″- 9″ round cake pans bake 30 minutes*
Cupcakes bake for 15-17 minutes*

Standard cupcake/muffin size filled 2/3 full, yield 24 cupcakes*
*Bake until toothpick inserted in the center comes out clean.
Buttermilk Alternatives for Baking
Growing up we used sour milk which you can make by adding 1-2 Tbsp of white vinegar to a cup of milk and stir. Let it sit a few minutes before adding it to your recipe.
Recently I discovered powdered buttermilk that I love. This is a great alternative and after you open it just store it in the fridge. I've bought and thrown out more containers of spoiled buttermilk than I care to count so either of these buttermilk alternatives work well in baking.
I made my best chocolate cake recipe as cupcakes this time for my daughter's birthday. Baking them as cupcakes helps me with my portion control 🙂 And they freeze well too.
Bonus Recipe – Cream Cheese Frosting
1-8 ounce block of Cream Cheese (softened)
1/4 Cup Butter (softened)
1/4 Cup Sour Cream
1 tsp Vanilla – or get a vanilla extract kit and make your own.
3-4 Cups powdered sugar, depending on how sweet you like your frosting
Mix Cream Cheese, Butter, and Sour Cream until smooth. Now add the Vanilla and slowly mix in the powdered sugar. Lastly, mix on medium-high until smooth, wiping down the sides of the bowl to incorporate all the sugar.
After you bake your chocolate cake using this recipe I'd love to hear if you agree that this is the best chocolate cake you've ever eaten 🙂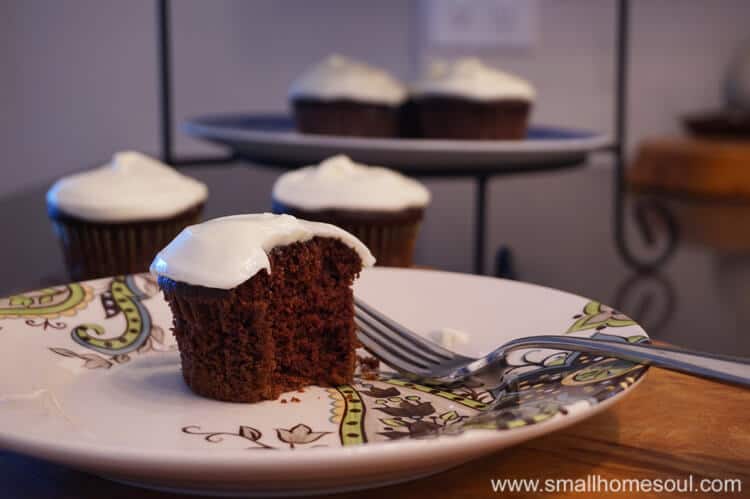 Love it? Pin it!