Hello friends, today I'm sharing with you this awesome stuff called Bar Keepers Friend! I've been using it for while and I just bought my second can. I mostly use natural homemade stuff but there are times when you have to pull out the big guns. I'll tell you more about why I love it so much in a little bit.
Last month when I was cooking the chicken for my Savory Quinoa and Chicken recipe I shared with you, I ended up with a super messy pan. The burner ring wasn't on right after I cleaned the stove and the flames were off balance. When I was done with the chicken I had the messy pan below to clean.
This post contains some affiliate links for your convenience. You can read my full disclosure here.
Speaking of pans, I still love my Cuisinart pans that I got when we did our Kitchen Renovation. I highly recommend these pans if you're in the market for a new set.
Forgetting I had a can of Bar Keepers Friend under the sink I got busy scrubbing it with my trusty green scrubby pad. I wish I remembered sooner because after all that scrubbing there was still some stubborn stuff left. When I remembered about my Bar Keepers Friend I knew my pans would be sparkling again.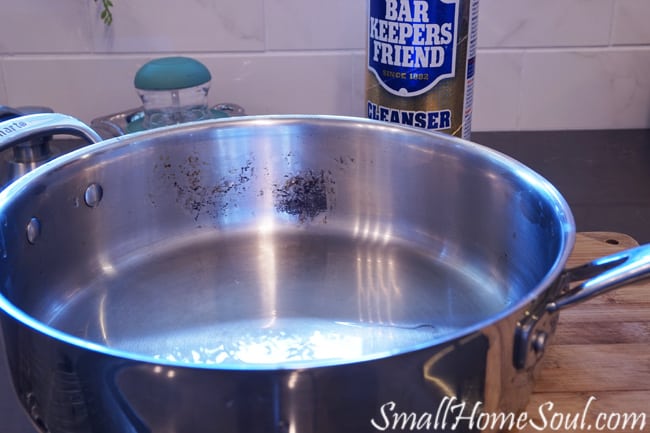 I put some on my green scrubby and made a little paste with water. You can just shake some in the pan but since it was on the side I went this route.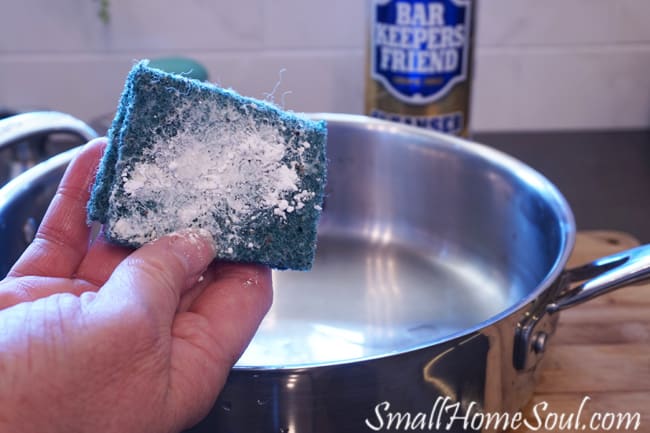 Below is after just a little scrubbing, the stuff is like magic. Ok, that's a stretch, but I do love it 🙂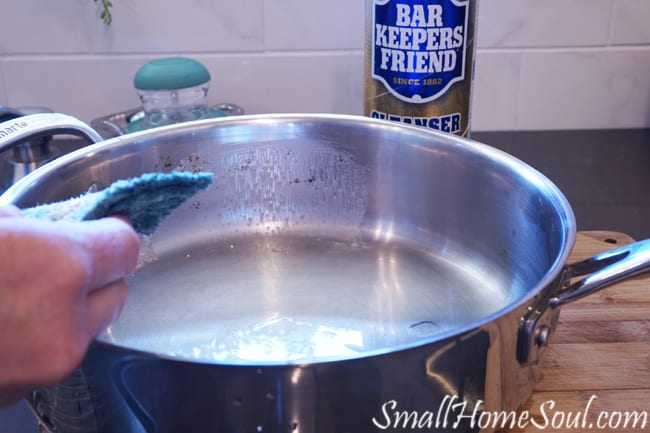 Seriously I think this only took 10 swipes with the Bar Keepers Friend on my scrubby. That is fast compared to just using soap and my green scrubby. You could probably get the same results using it on a washcloth, it's that good at taking off gunk.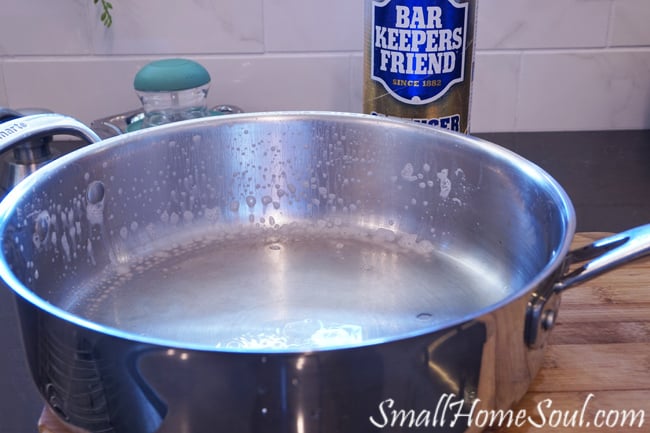 All gone and sparkling clean.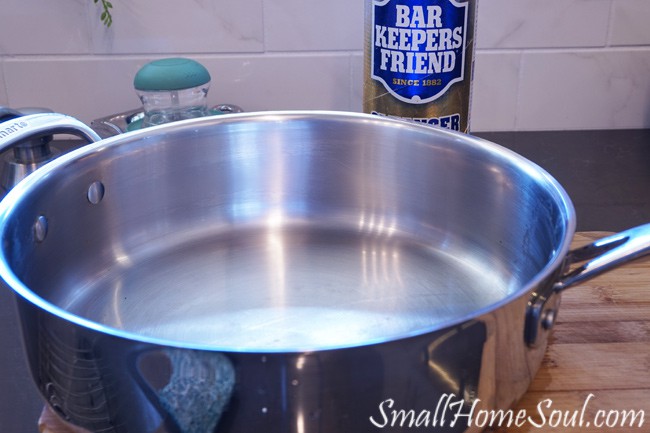 Bar Keepers Friend – Why I choose it every time!
Now I want to tell you why else I love it so much. When you need to use a heavy duty cleaner don't you prefer to use the products that are safest for you, your family and the environment? I know I do.
I'm a huge fan and reader of The Environmental Working Group. They have lots of great resources on their site to help us make the healthiest choices. Including produce shopping guides such as Clean 15 and Dirty Dozen for pesticide use in conventional farming. They've added skin care and sunscreen ratings, and most recently ratings for household cleaners.
I'm not judging what others choose to use, and my own husband loves all the chemical stuff (it's a friendly battle to get him to change). But consumers should be informed so they can make the best choice for themselves and their families. I love that saying "When you know better you do better" because it's true for so many things.
I looked up Bar Keepers Friend a few months ago on ewg.org. While it doesn't get a great or even good rating by EWG sometimes you have to look at more than just the letter grade it's given to make your choice. Comparing the ratings of the ingredients in Bar Keepers Friend to other cleanser products like Ajax and Comet I'll choose Bar Keepers Friend every time.
When using any cleaning product (even homemade ones) always use caution not to get it in your eyes or breath in the dust or fumes. And of course keep it locked away from curious little ones.
Bar Keepers Friend – What's
NOT

in it compared to other brands

These categories don't even register on the bar EWG uses to show ranking
Asthma and Respiratory irritants
Cancer causing ingredients
Developmental/Endocrine/Reproductive Disruptors
Those are all scary things. I'll always give you true and accurate information and my honest opinion. This product does show a rating of "some concern" for skin allergies or irritation so I recommend using gloves if you have sensitive skin. And again, keep this and all cleaners away from children.
Bar Keepers Friend – In Summary
There are lots of other great uses for this product outside the kitchen so be sure to look them up on the Bar Keepers Friend website. They even have before and after pictures submitted by their customers, like this one 🙂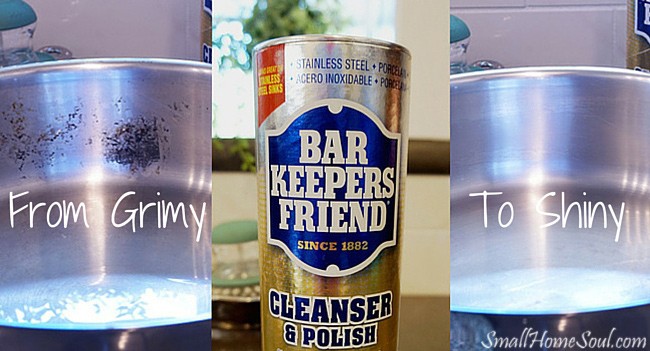 In my opinion, and what I've read and understand from EWG's website, Bar Keepers Friend has the best ranking of the three products I've mentioned here. It's about double the price of the other brands but I'll gladly pay extra for the health safety and great results I get from Bar Keepers Friend.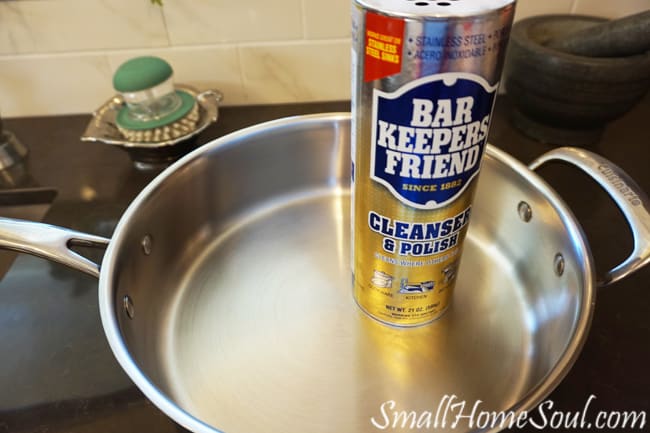 Leave a comment below and tell me what your favorite cleaning products are. And if you make your own I'd love to know your recipe 🙂
Don't forget to Pin this to your favorite Cleaning Board. You can also check out and follow my Cleaning Tips board.
Until next time,
Toni