Hi friends, have you ever used Milk Paint? I have many friends who love it but I hadn't used it until this week when I made over a little but very ugly duckling Mid-Century Modern dresser as part of a paint challenge I participated in.
The theme was "Farmhouse Fun" and was sponsored by Old Fashioned Milk Paint Company. They've used all natural minerals for 42 years to create paints which are low VOC and come in 20 classic colors.
This page contains links to products, if you purchase something after clicking on my link I may earn a small commission (at no extra cost to you). You can read about affiliate links here.
I had a hard time choosing but finally settled on Soldier Blue and Oyster White. You'll also want to purchase their Extra Bond if you don't want your finished project to chip. And you can use tung oil to preserve your beautiful paint job.
A few months ago I happened upon a garage sale in my neighborhood and bought a few side tables that have been in the way in the garage. I decided to use this mid-century modern table for the challenge.
She has such a sad face doesn't she? That really fits her condition perfectly because it was obvious she'd been abused over the years.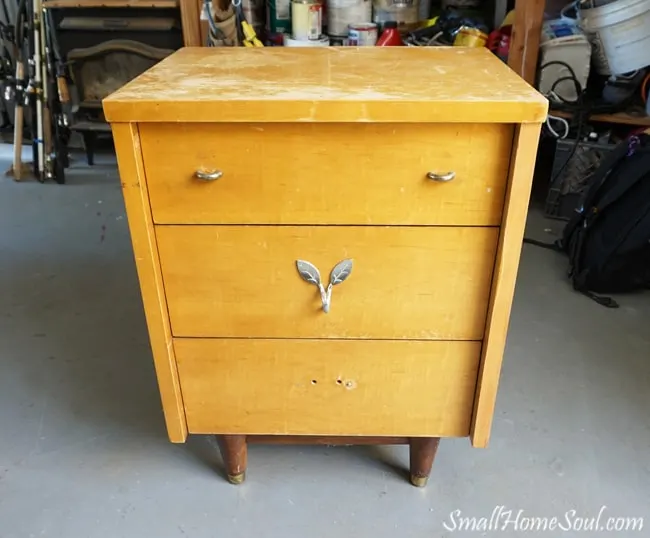 Some of the veneer was missing and needed repairing. I pulled away all the loose pieces and used DAP Plastic Wood and a putty knife to fill in where needed. Thankfully, this was the only spot where the veneer needed to be patched. I had to re-glue one small spot on the top at the back.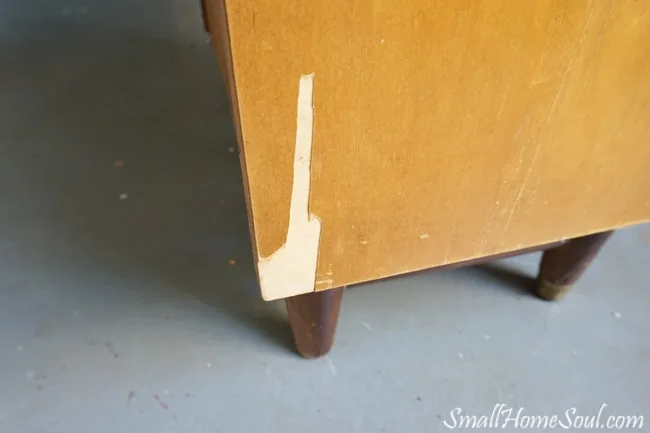 While I was patching the veneer I also used the DAP Plastic Wood to fill all the knob holes. While it dried I made a template for the new drawer pulls. I took measurements and found the center and the correct placement of the pulls. I marked spots on the template I made from an old hanging file folder.
Once I had it perfect I lined up the template to the corner of the drawer. Using my handy dandy Scratch Awl I made indentations for the drill bit. Using a scratch awl ensures the drill bit will be perfectly centered. I didn't have much wiggle room with the pulls I chose so the holes had to be perfect.
See the two black dots below? Those are the indentations from using the scratch awl above. Oh yes and all the lovely holes I filled with the plastic wood. Once it's dry just sand it like wood, but it's harder than wood which resulted in some heavily sanded spots.
The legs were loose and needed some attention too. The dowel that held the leg to the cross piece was broken. I worked some wood glue into both spots and pushed it back together. Next I set it on the ground and drove a wood screw through the bottom of the cabinet down into the leg to secure it.
After the repair work was done I sanded it all over to prep for the milk paint. Sanding a previously finished surface gives it some "tooth" to which the paint can adhere. I mixed the Milk Paint in equal parts with warm water. The Soldier Blue was a bit too dark so I mixed in approximately 30% Oyster White powder (and equal water) to get a lighter blue gray.
First Time Tips for Milk Paint
Below are the items I received from our sponsors in exchange for this post review of their products. All opinions are my own.
This was my first time painting with Milk Paint and it's important to follow instructions carefully. I'm sure I didn't mix the paint a full 2-3 minutes and even after letting it rest the suggested 15 minutes I had a few white spots show up in my first coat.
Soooo, set a timer and save yourself some headaches. I have learned that using a Milk Frother really helps mix up your milk paint well and leaves no lumps.
I mixed enough and added the Extra Bond to do the entire body of the nightstand with two coats. Extra Bond is important if you're painting a previously finished surface and you don't want chipping. Milk Paint by it's chemical makeup will chip. I didn't want it to chip. More on that later.
After the body dried I tackled the sad metal feet on the front legs. I used my trusted Frog Tape which I cut little slashes in to bend and wrap the painted leg. I also used a white plastic table cloth to cover all but the ends of the feet and sprayed them with a Rustoleum Metallic Paint in Silver. It's such a beautiful improvement!
More First Time Milk Paint Oopsies
I told you I'd give you an honest review…
Remember when I said milk paint will chip? And I didn't want it to chip? I also didn't mix my oyster white correctly and may have added the Extra Bond too soon. The first coat on the drawers wasn't great but after it dried it sanded up nicely with a fine grit sanding block.
Phew, I think I dodged a chippy bullet.
I tossed the first batch and made fresh milk paint for the second coat. The instructions stated that you only need extra bond in the first coat so I didn't add it to the paint for the second coat. I should've added some anyway since I had plenty for my project.
After letting the second coat dry over 2 hours it wasn't covered completely so a third coat was needed. A few hours later when I went to check, "ugh, what happened to my paint?!"
Oh, that? That's what the milk paint world calls "chippy goodness."
More Furniture Makeovers
Industrial End Table Makeover – How to turn a Dresser into a TV Console – IKEA Nightstand Hack – French End Table Makeover –
Update an old Night Stand with Metallic Cream
But it wasn't good, or so I thought because I didn't want chippy goodness! Oh well, sometimes you have to just go with it. I didn't freak out, it's very subtle (when your face isn't 3 " away) and the theme is "Farmhouse Fun" after all. It's more of a crackle so I can live with it 🙂
Milk Paint Success!
Here she is, finally, in all her milk paint "chippy goodness" glory. But first I'll remind you of the sad-face before.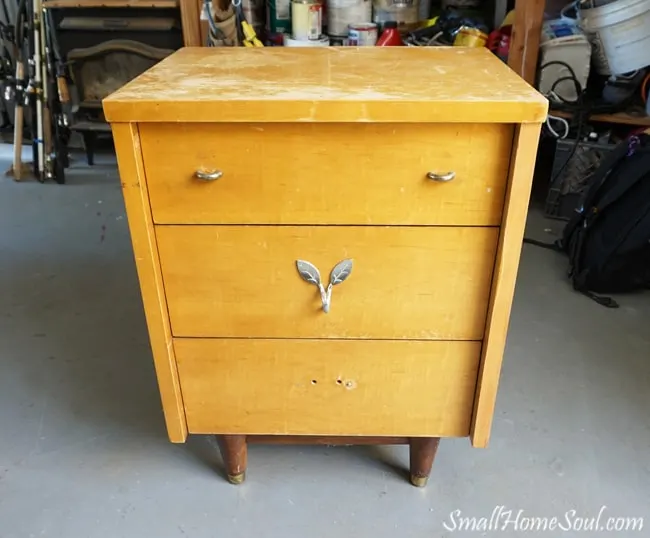 And the awesome after 🙂 Mid-century Modern goes Farmhouse Glam!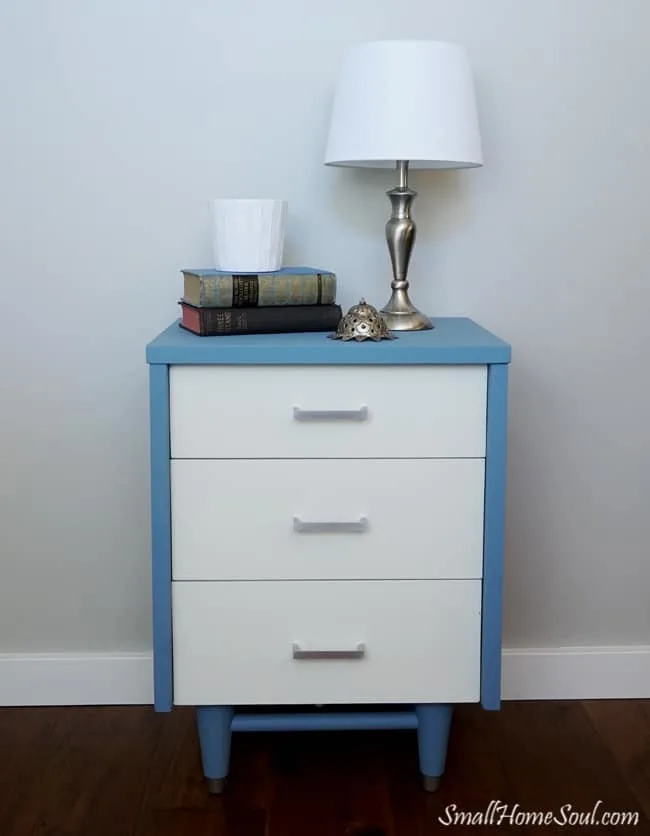 Here's a better angle of the drawer pulls I picked up at Home Depot for $3 each. They're square on the outside but curvy on the inside to contrast all the hard angles.
Look at the sparkly new shoes on those little feet. And if you look close you can see the "chippy goodness" happening on the drawer. I'm glad I didn't go into full freak out mode, because I really like how it turned out!
I enjoyed playing with milk paint and will definitely give it a try again. It's fun getting to try out new products and expand your arsenal of DIY tools.
[UPDATE: I am happy to report that after several months the drawers are still looking beautiful with no chipping.
LOVE IT!! PIN IT!!