If you're tablescape challenged like I am then I think you'll appreciate this quick and easy version of Easter Table Decorations. Seriously, I am so bad at setting a table that I'm lucky even when we have company if I have flowers on the table. Normally we serve buffet style so I don't really set the table with dishes.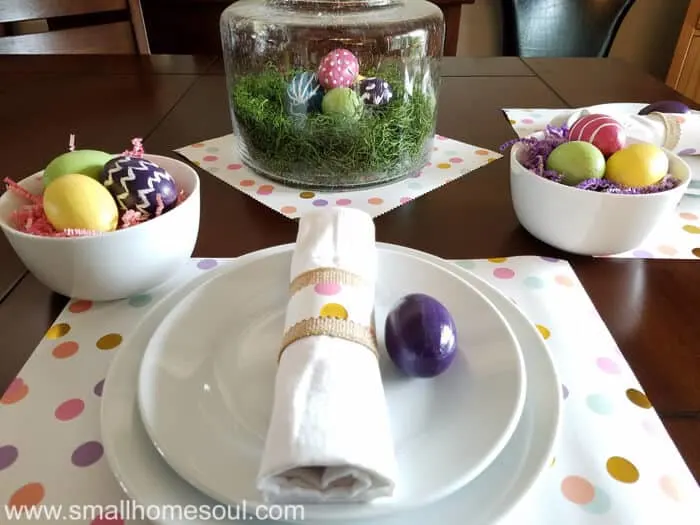 I purposefully chose white dishes the last time I got new ones so they'd go with anything. Not that I have a lot of everything else to get crazy creative like you see on Pinterest. I mean, I aspire to have beautifully set tables like I've pinned to so many of my boards. It's just not something I've acquired a skill for yet.
My friend Denise at My Thrifty House challenged us to put together Easter Table Decorations or a Spring tablescape for our Link Party. When I read her challenge in our private link party group my face got all screwed up. Yep, I turned up my nose at that idea; and I almost said no. Not because I didn't like her idea but because I lack confidence in this area.
But I'm no party pooper and really I can do anything I put my mind to. So I pulled up my big girl panties and said "ok I'll do my best 🙂 maybe I'll uncover a secret skill I didn't know I had bwahaha." That's an exact quote.
Strolling through Target's Dollar Spot (ok, ok, Bullseye Center, or whatever name they gave it that I can't remember) I found some cute paper placemats in pretty Spring colors. I knew they would go perfectly with some Easter eggs I had painted but had yet to get written into a blog post. As soon as I got home I got busy putting my table together.
This post contains some affiliate links. If you click on a link and make a purchase it doesn't cost you extra but I earn a tiny commission, at no extra cost to you.
Easter Table Decorations Supply List
Tape
Glue Gun
Painted Easter Eggs
Square Cake Stand
Dishes
White Cloth Napkins (paper napkins would work too)
It came together pretty well and the biggest issue I had was getting the paper placemats to lay flat after having been rolled up in the tube they came in. I'll just narrate as I share pictures of my finished Easter Table Decorations.
I started with just the placemats and then added my plates. I wrapped the napkins with wired burlap ribbon overlapped about 1″ and used the glue gun to keep them in place. Then some pinking sheers worked great to make a smaller paper wrap to pretty up the burlap That was held in place with a piece of tape. A simple painted egg (in my very favorite color) is a nice touch.
Beside each plate I added a bowl with some paper grass and a few more eggs, sort of like an egg salad 😀
I changed up the grass color in the next bowl. It looks so cute against the polka dots on the placemats.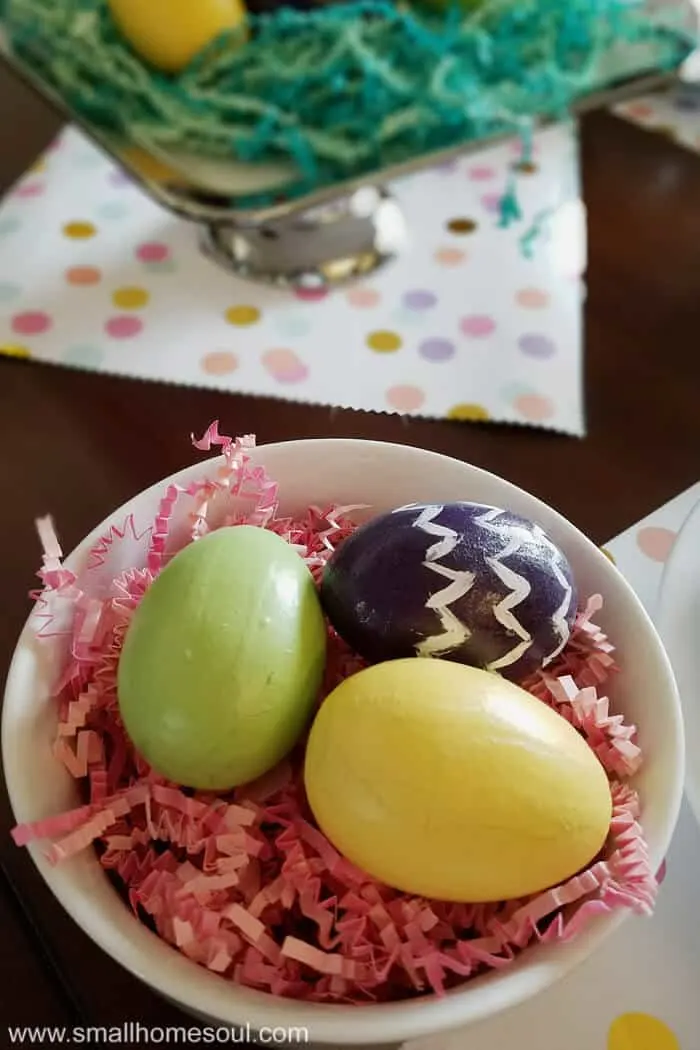 For the centerpiece I grabbed a square cake plate with more paper grass and more eggs.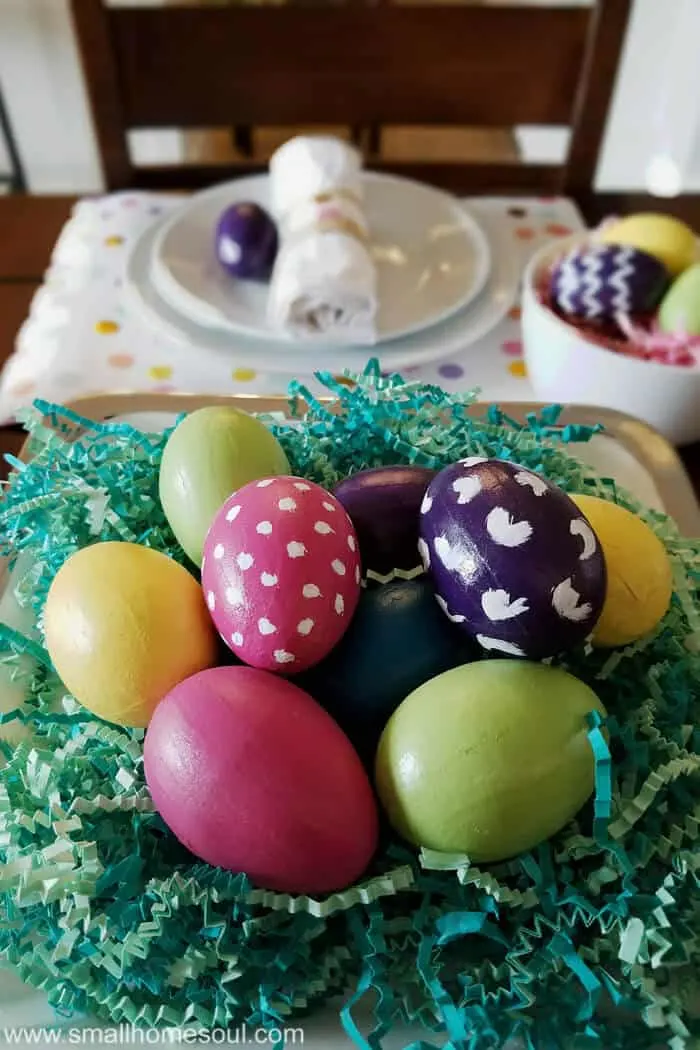 This really brightens up the dark wood of my dining table. Oh yes, more pinking shear action to make one placemat square for underneath the cake plate. I'm not sure why I don't use my pinking shears more often 🙂
Here's an another option for a centerpiece. I was going to use this awesome bubble glass container for my faux succulent planter but when I put in the moss I thought it looked like an easter basket. It just needed to be used for some type of Easter table decorations. I just didn't know it would look so cute. It's so cute just like the Easter Wreath I updated.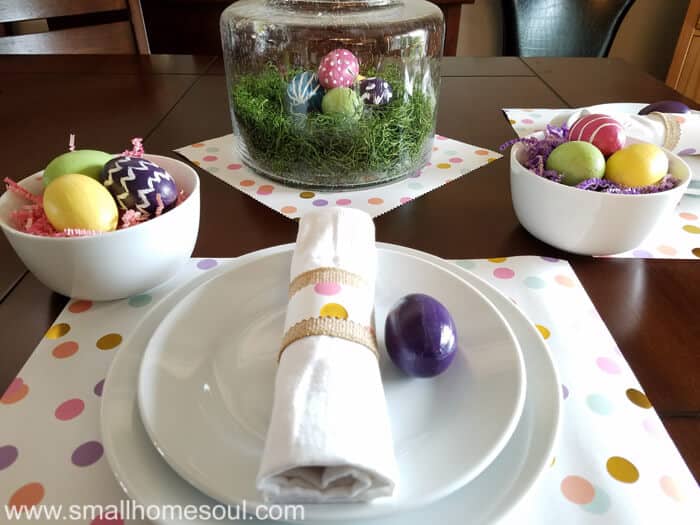 I loaded up the cake plate with even more eggs and moved it onto the hutch.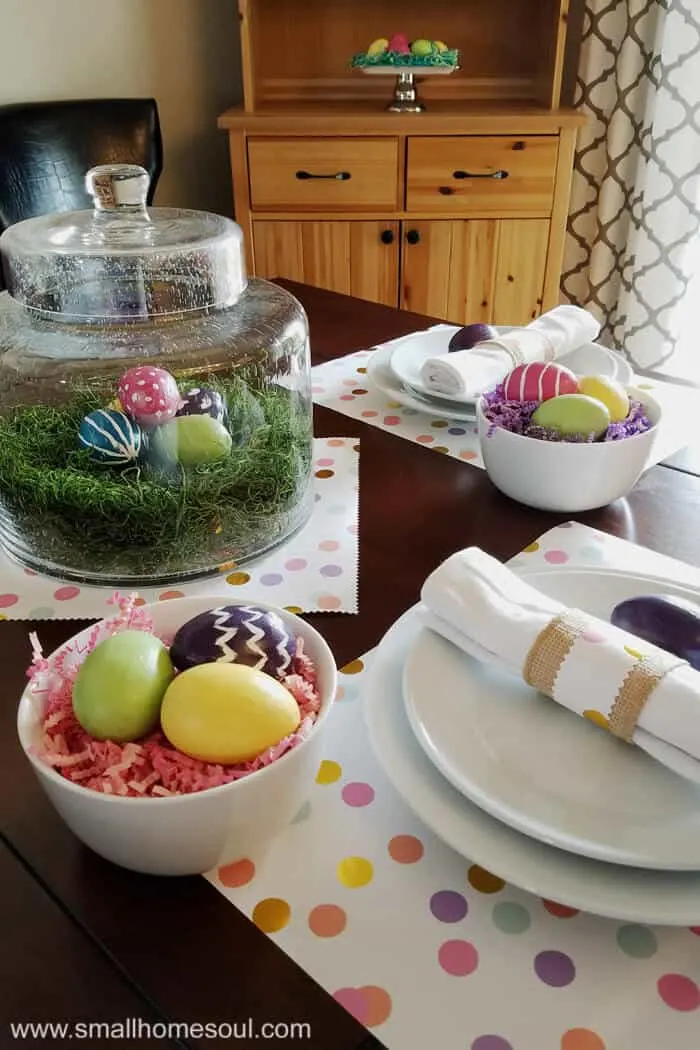 So you see, even if you think you stink at something give yourself permission to experiment. I'm impressed with myself actually. It wasn't that hard, and I didn't hate the process. Actually, it was fun to put it all together and see what I ended up with.
I hope I've inspired you to try making your own Easter table decorations, you can do it. If I can, I'm certain you can too!
Don't forget to Pin it!
~More beautiful tables by my Link Party co-hosts~
Simple Vintage Farmhouse Easter Tablescape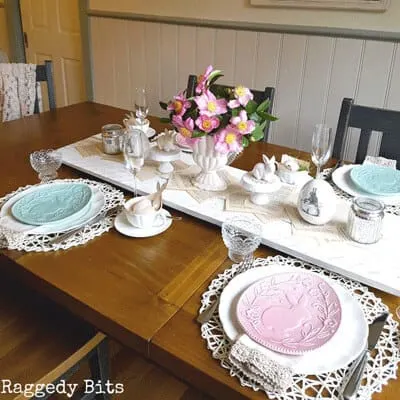 Rustic and simple Table Setting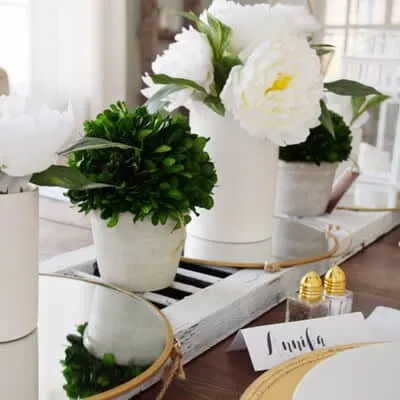 You might also like: