Have you ever noticed how much stuff in your house you don't see? You know, the pile of junk mail that's been sitting on the counter for way too long. The screwdriver on the dining room table you forgot to put away, last month. You know that saying "nose blind?" Well I'd become porch blind to the ugliness that was my porch, and a huge eyesore I'd yet to deal with. It had been neglected for way too long and I wasn't seeing how ugly it really was. The first impression of your home shouldn't be an afterthought so it's long past time for a Front Porch Makeover.
Spring is right around the corner so this makeover goes perfectly with cleaning and freshen up inside and out. My front porch has been sorely neglected for many years with no real design or style. Recently my blogging group decided to do another round of room makeovers for $100 but I hadn't planned to participate. I didn't have much time or a room that needed an overhaul. Or so I thought.
Hubby and I had already been to Lowes to pick up a few things to add to stuff I'd already purchased. When the thread came up again in my group about the challenge I realized it's a room and I could pull off a quick front porch makeover to join the fun.
Front Porch Makeover – Before
Here's what I started with. Oh and please pardon the photos, I had to take these with my phone because my good camera is being serviced.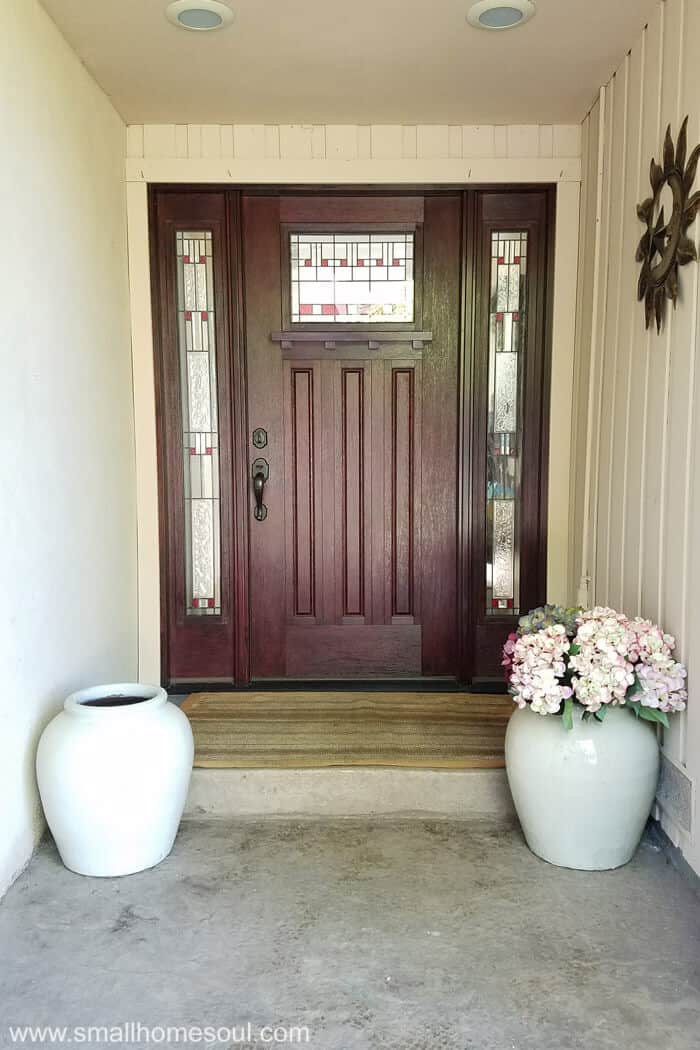 Not horrible, just meh. Boring for sure. But that's not the closeup. No judging or gasps of horror please. Ok, ready?
See that random blue paint on either side of the ugly rug? It's different from the front of the step, but why? We had a new driveway and walkway poured several years ago and decided we needed to make the step a bit deeper. I'm glad we did it but we didn't have room to add cement to the top and make it look like one bigger step.
I always planned to paint it or in some other way camouflage or blend the seam and paint the step. Well months and years went by and this is what it still looked like because that rug mostly covered it.
I'd carried around the dimension of the step for a few years hoping to find a rug that fit but nada zilch zippo. I was tired of searching and reading rug dimensions knowing none would work.
Recently I saw big door mats at Home Depot that were cheap cheap cheap and I brought 3 home with the hope that they would fit. I had to do a little trimming but I'm happy to say the eyesore has finally been fixed covered.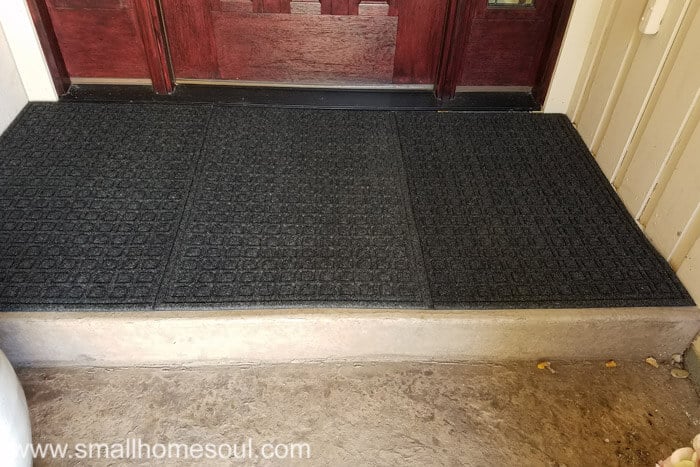 Now all I needed to do was figure out what to do for the rest of the front porch makeover. Oh did I mention we have a $100 budget? Normally you can really make that stretch if you use your imagination.
Well, I sort of backed into this budget. After I decided to participate I realized my little shopping trip pretty much blew all 10,000 pennies on six things. I'll recap for you in a bit where I spent spent it all.
I wasn't really upset because I bought a colorful doormat, some awesome pots and beautiful succulents that will all make a big impact.
I bought pre-cut pine rounds and gave them a light sanding. They got painted using paint I already had after mixing in a little white paint to get the color pretty close. A quick spray coat of glossy protector on top and bottom will help with cleanup. They aren't exposed to the elements but dust still happens.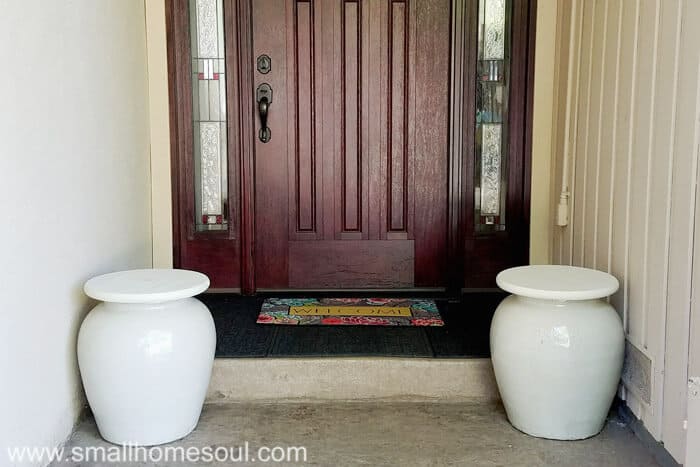 It was a total score for my budget that I'd already made my Outdoor Plant Stand for another project. Originally I made it for the patio but when that didn't look right I brought it to the porch. Doesn't the paint color go perfectly with the new doormat? That was a happy coincidence 🙂 I was nervous the doormat would be too bright but I love it.
Normally I'm not one that needs symmetry but for this front porch makeover to be right it needed some balance. The porch entryway is long and narrow and really needed some height and brightness by the door. On the outdoor plant stand I swapped out the plant and pot from the original post with a vase and faux flowers that were in the house. That gives it good height and some interesting texture.
But I still needed something for the other side of the step. I'd been wanting to make welcome sign for quite a while so the time was now. The boards have been in the garage for, oh, way too long. They were simple fence boards no one wanted and I picked up for a few bucks. I stained them dark wanting to do a layered look and that's as far as I got. After painting them white and using transfer paper with printed letters it turned out pretty sweet. The hanging mason jar vase with pebbles is the perfect touch to hold any type of faux flowers.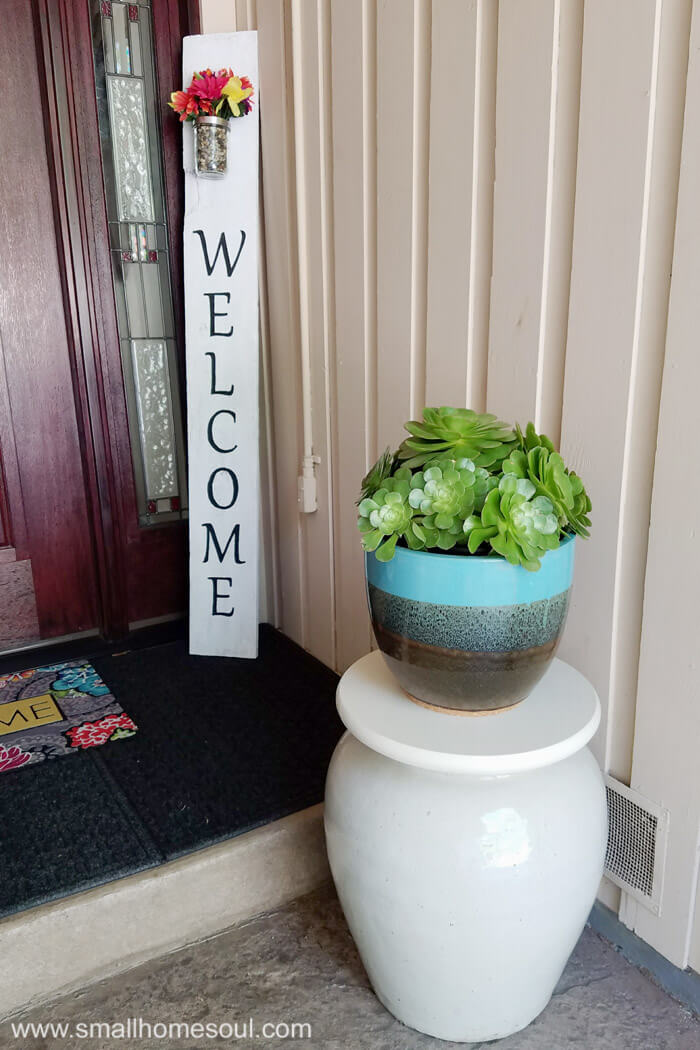 Front Porch Makeover – The Budget
For this challenge the rules are simple. Don't spend over $100, and anything you already owned that's used in the project doesn't count. I'm going to be completely transparent. I went over my budget 🙁 I already mentioned I wasn't originally planning to participate in this makeover challenge. Some of the things I'd already purchased specifically for the porch so I have to count them. I would make more strategic purchases if I was starting from scratch so I could make my budget go further.
This post contains links to products, if you purchase something after clicking on my link I may
earn a small commission (at no extra cost to you).
There are lots of ways to save money on what I bought. You could purchase less expensive terra cotta pots and paint them. You can even purchase spray on Glaze to make them shiny. Garage sales are another great source. There are also less expensive plant choices that would work based on your sun exposure. For the non-DIYer looking for a quick and easy project, I've got you covered 🙂
So here's what I spent:
Two 15″ Pine Rounds – $14.68 (I bought this kind at Lowes cheaper)
Two 1-1/2 Gallon Succulents – $31.96
Two 9.5″ Ceramic Pots – $39.96
Small Doormat – $12.98
Three Black Mats – $17.64 (I got this one at Home Depot for $5.88 ea)
Grand total ———> $117.22
What I already had:
The two big white pots
The outdoor plant stand and vase with flowers
Paint and glossy spray
Wood board, transfer paper, black craft paint
Mason Jar, pebbles, hose clamp and flowers
Now that we've talked about the money let's review.
Here's where we started: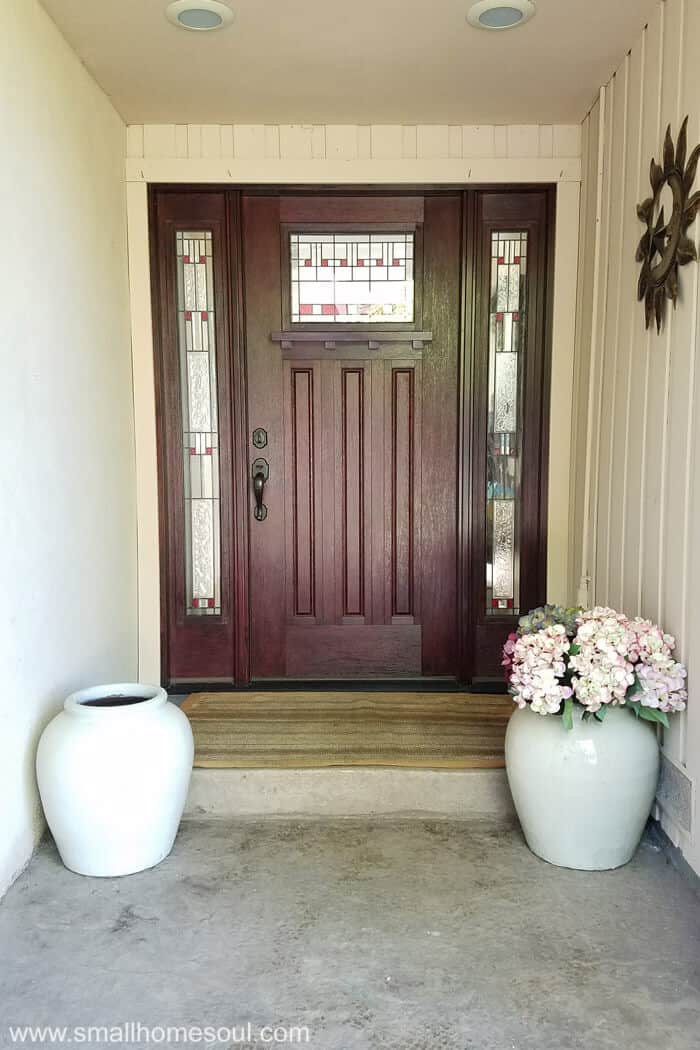 And now all together 🙂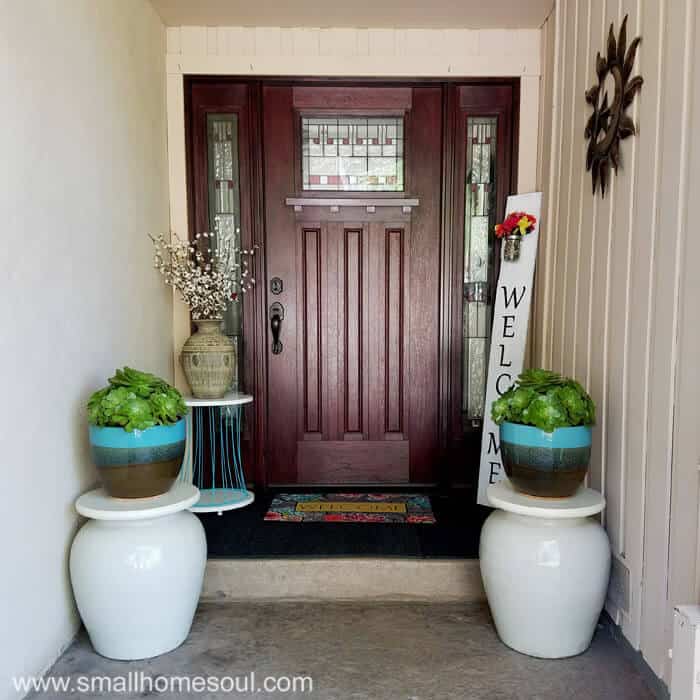 As I was reviewing my photos I wondered what it might look like if I moved the pots away from the step.
I really like how you can see the welcome sign more clearly. Plus, I might have room to build small bench. I wish I'd had more time because now I realize that left wall needs a little something. Oh well, that will just be a new project for me to work on.
What I really like even better is that the pot on the right now hides that ugly electrical junction box that feeds the second breaker in the garage. Another eyesore covered.
So there's my $100 Front Porch Makeover – a little over budget. If you can give me grace for the photos I'm sure you you'll be as gracious for spending a bit too much money. There just isn't anything I'd take away 🙂

You might also enjoy:
Want more $100 Makeover awesomeness?