I love a beautiful terrarium, especially succulent terrariums since you can put beautiful combinations together. Succulents are low maintenance for sure which is a plus. Mine is even lower maintenance.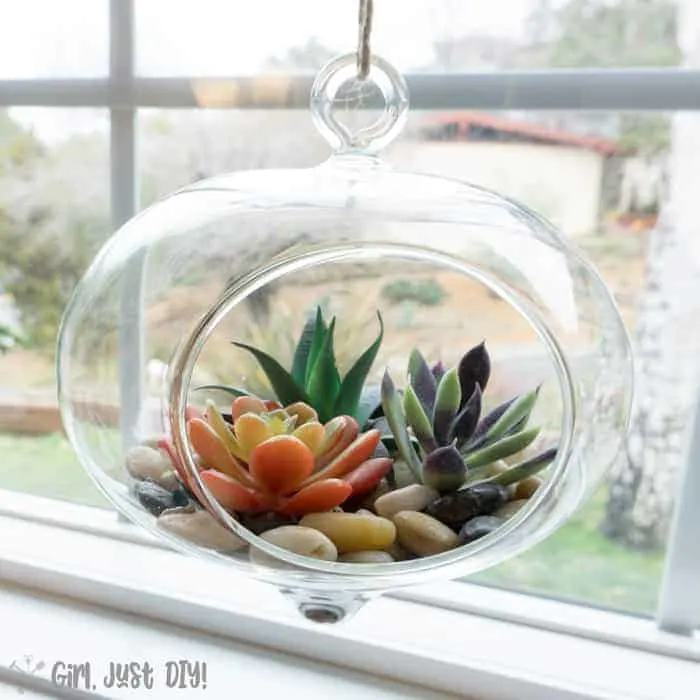 What many people might not realize is that some succulents get long and gangling and aren't really suited, long-term, to live in a glass terrarium. Plus, the glass can get gunky from the dirt and water and that's not a very good look.
That's why I decided to make my terrarium with faux succulents. No watering, no pruning, no crowding, and after a year or two it'll still look this great.
This page contains links to products, if you purchase something after clicking on my link I may earn a small commission (at no extra cost to you). You can read about affiliate links here.
Hanging Terrarium Supplies
Hanging Glass Terrarium
Variety of Faux Succulents

I got mine at the Dollar Store

Scissors
Suction Hanger or Hook
Start by washing and drying the inside and outside of your terrarium and any rocks/pebbles you plan to use. I missed this step and trying to get dust and fingerprints off the inside was difficult after the fact.
I purchased my terrarium on clearance at JoAnn's at the end of last season at a pretty good discount. And the succulents I got at the Dollar Store so this is a sort-of dollar store decor project.
After it's clean prop it back into the tray it came in to make working easier. Then fill the bottom with some tiny pebbles followed by larger pebbles.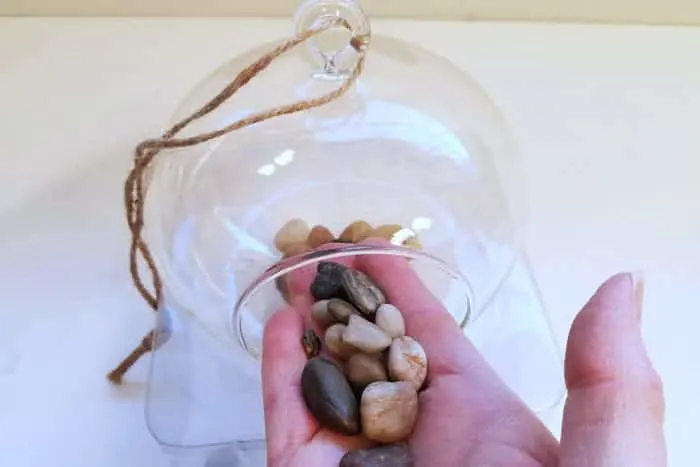 If your succulents came in a pot, gently pull them out.
Odd numbers are visually pleasing so choose 3-5 for succulents for your hanging terrarium. Carefully place them inside going back to front. You may need to trim the stems depending on the height of your terrarium.
When I was a teen I helped my mom make terrariums for my older sisters inside 5-gallon glass water jugs. The water-cooler kind; they were so heavy. In the end they looked great, but what a pain to get the dirt and baby plants through the tiny neck. Once the live plants got too big there was no getting them out without breaking the jug.
Looking good so far but my terrarium was in need of some color for contrast. The one I had with color was too big.
More Projects with Succulents
Tin Can Planters – Milk Glass Planter – Faux Succulent Planter
Thankfully it was easy enough to trim off a few rows of leaves for a perfect fit.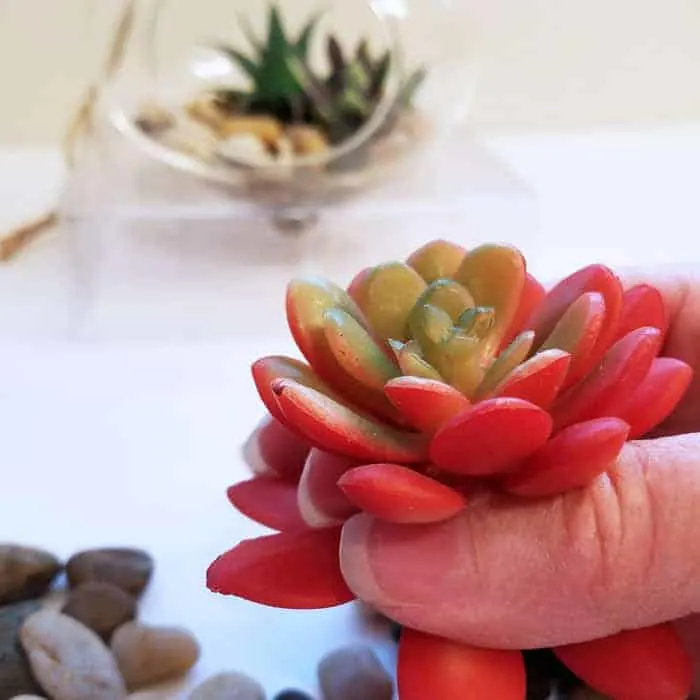 Oh this is looking better than I envisioned it would turn out.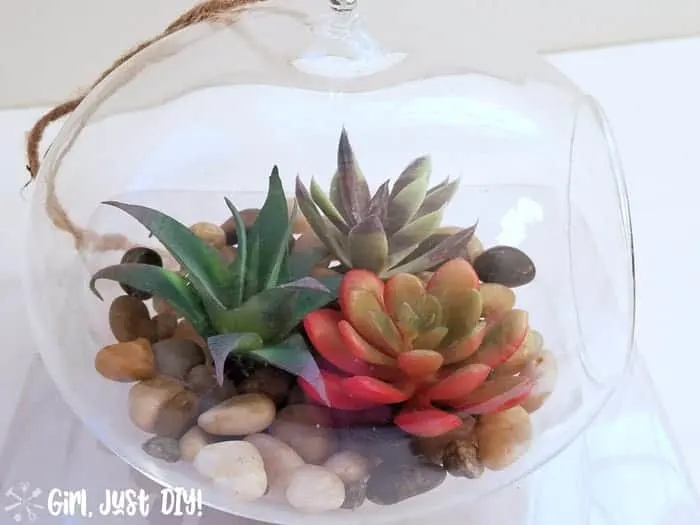 Now just find a spot for your hanging succulent terrarium so that you can enjoy it for years to come (without watering or trimming). I put mine in my office window for now but want to move it into my kitchen window.
The twine it came with kept causing it to twist making picture-taking a bit of a challenge.
Pin it for later!