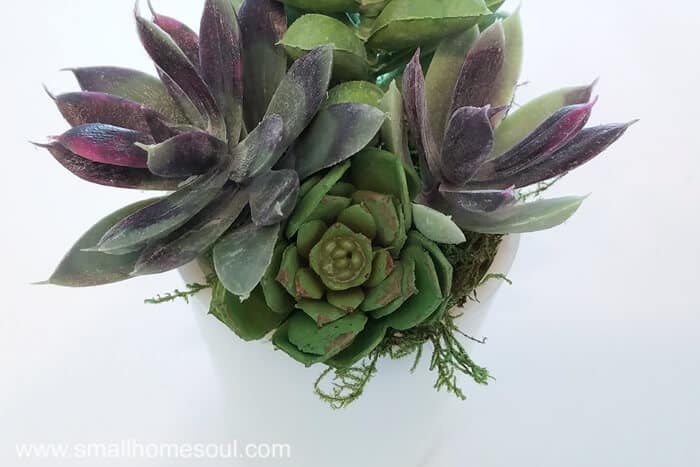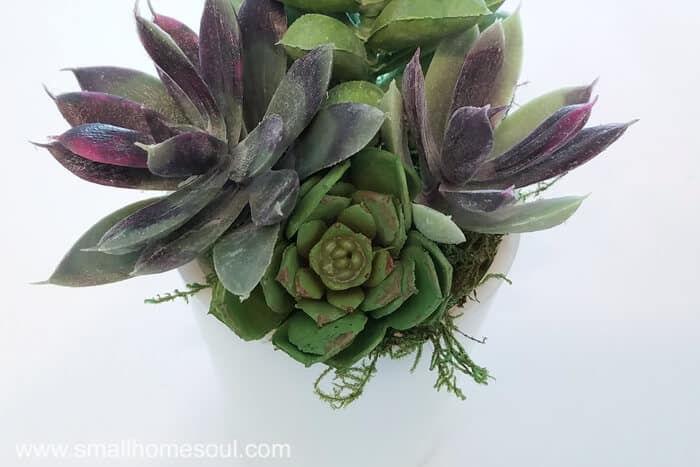 It's challenging for me to give gifts. Not that I don't have the desire for it, or the heart to be a gift giver. Because I do; it's just that I suck at it. I mean really a big fat, no confidence, stinker of a gift giver. I've always struggled in this area so I know I can't be alone. That's why I'm excited to share this easy 5 minute gift idea in a beautiful milk glass succulent planter I created recently.
My first blogging conference in Salt Lake City was coming up and I was rooming with three women I'd never met. I knew Anika from Anika's DIY Life pretty well because we've been in a blogging group together for over a year. The other two ladies Anika found in one of online conference groups. Not really knowing their style I was struggling to come up with the "perfect" gift. Oh ya, and I had a Secret Sister as well, so I needed 4 gifts.
I was only days away from the conference and, as usual, I wasn't near done. Thankfully I do some of my best work under pressure so I was finally able to settle on a plan. I'd already purchased a few small things for each of them but I wanted to include something handmade just from me. Thankfully I'd made a Succulent Planter recently and still had just enough supplies. And last Fall I scored four beautiful little milk glass cups at an estate sale for dirt cheap.
This post contains links to products, if you purchase something after clicking on my link I may
earn a small commission (at no extra cost to you).
Milk Glass Succulent Planter Supplies
Milk Glass Cups (or 3.5″ – 4″ planter)
Faux Succulents (about 15 stems for 4 planters)
Glue Gun & glue sticks
Wire Cutters
Serrated Knife
I'm sorry but I forgot to take some of the process shots so I'll describe the steps clearly. Seriously, this will take about 5 minutes or less to make each of these milk glass succulent planters.
Ok, let's get busy. Gather all your supplies and plug in that glue gun.
As a base for your milk glass succulent planter you'll need to stuff some Dessert Foam into your milk glass glasses. I guesstimated the size I'd need and then trimmed down the sides a bit with the serrated knife. I planned the top to be about 1/2″ below the lip of the glass. You can just wedge it in there and press it into the glass. You don't want it too big at the start because getting it out after it's wedged in might be impossible.
So here's where I forgot to take pictures of the rest of the process so I'll give bullets of the steps I took.
Choose a nice grouping of 3 or 4 succulent stems that you want to go in each cup.
Vary the height of them in your hand until they look nice.
Hold them next to the cup to determine if you have enough. You want the balance to look pleasing.

Now determine how much you need to cut off the stems and mark that line on each stem.

Use your wire cutters to cut each stem. For thicker stems cut them at an angle to make inserting them into the foam much easier.
From your Spanish moss pull out a section and place it on the top of the foam and adjust up or down so you have the right coverage. You want a little to spill over the edge of the glass.
Milk Glass Succulent Planter Assembly
Put a fair amount of glue on the top of the dessert foam and press the Spanish moss into the glue.

Leave a few spots without glue so you can easily slip your succulent stems into the foam.

Start with the tallest succulent stem and insert it first.

Wiggle it side to side to get through the moss and into the foam.

Insert the other 2 or 3 stems.
That's it, and they're done 🙂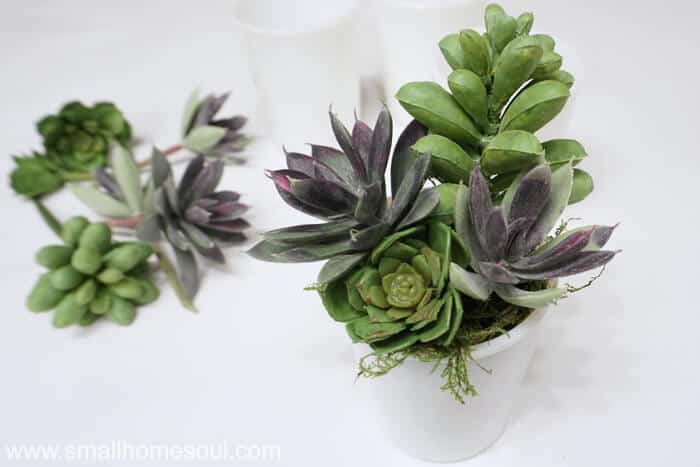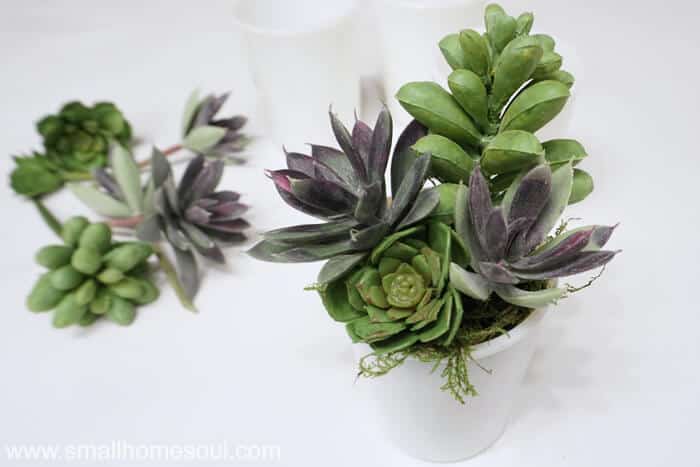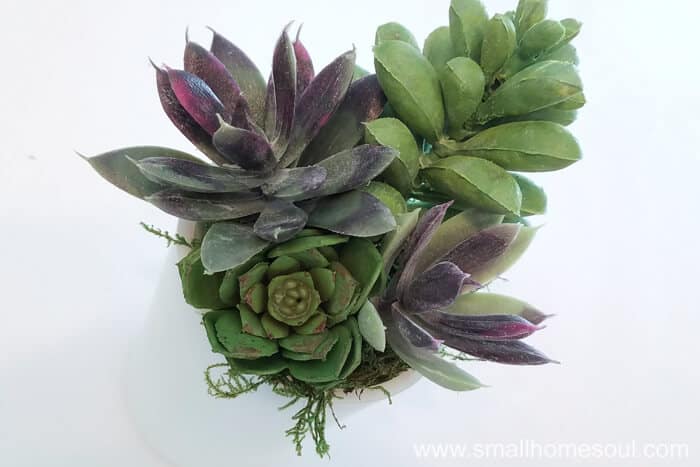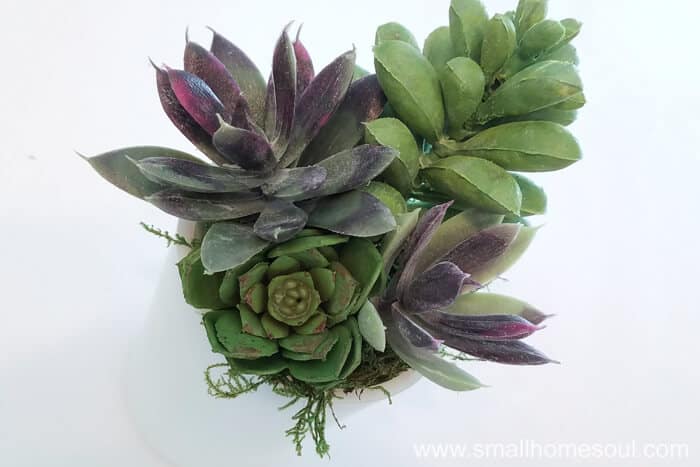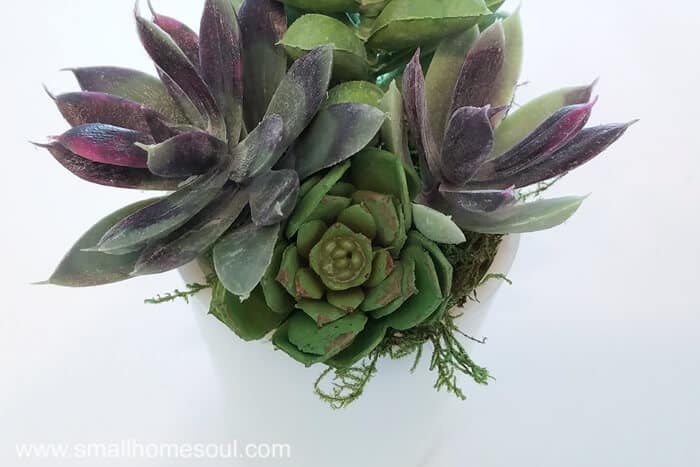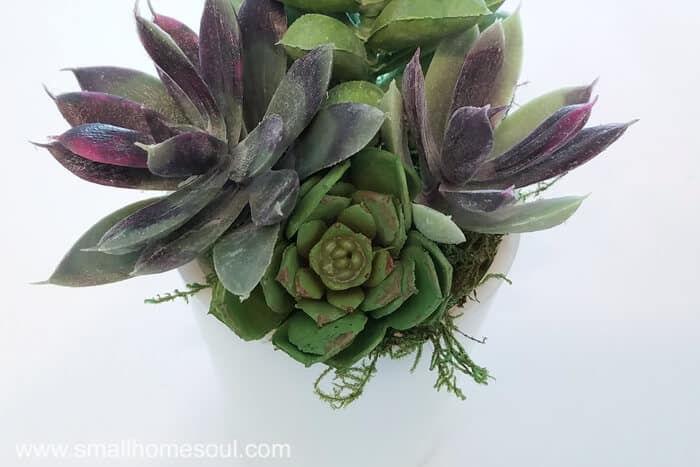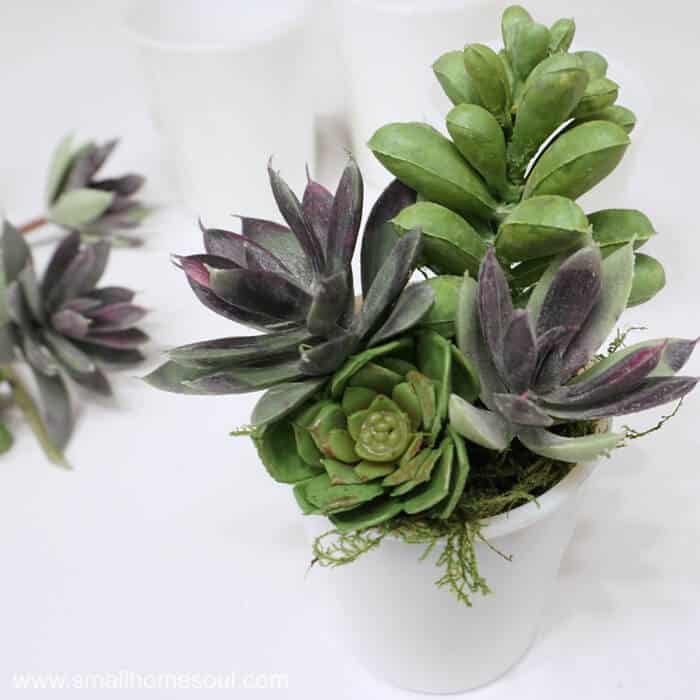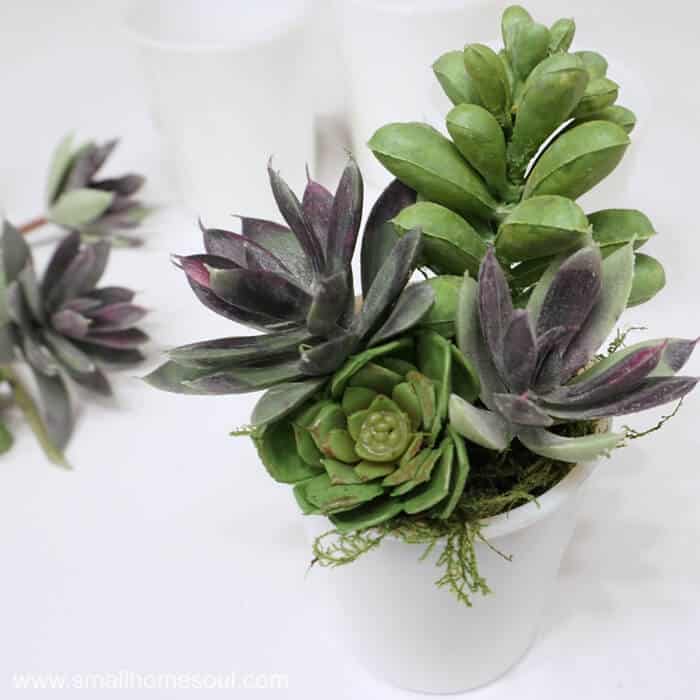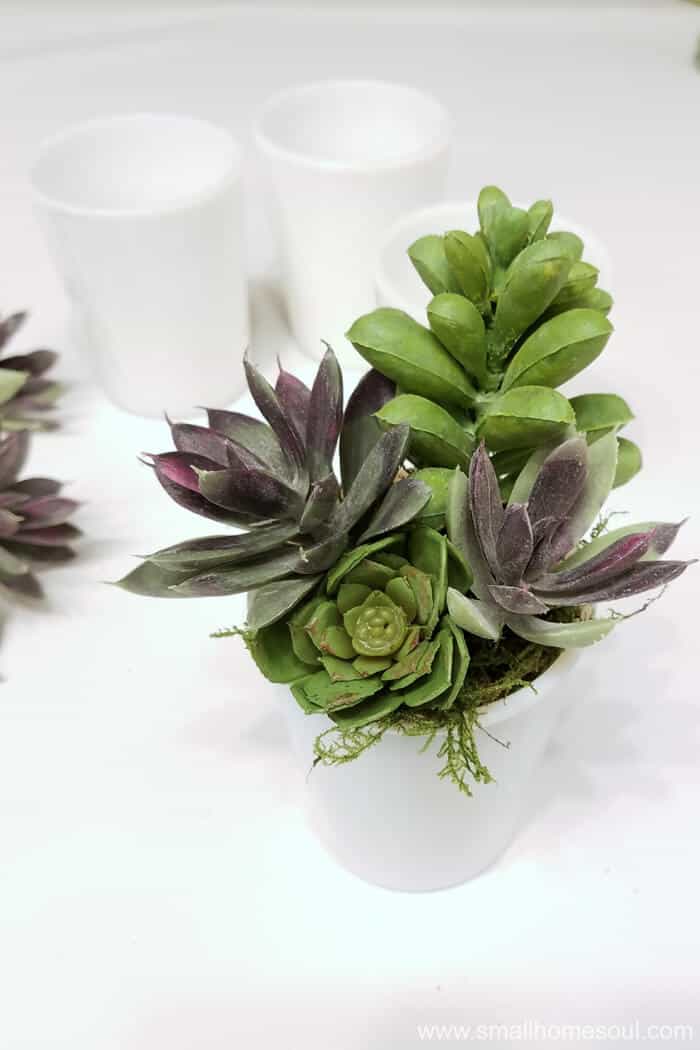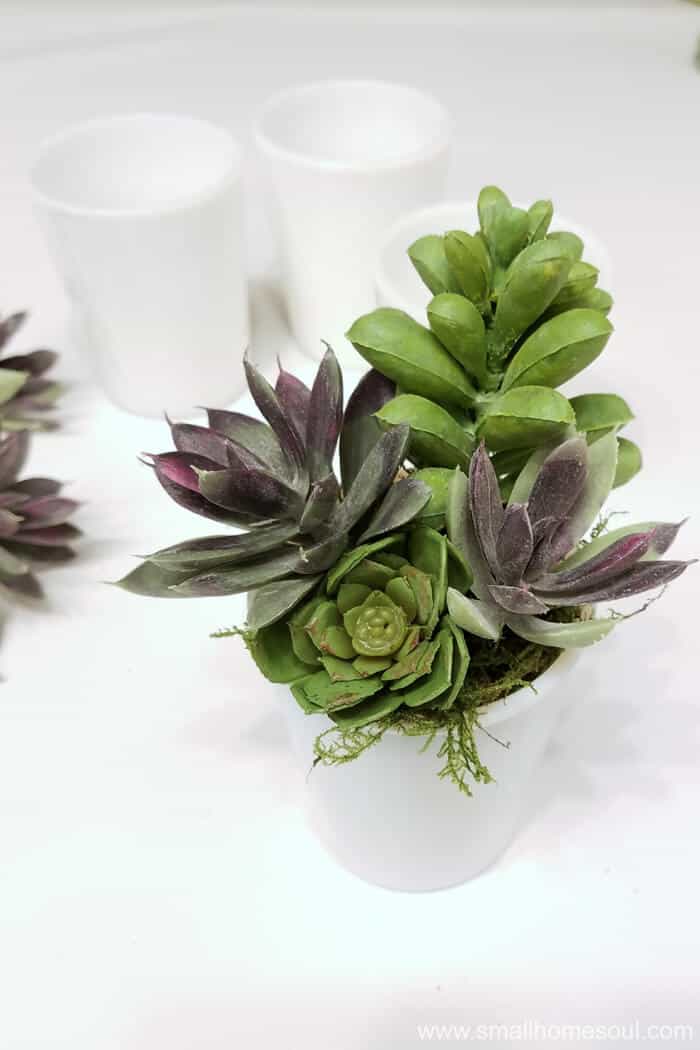 I'm happy to say that each of the ladies who received a lovely milk glass succulent planter were thrilled with them. I guess I don't really suck at gift giving so I will give myself more credit 🙂 I'll be keeping my eye opened for some more milk glass this summer at garage sales so I can make some more to give as gifts.
Don't forget to Pin it.