I have a ton of organizing projects on my To Do list and it's bugging me I haven't made more progress. These 15 built for organizing projects are giving me the motivation I need. And I'm sure you'll find some inspiration as well.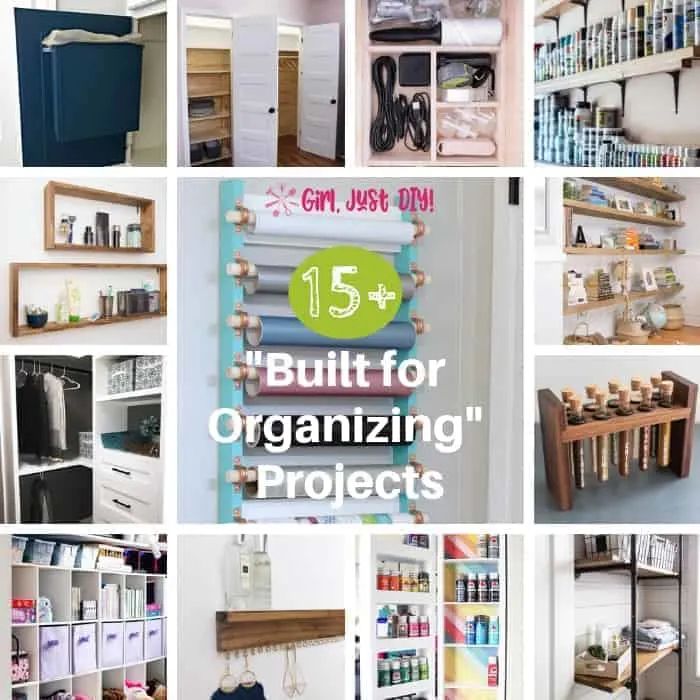 I tried to group similar projects together and the rest are in no particular order. They are all some of my favorites from our first At Home DIY monthly challenges. It was hard to choose but I focused on the projects that required at least a little building.
Be sure to leave me a comment at the bottom and let me know which is your favorite. Visit my blogging friends' websites to get all the details.
This page contains links to products, if you purchase something after clicking on my link I may earn a small commission (at no extra cost to you). You can read about affiliate links here.
Closet Organizing Projects
This is just a tiny but oh so beautiful glimpse of a very large DIY Closet Organizer system built by Pinspired to DIY.
What I wouldn't give to have a closet as large as hers. Here's how we handled our much smaller reach-in closet makeover.


These two side-by-side older closets went from boring to fabulous when DIY Dreamer was done with them.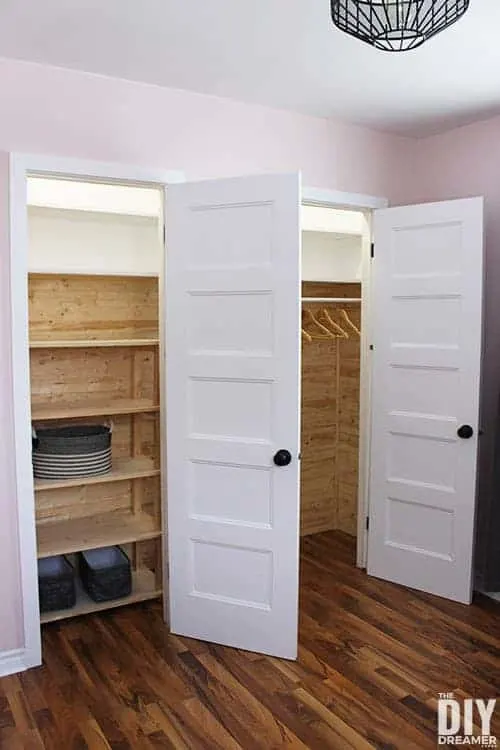 When you don't have a garage you've got to get creative with tool storage. Living Letter Home puts every inch of their hall closet to use. Just imagine what she could do with a full size garage!

Out in her garage Savvy Apron created the perfect paint spot. I love that you can see them all at a glance. Plus my salvage skills can't compete with hers. You won't believe what she used to make these shelves.
Kitchen and Dining Organizing

I can only dream that my junk drawer will look as tidy as By Brittany Goldwyn's does. She's inspiring me to finally get my junk drawer organized.

I'm not sure when I've seen a prettier collection of spices than what The Handyman's Daughter created. I love how she joined the boards together and this pretty display makes me want to cook something yummy.

I wish I'd found a tutorial for beautiful floating shelves like these by Shrimp Salad Circus before I put up the shelves in my living room.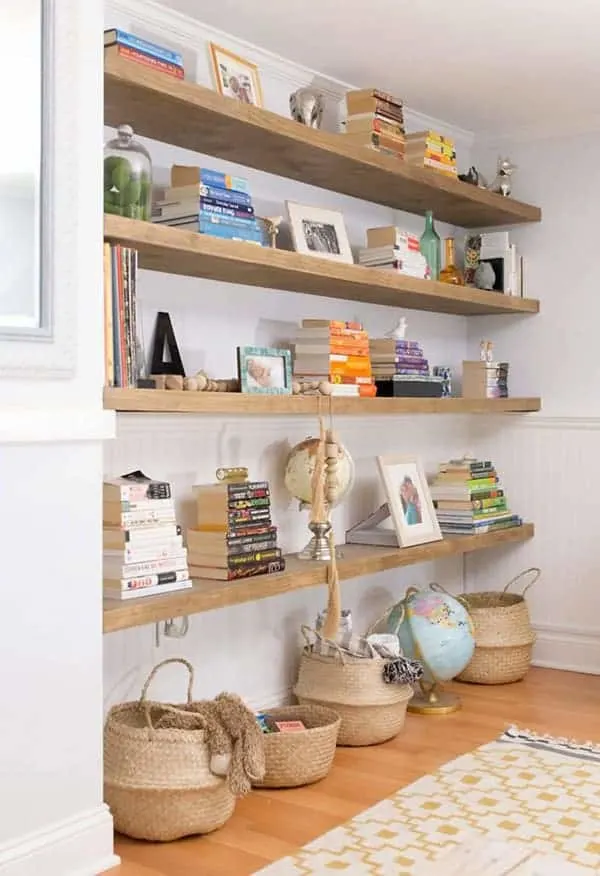 I wanted floating around the TV, but not the super bulky once I kept seeing on pinterest. I guess I could always redo them 😉
Craft Room Organizing
It's great when you can easily see your little bottles of craft paint without picking up each one. Just Measuring Up built this fabulous and space-saving swing-out shelf that's attached to the end of a cabinet, and you can see all your paint colors. Plus there's that fun back wall.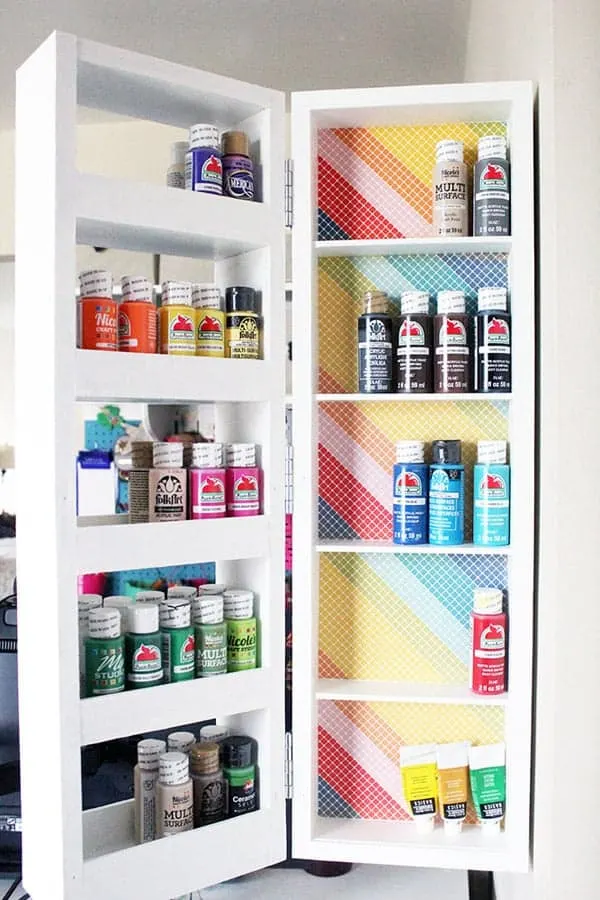 I think I need something like this, until then the repurposed old sewing machine drawers that I turned into craft paint storage will do fine.


I couldn't share a roundup of built for organizing projects without including my own. This Craft Vinyl Storage Rack was just the perfect solution to some damaged rolls. Plus it's specifically designed to tuck behind the door in otherwise useless space.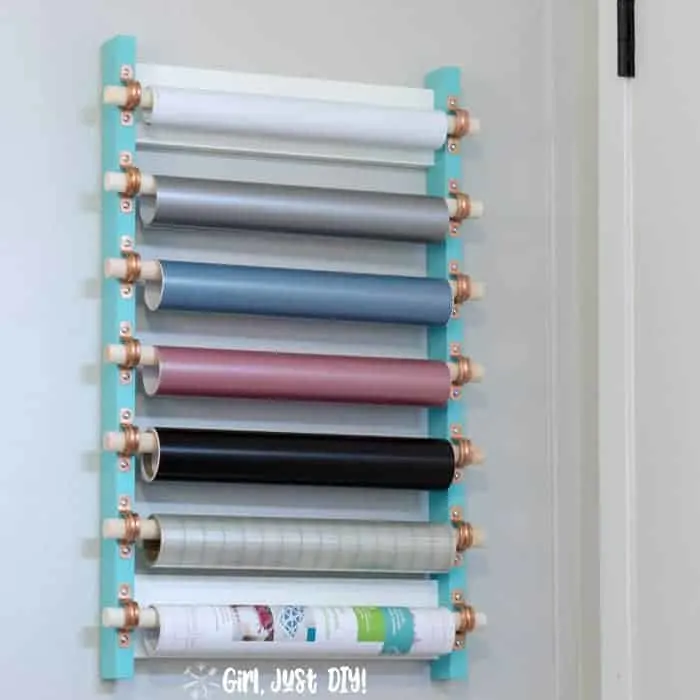 She thought she had useless space until she built this movable Playroom Storage unit that hides a seldom used tiny attic storage access door. My Kitchen My Craft brilliantly made use of every inch of wall space with these fun cubbies and shelves for her kids.
Organizing Projects for Bed and Bath

Who doesn't love a good knock off? You know, items selling for way too much that we know we can build much cheaper! Renovating Mapleson Manor killed it with this simple but beautiful jewelry organizer. And there's even space for your favorite bottles of perfume.
Is it possible to ever have enough storage? With my tiny bathrooms I need to get creative like Health Home and Heart did in with these shallow but wide shelves I can hang on the walls.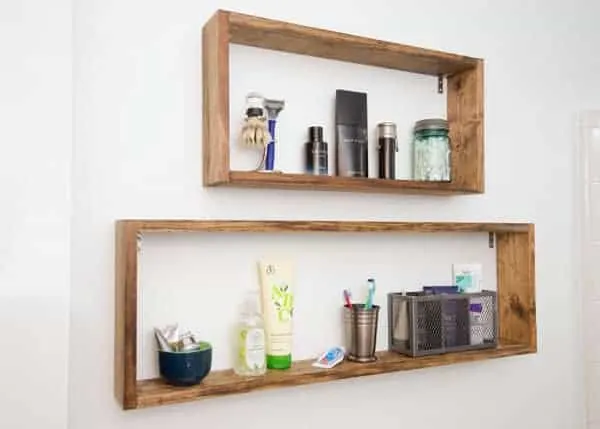 Ever since the first time I saw them I've wanted to put up some pipe shelves. House by the Bay Design was able to create much needed storage and organization in a narrow spot in the bathroom. These shelves are functional and they look great too!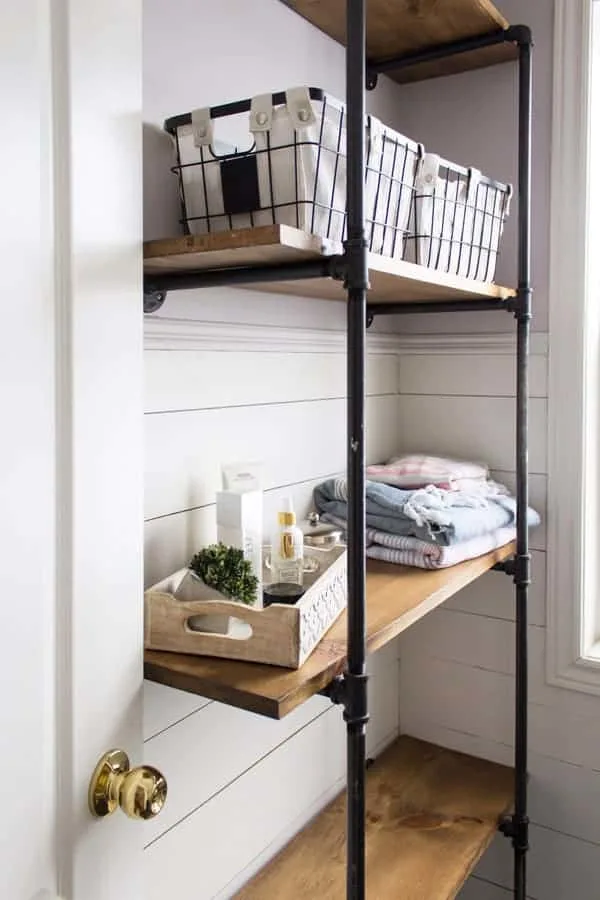 I've seen these for kitchens but never bathrooms. Abbotts at Home was a genius for building a trash can on her vanity cabinet door! Never again will they have to look at the yucky bathroom garbage can
If you're looking for a simple shelf with big impact in your bathroom then you'll want to follow DIY Danielle's tutorial. She even shows you how to accommodate and partially hide the electrical toothbrush cords.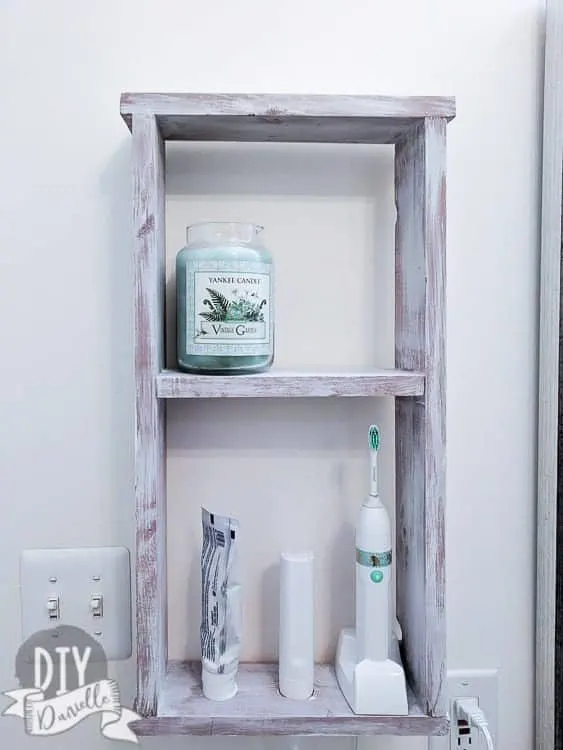 So there you have it, 15 wonderfully creative Built for Organizing projects with the goal of inspiring you to get building. I hope you've enjoyed this roundup of great ideas. Don't forget to leave a comment and let me know which is on your list to build.
Pin it for Later!