Friends, today is a sweet, sweet day. Not just because it's been a good day around here; it's also sweet because I'm sharing one of my favorite sweet treats at Christmas time, Homemade English Toffee.
You can make it any time of course, but I only make it at Christmas because it's my kryptonite. This recipe is so easy you'll want to make some right now.
The recipe makes one batch but I always double it up because we give it to friends and neighbors. You need only one cookie sheet for this recipe but you'll see two in my pictures. And I just learned something that surprised me.
This post contains links to products, if you purchase something after clicking on my link I may earn a small commission (at no extra cost to you).
Apparently what I've been calling English Toffee all these years isn't quite correct. Apparently English Toffee is just the plain candy part. When you add Chocolate and Nuts to it, it becomes Butter Crunch.
Did you know that? Apparently it's a common mistake and since it's so common I'm sticking with the name I've always called it.
One of my other favorite sweet treats to give to our neighbors is the super yummy Chocolate Chip Macadamia Craisin Cookies. A better cookie does not exist, IMHO. I usually give the cookies and the toffee together.
Supplies for English Toffee
Before you get started making your own Homemade English Toffee, let's step through the process. I suggest reading through all the steps so you're comfortable with the process before you ever begin.
Each recipe (find the full recipe below) makes approximately 3.5 lbs with a cost as low as $10 depending on where you live and source your ingredients.
Fun Fact…. that's only $10 for 10,000 calories ? seriously, one recipe is 10,000 calories ?
The going rate at my favorite candy place is now over $20/lb so making your own is a huge savings. You get 3 times as much for half the price, that's a deal I can't pass up.
You can still buy fancy chocolate covered soft candies, but Girl, Just DIY the toffee already, it's so easy.
When I'm making candy or doing any kind of big holiday bake I get all my ingredients at our local big box store. The nuts are very inexpensive to buy in bulk. I toast them in the oven before chopping.
I've always chopped by hand because I like the pieces to be a little bigger. Just recently I decided to buy this variable size nut grinder because hand chopping that many nuts gives me a side cramp 🙂
Candy Making Cautions
Making candy is fun and pretty easy; but it means cooking sugar to a very high temperature. If not handled carefully burns can happen. Here are a few cautions to follow:
NEVER make candy with little kids around, and especially if they like to be underfoot.
Wear a thick apron as occasional splatters can happen.
Have your cookie sheet near the stove so you don't carry the bubbling liquid too far.
Use an extra long spoon or wear an oven mitt while stirring to keep the heat off your hand.
Use the suggested size size pot; toffee expands while cooking and you don't want overflows.
Preparation is key
Line the cookie sheet with parchment just the size of the bottom
Chop nuts spread half on parchment. Retain half for later.
Set the cookie sheet on a cooling rack or thick cutting board to protect yourcounter top.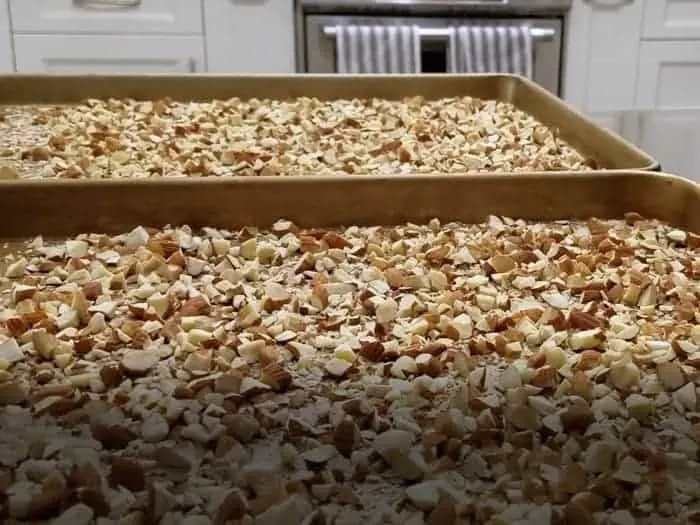 If using big chips, or darker chocolate in a bar, shave and chop it down at least to standard chocolate chip size. Otherwise it will sink into the hot toffee mixture.
Divide the nuts and chocolate into separate bowls if you make a double batch. That will save measuring later.
Melt the butter in a heavy-bottomed pot over medium-low heat.
Add the Sugar, Water and Salt.
Insert the Candy Thermometer and ensure the tip doesn't rest on the bottom of the pan. I love the one I have because I don't want to have to worry about that.
You're going to cook the toffee to the Hard Crack stage or 300° Fahrenheit.
Increase the heat to Medium until the mixture begins to boil.
Stir constantly with the silicon spoon. You can use a wooden spoon but I like the silicon best.
Slowly increase the temp to medium-high.
Keep cooking and stirring and keep an eye on the thermometer.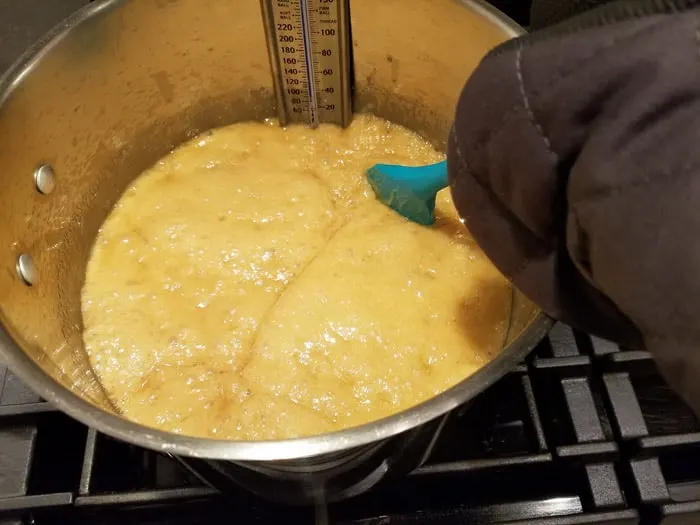 The last 5 degrees goes super fast! I mean SUPER fast and you don't want to burn it.
When the temperature gets to 300° immediately turn off the burner and using the pot holders pour the boiling toffee evenly over the nuts on the cookie sheet.
Scrape the sides of the pan but don't scrape the bottom as this tends to get a little burned as you pour out the toffee.
Spread the mixture out to cover the nuts.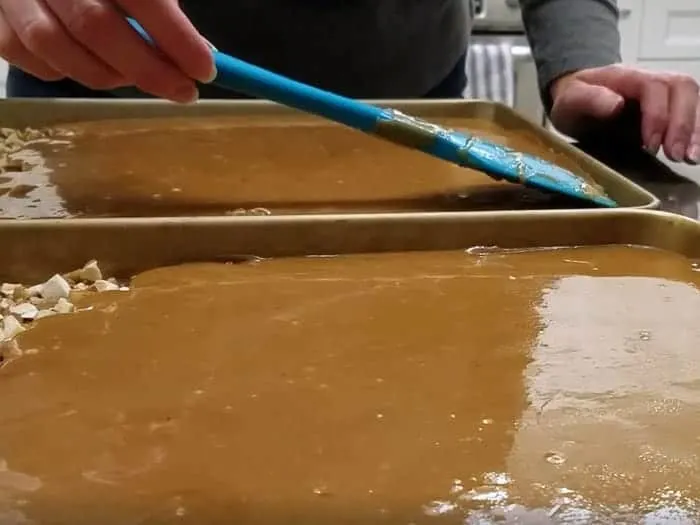 Wait a few minutes then sprinkle the chocolate over the hot toffee.
Wait another few minutes for the chocolate to melt and then spread evenly.
Top with remaining nuts and gently press nuts into melted chocolate using a piece of parchment and your hands or a clean silicone spoon.
Let cool overnight until chocolate hardens.
Lift one end with a knife or spatula and start breaking into desired pieces.
Enjoying your English Toffee
Oh man, this stuff is so yummy! I made some the last few years to take to my friend's Church Bake Sale. It looks so cute wrapped up in cellophane baggies with Christmas colored ribbon. It's always a huge hit! 😀
You can package it any way you like; in cookie boxes, goodie bags, small tins. And yes, even mason jars with a little homemade tassel tied to the top. 🙂 Any way you wrap it up everyone will love to receive some of this easy-to-make Homemade English Toffee.
Mmm yummy, look at all those almonds ?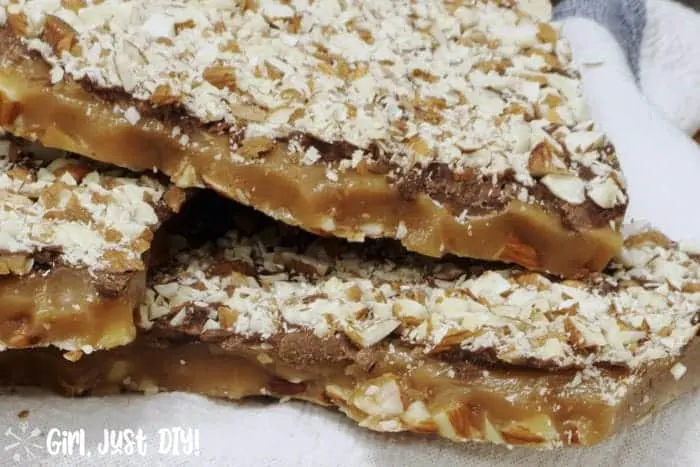 Homemade English Toffee Recipe
Makes approximately 3.5 lbs
1 lb White Sugar (approximately 2 cups)
1 lb Butter
3 ounces Water
1 tsp Salt
4 Cups (1 lb) Chopped Nuts (Almonds, Walnuts, or Pecans)
10 oz. Semi Sweet Chocolate Chips
Spread half the nuts on a parchment lined 12″ x 17″ Cookie Sheet and place on a cooling rack. Melt butter over medium low heat. Add Sugar, Salt, and Water and slowly increase heat to medium and bring to boil stirring constantly.
Increase heat slowly to medium-high and cook until 300° is reached on candy thermometer still stirring constantly (about 20 minutes in all).
Quickly remove from heat and pour toffee evenly over nuts, spread with spoon if necessary to cover nuts. Sprinkle chocolate bits over hot toffee and let sit a few minutes to melt.
Spread melted chocolate with a butter knife or spatula then top with remaining nuts. Press nuts in with back of clean spoon or spatula.
Let cool overnight until chocolate is hardened. Break apart and enjoy the goodness of this sweet Homemade English Toffee.
My favorite part about breaking up the toffee into pieces is the little crumbs left on the cookie sheet when I'm done. They're good to scoop up and pop into your mouth, of course. But that's not my favorite.
I pour them into a pint mason jar and pop it into the freezer. Then I use them through the year as a topping on vanilla ice cream. Oh my gosh, it's the best!!
PIN IT FOR LATER!!
So are you ready to DIY some Homemade English Toffee? I have several more batches to make this year so I better get busy 🙂