Kitchen drawer organization seems to be a never-ending battle. Somehow the stuff in side seems to multiply, even when you haven't bought anything new. Ever since I bought some clear bins for my drawers it's been tons easier. And you can mix up these bins for whichever sizes work best in your kitchen drawers.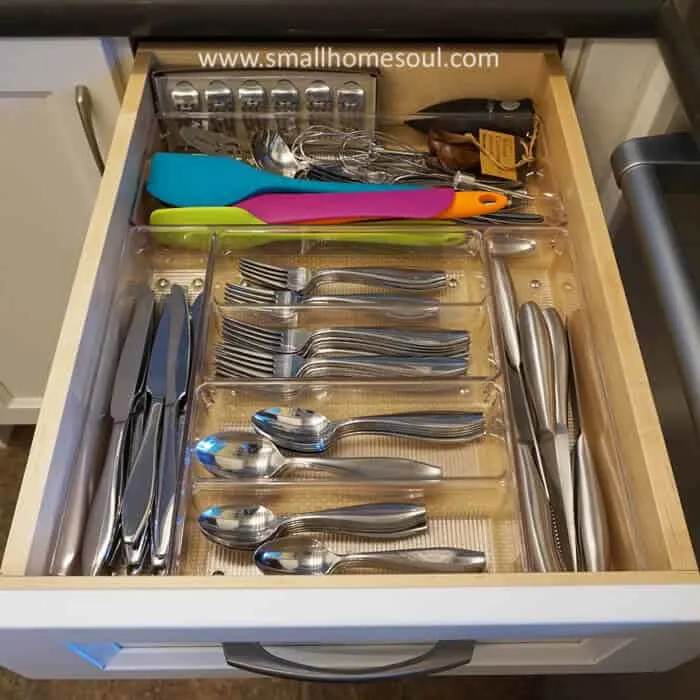 January is the month of organization, the fresh start we all want for our lives and home. I bet most organizing happens because it's so cold outside this time of year. We're stuck inside and the disorganization that happened the rest of the year can drive us bonkers. I have a few areas to tackle on my list for this month.
I don't have any before pictures to share (those are always dramatic) because I've been using these in my drawers for several years. Even before we did our Kitchen Renovation a few years ago. My kitchen drawers were a hot mess before, and I never liked those flimsy silverware organizers I had before these.
This post contains links to products, if you purchase something after clicking on my link I may earn
a small commission (at no extra cost to you).
I got my bins at The Container Store but if you don't have their store nearby don't worry. You can get the same or similar products on Amazon. Actually I found more of the Linus line on Amazon than I did on The Container Store's website.
Kitchen Drawer Organization
I was able to use just three different sizes for my drawers and you'll see my configurations below. Your sizes might vary so make sure you measure your drawers before you decide which of the bins will fit best.
Thankfully these handy bins come in many different sizes and depths to fit your every need. They will even work great in an office desk.
I really like these better than any similar I've seen. They are thick, they've resisted scratches for the 2+ years I had them, and they have little feet on the bottom. I was happy the organizer trays still fit perfectly in our new kitchen cabinets. If not would have bought more and used them elsewhere.
I used the same bins from my Utensil Drawer in the new one and I have plenty of room for plastic bags, foil, and parchment papers. The tiny space at the back is where I tuck my thermometers. Kitchen drawer organization is finally achievable with these bins!
Here's my configuration in this drawer: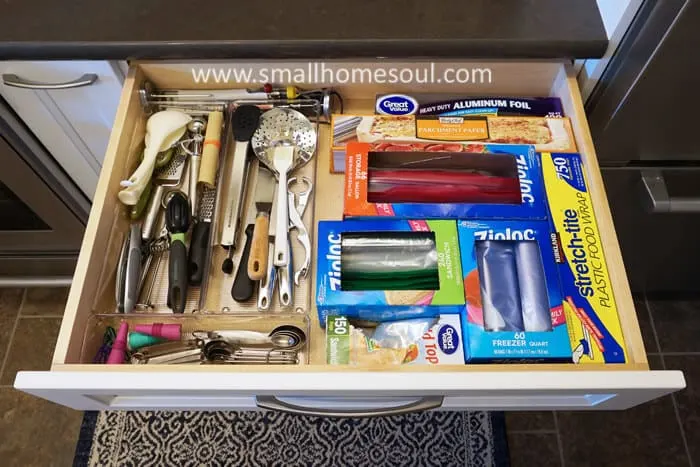 I love having the extra-wide drawer in the kitchen and storing bags here makes it convenient for lunch making and food storage.
I turned kitchen drawer organization on its head. Well, actually its side 🙂 when I decided to run a few of the organizing dividers sideways. That allowed me to get all the cutlery organized nicely in the silverware drawer and still have room at the back for serving spoons and other odds and ends I don't use often.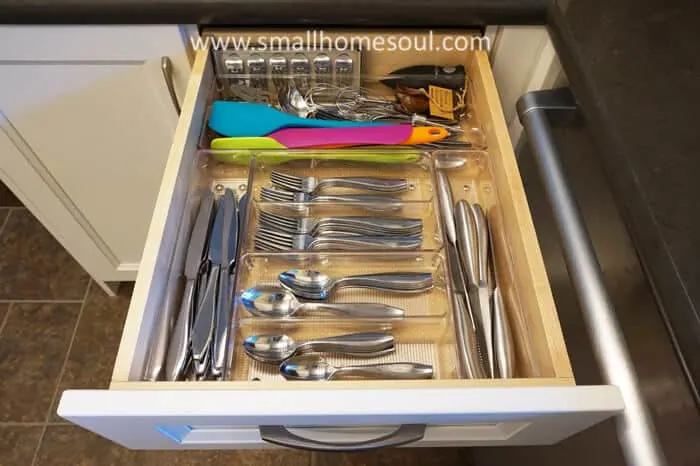 The small space behind the organizing bins is great for storing my milk frother and a place to stash the cheese gift set I purchased for a friend until her birthday. I love that they fit the entire width of the drawer with no wasted space.
Knife Organization
I didn't have a knife drawer before and I got so very tired of seeing the knife block on the counter. After searching and searching I found the perfect tray to protect the Mayabi knives we invested in. I only have a paring knife a chef's knife and the steel so far but I don't want the blades to get damaged.
This BambooTray In-Drawer Knife Tray was the best choice, reasonably priced, and I love it. I could add another plastic bin or two to this drawer but the current configuration is working out fine. And I decided to put all the other sharp/cutting things in this drawer too.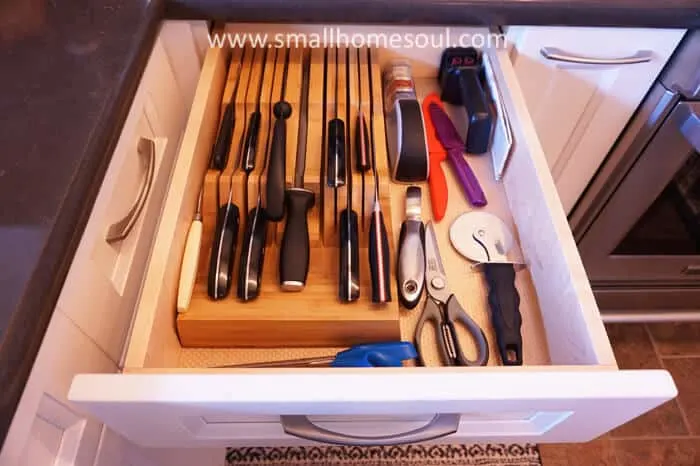 If you don't want to go the individual bin route you can purchase some pre-made organizer trays or some sets. And I almost forgot to mention the nubby drawer liners I bought at IKEA that keep everything from sliding around.


If you haven't seen it yet, you can read all about my Favorite Features in my Kitchen. I think every kitchen should have a few, or all, of the things that make my kitchen much more functional. IMHO 😉
So that's how I tackled my kitchen drawer organization. What will you organize this month?
LOVE IT! PIN IT!