Do you have a welcome mat at your front door? Those are dual purpose, welcome the guests and wipe the feet. If you really want to welcome your guests make this tall and eye catching Easy DIY Welcome Sign to greet them.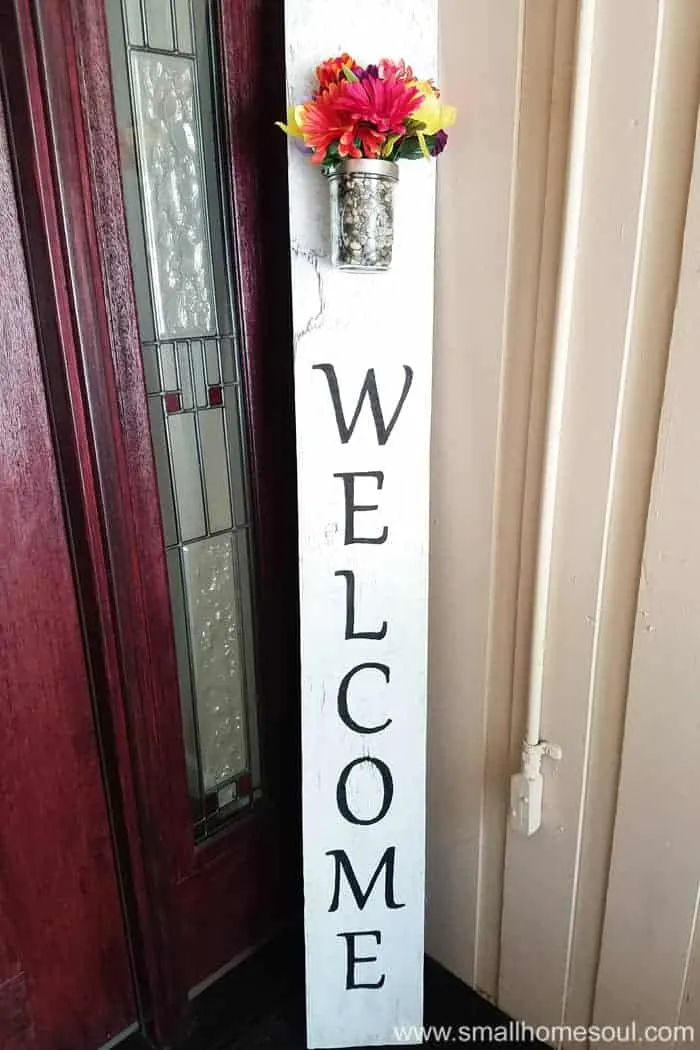 I made this one for our front porch when I did my Front Porch Makeover. It was super inexpensive to make and I use it for all seasons with a simple dry vase at the top for fake flowers.
I'll show you how easy it is to make your own welcome sign. You can do it without plastic stencils and without an expensive vinyl cutting machine.
This post contains some affiliate links. If you make a purchase after clicking a link I may earn a small commission, at no extra cost to you.
Supplies to Make Welcome Signs
Last summer I bought some fence boards that I stained for another project. I had one left over so instead of buying something I decided to use one for this project.
Using a smooth piece of wood like pine would have made the project go much faster, but having a bit of a rustic look can be good too if you like that look.
How to Make a Welcome Sign
There are a few different ways to make a wooden welcome sign. I'm going to show you the way I made mine before I got my Cricut. Homemade welcome signs are great because you can totally customize it to your taste.
Step 1: Prepare your board.
You might wonder what type of wood to use for a welcome sign. That really depends on whether your welcome sign diy project will be exposed to much rain or sun. My front door is completely sheltered but I still used a simple cedar fence board.
Cedar or redwood would be the best option to control rot. And of course painting will help prolong them as well.
Use exterior paint if your welcome sign will be exposed to the elements. My porch is completely protected so I used some leftover White Chalk Paint from a side table I madeover.
Give your board a coat or two of exterior paint.
Let it dry fully.
The fence board really soaked up the paint and I decided to let some of the darker areas show through.
If you want your porch sign to have a reclaimed look be creative as you apply your base paint with the chip brush. Thicker in some areas and thinner in others to add that variation.
If you like the farmhouse look you could even distress it by giving it a light sanding.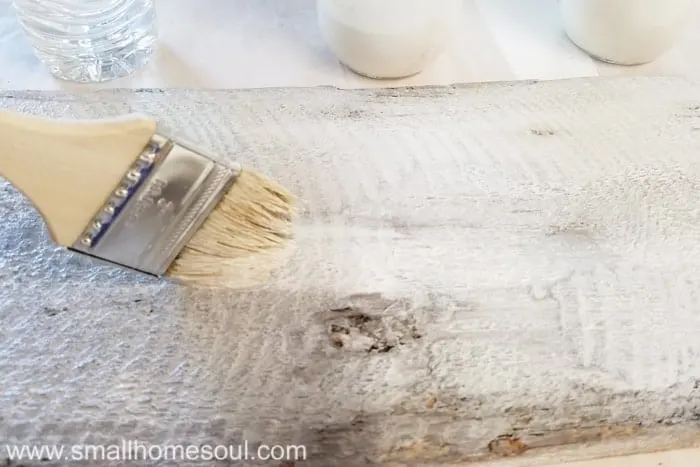 Step 2: Creating your no stencil layout
While the paint dries go to your computer and print out the letters you need want for your Sign. I used Gabriola Font that came with Photoshop Elements.
If you only have MS Word you can use Lucida Handwriting which is pretty close. But any font you like will be lovely.
Do a little math to determine the spacing that will look best for your Welcome Sign and work best for your board.
Leave a little room at the top for a dry vase if you wish.
In your program increase the font size until you get the perfect size letters.
Print out each letter on a separate sheet of paper.
Step 3: Transfer letters to the board.
Layout your letters with the spacing that works for your welcome sign.
Trim the letters down a bit so they're easy to work with.
Leave a good margin above and below to adjust the spacing.
Once you have the spacing perfect use Painters Tape and connect the letters together.
Line it up and tape the very top and the very bottom to the welcome sign board.
Add more painter's tape to one side to hold them in place while you work.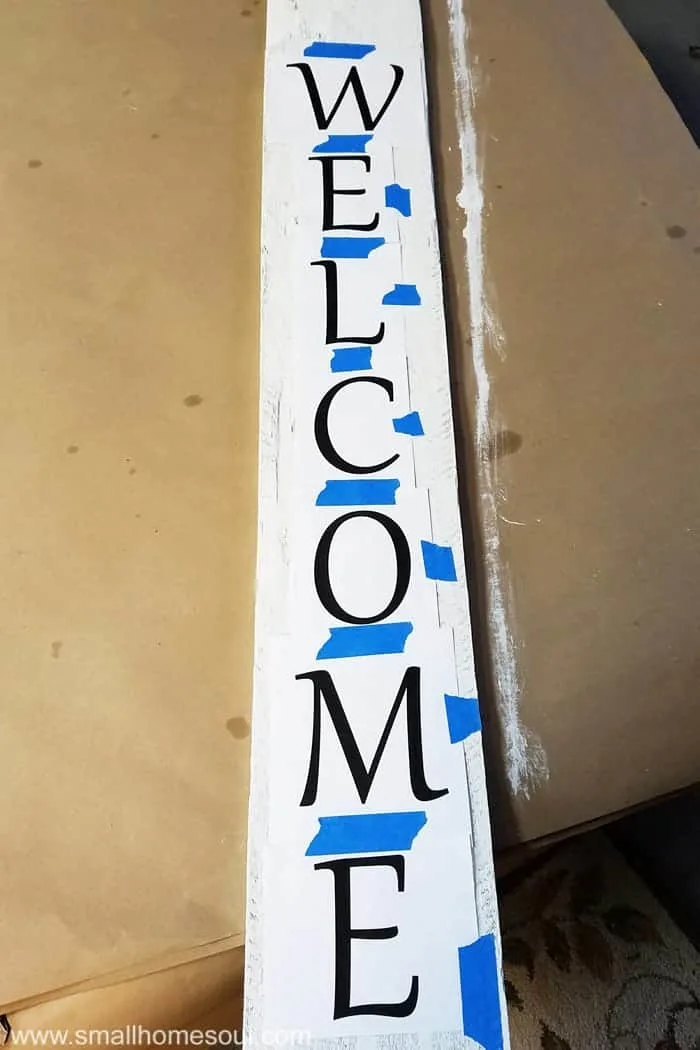 Outlining the Welcome Sign Letters without a Stencil
This part is fun and depending on how smooth your board is it might be a little challenging too. But anyone can do this!
Slide the transfer paper under your first letter and use the plastic cap of a pen (or similar) to trace the outside edge of each letter.
Be careful not to tear the paper or let it move while tracing.
Carefully lift the papers and check. You may have to go over each letter a few times.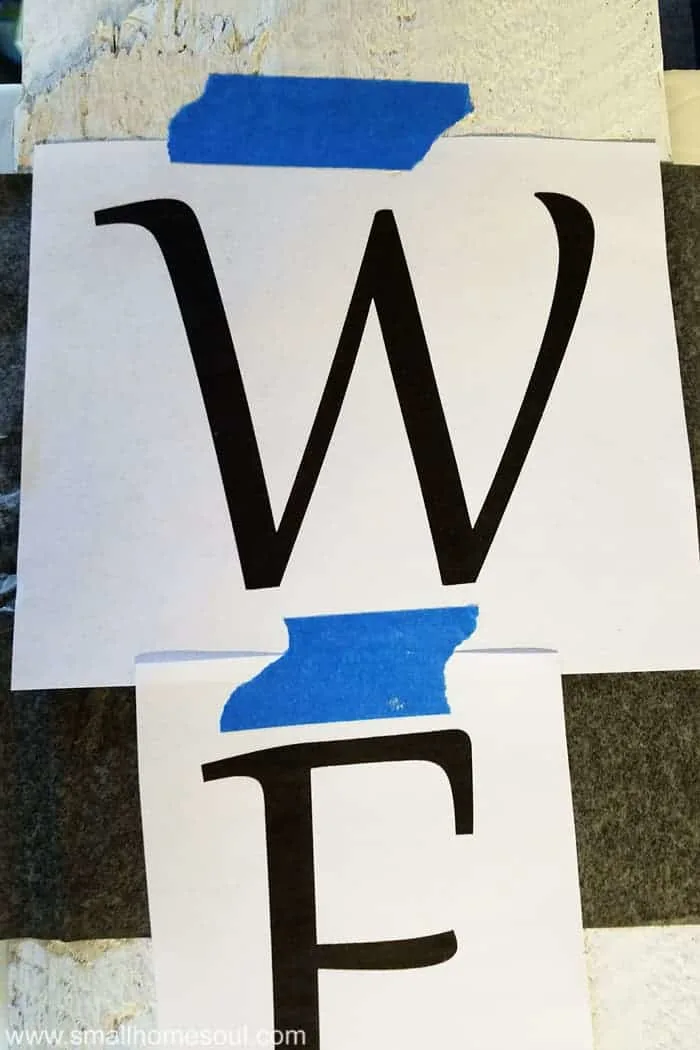 MORE TRANSFER PAPER PROJECTS
DIY Yarn Bowl – Beginner Wood Burning – Rolling Pin Gift
DIY Kitchen Art
When you have all the letters traced move on to the next steps.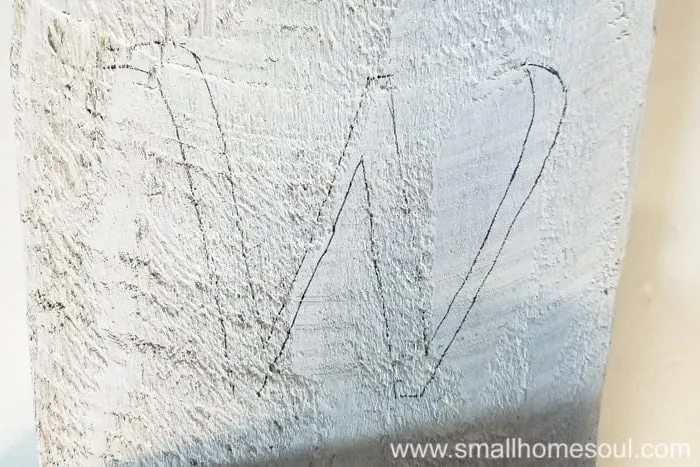 Step 4: Outline your letters with paint.
When all the letters are traced it's time to painting. I've mentioned that I don't have a very steady hand for fine painting so I'm sharing some shortcuts you can use.
Start outlining with a

paint pen

. These things are great and much easier to control than an artist brush.
Once the letters are traced with the paint pen start filling in using the craft brush and craft paint (or exterior paint).
Touch up any rough spots as needed where you might have "colored outside the lines" 🙂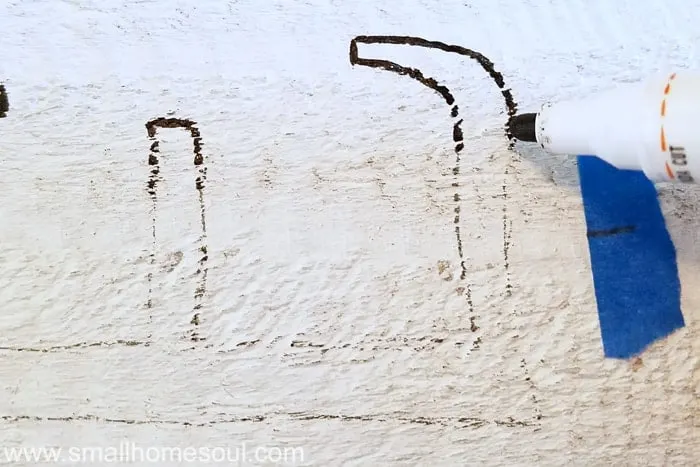 My board was bumpy so I worked slowly. It's also best to work furthest away and trace toward yourself. This will keep you from dragging your hand through the painted lines. I learned that the hard way.
If you do smudge it outside the lines don't panic, just paint over it with white paint later.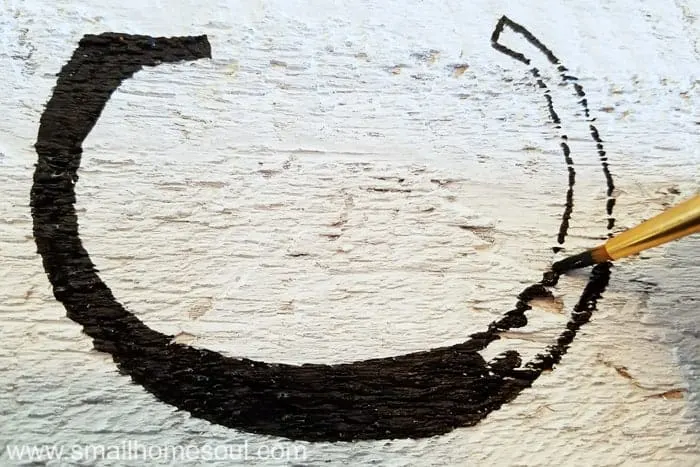 Remember I said my board was rough? Check out the O below. That took some finesse and some careful painting with the craft brush but it looks great on the finished welcome sign.
Next time I'll definitely use a smooth pine board 😀 I was using vinyl letters there's no way they would stick on this fence board.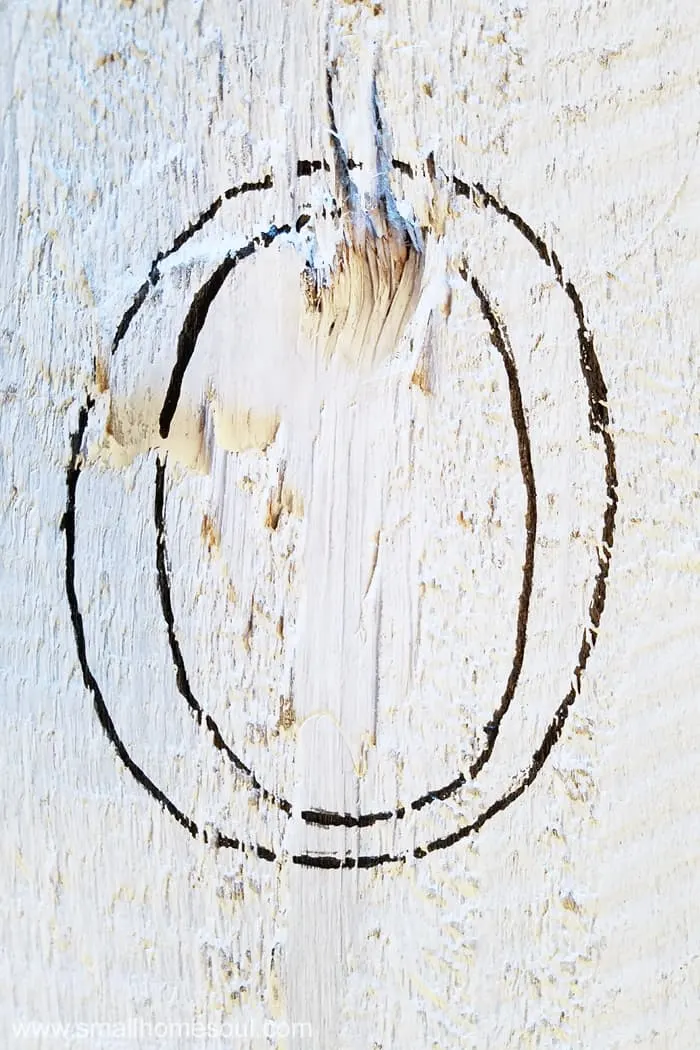 Finishing Touches
Step 5: Add a dry flower vase.
While the letters on the welcome sign dry it's time to get a bouquet ready for the vase. Some silk flowers I'd purchased from the dollar store previously were the perfect match to the welcome mat.
There's no purple in the door mat but it's my favorite color so I had to include it.
If you've never attached a hose clamp to a surface before you can read how to do that in the post where I made Mason Jar Utensil Caddy.
Hose clamps are easy to work with and a great way to securely hold the mason jar to the board. Add tiny pebbles or glass beads to hold the flowers in place.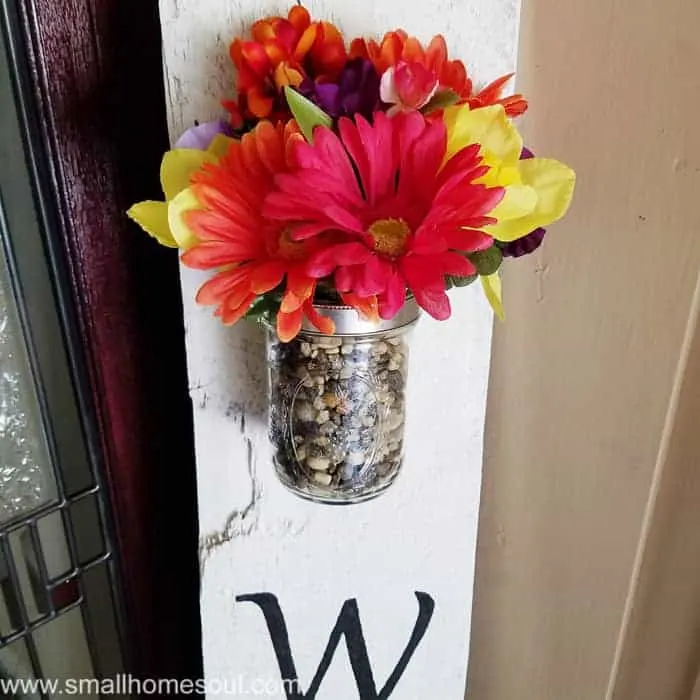 Outdoor Welcome Signs
When you make a welcome sign for your porch adding some bright and cheerful flowers is a nice touch. I really love the pop of color these flowers add to my porch.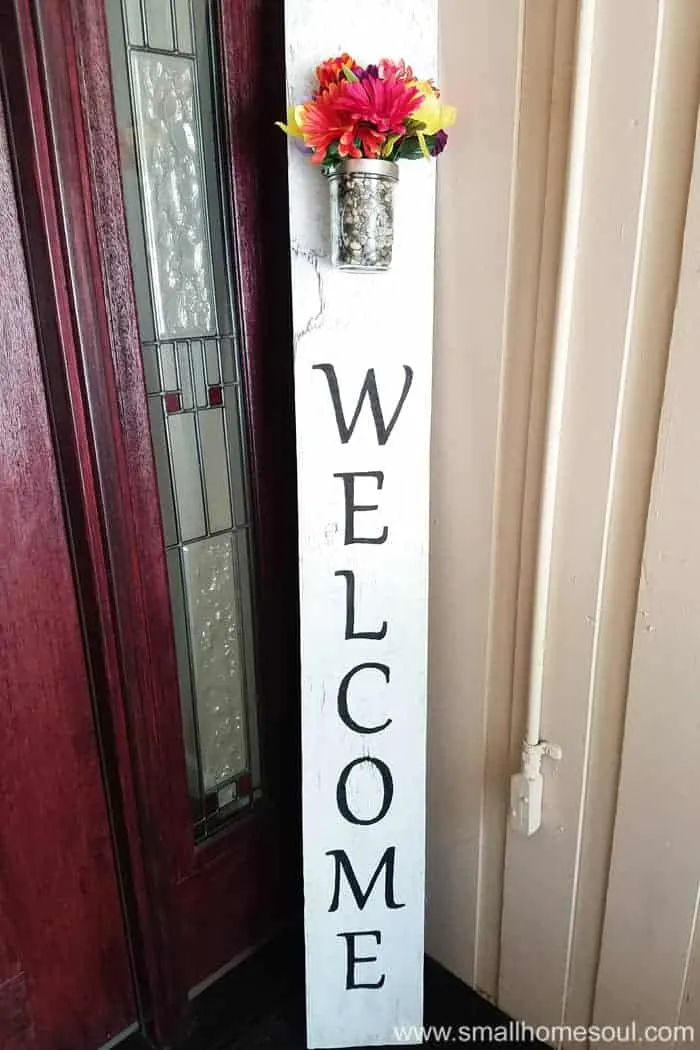 And since I used faux flowers I never have to worry about watering them..
This cute Welcome Sign is easy for visitors to see and feel welcomed to our home! I love how it turned out.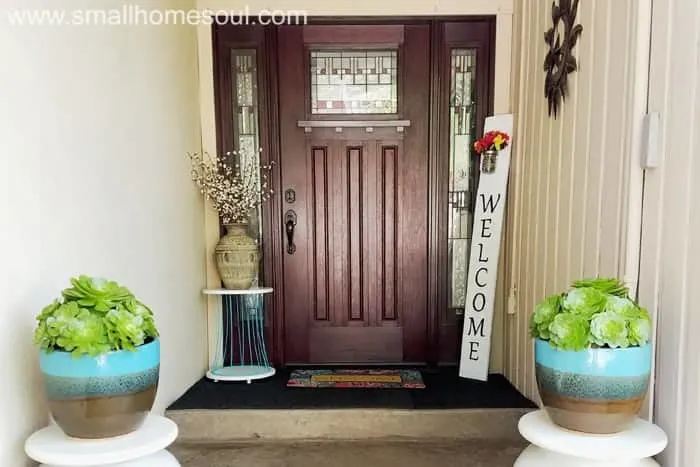 It really brightens up the porch too. I can't wait to change the flowers with the seasons.
LOVE IT, PIN IT!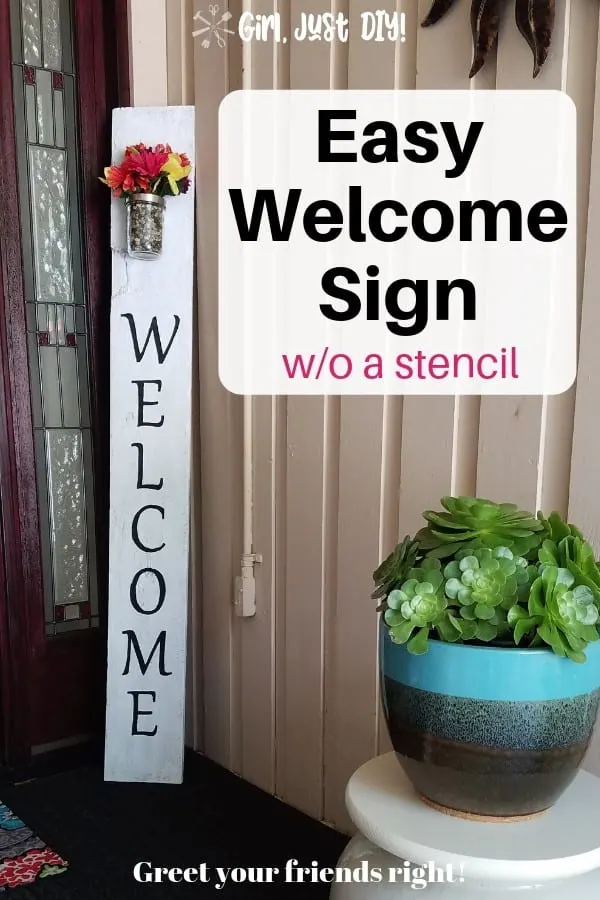 Now who's ready to make a DIY Welcome Sign for your own porch?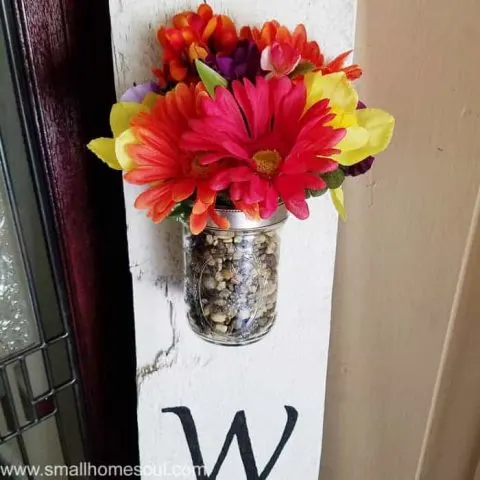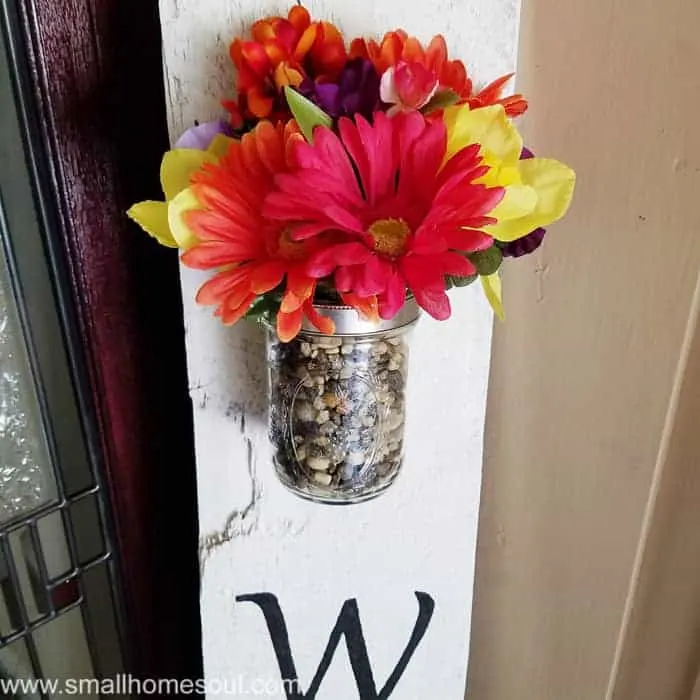 DIY Welcome Sign
Total Time:
1 hour
20 minutes
Estimated Cost:
Less than $10
Learn to make this easy DIY Wooden Welcome Sign for your porch or front door. No fancy equipment like a cricut or silhouette vinyl cutter needed. Greet your friends and neighbors with this unique and totally customizable wooden welcome sign on your front porch.
Materials
5′ Wood Board
Black Craft Paint
Printer
Pint size Mason Jar
Tools
Instructions
Prepare your wood board. Sand if you want it perfectly smooth or give it a coat of paint in your base color.
Size and print the letters for your welcome sign on your computer and print them off, one letter per sheet and trim away excess paper leaving about 1" on top and bottom of each letter for spacing.
Align the letters on the board and tape them together and to the board, leaving one long edge without tape.
Slip transfer paper between letter and board and trace the outside edge of each letter onto the board below.
Outline each letter with a paint pen and then fill in with craft paint using a craft paint brush.
With a mason jar and a hose clamp add a dry vase to the top of your DIY Welcome sign and change out the flowers with the seasons.

Now add your favorite flower bouquet and prop it in the corner of your porch to greet your visitors.
You might also enjoy: