My husband loves Molasses cookies and Oatmeal Raisin Cookies so a recipe that combines the two could only be a success. I found a vintage cookbook at a garage sale last summer for a total steal, $0.25. My mom had one like it and we made many recipes from it growing up. I changed a few of the ingredients and these molasses oatmeal cookies were a huge hit with my husband so of course I wanted to share them with you.
This post contains some affiliate links for your convenience. You can read my full disclosure here.
What you'll need to make Molasses Oatmeal Cookies:
Stand Mixer, Hand Mixer, or some strong muscles if you're using a spoon
Silpat Non-Stick Liner or Parchment Paper
Oats
Molasses
Sugar
Eggs
Butter
Flour
Cinnamon (I love Saigon Cinnamon)
Salt
Baking Soda
Raisins (optional)
Nuts (optional)
I always try to buy organic ingredients when possible and I always always use Pure Cane Sugar. I'm non-GMO girl but I know realistically it's not always possible to know for sure, at least not yet 🙂 so use whatever you have on hand to make these yummies; homemade is always a healthier option than store bought.
It's a good idea to read over a recipe before you begin so that you don't miss any critical steps. Most cookie recipes go together in a pretty standard pattern.
I gather everything I need from the fridge and cabinets before I start and put them away or move them to another counter as I work through the recipe. This way I don't accidentally skip an ingredient. Have you ever made a cake without baking soda, or salt? Ya, I have some horror stories in the kitchen. Sometimes I even take the time to pre-measure all my dry ingredients and mix-ins. It doesn't take any longer but it does dirty a few extra dishes.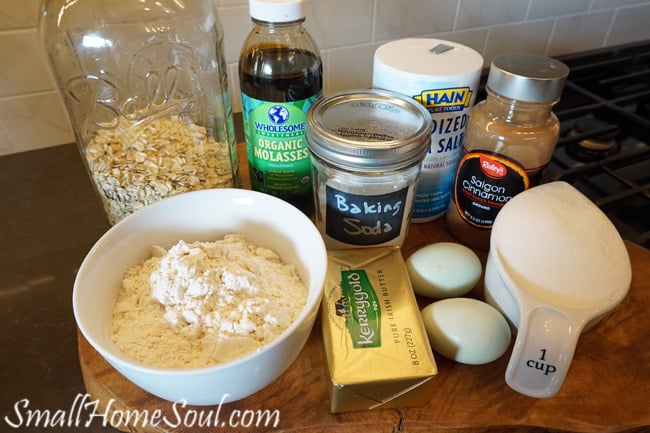 Most baking recipes have you cream the sugar and butter together and then add the eggs. If you try to mix in the eggs too soon you'll get lumps of butter that will be hard to incorporate later. For these molasses oatmeal cookies, after the eggs are mixed in add the molasses; this is what your batter or mix will look like at this stage.
Next comes the flour, salt, soda, and cinnamon. Don't forget to scrape down the sides of the bowl so every morsel gets mixed.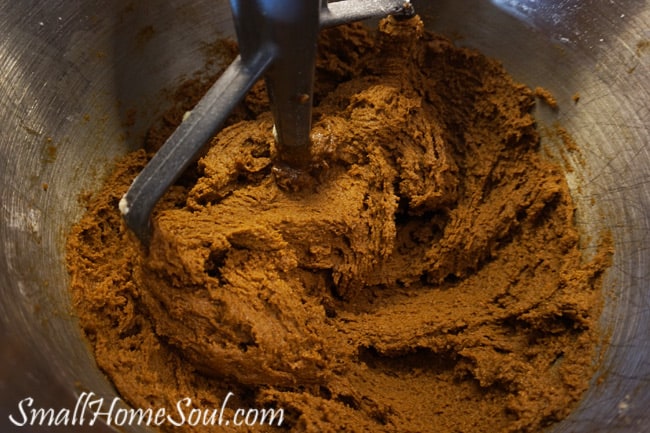 Lastly, the oats get added along with the raisins and nuts, if you are a lover of such things in your cookies. If you choose to leave them out these molasses oatmeal cookies are still very tasty.
I used a 1-1/2″ cookie scoop to place 12 cookie balls on my Silpat-lined cookie sheet. I've never had a Silpat before my daughter gave me one at Christmas, this stuff is awesome. If you don't have one you can also use parchment paper.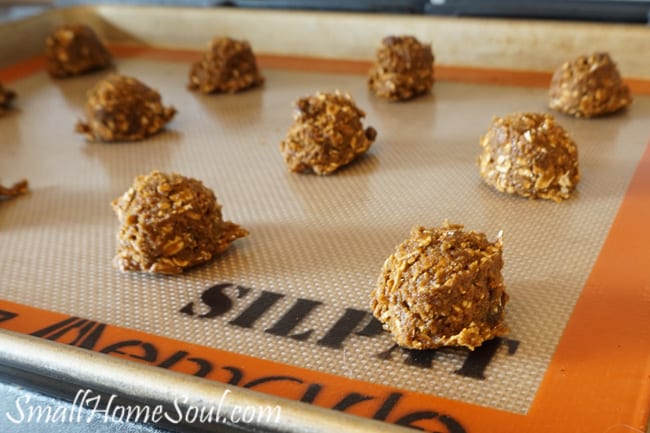 After baking for 8-10 minutes you have these beauties ready to enjoy with a class of cold milk.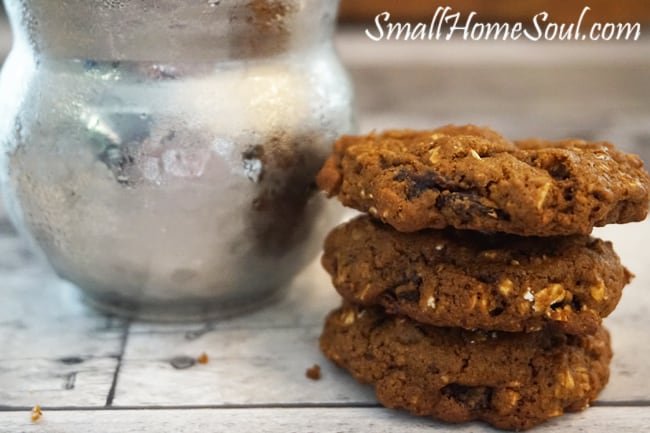 Here's the full Molasses Oatmeal Cookie Recipe:
1/2 Cup Room Temp Butter
1-1/4 Cups Pure Cane Sugar
2 Eggs
6 Tablespoons Organic Molasses
1-3/4 Cups Flour
1 Teaspoon Baking Soda
1 Teaspoon Salt
1-1/4 Teaspoon Cinnamon
2 Cups Oats
1/2 Cup Chopped Nuts (optional)
1 Cup Organic Raisins (optional)
Cream butter and sugar together, add eggs and mix. Then mix in molasses. Add Flour, Soda, Salt, Cinnamon and mix well. Lastly, stir in Oats, Nuts, and Raisins.
Drop with cookie scoop onto Silpat lined cookie sheet and cook at 400 degrees for 8-10 minutes. Transfer to a wire rack to cool completely before serving with a big glass of ice cold milk. This recipe makes approximately 5 dozen cookies.
Can you see how the metal cup below is sweating from cold milk? I got these cups from the Napa Style warehouse sale and they so remind me of the pink, purple, green, and blue metal cups my grandma had many years ago and would serve to us with iced tea or Koolaid inside 🙂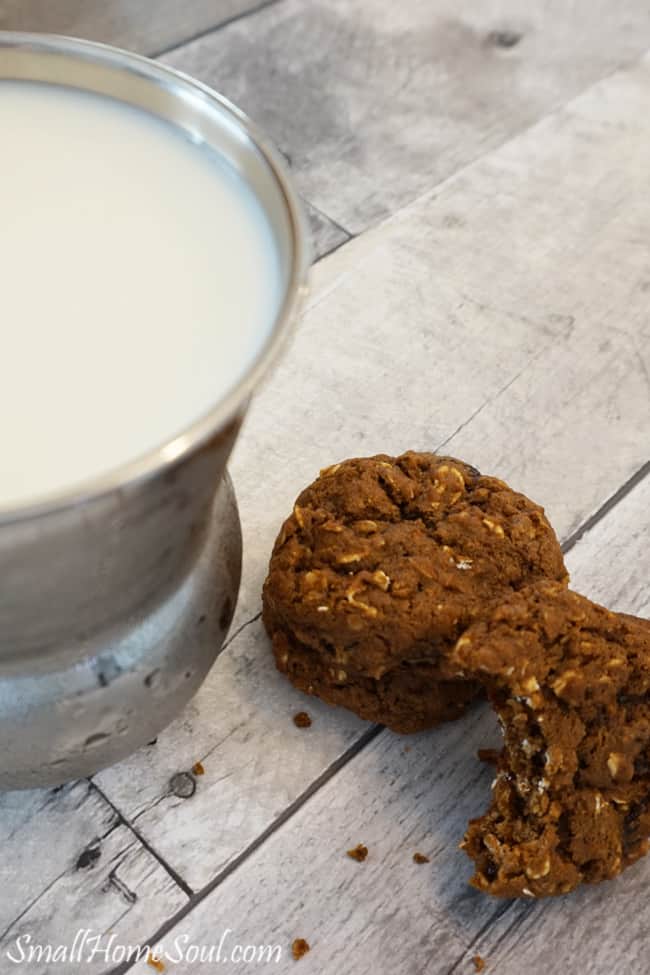 Should I tell you how many of these cookies I ate while taking these pictures? Let's just say, I had to hurry and finish so there would be some left for my husband.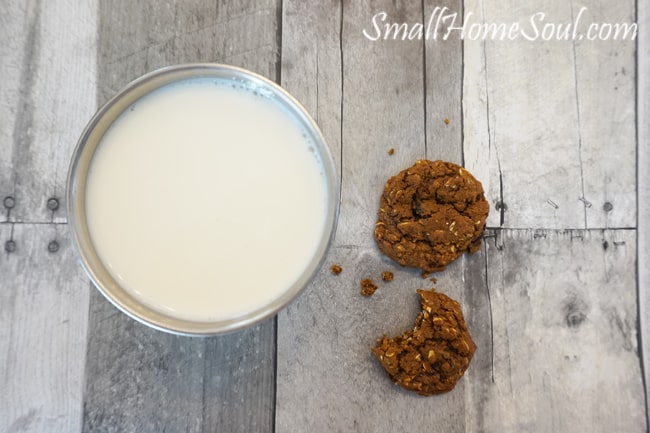 If you make these cookies please come back and leave a comment and let me know what you think.
Shop This Recipe