Did you see my recent post about thrifted treasures? Well, these Ikea nightstands are another thrifted treasure because I purchased both of them through a FB treasures group for under $10, and they're my first "hack" project. I wasn't sure what I was going to do with them but I knew at that price I'd find a spot. They made their first appearance on the blog beside our new Murphy Bed; as it turns out my daughter was ready for something new so this Ikea nightstands were just want she wanted. We met at the store one night after she got off work and she brought one of her shams so she could pick out some paint. I'll show you what I did to hack these little gems.
This post contains affiliate links for your convenience. If you make a purchase after clicking a link I may earn a commission, at not extra cost to you.
Hacked Ikea Nightstands Supply List: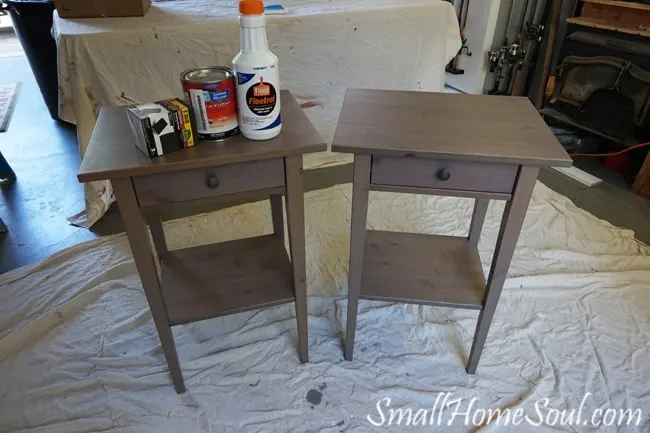 I've never used Floetrol before but my brother uses something similar. After reading about this on a few other blogs I had to try it. Too many times the paint starts drying before I'm done and I get streaky marks in the surface. This stuff fixes all that; you just mix in the suggested amount and it extends the drying time of the paint. More on that later.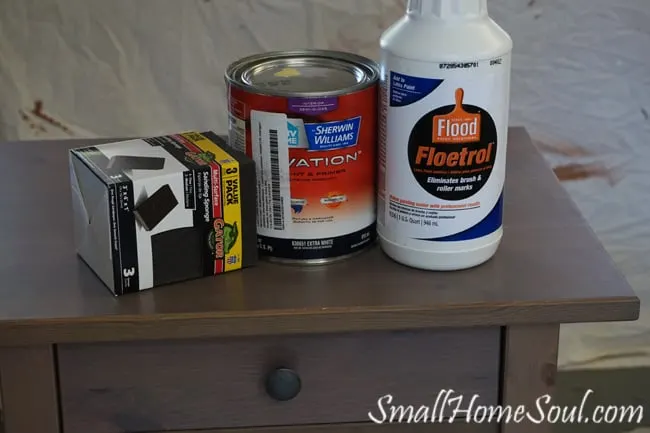 Before I started I removed the drawers and the drawer guides with a screwdriver as well as the knobs and set them all safely in a box on a shelf so I wouldn't lose them. Then I lightly sanded the entire surface so I could prime it ensuring the paint would adhere properly. I used the 3M Painters tape to tape off the drawer fronts before I primed since that was the only part being painted. I wiped down the entire surface with a damp rag so there wouldn't be any sanding dust to get caught in the paintbrush.
I turned each Ikea nightstand upside down on the table and primed the bottom side of each as seen in this picture below.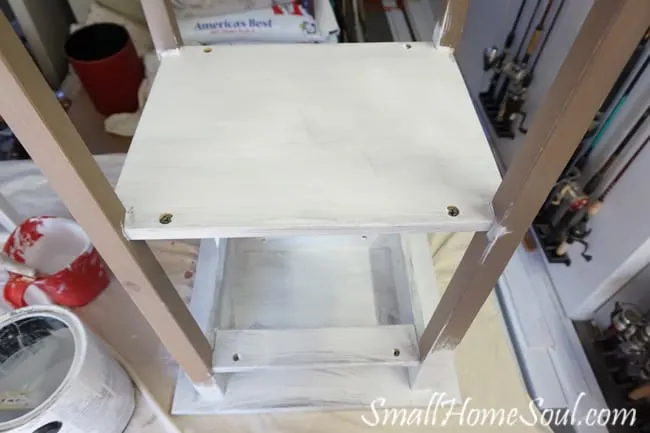 Once that was done I flipped it upright and proceeded to prime the top and the legs working my way down. I let the Ikea nightstands dry overnight.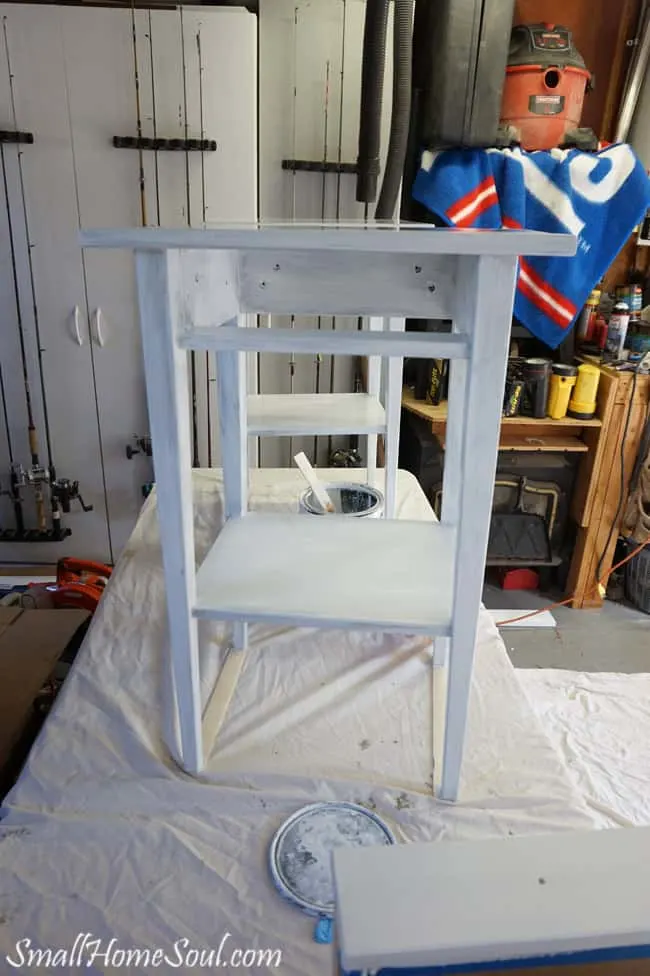 The next morning I added the proper amount of Floetrol to my paint and applied the first coat in the same order as the primer. The Floetrol was so great to work with and because it extends the drying time I was able to fix a drip 20 minutes later that blended in perfectly. That wouldn't have been possible without this stuff. It really helps eliminate brush strokes in the finished product.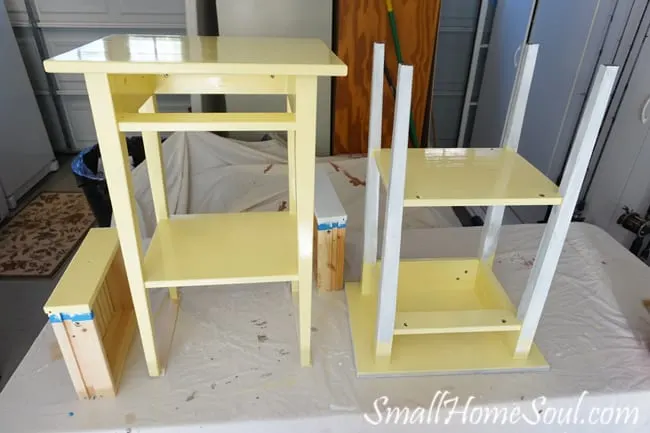 Because our weather was unseasonably warm I waited another day and painted the final coat the next morning while it was still cool in the garage. When they were fully dry I reinstalled the drawer guides and the drawers.
The knobs that came with the Ikea nightstands just weren't going to work out with the bright new paint job. I had some drawer pulls I bought at Marshall's last year that I thought would work perfectly with my daughter's comforter so I installed them and loaded up the car for delivery. I also took along that Thrifted Swing Arm lamp she had her eye on. Mom's are so soft 🙂
These Ikea nightstands look so great next to her bed and they really brighten up her room. It's a dramatic update from the old pine nightstand she'd been using since she was a teen.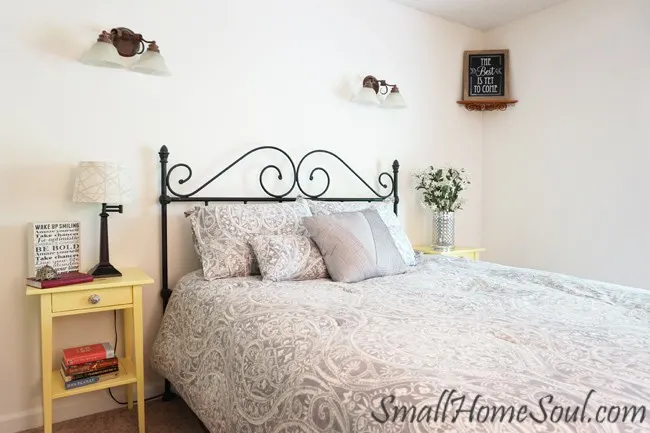 More Furniture Makeover Projects
DIY TV Console – Mid-Century Modern Beauty – Metallic Cream Side Table
And the pulls? I think I can safely say that they work perfectly with her bedspread.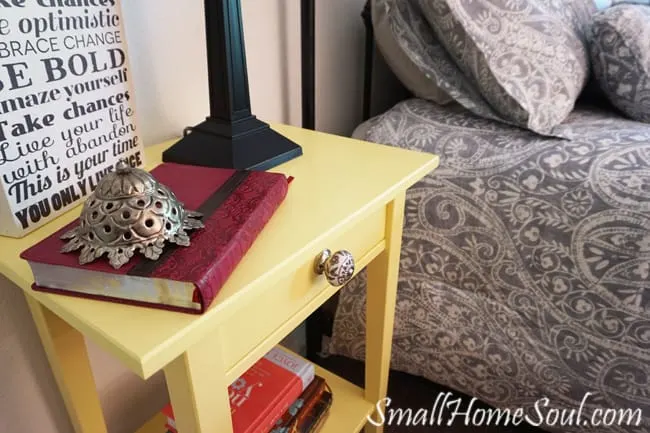 You can't really see it in the pictures but the bedspread has a shimmery silver detail and the colors of the pulls is nearly a perfect match to the comforter. Just like they were always meant to go together.
My daughter was happy with how these Ikea nightstands turned out going from kind of dark and boring to bright and cheery. And she was super happy that I let her keep that thrifted lamp too.
Until next time,
Toni