Hello friends, I have a fun thing to share with you today. Most readers of blogs follow bloggers to get inspiration or learn how to do something. And bloggers get inspiration from other bloggers sometimes too. Welcome to the March Pinterest Challenge Blog Hop, hosted by My Pinterventures. The purpose of this Pinterest Challenge is to motivate participants of the hop (and our readers) to actually make some of the projects we pin to our own boards. This is my first month joining in so I chose to make a Painted IKEA Trivet Cork Board. Well, three IKEA trivets to be exact 🙂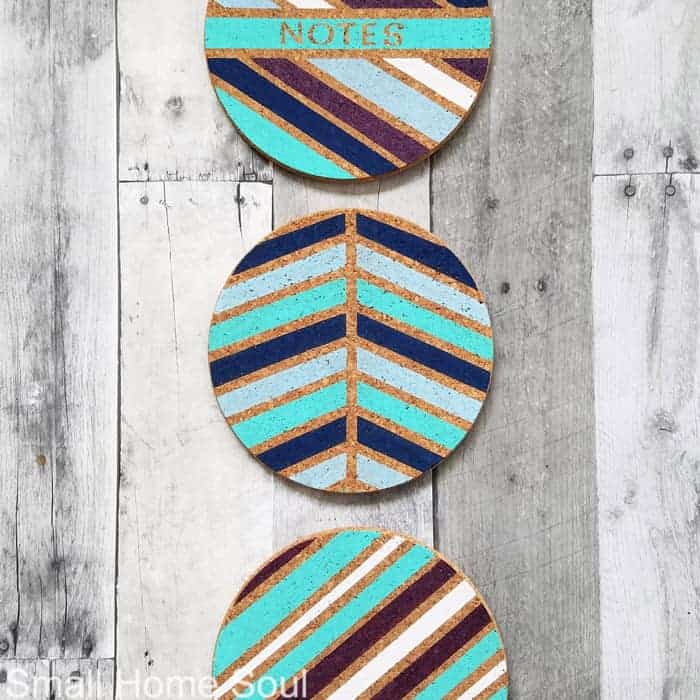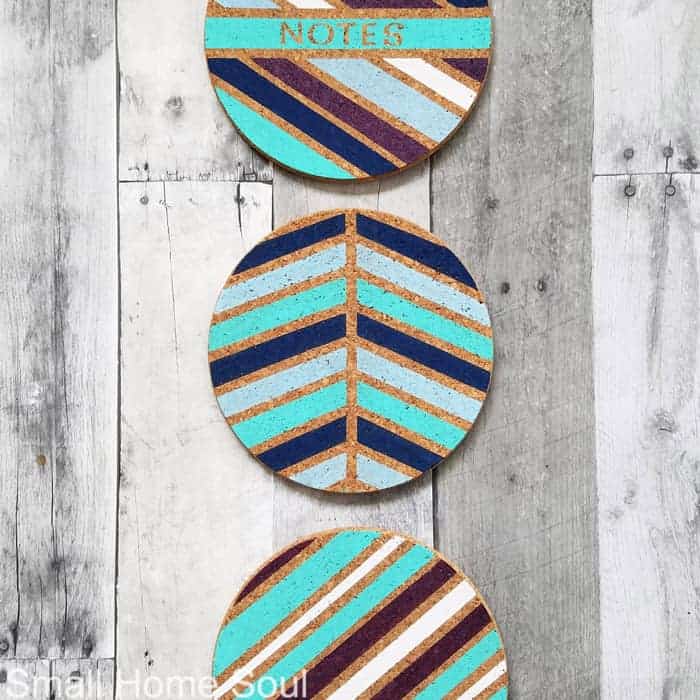 At first I was going to do some wood burning trivets for the kitchen since I already have a Wine Cork Board hanging in the kitchen I made a few months ago. I still might but it's been rainy and gloomy lately so I wanted a bright and fun project and I can use them in the office when I finally get around to giving it a makeover.
This post contains links to products, if you purchase something after clicking on my link I may earn
a small commission (at no extra cost to you).
These Hacks are endless and I love it (love the store too). A few years ago I gave a makeover to some of their nightstands for my daughter. I'll have to start searching for my next IKEA Hack soon.
Supplies for Painted IKEA Trivet Cork Board
Gather your supplies and I'll show you how easy these cork trivets are to turn into painted cork boards. You can use any design you like but I'll step you through how I made my Trivets into a Painted Cork Board.
If you're not good with color combinations look online for some good color combinations, or just play around with some combinations on paper using q-tips. Craft paints are around $1 (sometimes less) at most stores that carry craft supplies. I usually pick up a few new colors when I'm in the store.
First you'll cut some strips of tape as narrow as you want the spacing of your stripes to be.
Set the edge of the painter's tape at an inch mark on the self-healing cutting pad. Then extend the tape an inch or so longer than the trivet and affix it along the same measurement mark.
Set the ruler so 1/4″ of tape is exposed and use your hobby knife to cut a strip.
Continue moving the ruler and cutting until the width of the tape has been cut into strips.

You can vary the widths up to your liking or make them all the same.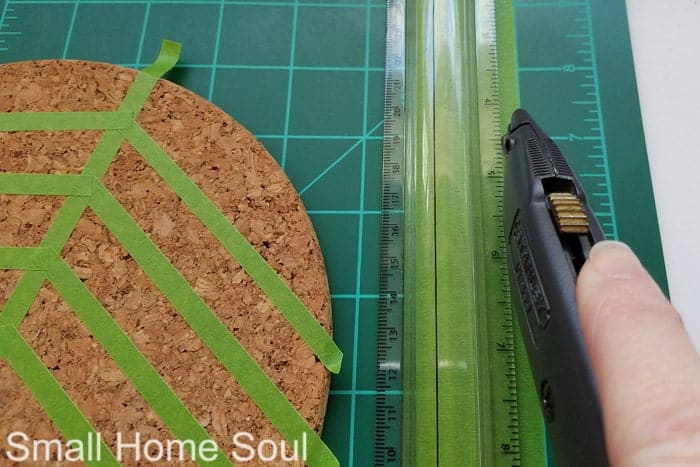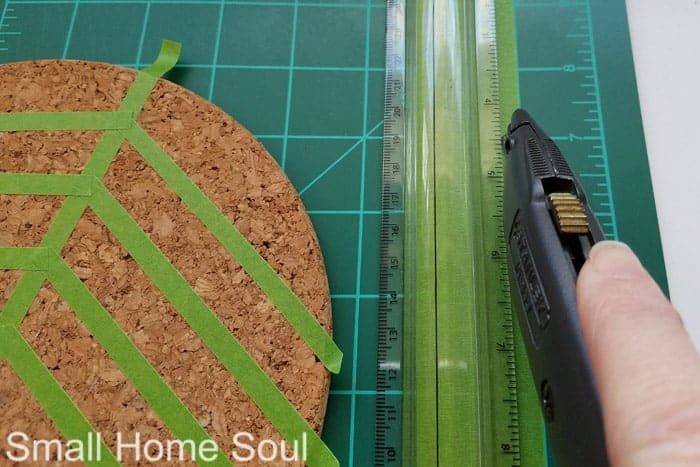 Affix the tape strips onto the cork trivet in either the pattern you'll see below, or a random pattern of your choosing.
Press the edges down firmly to keep the paint from bleeding under.
Determine what colors you want to paint where and use a q-tip to dab a little paint on those spots as a place holder. This keeps you from painting the wrong color in the wrong spot.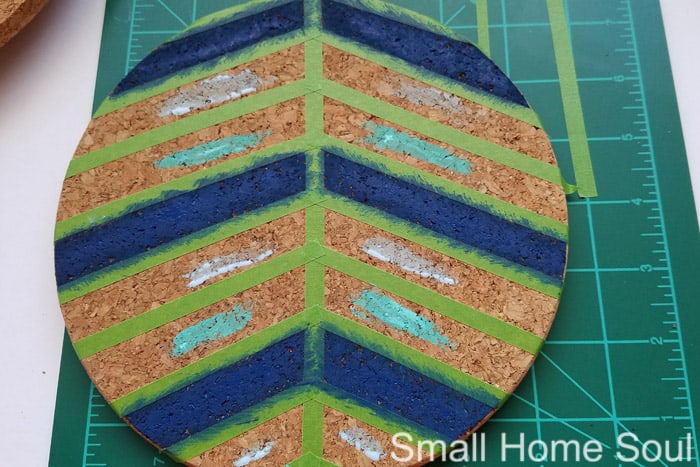 With all your spots marked use the stencil brush to paint the sections of your cork trivet
To keep the paint from bleeding dab on the paint, or paint from just over the edge of the tape into the section you're painting. If you're using the Green Tape you only need to do this on the first coat.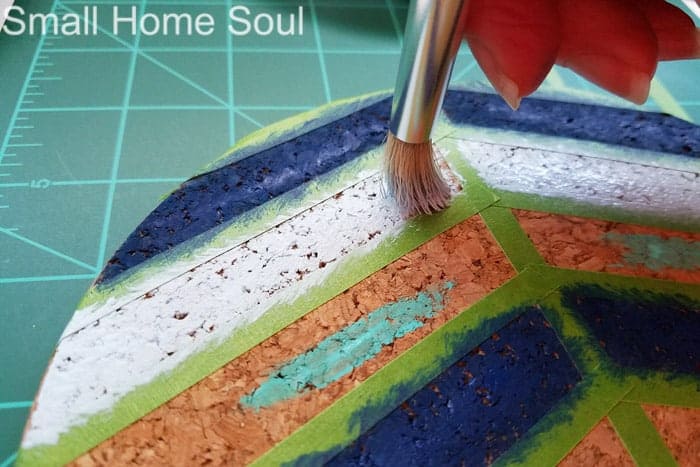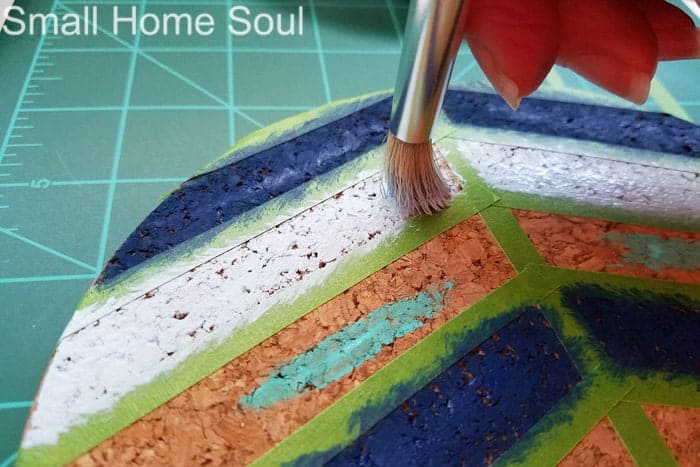 Keep working and adding some extra layers of paint until you get the richness you like. Lighter paint might take more coats to cover the brown of the cork trivet.
Add Some Lettering
I did a little something extra on one of mine by painting over some stickers to add the word "NOTE."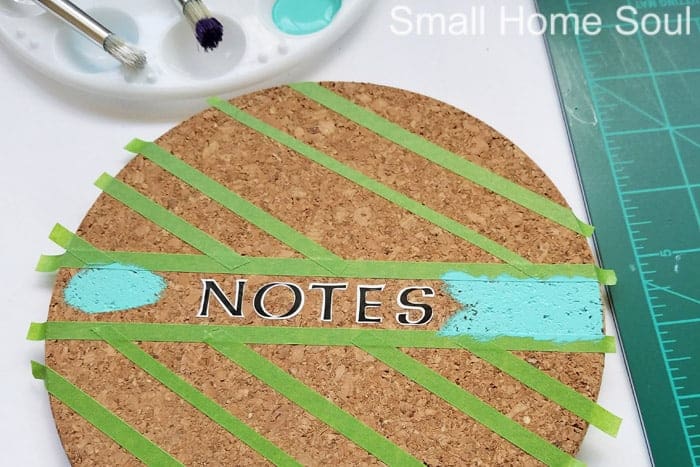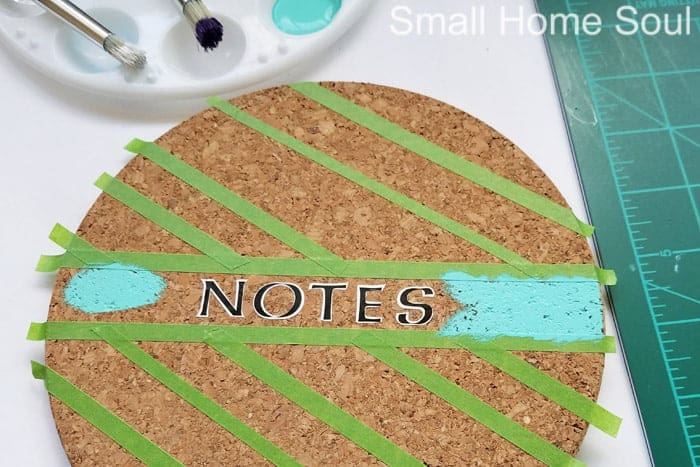 I almost had a problem because the stickers are paper and the paint made them kind of mushy. Thankfully I started pulling them while the paint was still wet and I had some sharp tweezers to get all the sticker off. In the picture below you can see that the backing remained when I pulled the sticker up.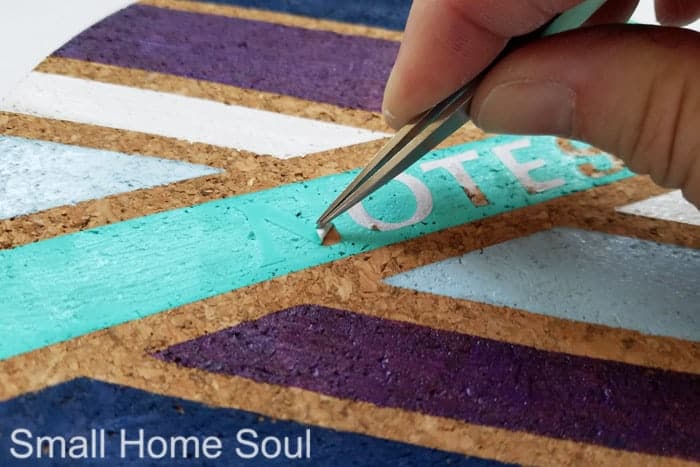 I made three painted cork boards in total and mixed up the paints so they all tie together nicely. You can make each one different in complementary colors. I love this project because there's so many options to choose from and ways to customize these IKEA trivets.
All that's left is to hang them where they'll be the most useful. I love hanging light items using Command Velcro strips since I don't have to put more holes in the wall.
You can hang them in a grouping….
Or in a line like beelow.
LOVE IT, PIN IT!!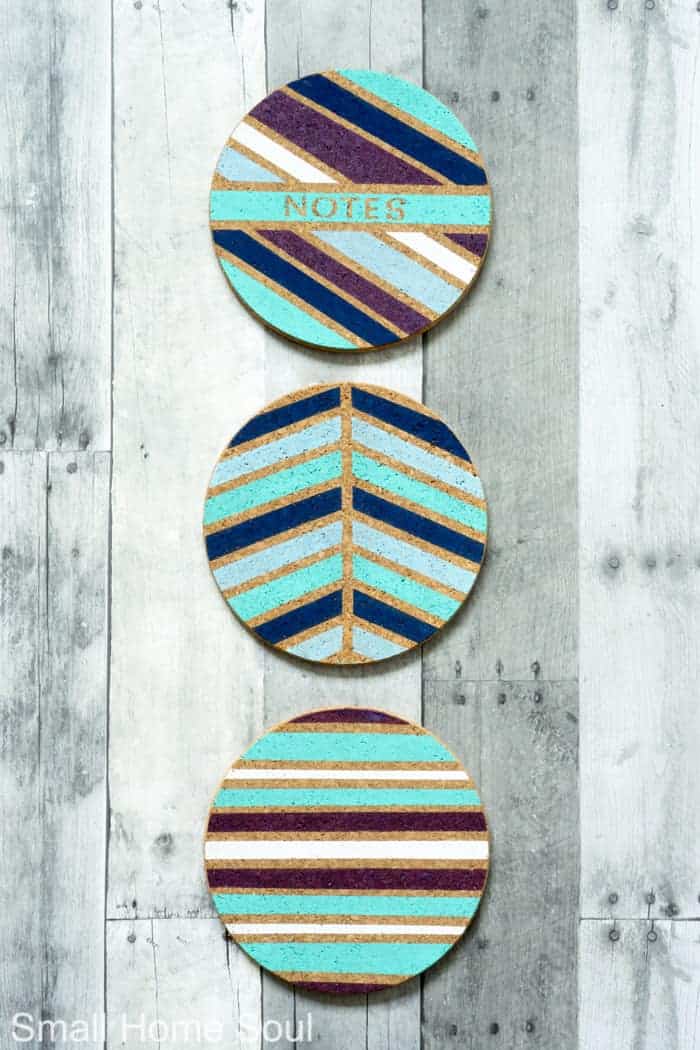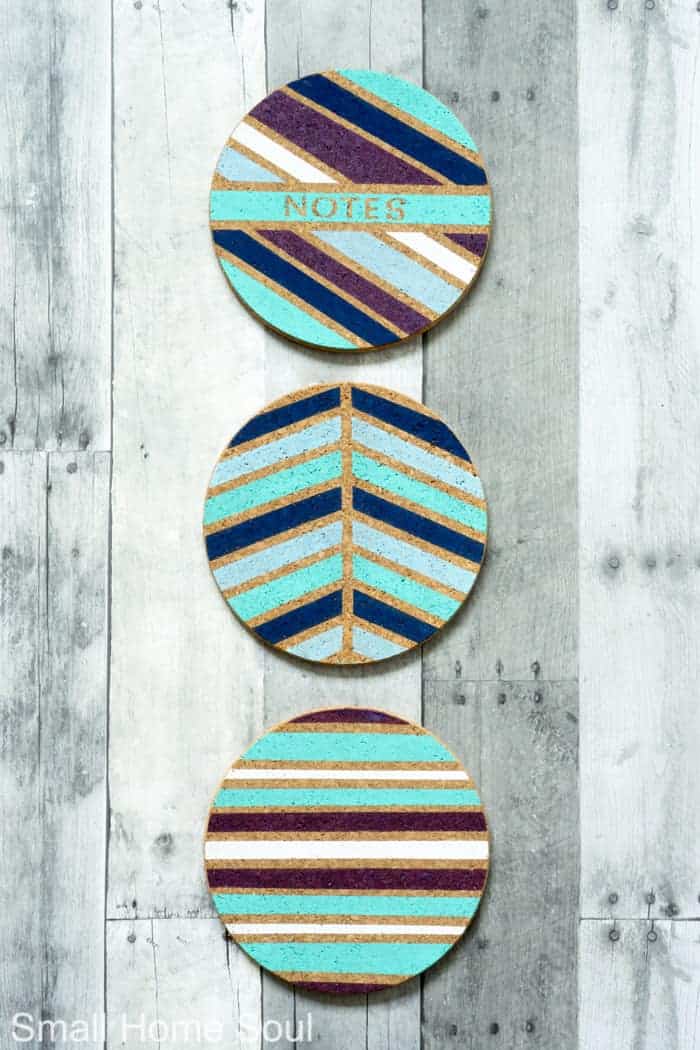 I mentioned above this is a challenge and this month there are 45 projects and/or recipes to inspire you to create a project from one of your pinterest boards. I hope you were inspired to try making a Painted IKEA Trivet Cork Board for your kitchen or office! You could even make four and hang them together to make a larger cork board.
To join next month's challenge, click here to sign-up ⇒ April Pinterest Challenge
---
Now let's see what other things Pinterest inspired! Head over and visit the other hosts to see what they crafted, cooked, built, or tried!
Erlene – My Pinterventures • Shirley – Intelligent Domestications
Jenny – Cookies Coffee and Crafts • Joanne – Our Unschooling Journey
Emily – Domestic Deadline • Roseann – This Autoimmune Life
Kelli – The Olympic Nest • Lynne – My Family Thyme • Beverly – Across the Blvd.
Debra – Shoppe No. 5 • Pili – My Sweet Things
Laurie – My Husband Has Too Many Hobbies • Kristie – Teadoddles
Julie – Sum of their Stories • Gwen – Geez, Gwen!
Marie – The Inspiration Vault • Candice – Fearlessly Creative Mammas
T'onna – Sew Crafty Crochet • Kenyatta – My Design Rules
Magen – The Kusi Life • Cherryl – Farm Girl Reformed
Leslie – Once Upon a Time & Happily Ever After
Micah – Home Faith Family • Kelley – Simply Inspired Meal
Lauren – Mom Home Guide • Deborah – Salvage Sister & Mister
Gail – Purple Hues and Me • Terri – Our Good Life • Lisa – Blogghetti
Lauren – Wonderfully Made • Sue – A Purdy Little House
Toni – Small Home Soul • Maureen – Red Cottage Chronicles
Marci – Stone Cottage Adventures • Michelle – Our Crafty Mom