Hi friends, I'm excited to share with you that I am participating in the Spring 2018 One Room Challenge (ORC). Our office/spare room/craft room has never been a cohesive space since we finished installing the Murphy Bed we built a few years ago. It's time to make it into the beautiful and functional space. This post outlines my plan for how I'm going to complete my office makeover and you get to see a few pictures that have inspired me.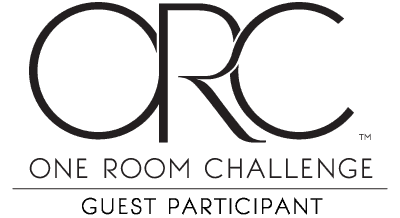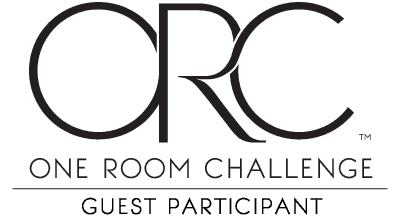 The One Room Challenge runs twice a year, in the Spring and Fall. There are two categories. One for Featured Bloggers/Designers and another for Guest Bloggers/Designers like me to let those of us with smaller blogs join in the fun too. I'm thankful to be able to join this year but I'm nervous and excited. Mostly because I decided at the very last minute to jump in. Sometimes I need a good kick in the butt to get moving because #procrastinator.
The goal of the ORC is to complete our room makeover in six weeks. Actually we do it in five weeks because the last week is the big reveal. Starting with the post next Thursday there'll be a link at the bottom where you can see the progress for all the participants and follow along with them as well.
Office Makeover Before
You guys, I'm embarrassed to share my before pictures with you, but in the spirit of full disclosure here goes. We're all human and my OCD doesn't manifest itself in a perfectly tidy house (I wish it did sometimes). I mean, you won't know how good the office makeover really looks on reveal day unless you see how disconnected it is now. I try to stay organized but being a creative person I think it's especially hard (I'm not alone, right?) Ok, no judgy judging please 😀
Here's a view of the room from the wall of closets looking at my desk. This is where I work my part time job and do all my blogging stuff. Plus hubby pays bills and searches for the best cigar deals.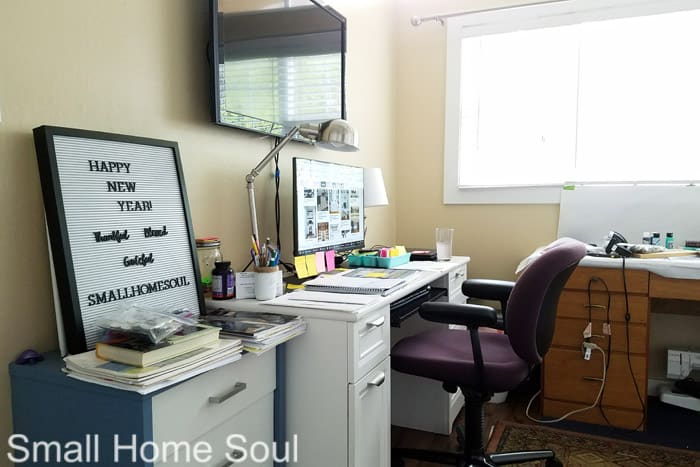 And here's the view from the door. I think the closet threw up 😀
There are only a few things really wrong with the room. The desk I bought off a Facebook Group for $25. It was a large black corner desk from IKEA originally but it didn't function well for what I wanted so I converted it to a single desk. But I still wanted to have a place for my sewing machine so I bought a used sewing cabinet.
The sewing cabinet has also never functioned the way I wanted it to because of cutout on the top for a much smaller machine than I have. The cutout made it impossible to use the space for anything else so currently it's covered with a foam board so I can use it as a craft desk. The white paper on the wall is for taking pictures of projects.
You can also see that I have some issues with power cord management. I have dead space in the corner where my printer is hiding. Oh and lighting, that's an issue too. Daylight is great but any other time of day the lighting on the desk is marginal, and it's non-existent when I try to do a craft under the window.
This room is also where the dog sleeps and has also become a bit of a dumping ground (I take all the blame there).
Planning an Office Makeover
I'm not sure you can call what I have an actual plan since I just decided to jump into this challenge with both feet yesterday morning. But it's going to be great because I know how I want the room to look in the end. If I think too long I never start, so I'm just starting.
First I'll give the room a fresh coat of paint. It's been this same color for almost 10 years and it's time for a change. I really want to do a fun wall treatment somewhere in the room. I might have to convince my husband on this one 🙂
Next I'll build an L-shaped corner desk. The left side will be where I work my part time job and do blogging. The right side will be used for crafts and sewing. This plan will be pretty simple (that's what she said) since I'll be repurposing some desk modules I bought off a Facebook Group. The top will be made from plywood.
Recover my existing desk chair.
Take down the TV that is never used and add shelving and fun storage.
Updating the lighting. I need better lighting in this room in a big way.
Create organization with peg board or some other fun product. Organization is a must, duh.
Replace the existing area rug. This might take some convincing of my husband, he loves the rug. But you guys, it's so old and I want something much more fun 😀
Inspiration
Here are some pictures of offices that I've pinned that I'm using for motivation for my office makeover I love the colors in this room! The walls will likely be the same color as the rest of the house; but I do want to incorporate some fun shades of blue/teal/aqua into my office makeover.
Photo credit www.SimplyKellyBlog.com
This picture with everything where it belong in tidy little spaces with tools at your fingertips would be lovely. Plus I love the bright colors.
Photo Credit: Something Turquoise
And this chair, isn't it lovely? I bought my office chair off a Facebook group about 5 years ago. I know I can cover it and make it look as beautiful as this one.
Photo Credit: Our Southern Home
These are my plans for the room and it's going to be wonderful to have it all completed. But I'll be honest, I'm kind of freaking out because I'm just diving right in and I have to hit the ground running. Oh and I and just sprung shared this exciting news with my husband last night 😀 He doesn't have to help me with much stuff but pulling everything out of this room will be a disruption to the rest of the house for a little bit. It's a good thing he loves me 🙂
Don't forget to check back each Thursday to follow along with my progress. You can see the other ORC participant's projects through these links:
I'm so excited to finally be starting this makeover!
Toni