Planting and maintaining a succulent garden is an easy and beautiful addition to any patio or garden. They can even be grown indoors.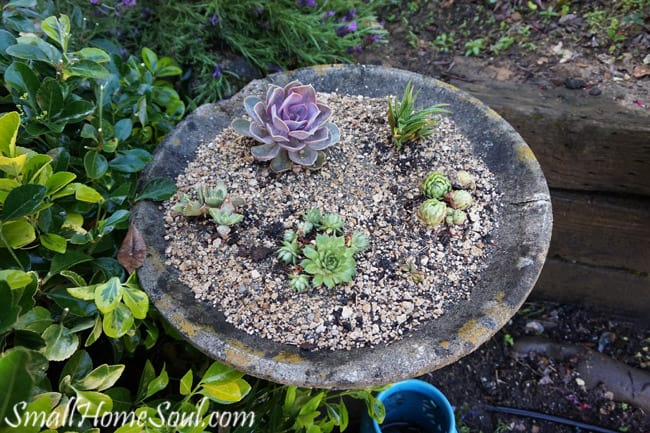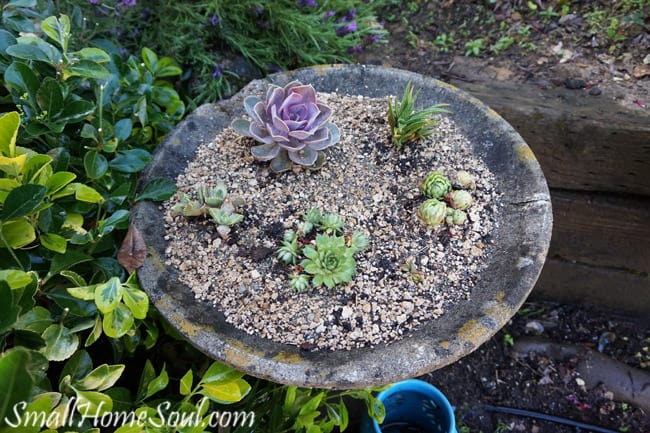 Hello friends, Spring has arrived and we've been outside refreshing our yard and garden. We're just getting out of a long drought here in California thanks to all the Winter rains that gave much needed love to our plants and trees. But today I'm going to talk about planting a succulent garden that doesn't require much water or care at all. Doesn't everyone love low maintenance?
Succulent gardens have become very popular, even with gardeners who don't live in dry climates. That's because they are pretty much a "set it and forget it" kind of plant. They live well indoors so even if you live in an area where it snows you could have your own succulent garden.
I've been collecting little succulents from the stores for several years and while I potted a few here the rest have been stacking up on our step in the containers they came in. They've done well in the pots but it was time they got some attention.
I give the plants in my succulent garden a little splash with the hose a few times per week when it's very hot. I rarely water them in winter. We learned the hard way. If you didn't know succulents store water in their leaves, when they are full of water they freeze when the temperature drops and you have frost form. Ya, we had serious damage to a beautiful Jade tree my sister gave me. Thankfully it didn't kill it completely but it took a few years for it to get back to its original size.
Besides being very low maintenance the other nice thing about succulents is that they reproduce so easily. Either they put off a shoot (baby) of their own, or you simply pick a leaf or a branch and stick it in the soil. It's seriously that easy.
This post contains some affiliate links for your convenience. You can read my full disclosure here.
Planting a Succulent Garden Supply List
My plan for the day was to repot the small ones I'd purchased and separate and repot the others. Deciding on the containers was pretty easy. I never throw away old pots so I had a few I would reuse and then I had a few other special planters in mind.
I've had this really cool old rusty wagon sitting in the garden for many years. Since it has no sides or bottom I lined it with a coconut fiber liner used in a hanging basket.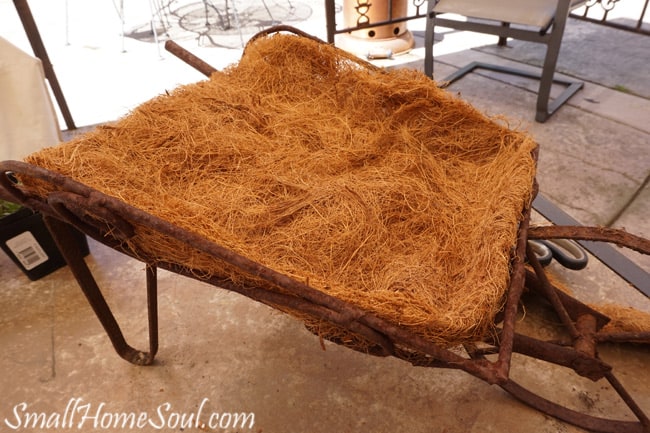 I'm lucky enough to live near the Ruth Bancroft Gardens in Walnut Creek. If you've never heard of her she's now over 100 years old but she didn't start working with succulents until she was in her 40's. She became one of the leading experts in succulent gardening and turned over most of her garden estate to public tours and education. You can see a tour of her gardens in this video.
When we were there taking a tour we bought a bag of their succulent mix, and of course a few more succulents that I didn't already have.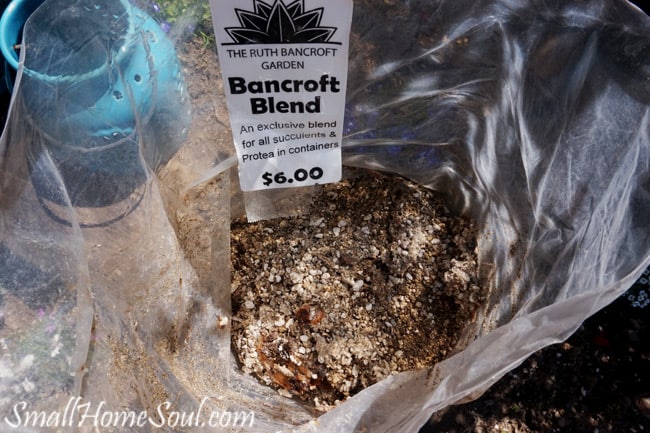 I filled the lined wagon with the mix and planted a few of my babies. I returned it to the spot in the garden where the moss was growing around its wheel. It's just a beautiful spot for it.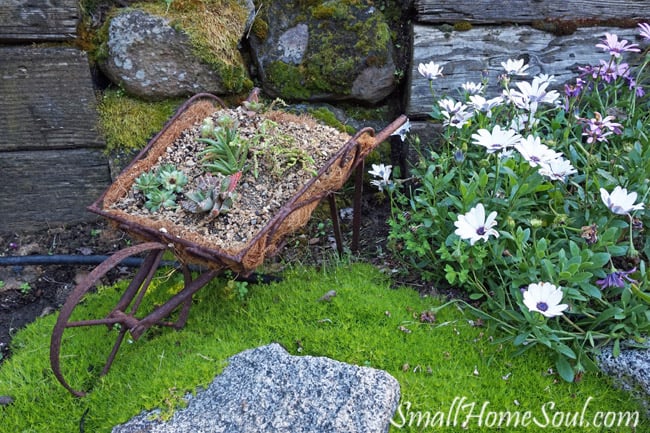 Next came my grandma's old birdbath. I've had it since before she died 15 years ago. It's not much to look at, and it's cracked so it doesn't even function as an actual birdbath. I just couldn't bring myself to get rid of it and knew since the water drained out slowly it would be perfect for a succulent garden planter.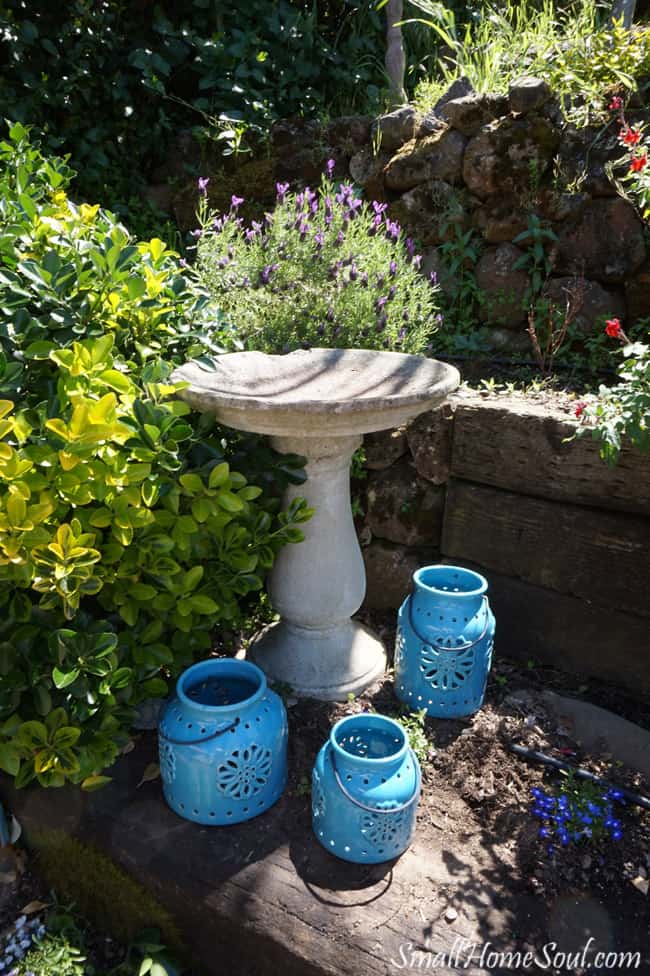 I filled the bowl with the succulent garden mix and then added some new and some baby succulents.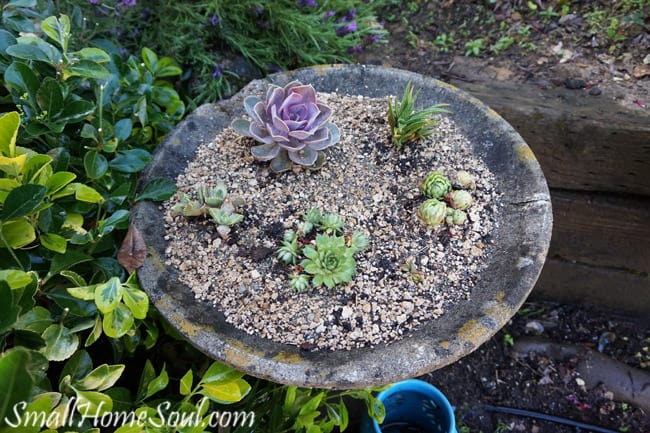 I've had other grand ideas to mosaic the base and other such crafty ideas but I never got around to it. Maybe some day but for now this is just lovely.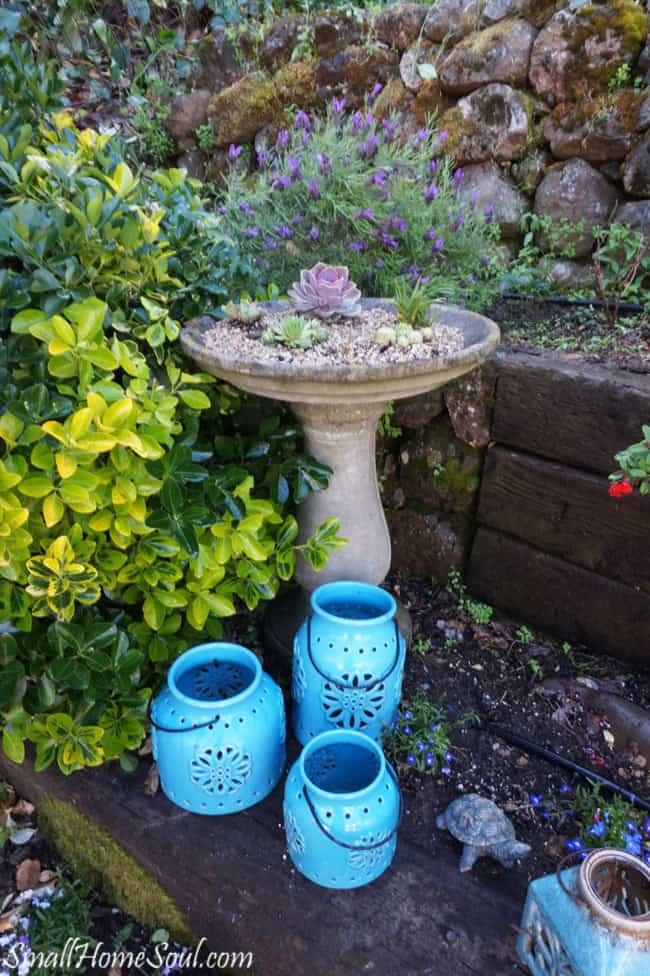 After I pulled plants from the pots for the succulent garden planters it was time to pretty up the plants on the step. The spiky plant had tons of babies so I separated and repotted them into all the smaller pots I'd just emptied. I also planted some in the strawberry pot that's never seen a strawberry 🙂
This part of the succulent garden looks nice and tidy and the plants have space to grow again.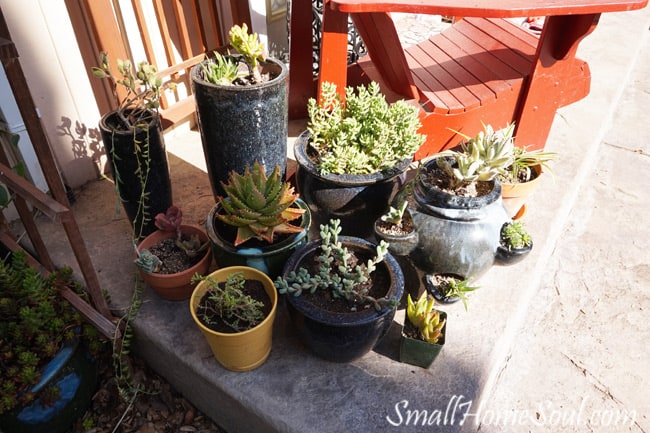 Here are some close ups of my favorites. I love the two tones of this rosette.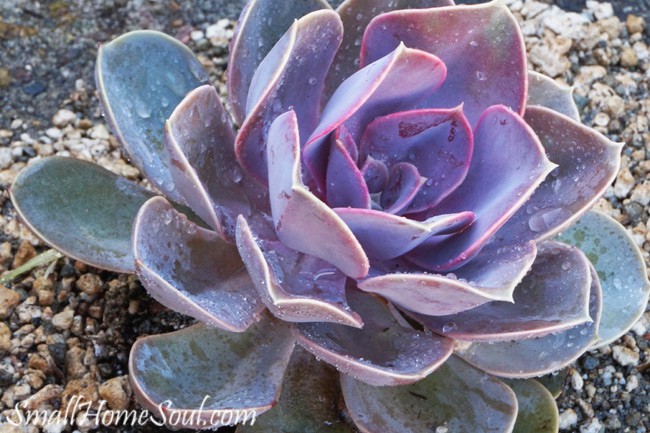 These little guys put off shoots that are easy to transplant and regrow.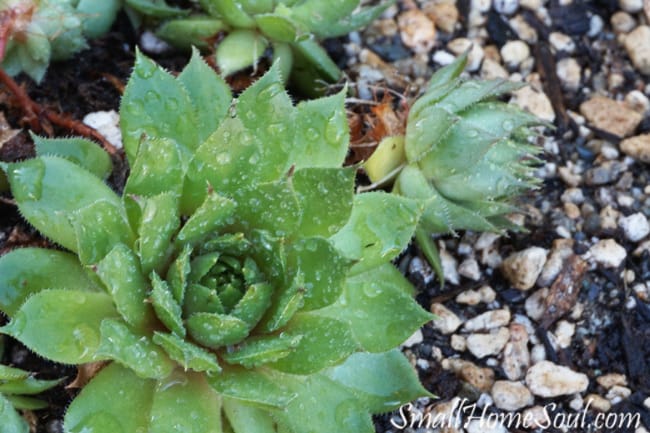 This guy looks dangerous and mean. The spikes are pointy but not very sharp so there is no fear of getting poked. Another thing about succulents that most people might not know is that when most succulents turn red it means they're stressed and need some water. The roots were so bound with all the new babies it had produced that it was getting almost no water. It looks pretty with the red and some people under water on purpose. As long as I keep them alive I'm happy with whatever color they are; seriously, my husband teases me for the plants I've killed 🙂
I can't wait until the birdbath planter fills in and looks more established. And I wish the birds would leave the coconut fibers alone in the wagon. Apparently they've been taking the fibers to build nests. Sadly it doesn't look as cute as it did when I took the pictures. I keep putting it back together. I even stacked some loose coconut fibers nearby to lure them away from my plants.
That's about all for today, I'm no expert on succulent gardens but mine have been doing well for the last several years. If you have any questions please leave me a comment. If I don't know the answer I'm happy to do a little research for you!
Until next time,
Toni