Hello friends, today I'm excited to share with you an update to an old nightstand that I did using a few products I've never worked with before. A friend invited me to join this Facebook group called "The Fab Furniture Flippin' Contest" where each month they have a different theme that's sponsored by a different paint company.
This month is the first one I was able to participate in and it's pretty exciting. The contest is titled "Bling Bling" and is Sponsored by Country Chic Paint. For the contest Country Chic provided us each with 1 pint of All-in-One Decor Paint and 1 pint of Metallic Cream, and an angled paint brush. They have a beautiful line of clay-based, all-in-one decor paint colors and of course their line of dreamy Metallic Creams.
Being provided the supplies for this challenge makes this a sponsored post. But please don't worry, all opinions are my own, and always will be for anything I write and share on my blog.
The title of Bling Bling is fitting since these metallic creams add shimmer and shine to your project. Stepping outside my comfort zone I chose Bliss for my paint color (on the right) and Trigger (pewter) as my Metallic Cream. I'll admit I was nervous when I opened up the container but I think you'll agree when you see the results that they really work together.
Country Chic Paint is a clay-based paint with a chalky finish. I've never worked with either chalk paint or metallic creams so I picked what I thought would go well together. I was very nervous again because the only paint I've worked with is Latex. The word around town (ok, on the internet) is that you don't need to sand or do any prep before you use chalk paint. Here's a tip…..don't believe everything you read on the internet 😉 On the Country Chic can it states that clay-based paint is self priming on most pieces but I advise a light sanding on anything you're going to paint.
The nightstand I used was my daughter's old one we replaced with the Hacked IKEA nightstands I painted for her a month ago. We bought her this nightstand about 15 years ago from a big box store. It's pine and being a soft wood it's got some dings and dents so It's not in perfect shape but it's great for a little flip. To be on the safe side I sanded the top of the nightstand really well since that'll get the most wear. The rest got a light sand and a wiped with a damp cloth.
I jumped in and started painting the drawers first and then the body of the nightstand. Chalk paint dries pretty quickly but the first coat went on very well. I wish I had stopped at one coat because it had that silk look that I read so much about.
After waiting the recommended two hours between coats my second coat started to get gummy as I applied it. I was able to recover mostly by spritzing the surface with a water bottle so it wasn't as bad as it could have been. I found it best to spritz the surface with a little water before applying the paint, it extends the dry time and gives you a little more working time. This helped the second coats apply much better and with less anxiety. I was a bit disappointed because I had brush strokes which I thought you weren't supposed to have with chalk finish paint.
This stuff sands up much easier than latex paint which is a bonus because I was able to minimize some of the brush strokes. That's a bonus but be careful on the edges because it's designed to be distressed and I accidentally sanded through a tiny section and had to do a touch up.
When I started painting I didn't really have a full plan of the look I was going for so after I painted the body of the nightstand I wasn't loving the all-one-color look. I had to think on it for a bit.
While the paint was drying on the drawers and nightstand I took the original knobs and using a soft cloth I wiped on a coat of the Metallic Cream. You can see the beautiful transformation and update that metallic cream made to the knob on the right.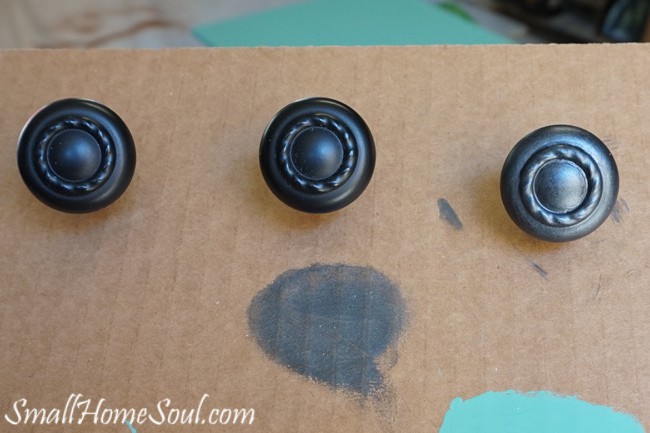 I wanted more bling for my Bling Bling challenge and finally standing in the garage it hit me, bling bling up the entire top with metallic cream!! Country Chic Paint tells you on their website and in their videos that the metallic cream goes a long way, but did I listen? NO! but I was able to recover 🙂
I started applying with a brush but it's pretty thick so then I had some issues with getting even coverage. Too thick in some areas and not enough in others. I finally grabbed the spray bottle and spritzed the surface which helped the paint move and I finally got it smoothed out.
But I wasn't entirely happy so I grabbed the water bottle and and started spraying and rubbing my fingers in the paint. I wish I snapped a picture because I rubbed that water in with my fingers all over the top until it looked like I had a kid's finger paint masterpiece in front of me. I clearly had too much paint so I grabbed part of an old pillowcase (lint free) and wiped off most of the metallic cream until I had a nice thin coat.
I waited for that to dry before adding a second, third, and finally a fourth thin coat so that none of the Bliss was peaking through. In this picture you might think those light streaks are the paint but they are really just shimmering streaks in the metallic cream.
As I mentioned Country Chic Paints recommends finishing your table tops with their product called Tough Coat for more durability. I didn't buy any Tough Coat when I ordered my free paint for this challenge so I'll be using some poly that I already have on hand.
After all the stress and the learning curves let me share with you how beautiful my project turned out. So you don't have to scroll up, here the before again.
And the beautiful after 🙂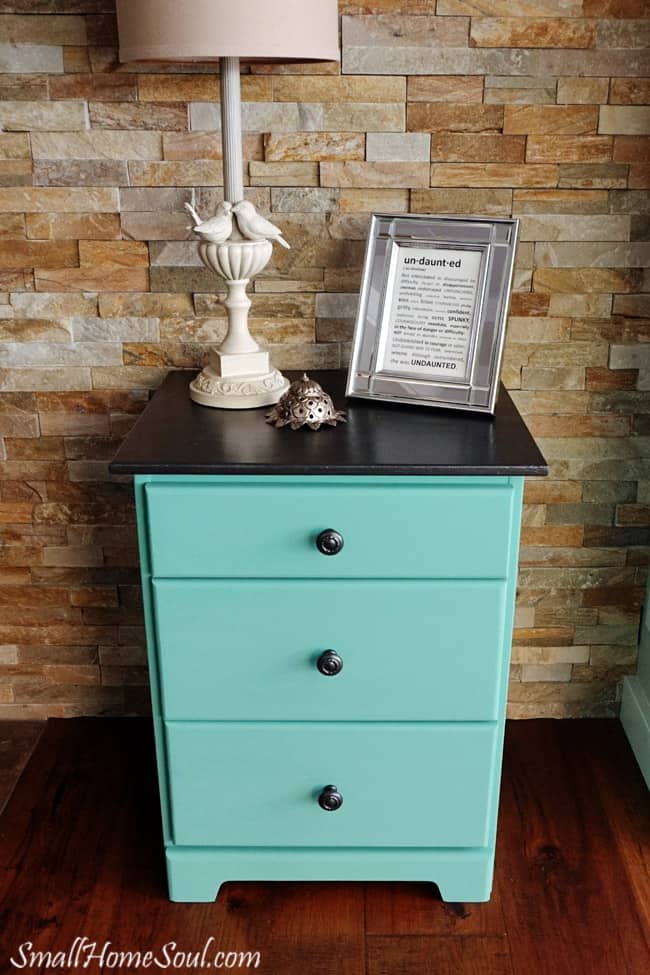 Can you see how the items on to the top of the nightstand are being reflected? That's no photography or lighting trick, that's the metallic properties in that yummy metallic cream. I can't wait to use that stuff on more projects!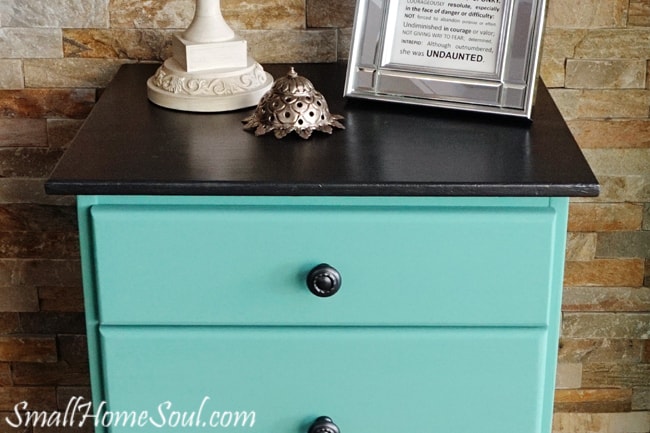 I said that I will always give you my honest opinion about a product that I'm reviewing and here it is. I am not sold on chalk paint. It dries too quickly and is very delicate. After the paint drying for two days I nearly washed off a small section when I was wiping at one spot that had a clump. That's great if you are distressing and then sealing with a poly but I'm not sure this is for me. I'll give it another try on a different project, and see what I think. This is just my personal opinion; other people I know love it.
But this metallic cream is a winner for sure!
You can see the inspiration pieces that the hosts for this challenge completed and shared with us as examples. You can find Carrie's piece at www.thirtyeighthstreet.com and Thea's piece at www.sweettearefinishing.com. If you are a blogger and you'd like to join in on a future challenge you can send an email to [email protected].
Thanks again for joining me in my blogging and DIY adventures. Please let me know in the comments if you've ever used Country Chic Paints or Metallic Creams (or a similar product), and what you like about them.
Until next time,
Toni