You can have a relaxing backyard retreat with simple and inexpensive DIY decor items and projects. You'll be relaxing in no time.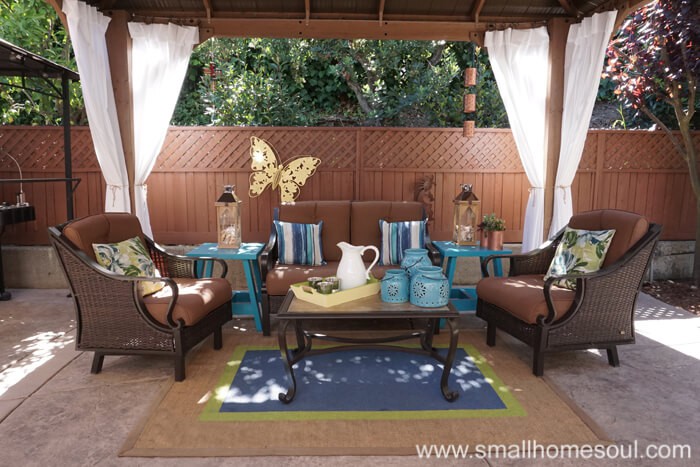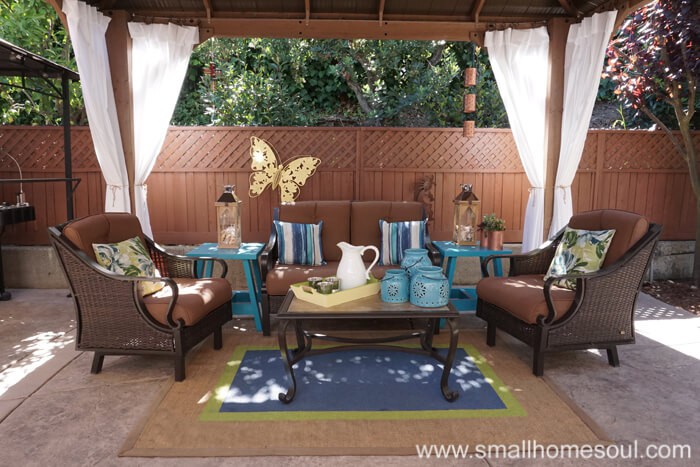 I don't know anyone who doesn't want a relaxing backyard retreat that they can escape to regularly. Or just from time to time when they need to be outside in the fresh air to gather their thoughts, read a book, or just watch the birds.
Enjoying your relaxing backyard retreat should reduce stress, not add to it. So I've joined with some blogger friends to share some great ways we've updated our patios and outdoor spaces for a Summer Outdoor Living Blog Hop. Look for the links to their posts at the bottom for even more inspiration.
Creating a Relaxing Backyard Retreat
Our backyard has had some drastic changes since we bought our home 20 years ago. We were fortunate a few years ago to replace the cracked and ugly patio with stamped concrete. But we couldn't afford much else so I made do with what we had. Last year I wrote a Patio Refresh series where I shared some great ways I updated our patio on the cheap.
This year I have even more updates to what I did last year and I'm excited to share them with you. You'll be amazed at what you can do with discounted items and homemade furniture. I hope you'll be inspired too when you see how easy it is to add updates that don't break your wallet.
You've already seen the overall picture above, now I'll take you around on a little tour. If I had it to do over again I'd pick a patio set with different colored cushions so they don't blend in with the fence. I have a few projects in mind to liven up the fence but haven't found the time to do them just yet. This tray on the coffee table started out as a gift basket tray and I gave it an easy makeover with paint and twine.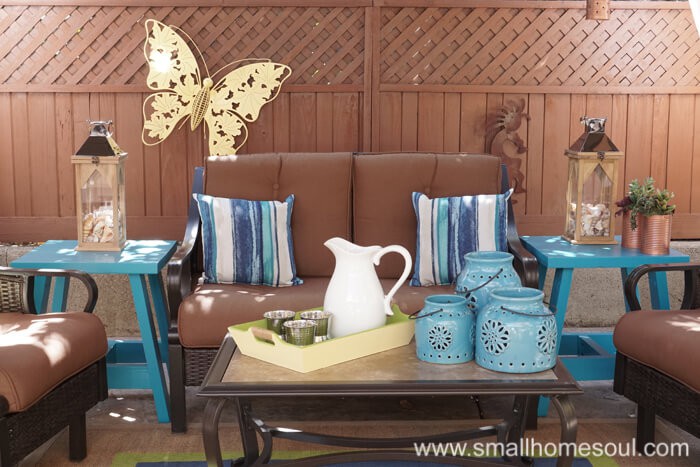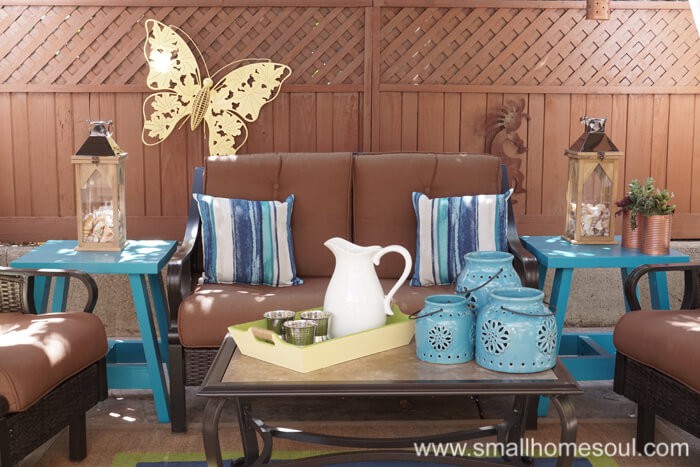 This post contains links to products, if you purchase something after clicking on my link I may earn
a small commission (at no extra cost to you).
The cute striped pillows I picked up at Walmart for $5 each, and the colors are perfect for my beachy relaxing backyard retreat.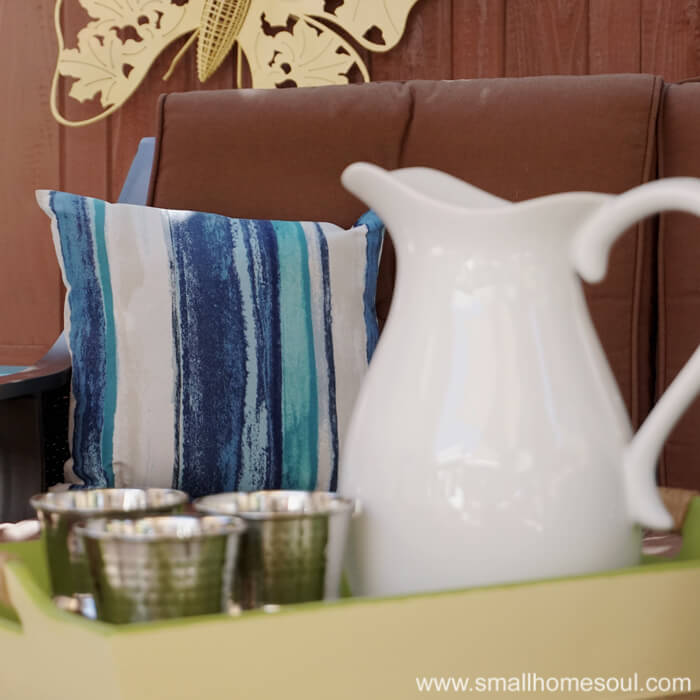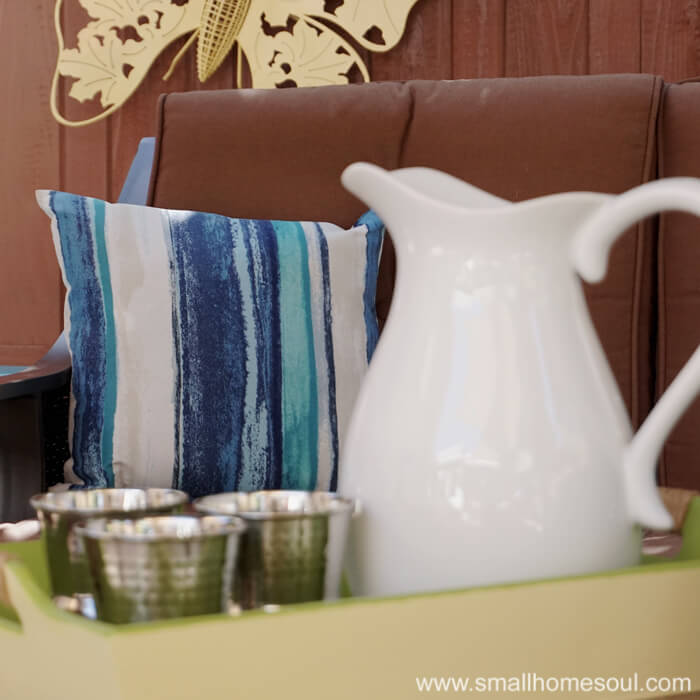 Every relaxing backyard retreat needs some tables for guests to set their beverages. I made these 2×4 Tables for the cost of three-ish 2×4 boards and some paint. They are super sturdy and just what we needed to replace some plastic ones we had, and upgrade a cane table we had. I used my Kreg Pocket Hole Jig and I love that they also have a super reasonable starter option.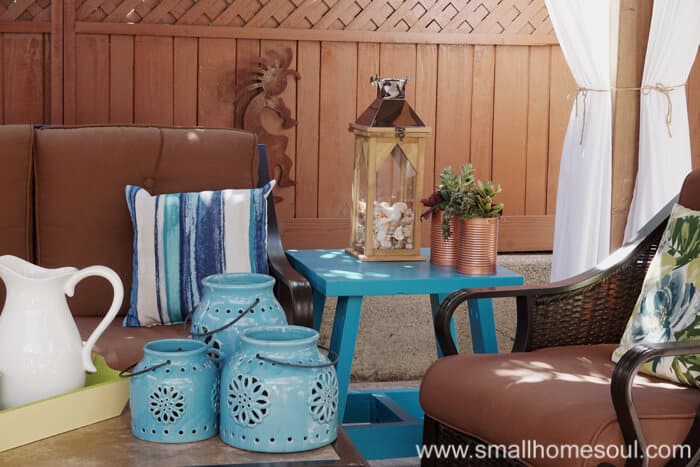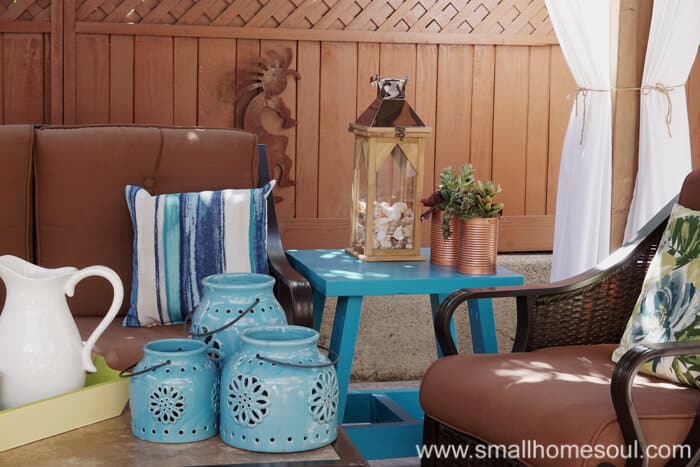 The lanterns on each table I bought with a gift card I got for my birthday. In the store they were marked down to $14.98 each. Good news…..they're still on clearance and you can get yours for the same cheap price from Pier 1's website. Since I already have night lighting covered I decided to fill mine with seashells instead of candles.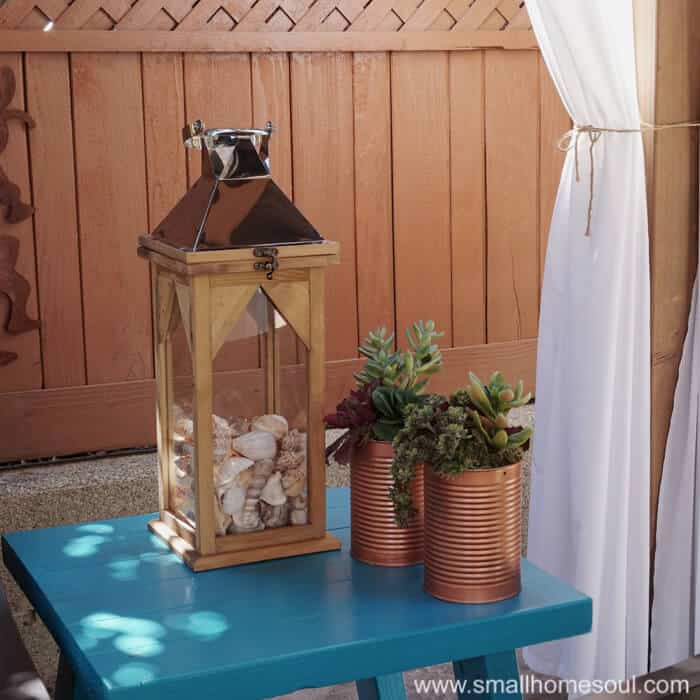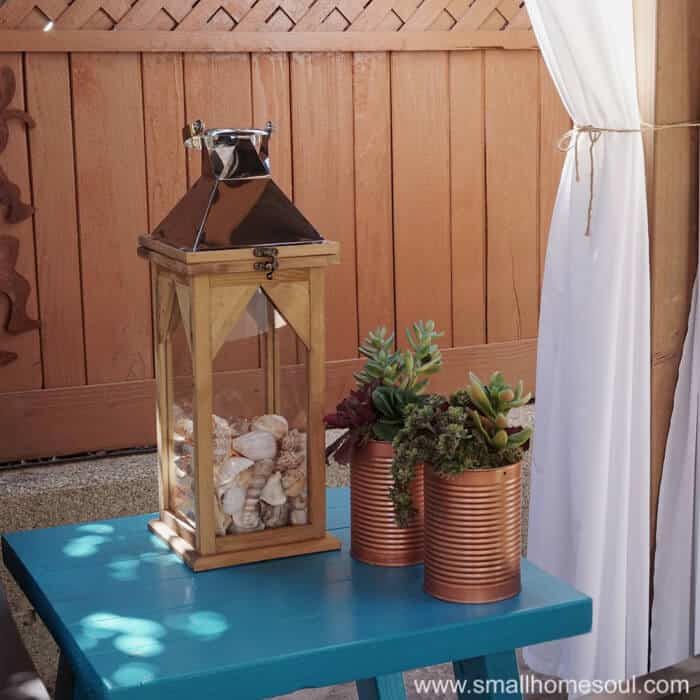 Right next to them you can see the Tin Can Planters I made earlier this year. Faux succulents keep them looking beautiful all year.
We got a new gazebo this year (I'll put a post together about building a gazebo from a kit soon) and I decided to do something a little different than the drop cloth curtains I hung last year. I still love drop cloth curtains but I scored some cheap white sheets at the Habitat for Humanity ReStore in our area.
They were selling twin flat sheets for $4 each and I bought 8 for $32. You normally can't find single sheets in the stores anymore so I found this budget-friendly flat sheet as a good option for you. I'll share a post soon on the method I used to hang them.
This is my favorite view from the patio. In the winter and spring our hillside is so green and pretty. I can sit out there for hours enjoying the view. Sometimes in the evening we spy a few deer getting ready to bed down for the night.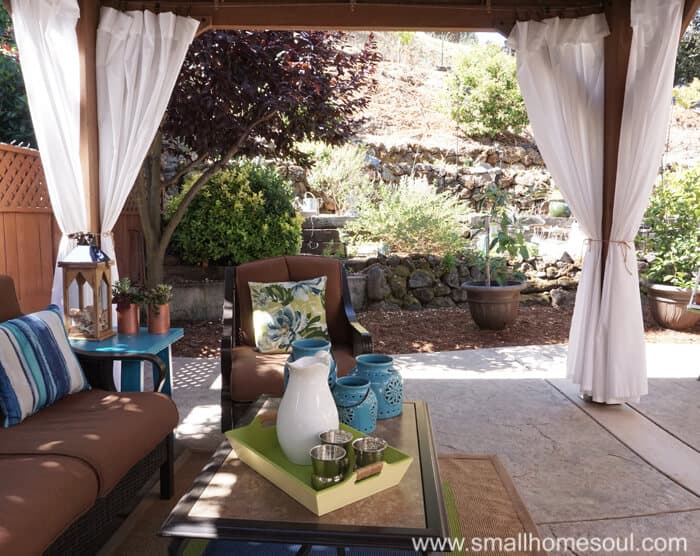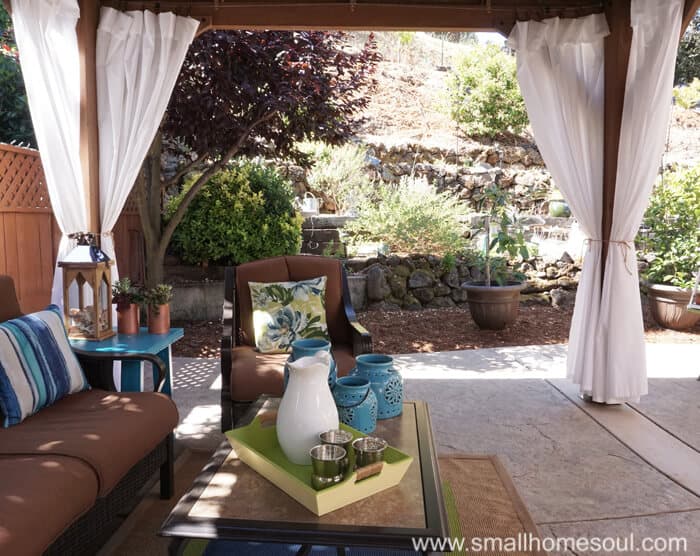 While I was at Pier 1 I also got this awesome seashell globe for $10. It's kind of like a snow globe and you can gently shake it around to cover and uncover the tiny seashells. I can't find it on their website but I found similar ones on Amazon. This will eventually end up inside by my favorite chair 🙂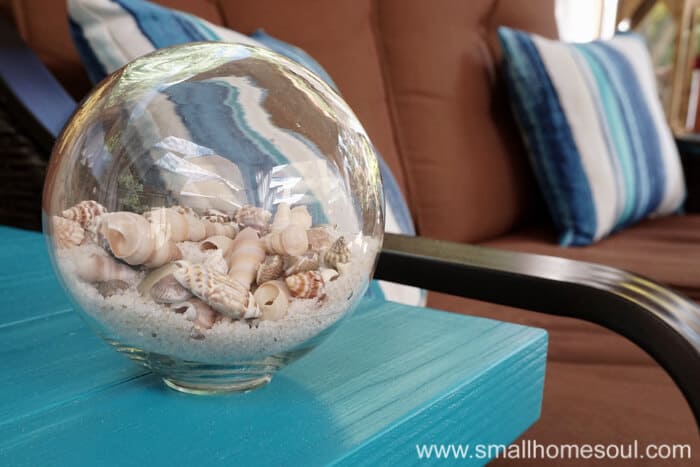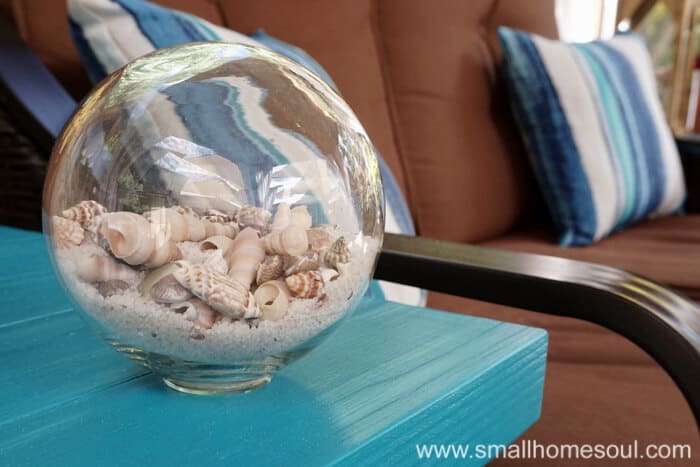 I love these blue crockery lanterns. They aren't new but I got them as a set at Sam's Club several years ago for $20. You just can't pass up a deal like that 🙂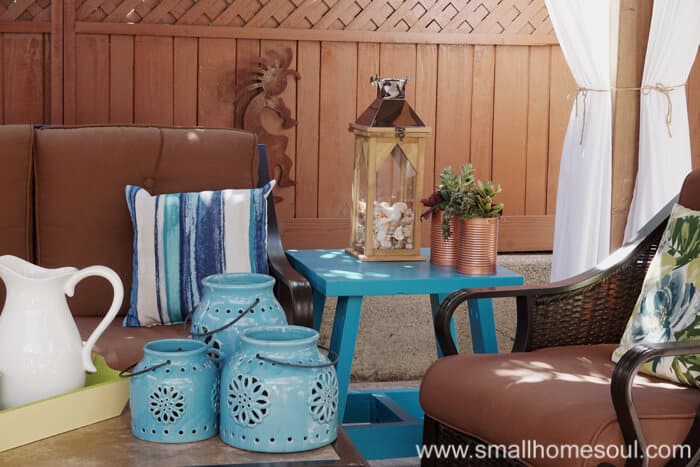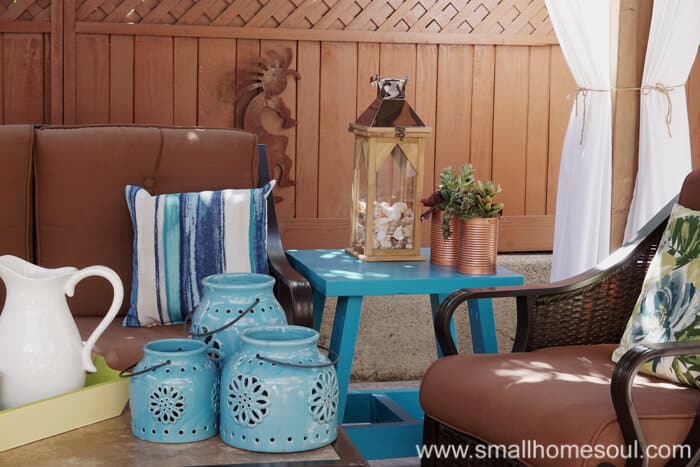 I decided to keep it simple and just use jute twine to hold back the curtains. When the sun is setting and it's peaking under the gazebo we just untie a few and they keep the sun out of our eyes. With the curtains down and a slight breeze it feels very coastal and romantic.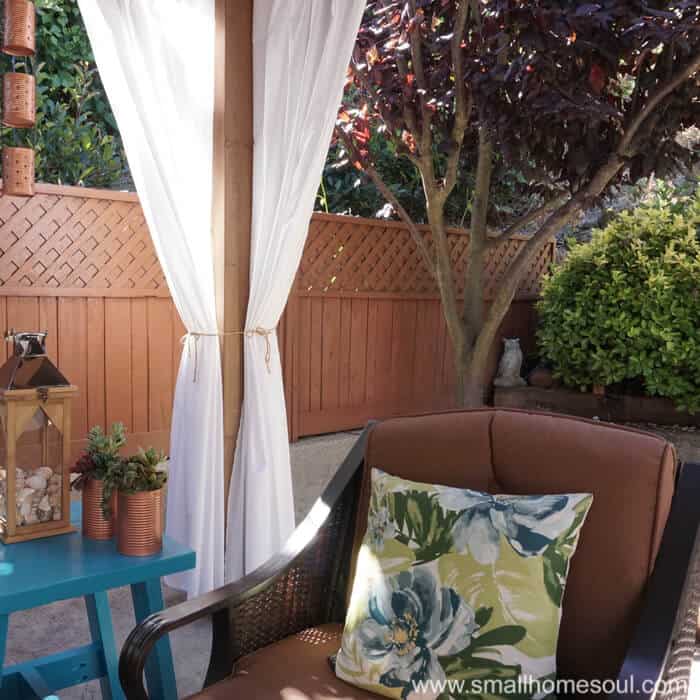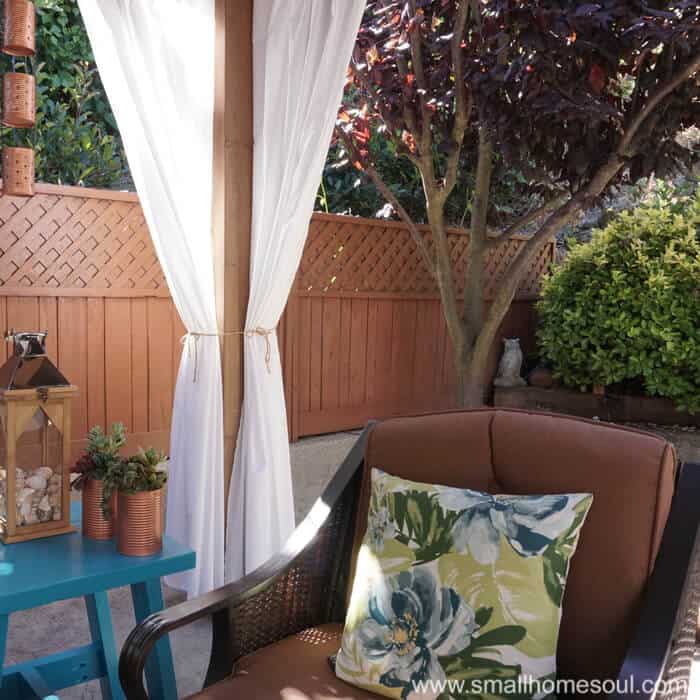 I just love the interesting mix of the patterns on the seashells.
The light shining through the sheets sort of makes them glow. The sheets are a cotton/poly blend and I chose white for no fading. We'll pull them down in the fall and put them away for next year. I plan to rotate them from time to time to limit the sun damage to the fabric.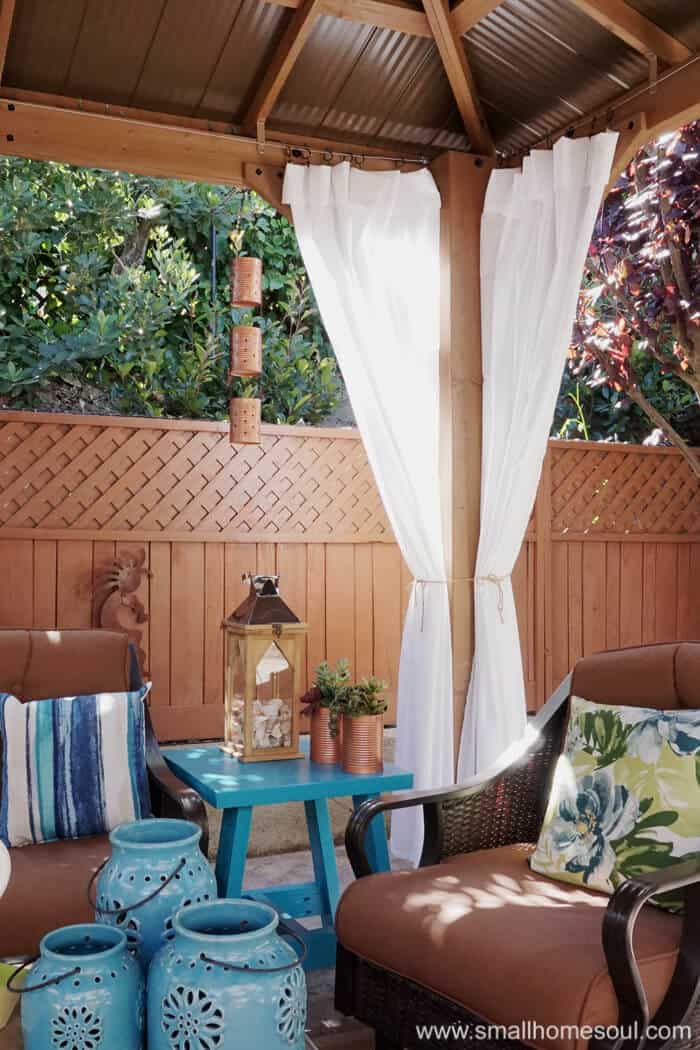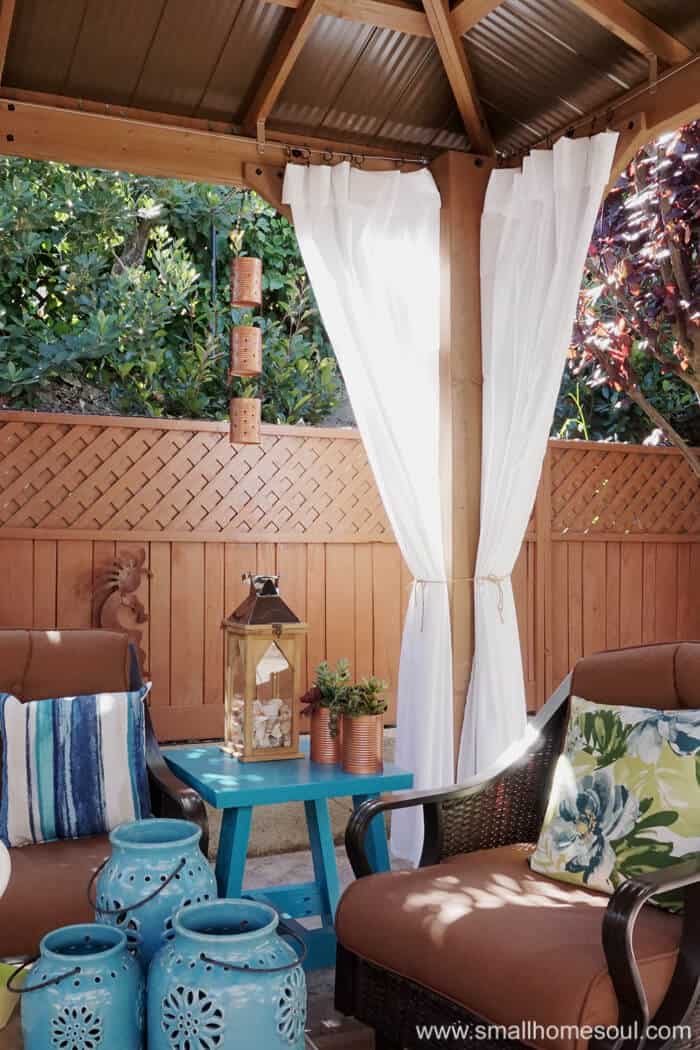 Are you ready to see what it looks like at night? You're going to love love love it 🙂
Backyard Retreat at Night
On our old gazebo we had lights and other things hanging from the top rail with zip ties (yes zip ties, oh so classy). We had to do some thinking to get lights up without resorting to our old zip tie ways 🙂 Luckily there was a channel at the top where we were able to thread plain old christmas lights around the top. I think you'll like it, the light reflects off the aluminum top and gives us even more light.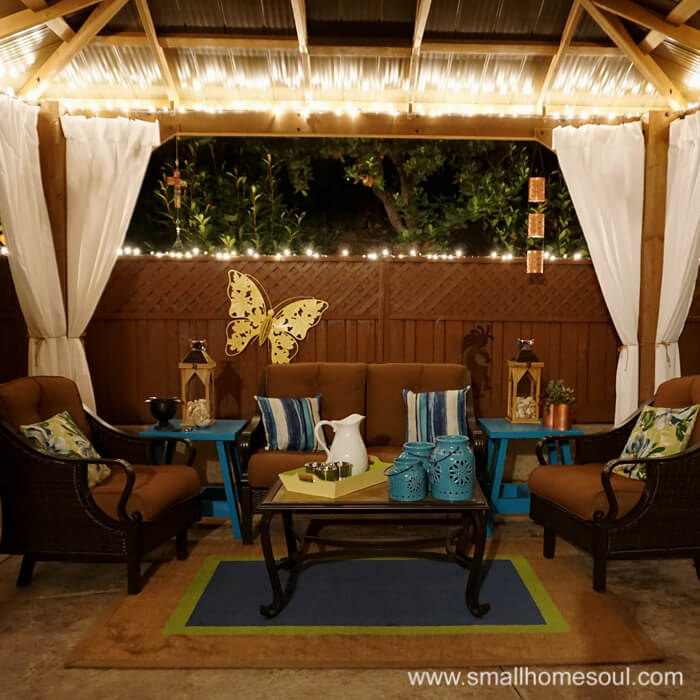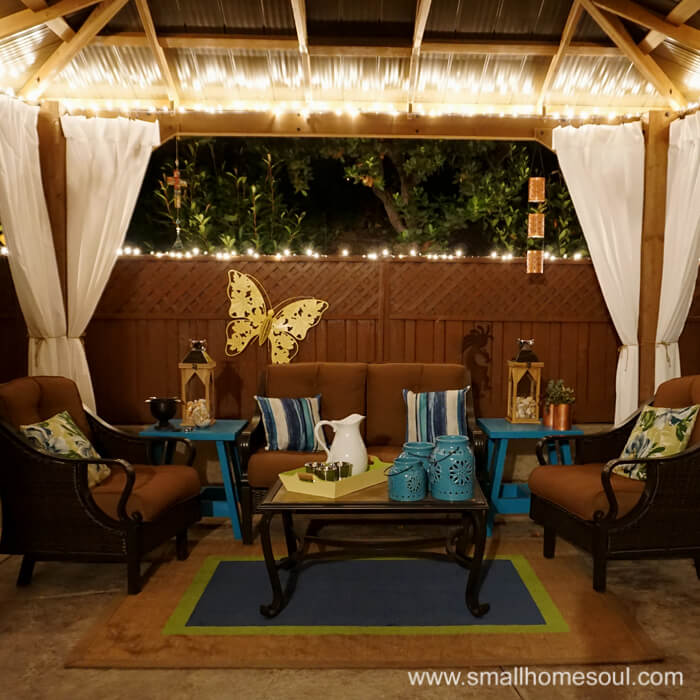 These are plain old green wire and we've hidden them nicely. When these go out I want to replace them with brown wire christmas lights like we used on the top of the fence so they'll blend in better.
Can you imagine yourself sitting out here on a warm summer night laughing and visiting with friends? I did that with my sister when she was visiting, we hung out under the lights until almost 2 a.m. 🙂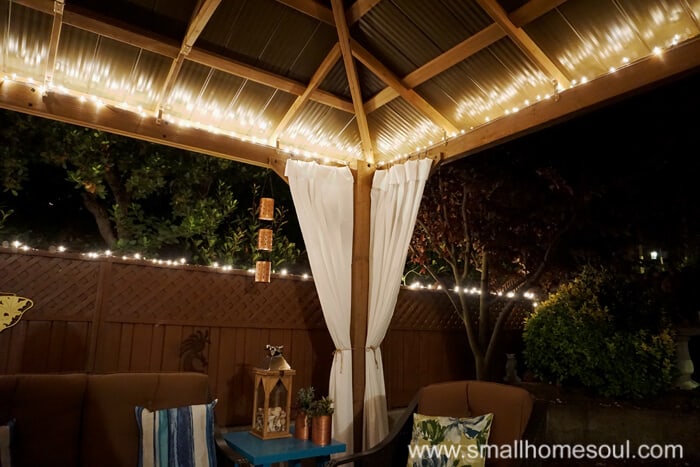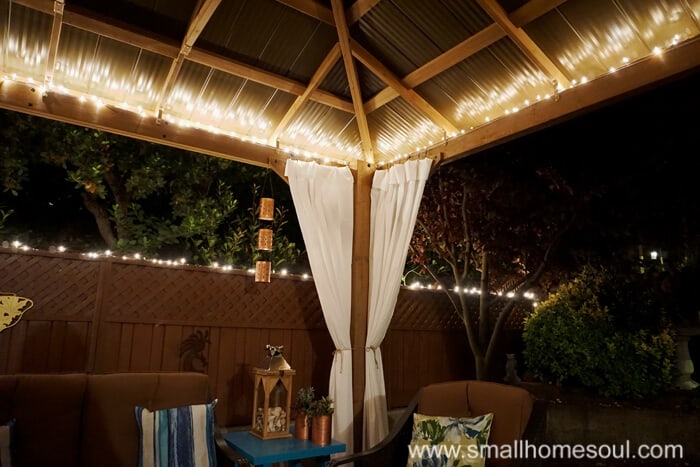 Here's one more look at the daytime view 🙂 Thanks for taking my little backyard retreat tour. I hope you were inspired with some ideas for creating your own relaxing backyard retreat.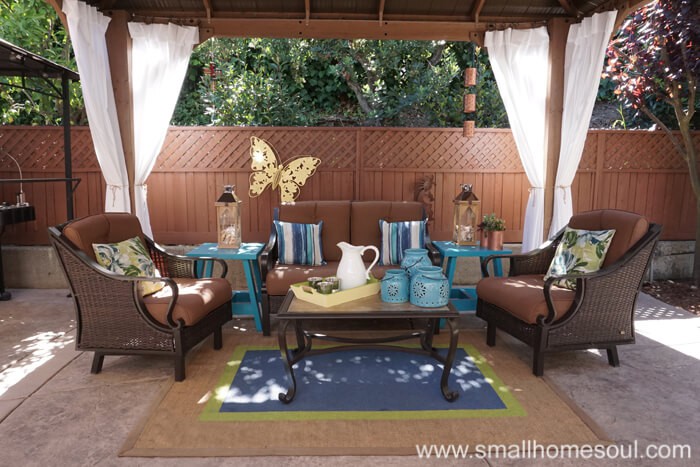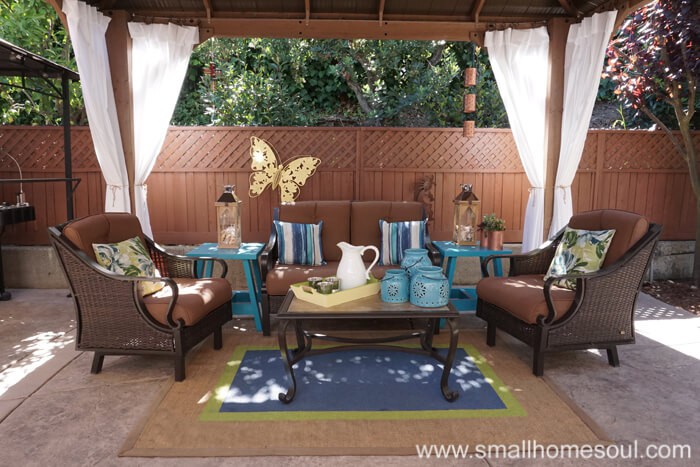 As promised here are links to my Blogger Friends' Relaxing Backyard Retreats so hop on over and see what awesomeness they're sharing today.
Summer Outdoor Living – a Blog Hop
Anika's DIY Life | French Ethereal | Shepherds and Chardonnay
Gratefully Vintage | Exquisitely Unremarkable | Faeries and Fauna
The Purple Hydrangea | Cobani Bleu | Old Things New
Raggedy Bits | Savvy Apron | Pearl Street Designs
Shop at Blu | Small Home Soul | Jordan's Easy Entertaining
Extraordinary Day | Steeplechase Manor
Thanks for stopping by, I'd love to hear how you've created your own relaxing backyard retreat. Leave a comment or connect with me online using the links in my sidebar. If you aren't yet subscribed to my newsletter scroll down a bit more and sign up. That way you'll never miss a new post.
Until next time,
Toni