Anyone ever tell you power tools aren't for girls?  I sure hope not; but, if so let's prove them wrong 😉 I'll show you how to make your own 2×4 Outdoor Table.  This project uses simple and inexpensive building materials to give you stylish furniture for your home or patio on a small budget.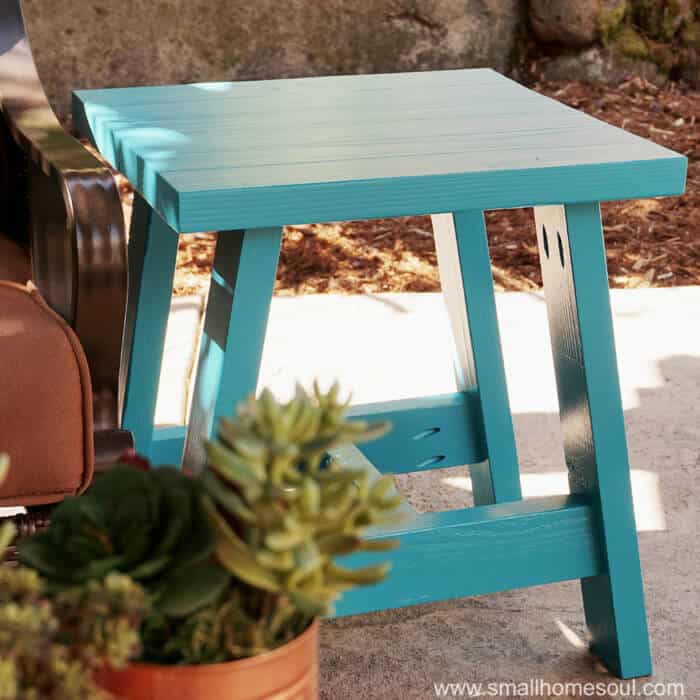 Have you priced out patio furniture lately? It's kind of ridiculous the prices they want for something you only use a portion of the year? Am I right? That's why I decided to build my own 2×4 outdoor table and save a bundle in the process.  I've been wanting to try my hand at building a piece of furniture by myself for quite a while.  So when a blogger I've been following for years (yes bloggers follow other bloggers 🙂 ) posted in a group that she was doing a 2×4 challenge, #2x4andMore to be exact, I was in!  Nothing like accepting a challenge to get you moving.
There are 14 bloggers participating in this challenge so make sure you get all the way to the end of the post so you can check out their awesome projects too!
The rules were simple, at least 85% of what you build has to come from structural lumber like 2×4, 2×6, 4×4, etc.  I used an awesome app to design my table that lets you set dimensions.  That's how I knew my table would fit together perfectly.  I knew exactly what I was going to build because I was inspired by my friend Janice from Sawdust Sister's barstool design, so I modified it a bit to make it into a table.  All the other patio tables you see on Pinterest are too boxy for what I wanted.
Now let me show you how I built my table.  I've gone the extra steps to create a set of building plans for you.  You will find a link to my free 2×4 Outdoor Table building plans linked up at the bottom of the post.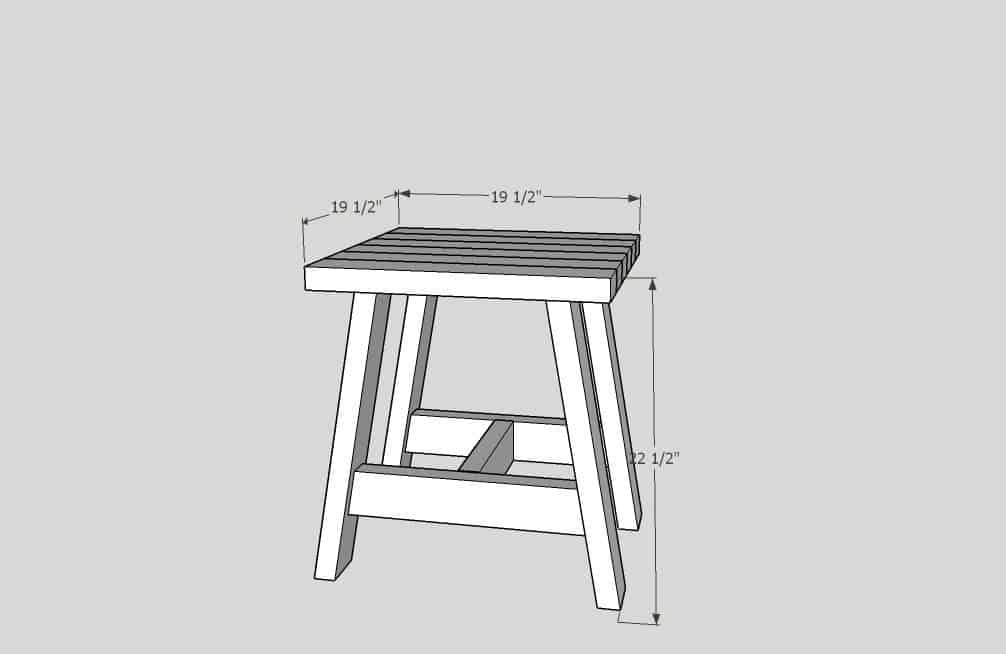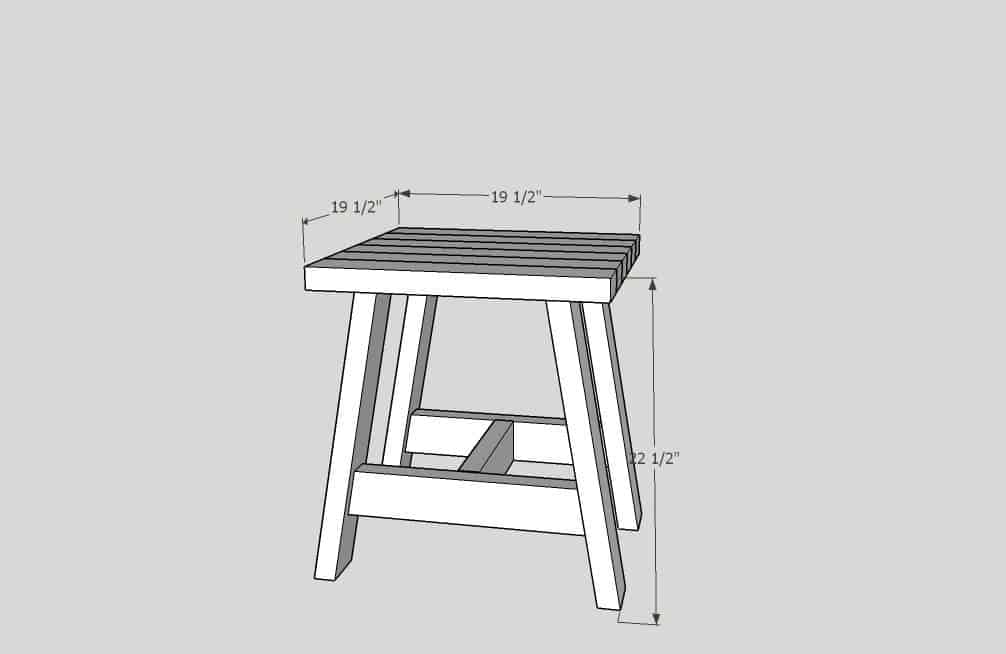 This post contains affiliate links for your convenience.  If you purchase an item after clicking on one of my links I make a small a commission which costs you nothing.  You can read my full disclosure here.
Building Supplies for a 2×4 Outdoor Table
You'll need three (3) 8' 2×4 boards (they're actually 1.5" x 3.5")

I recommend Kiln Dried so they won't shrink or warp as they dry.
Purchase four (4) 2x4s to ensure you have enough. Even the pros make a bad cut now and then.
Select the straightest boards they have with no twists or warping as this will affect the outcome of your table.

Table Saw (if trimming your 2x4s – of not see my notes below)
3 Dozen 2-1/2" Soft Wood Exterior Pocket Hole Screws
24″ Clamps (optional but recommended)
Wood Glue for each joint
Palm Sander and Wood Filler are optional
2×4 Table Cut List:
Cut six (6) 2×4 boards to 19.5" – these will form the Top Slats of the table*
Cut four (4) 2×4 boards to 21" long for the Legs. Each leg will have a 10 degree Bevel cut at the top and the bottom of each leg. **
Cut two (2) 2×4 boards to 16-3/4" at the widest point for the Cross Leg Supports. Each support will have a 10 degree Miter cut on either end angling toward the center. **
Cut one (1) 2×4 board to 11-1/2" for the Center Support. This board has a standard 90 degree cut.
* For my table I trimmed 1/8" off each short side of the 2×4's for a more squared look.  This is not necessary.  If you choose not to trim your 2x4s increase the length of the six (6) top boards to 21" to ensure your table top is square.
** This website will better describe the Miter versus the Bevel – https://mitersawhub.com/miter-cut-vs-bevel-cut/
Cut all your boards to the measurements above.  Pay close attention to the bevel and mitre cuts as noted.   The detailed plans offered below go into more detail for assembly.
When cutting the Cross Leg Supports make sure the top is narrower than the bottom.  Measure twice, cut once.  Sometimes I really have to think about it before I make my cut to ensure the angle is correct.  I hate wasting wood.
To cut the bevels for the legs I actually used the miter angle I'd already set by standing the 2×4 on end.  This is a cheater way if you don't have a compounding miter saw that can make a bevel cut.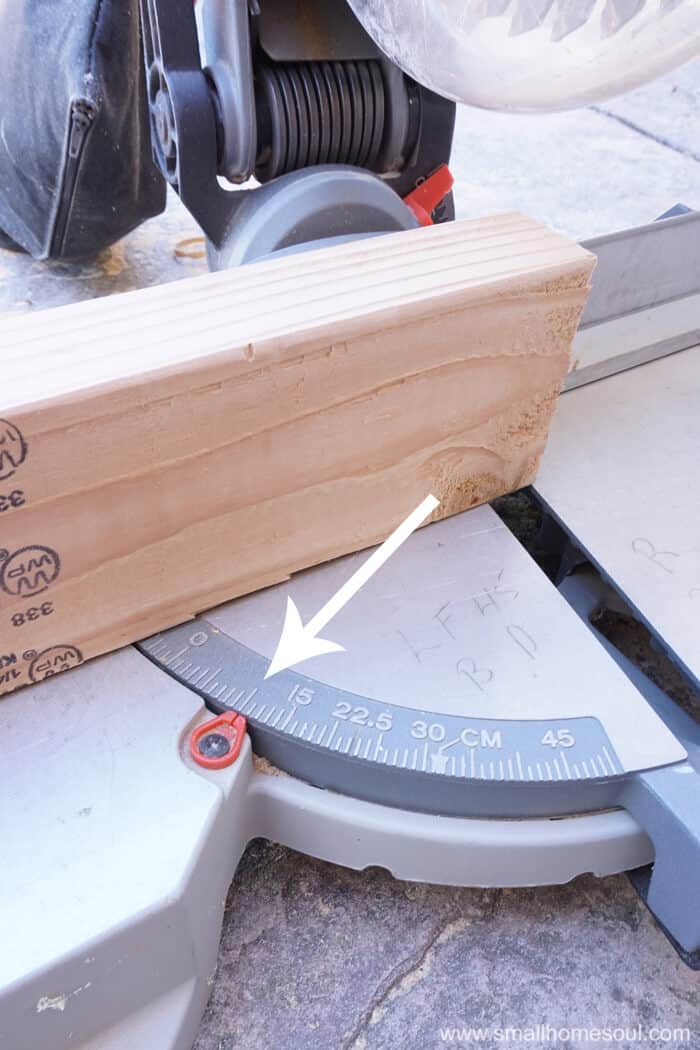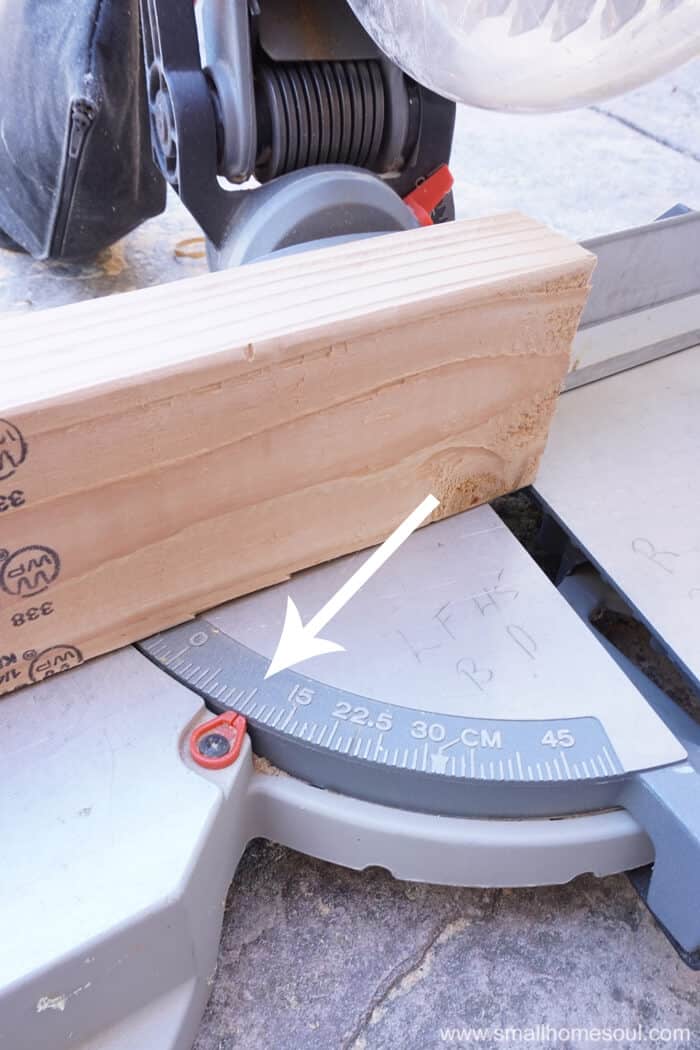 Here is what all your parts will look like when you're finished cutting.  I loosely put them together how they'll be assembled.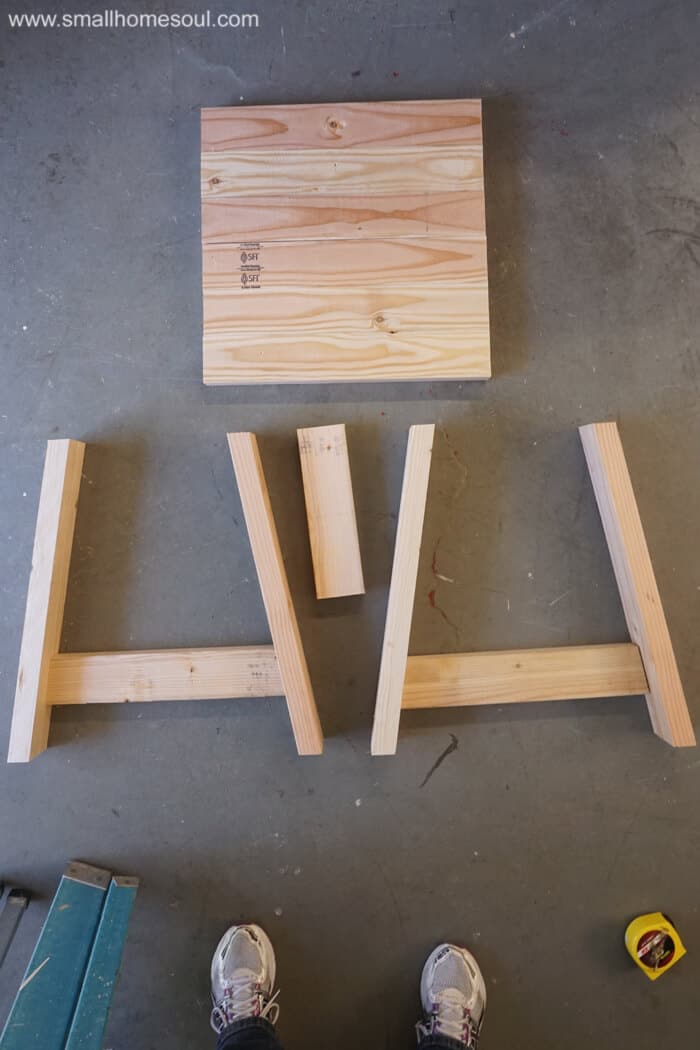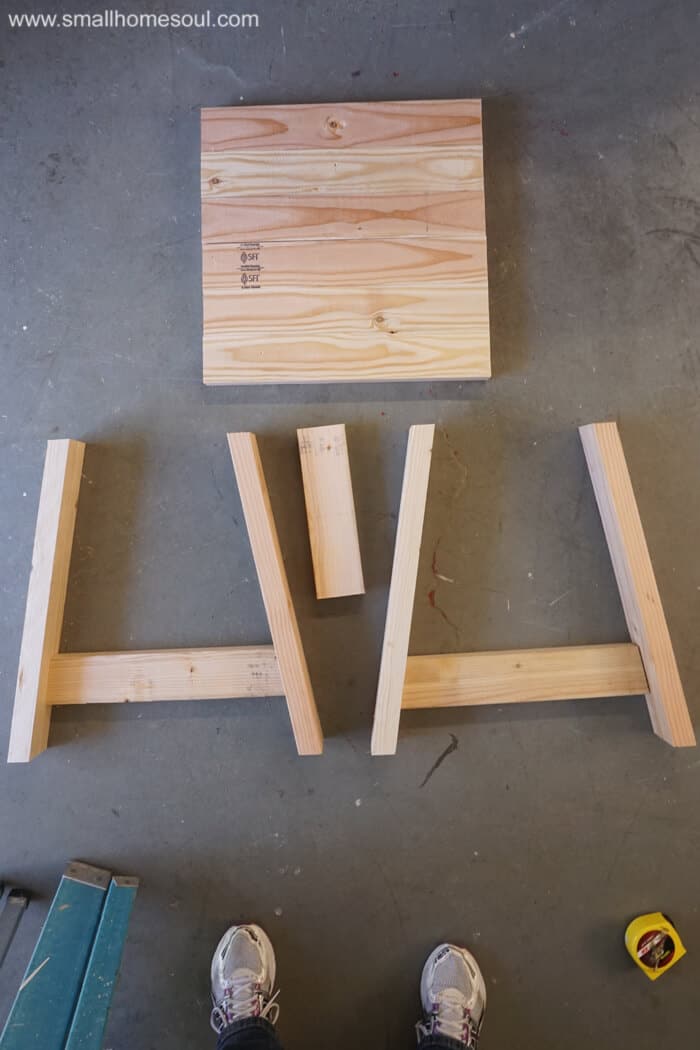 Now it's time to make the pocket holes.  Play around with a few scrap pieces to get the feel for it.  If you've never used a Kreg Jig to make pocket holes I suggest you bookmark my friend Anika's recent article and video "How to Use a Kreg Pocket Hole Jig."  I wish I'd seen this before I started because there is a small learning curve but once you've done it a few times it's awesome!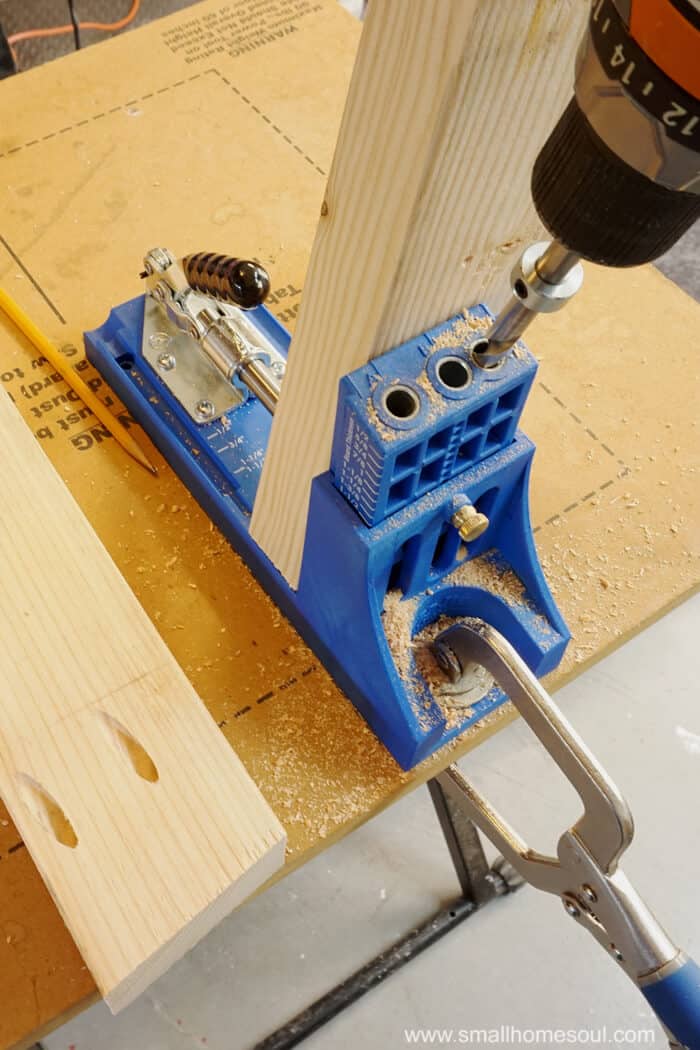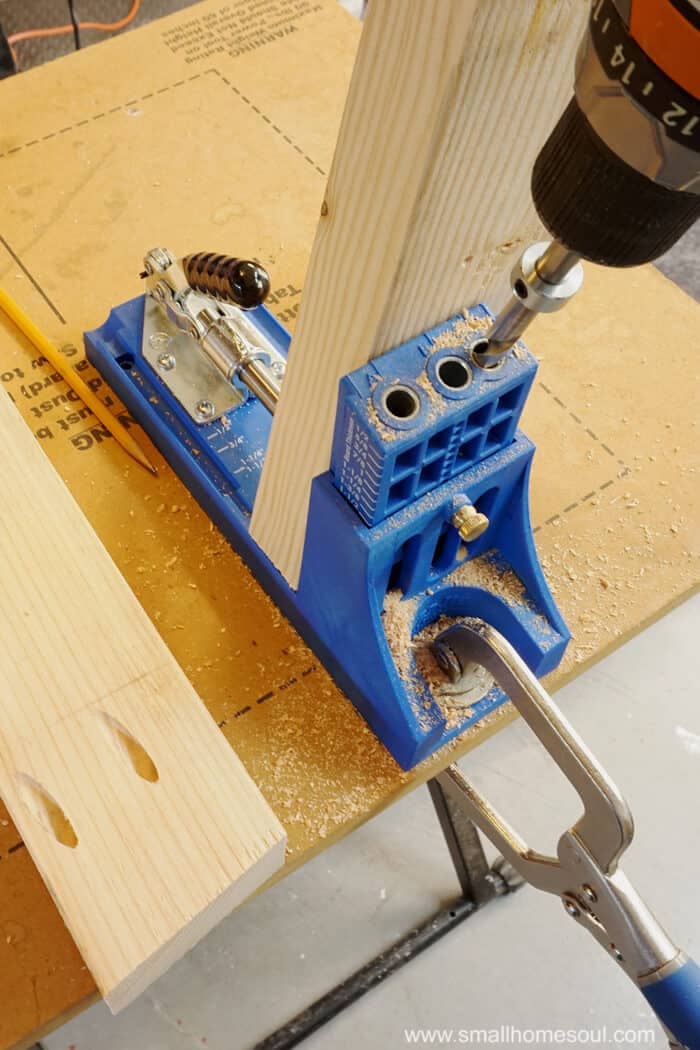 When you're done drilling all the pocket holes in the proper places according to the building plans, I suggest pre-screwing the pocket hole screws part way into the pocket holes.  This will make the assembly go a bit quicker.  Make sure the screw doesn't extend out of the board.
To determine the proper spacing of pocket hole screws for the top boards I researched on the Kreg website.  I wanted enough for good connection and support, but I needed to make sure the pocket holes connecting the top slats wouldn't be in the way when I was ready to assemble the base.  Phew, I was in the clear 🙂  This is covered in the Building Plans but only 5 of the top slats will get pocket holes, they aren't needed for the 6th board.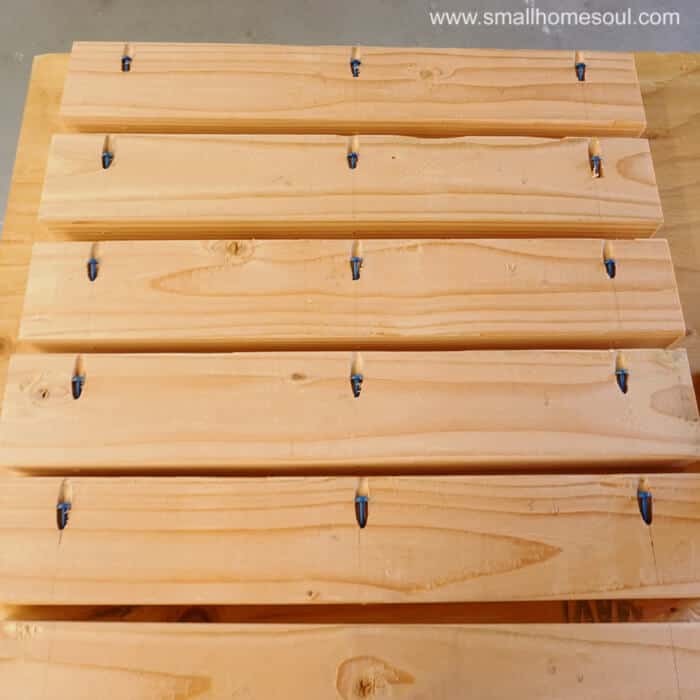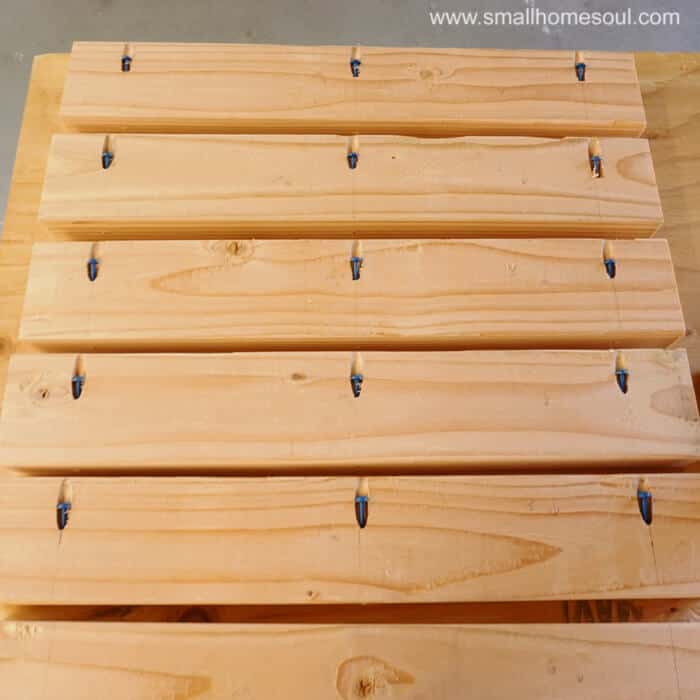 We're ready to assemble our 2×4 table
We'll start with the table top.  Lay your boards on a flat work surface and use clamps to hold your boards together.  I don't have any clamps long enough to hold all six boards so I worked on the few that I could and then used a face clamp on the individual boards as I worked on each pocket hole screw.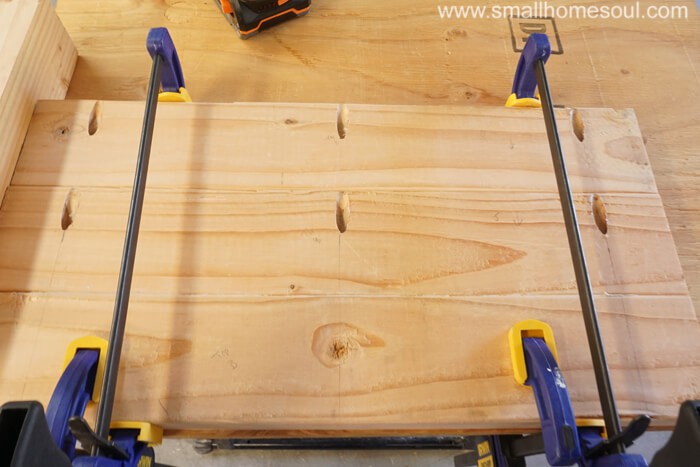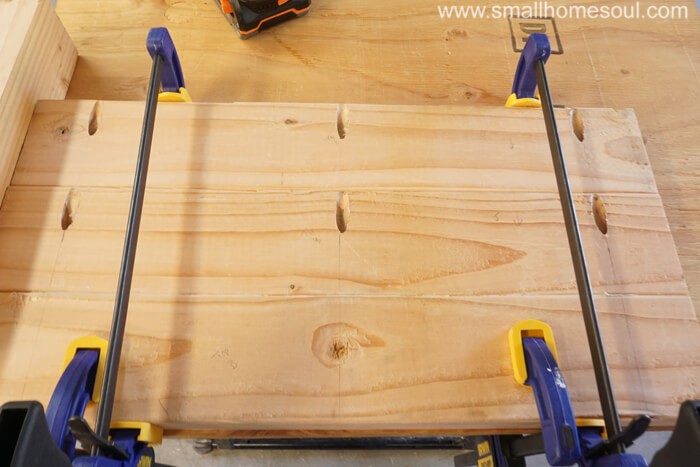 I cover this more in the Building Plans, but I will purchase some larger bar clamps before my next project.  Shhh don't tell my hubby, he kept telling me to go buy some but I wanted to build the table with what we already had.  I was successful, but bar clamps would have made it easier.
Time to assemble the first set of legs.  Grab two of the legs you cut at 10 degree bevels and one of the mitered cross leg supports.  Measure up each leg from the bottom and make a mark at 4-3/4″.  The bottom of the cross leg support will sit on that line and will be centered on the leg.
This is where I wish I had one of the Kreg Jig right-angle clamps.  I was working by myself and while I made it work, that clamp would have saved so much time and ensure my joint was as perfect as I wanted it to be.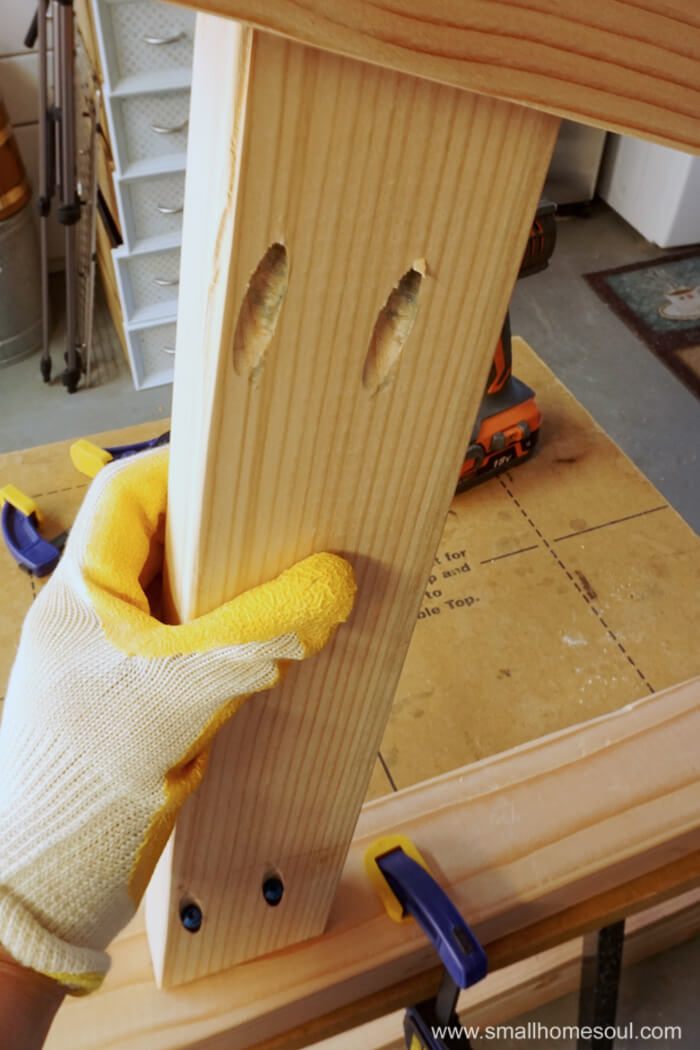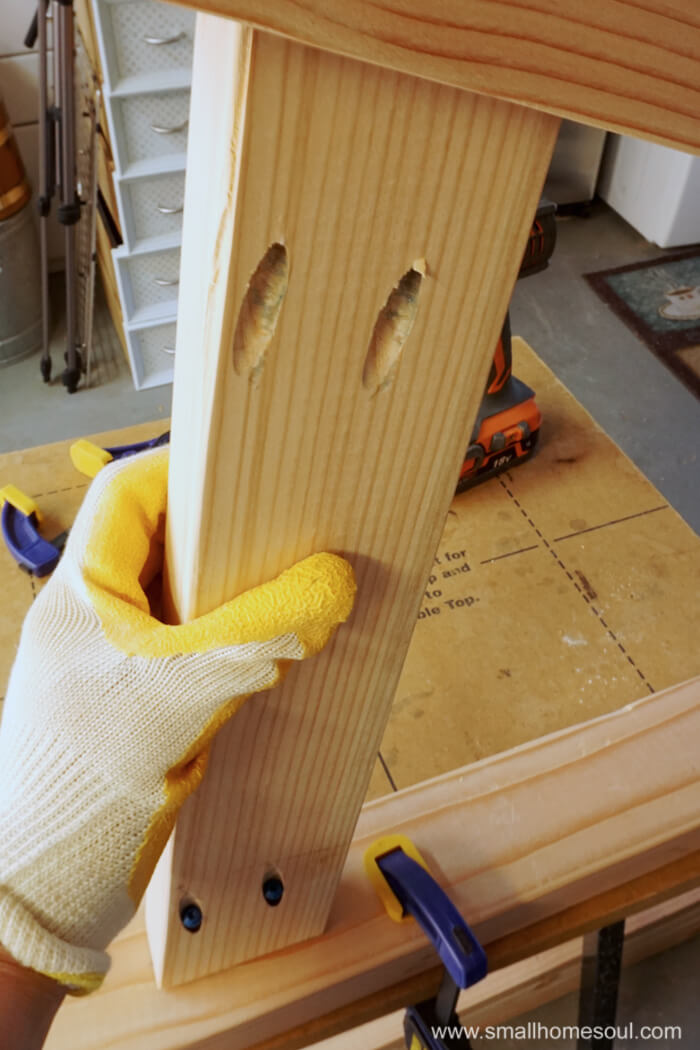 Don't you love the yellow garden glove, that grippy texture helped me hold on tightly to the 2×4.
After you have both front and back legs assembled it's time to attach the Center Support.  Again, that right-angle clamp would have been a life-saver, but I got it done using regular clamps.  Oh, did I mention I made a video?  It's also linked below, you can see better how I connected the Center Support in the video 🙂  Don't worry, it's only 3 minutes long.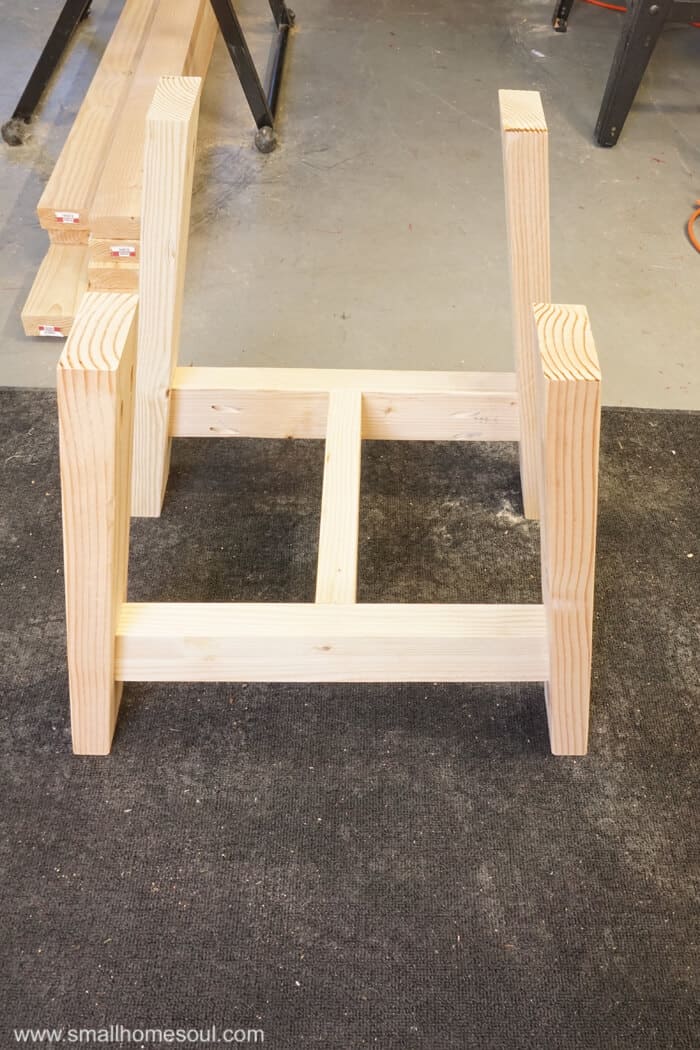 Once the base of your table is assembled it's time to attach it to the top.  You'll need to make a few marks on the underside of the the table top so the overhang is even all around.  Turn the top upside down on your work surface with the slats running horizontally.  On the front and back near the edge make a line near the corners at 1-5/8" then mark a line at 2-3/4" on the sides.  Your legs will line up where the two lines meet.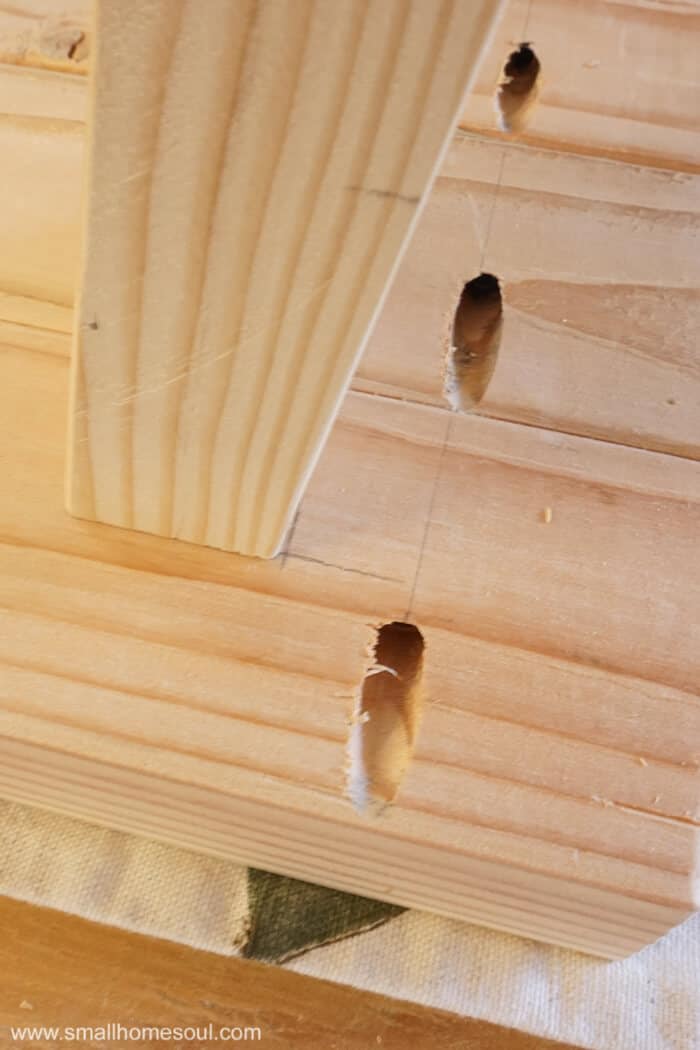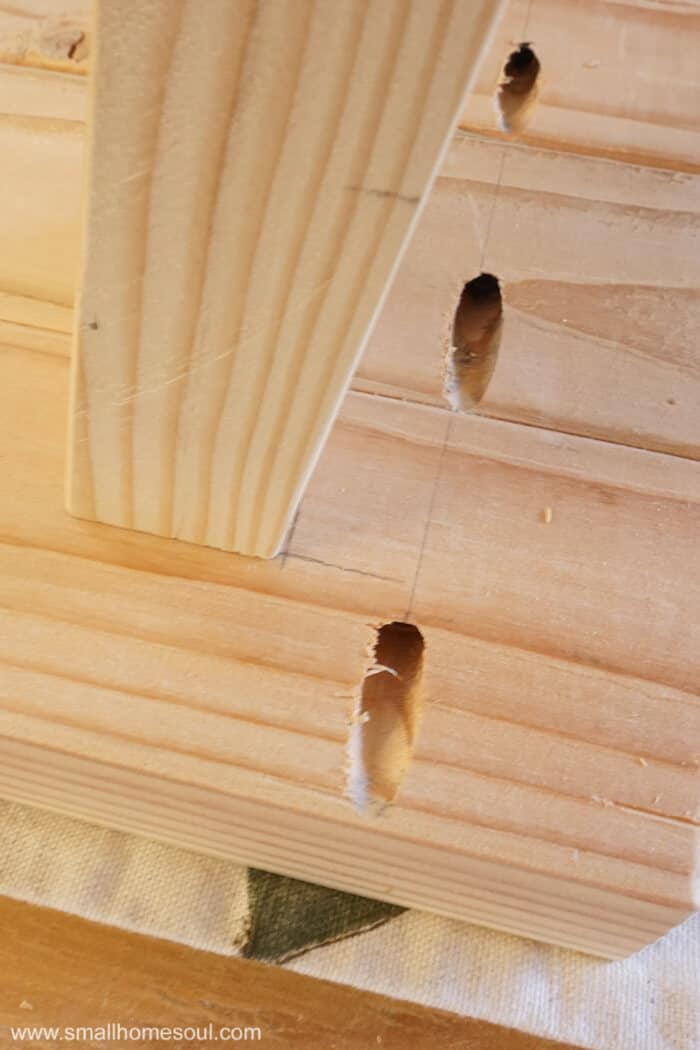 Attach each leg to the table top and your table is done 🙂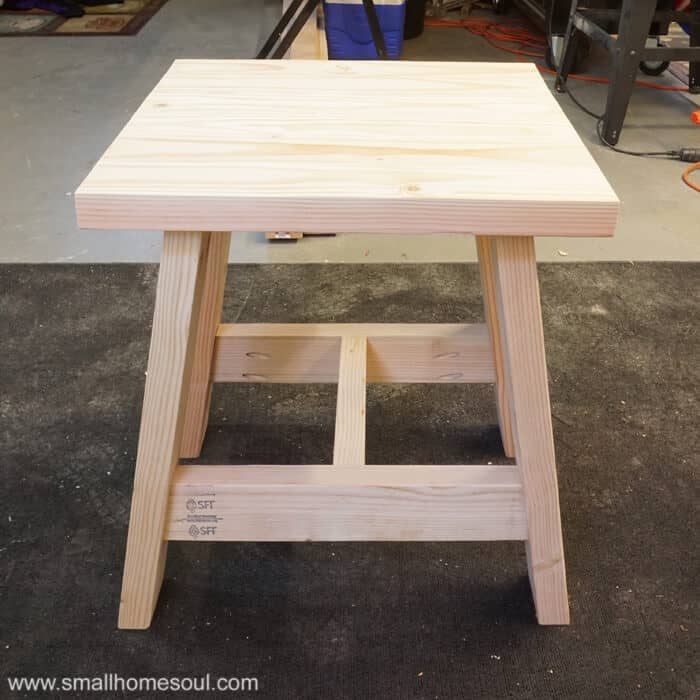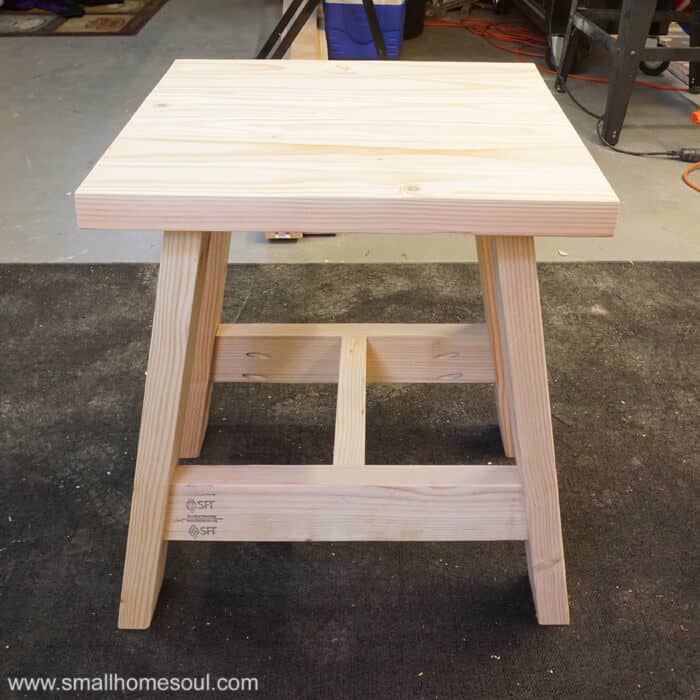 I decided to paint mine a fun color for my patio.  Last Summer I did a Patio Refresh Series but it still isn't quite bright enough with all the brown wood from the fence and our rust-colored cushions.  So I put it to a vote on Instagram and on Facebook and Teal won.  I walked into the hardware store and seriously chose the first paint chip I picked up.  Hawaiian Teal, how could that be bad?
So let's see how much these tables cost.  Did you know I made two tables?  Yes, and I'm so glad I did.  I bought kiln dried 2x4s for my 2×4 Outdoor Tables that cost about $3.29 each.  Even if you bought four boards that's still less than $15 for a table.  Of course this is assuming that you already have the other tools and materials, which I did.  Even with the cost of paint that's still about $20 per table.  That's way better than any wood table you can buy new online or in a store.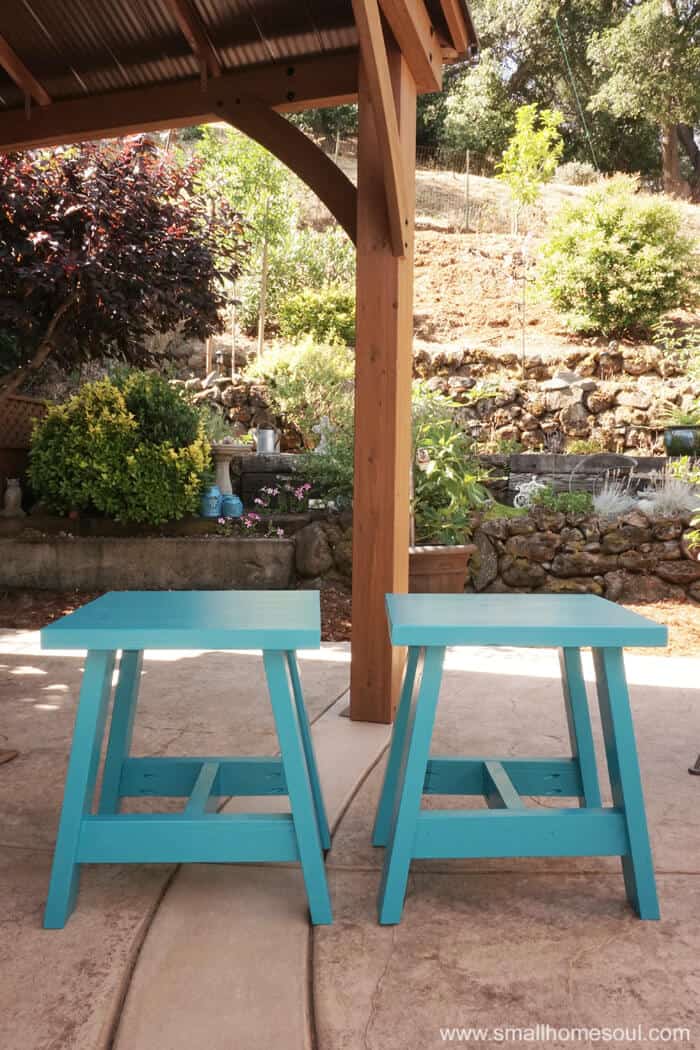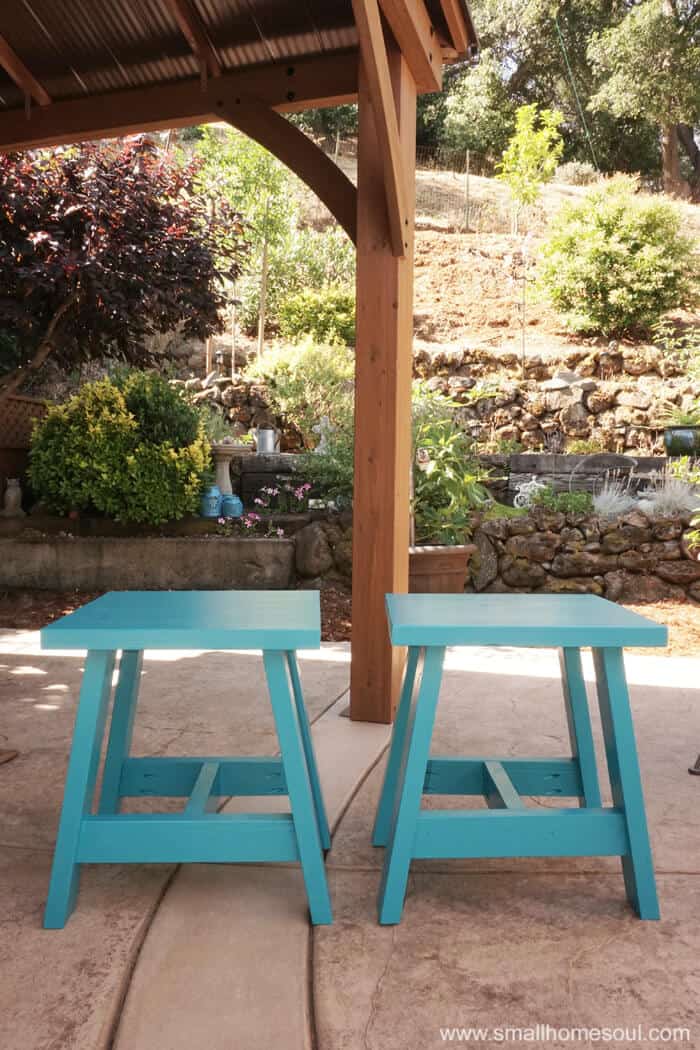 If I was building one, I might as well build two 🙂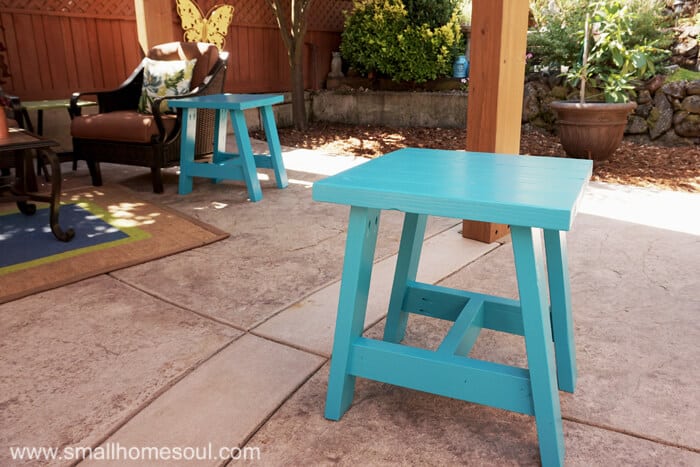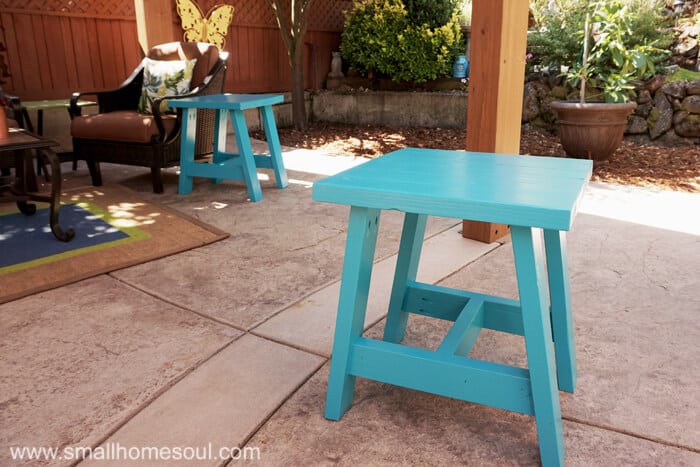 Ready to hold a refreshing beverage while I enjoy the view.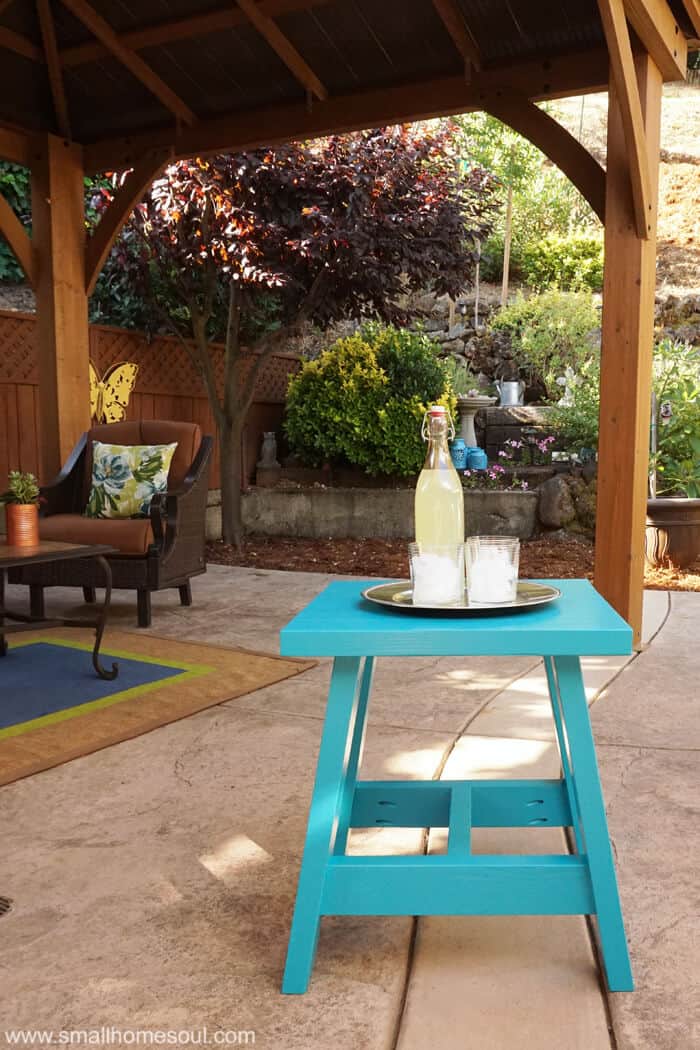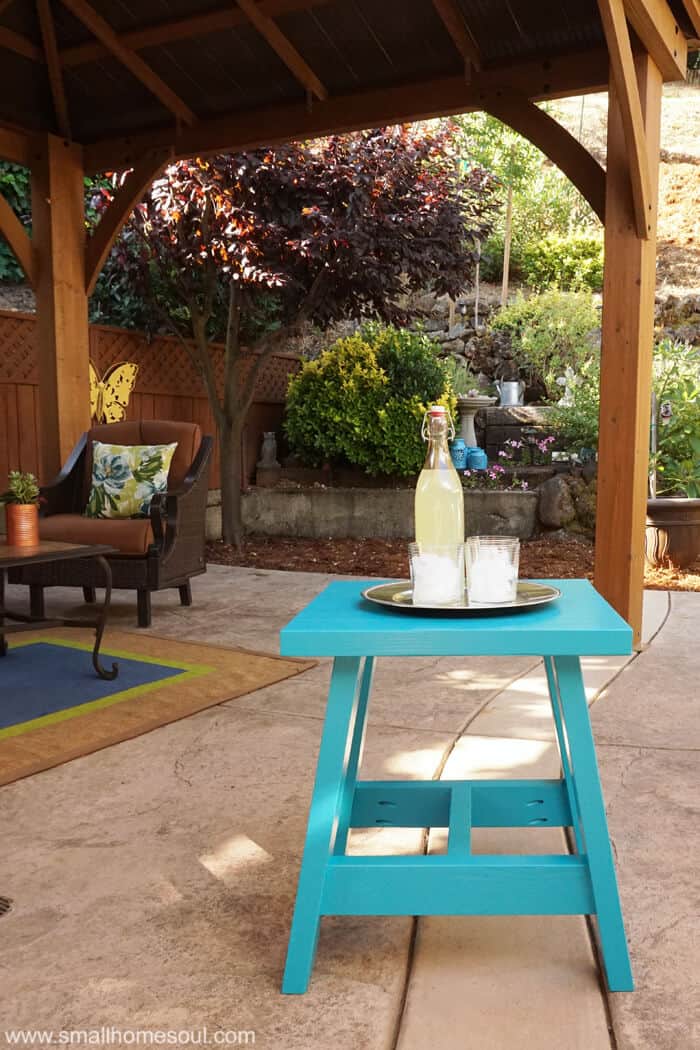 I hope you love these tables as much as I do.  The are stylish and sturdy, and in a pinch they can even be used as extra seating.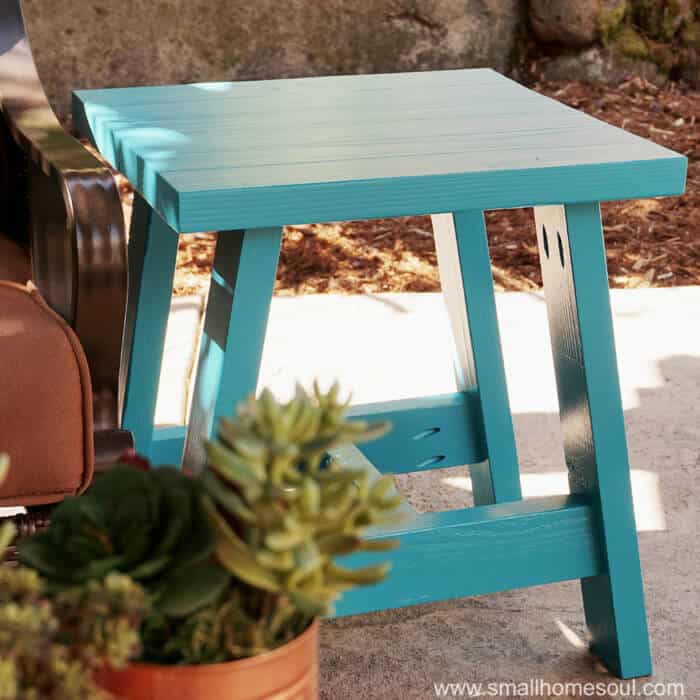 I am beyond thrilled with my new 2×4 tables, my patio is already brighter and more cheery already.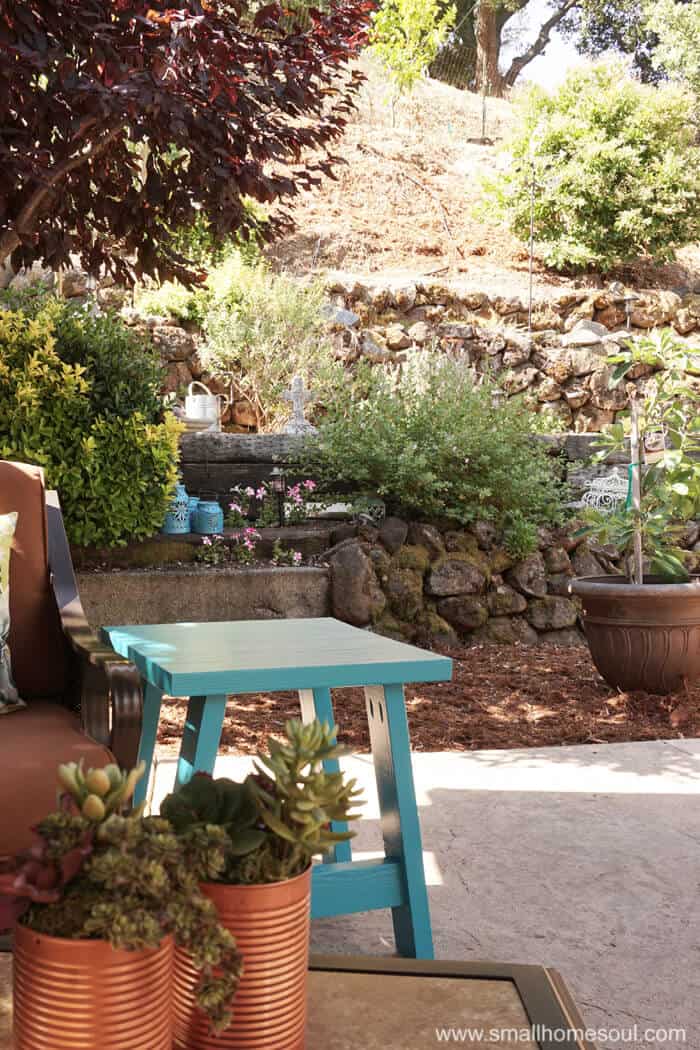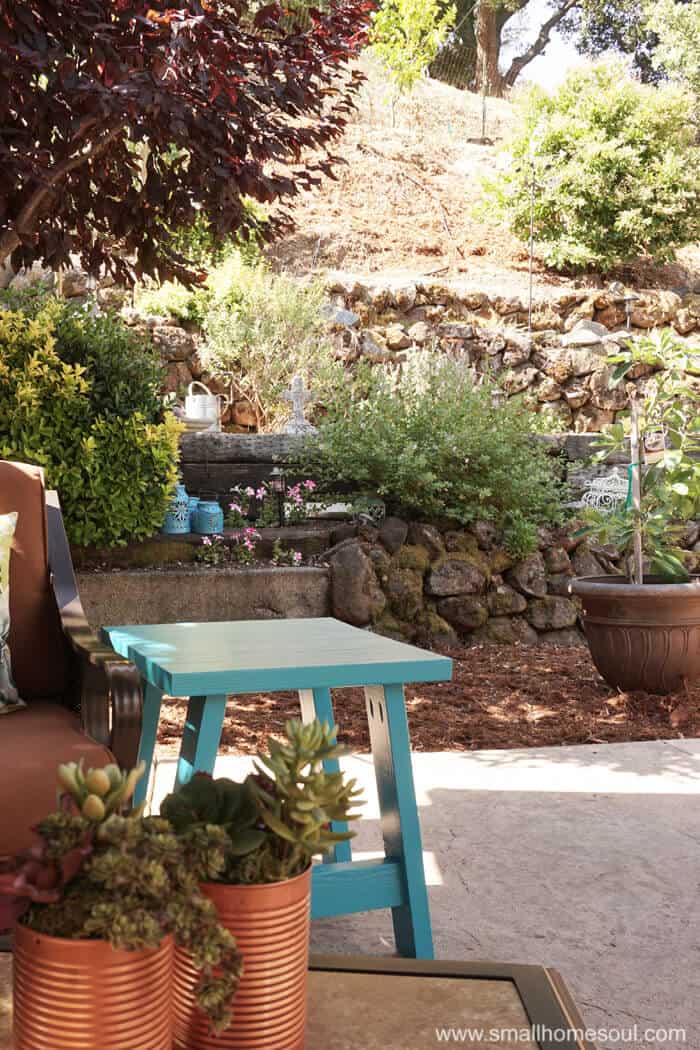 Thanks for sticking with me on this very long post.  As promised here's the link to request building plans for my 2×4 Outdoor Table.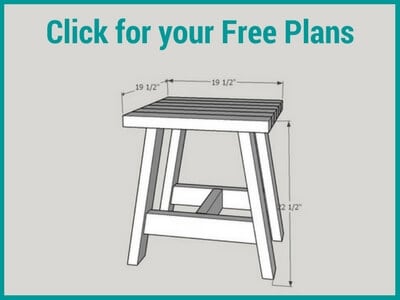 I was inspired to build my 2×4 Outdoor Table as part of the Remodelaholic #2x4andMore challenge.  For a full week of structural lumber projects be sure to visit Remodelaholic.  And also please make sure you check out all the projects in this challenge by visiting these talented bloggers below.
garden arbor | Remodelaholic
15 minute coffee table | The Ugly Duckling House
tiered corner plant stand | Charleston Crafted
single-board rolling bar cart | Woodshop Diaries
outdoor bench w/rope detail | At Charlotte's House
wall planter and herb garden | Making Joy and Pretty Things
upholstered x-base bench | Frazzled Joy
jumbo tic tac toe | Ginger Snap Crafts
porch bench | Everyday Party Magazine
console table | Hertoolbelt
farmhouse patio table | North Country Nest
easy flower planters | Our House Now a Home
treadmill incline | Practical and Pretty
patio side table | Small Home Soul


Pin It if you Love It!