Have I got a quick update for you today!  When I was making over my Master Bathroom I needed to find a better soap dispenser than the boring one I had that the liquid soap came in.  Of course I had to do it on the cheap because of when my friend Lisa at The Purple Hydrangea first suggested this challenge the budget we all agreed upon was $100.  I with only $100 I knew buying a new one was pretty much out of the question.  Thankfully I remembered I had a foaming soap dispenser in the garage that I almost got rid of.  It worked ok but it was brown and boring.
I'm happy to show you how to give an easy update to your boring soap dispenser with paint.  I've used paint to makeover so many things in my house, like my TV Console, and these beautiful nightstands for my daughter, just to name a few.
Here's the soap dispenser before, it looked ok but it didn't look great in my newly updated bathroom.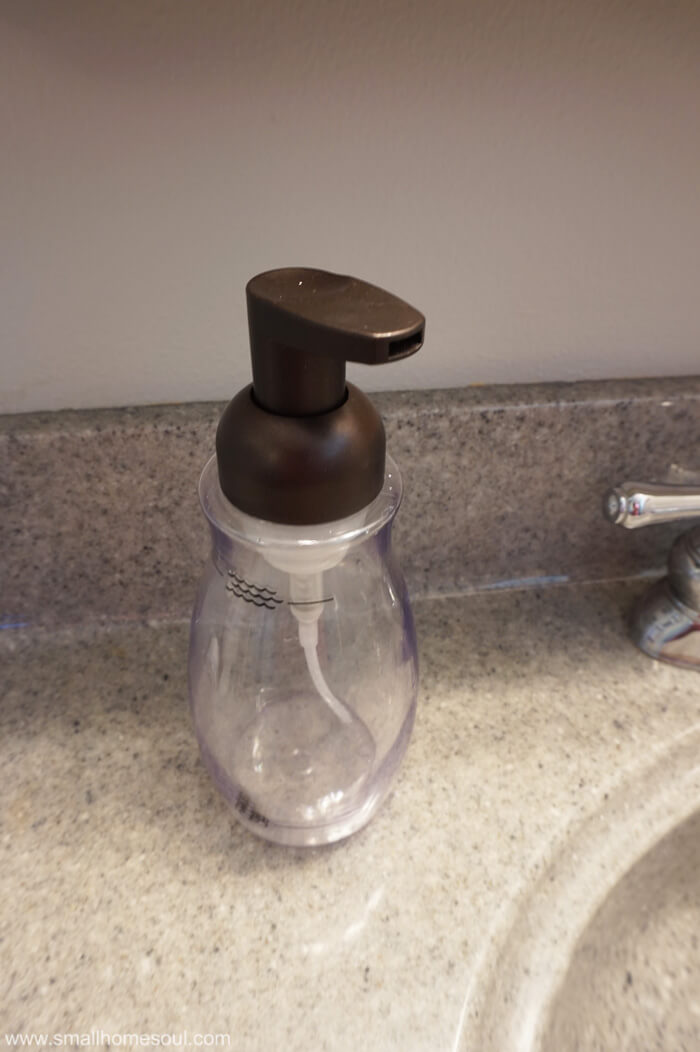 This post contains some affiliate links for your convenience.  You can read my full disclosure here.
Soap Dispenser Makeover Supplies
Soap Dispenser – The Update
Unscrew the top from the bottle and slip the collar piece away from the plunger portion of the pump.  Pull out and set aside the uptake tube.  Replace it with a large nail or a chopstick so after it's painted you can stick it into a cardboard box to dry.
With blue painter's tape cover the underside of the pump head and wrap a bit around the nail.  Next roll a small section of tape so that the sticky side is on the outside.  Now slip the tape roll into the hole where the soap comes out.  This allows you to paint the end of the dispenser and keeps the paint from going where you don't want it.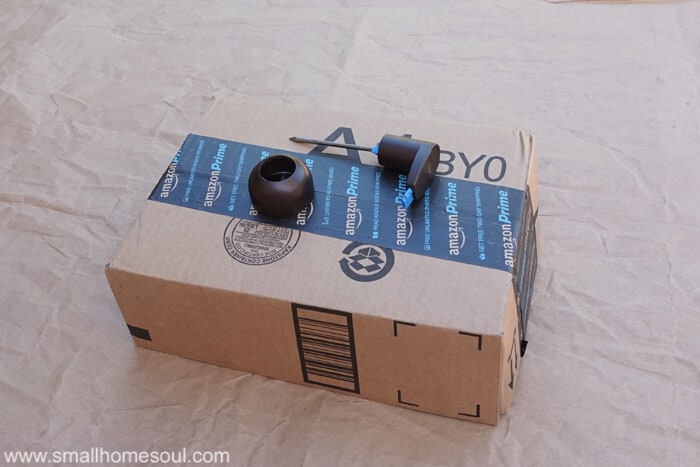 With a glove on one hand hold the collar of the dispenser and spray with the glossy black paint until it's covered.  It's best to use a back and forth motion across what you're painting with a few light coats to avoid drips.
Next, and while the black paint is still wet, spray lightly with the Antique Nickel across the black until you get the desired look.  It's ok if it's not perfectly uniform, that adds to the uniqueness of your updated soap dispenser.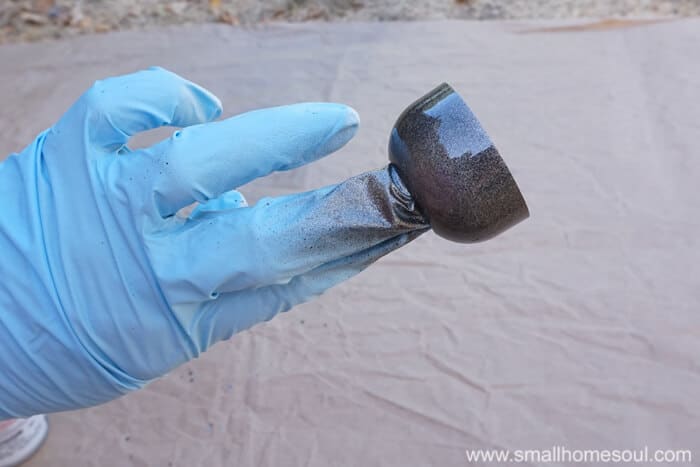 Follow the steps above on the pump portion of your soap dispenser.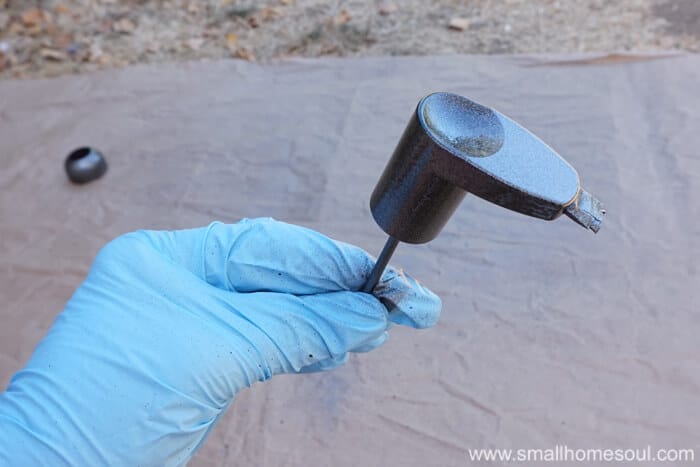 Stick the nail end into a cardboard box to dry.  The last step is to frost the body of the soap dispenser.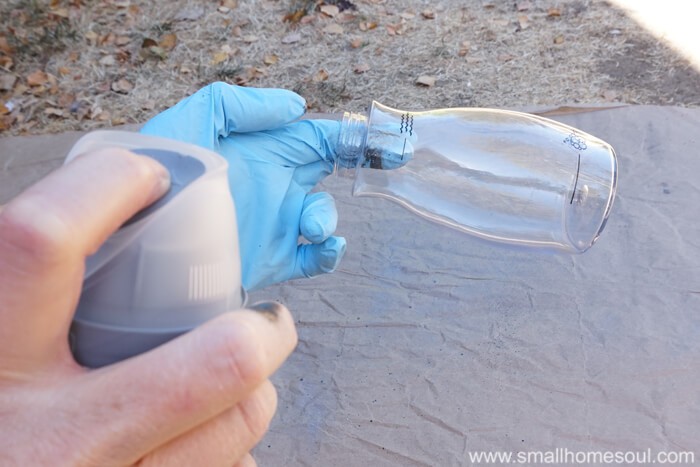 Grab that can of Frost Paint and get busy spraying that plain-jane bottle.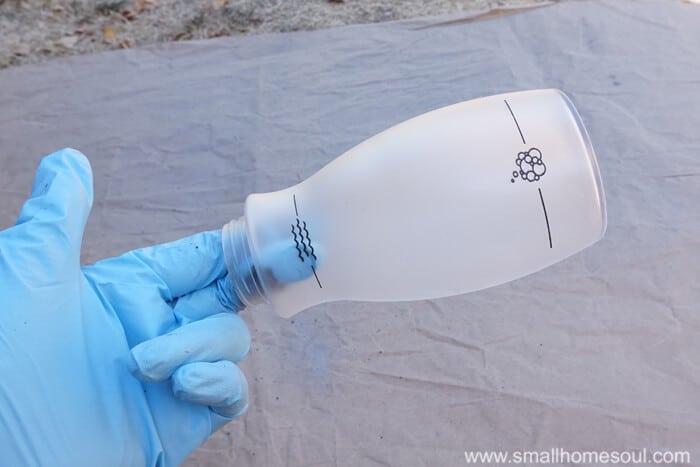 Set everything aside to dry overnight.  The next day assemble and fill your newly updated soap dispenser.
Just look at that beautiful finish!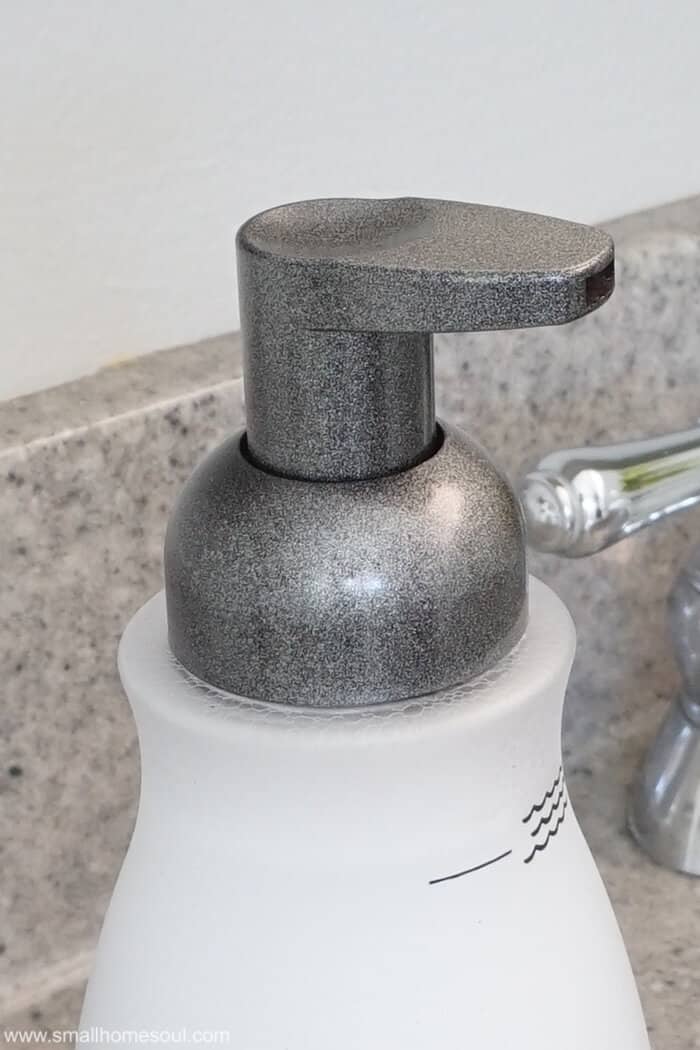 A much better fit for my new bathroom than the old boring brown one.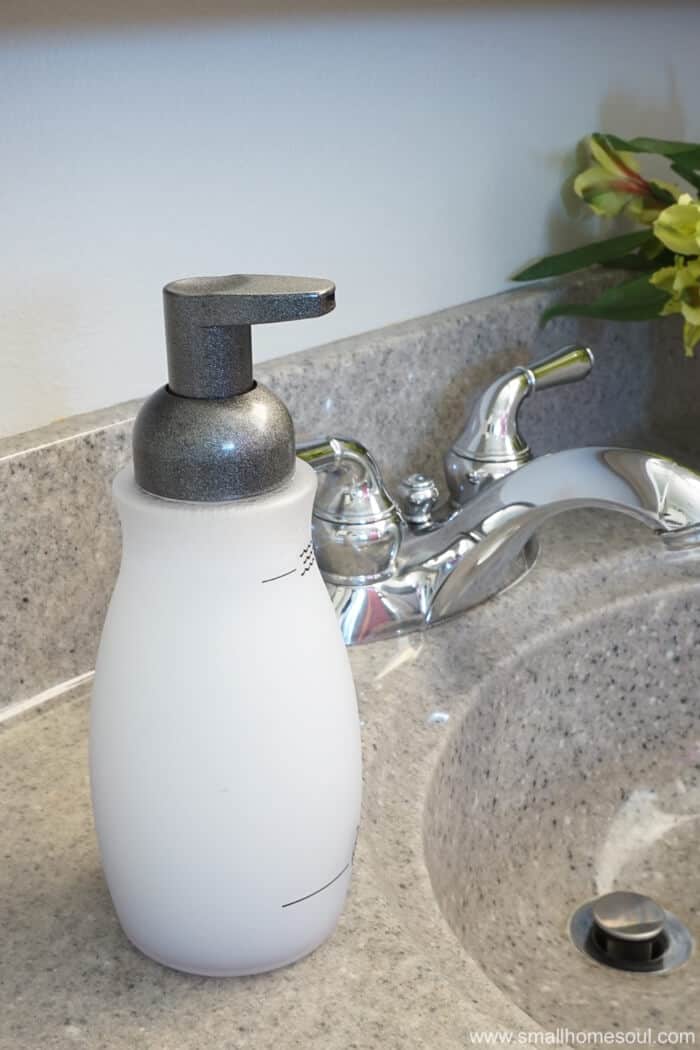 That's it, it's that easy.  Now, go look for your old soap dispenser and get busy painting.  But first, don't forget to Pin it so you can refer to it when you're ready!
What easy updates have you done with paint?  I'd love to hear all about them so don't hesitate to leave me a comment below.
If you liked this project you might also like:
Mirrored Milk Bottle Centerpiece