I have some exciting stuff to share with you today. I've been waiting to share it for a little while but the timing wasn't right. The stars finally aligned so today I'm giving you a tutorial on How to Install Shelves in your home for a big impact.
I installed shelves in my living room recently on either side of our TV Console and I know lots of people might wonder how to install shelves on walls the right way. So I thought I'd share this tutorial and help out others who might want the same look.
This project was sponsored by HomeRight. They understand a DIY blogger's life and how we love to share our tools with our readers. So they generously provided me with HomeRight Finish Max Fine Finish Sprayer and their Small Spray Shelter.
I'd already bought the the Large Spray Shelter but the small one sure came in handy for my Mirrored Milk Bottle Centerpiece.
I'm so thankful to them for giving me the Sprayer and I'm happy to share my experiences and review with you. All opinions expressed on my blog are my own and are not influenced by others.
A few of my blogging friends also received sprayers and/or a Spray Shelter so we decided to make it a group project. We're all sharing a project today that we completed with one of the HomeRight products.
Look for the links to their projects at the end of this post.
Are you ready for me to show you how I installed my shelves? Here's my before, kind of boring, right? Well, boring except for that awesome TV Console from a Dresser I madeover a year ago.
Wait until you see the after of this wall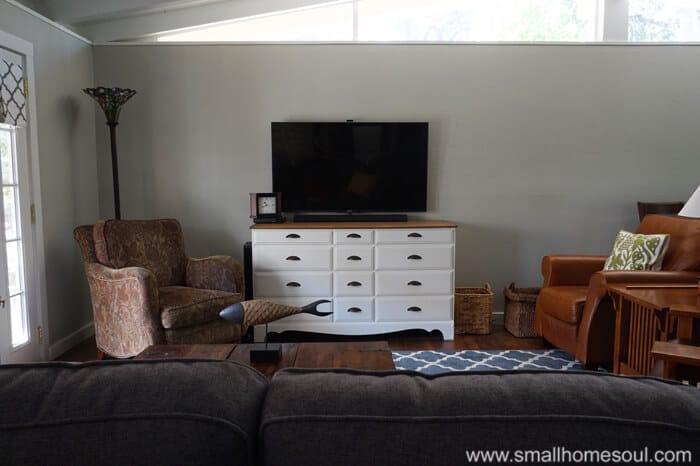 When we repainted the inside of our house last summer I knew I needed something with big impact. I didn't want any more bulky furniture in my small house so I decided on shelves.
I wanted floating shelves but then thought about the industrial look with plumbing pipes. I was surprised how quickly the cost of the pipes adds up.
Since I planned to do five shelves on either side of the TV console (because odd numbers are more pleasing to the eye and three wasn't enough) that quickly became a no go idea.
This page contains links to products, if you purchase something after clicking on my link I may earn a small commission (at no extra cost to you).
I found a nice, simple-style shelf bracket at Lowe's that cut the cost of the hardware down from $200 (yes plumbing pipe isn't cheap) to only $100. They're Art Deco style but I like how simple they are.
I bought 10 packs of 2 at $9.99 each, a bargain. They didn't come in the color I wanted so I painted them. Matching the hardware to the pulls on the TV Console was my goal so I gave them a coat of Flat Burnished Amber.
Here are some similar style shelf bracket to what I used that I found on Amazon. I used Blue Hawk but I can't find them on Lowe's website.
Shelf Material
For our shelves I bought clear 1″ x 10″ pine boards and had them cut in 30″ lengths at the hardware store. They are happy to make some cuts for you.
Just make sure you know your dimensions before hand. The lumber cost was around $60 for three 10′ lengths. So far the cost to install shelves this many shelves is around $160, plus a little more for screws, and paint.
Priming and Painting
It's time to prime and paint. I set up my large Spray Shelter in the front yard and got busy.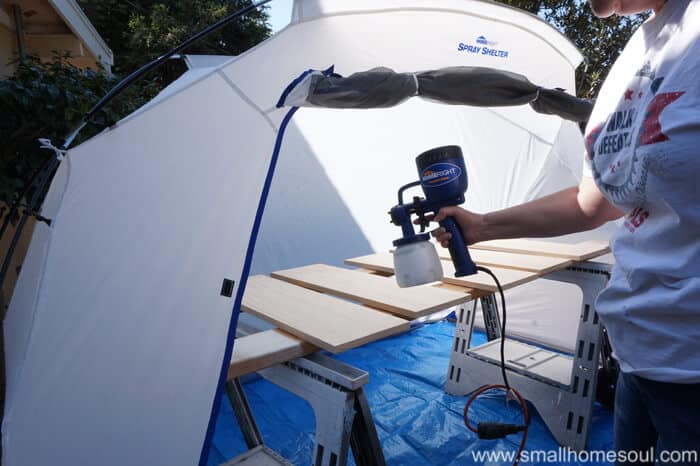 You can see how well this sprayer works in the demo I did on Facebook Live below. The HomeRight Finish Max Sprayer works great and it saved me so much time! It covers well and the finish is smooth as glass.
The sprayer has an adjustable dial for how fine you want the spray to come out, and you can change the direction of the spray from vertical to horizontal easily.
There are instructions for thinning your paint and primer, and it comes with a viscosity tester so you know when your paint or primer is thinned enough. My friend Tonya at Hey There Delyla made a handy video you can watch.
Using a Spray Shelter there's no more fly away paint in the windy yard and no more bugs landing on my freshly painted stuff. We had such an issue with bugs when we painting our Murphy Bed Project.
After the shelves were painted and drying I got to work installing the brackets. I have some tips for making this process as easy as possible.
Finding the Studs to Install the Shelf Brackets
Use your stud finder to locate the studs in the walls where you want to install your shelves. In most construction the studs are spaced 16″ on center. This means that once you find the center of one stud, the center of the next one will be 16″ away.
Using your stud finder follow the instructions to first find the left edge of the stud, then follow the same steps to find right edge.
Make a pencil mark in the center of the stud. You'll need this as a point of reference
Now measure 16″ to the next stud. Use your stud finder to double check your positioning.
Marking Studs for Shelf Brackets
Step 1: Mark the Left Stud
After you find the center of your studs use your 4′ Level to draw vertical lines lightly with a pencil up and down the wall over each stud where your shelf brackets will be installed.
On the left stud, starting where you want the top shelf to be draw a dot over the pencil mark.
Measure down the desired distance to the next shelf and make another mark.
Continue measuring and marking on only the left stud until you've made a mark for all the shelves in that area. My shelves are 13″ apart so I measured down 13″ between the dots I made.
Step 2: Marking The Right Stud
Stick a long piece of painter's tape across the top of your Level and make two marks at the edge 16″ apart.
Line up the left dot on the tape to the dot on the wall.
Hold it at that mark while adjusting the other end of the level until the bubble is in the center.
The level bubble should be in the center AND the left dot on the tape aligned with wall dot.
Make a dot on the right stud directly above the right dot on the tape.
Here's a picture of how we did it (duh, sorry we were marking in the opposite manner but you get the idea)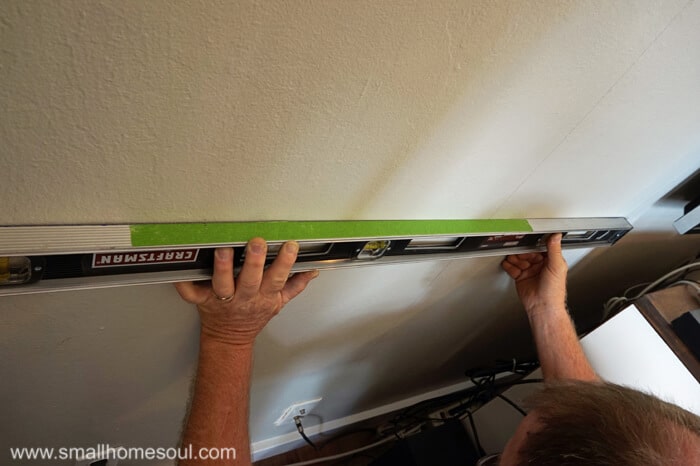 How to Level Side-by-Side Shelves
When you install shelves on opposite sides of something it's important that they're level from side-to-side. Measuring off the floor isn't always an option if you have an older sloping floor like mine.
We tried an inexpensive laser level but our old wonky walls made that a fail. As a last resort while, we still had some hair, we used the 4′ Level to draw a faint line from the dot for the top right-side shelf, across the top of the TV, to the stud for the left side shelf.
Follow the steps above to mark the remaining shelves on this opposite side. If you're only installing one set of shelves, yay, you are d-o-n-e! Now you get to install the brackets 🙂
Installing the Brackets
Follow all these these steps and your brackets will be in, perfectly, in no time.
Set the Top of Each Bracket
On each of the dots you made for your brackets, use the

Scratch Awl

to make a 1/8″ deep indentation. This will ensure your drill bit gets a good grip and makes the holes exactly where you want them.
Use your cordless drill and a drill bit slightly smaller than your screws and pre-drill all the holes.
Change the drill bit back to the phillips bit and screw in the wood screw leaving them out about 1/4″
Slip the shelf bracket over the screw and continue to screw them in until they are snug but not too tight.
Use your

12″ Leve

l and the end of a screwdriver or mallet and adjust the bracket left or right as necessary until level vertically. Tighten the screw so the bracket doesn't move.
Depending on the style of your brackets you might need a hand screwdriver or an offset screwdriver to tighten the screws.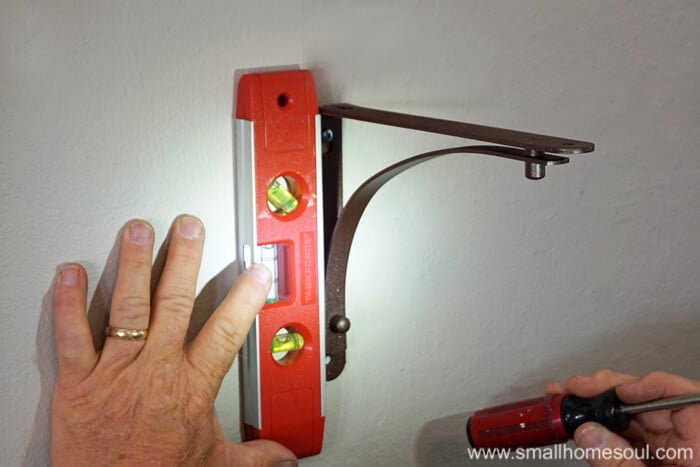 Attach the bottom of the bracket
Once all top bracket screws are installed check level again as you go.
Pre-drill the bottom holes and install the second wood screw so they are securely fastened with two screws each.
Watch your head as you do this process.
I did a dry run and started with the top shelf on either side of the TV first to make sure they were level across. As you can see we have a lot of angles and I wanted to be certain they were level before I committed to making all the holes.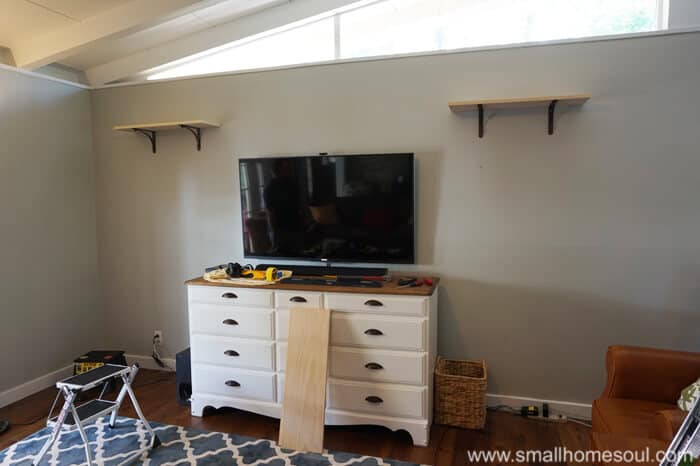 Shelf Installation
Ok, we're getting close to the finish. The edges of the shelves should line up nice and neat or your OCD friends like me will go crazy. My shelf brackets are 16″ apart and my shelves are 30″ wide so I had to do some math to figure out the right overhang on either side. Once I did the first one the others were easy with this ingenious tip 🙂
How to install shelves that line up
After you center your first shelf use the 3/4″ screws to secure the front of the board to both brackets.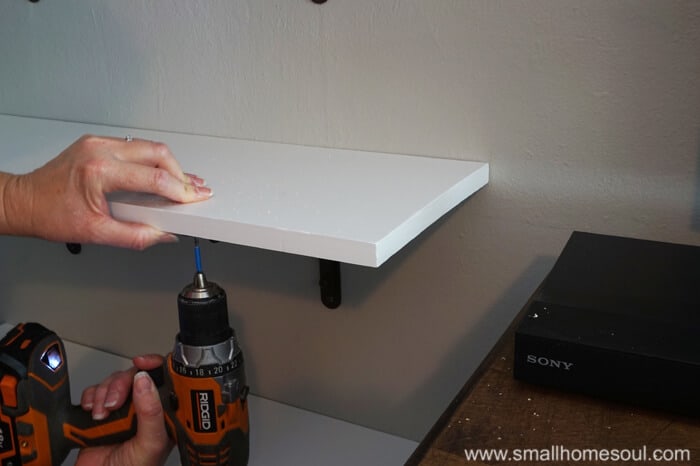 For the next shelf use your 2′ or

4′ level

. Hold the level to the board you just screwed to the bracket and adjust the shelf below it until it is also level. This will ensure your shelves are plumb, or vertically aligned.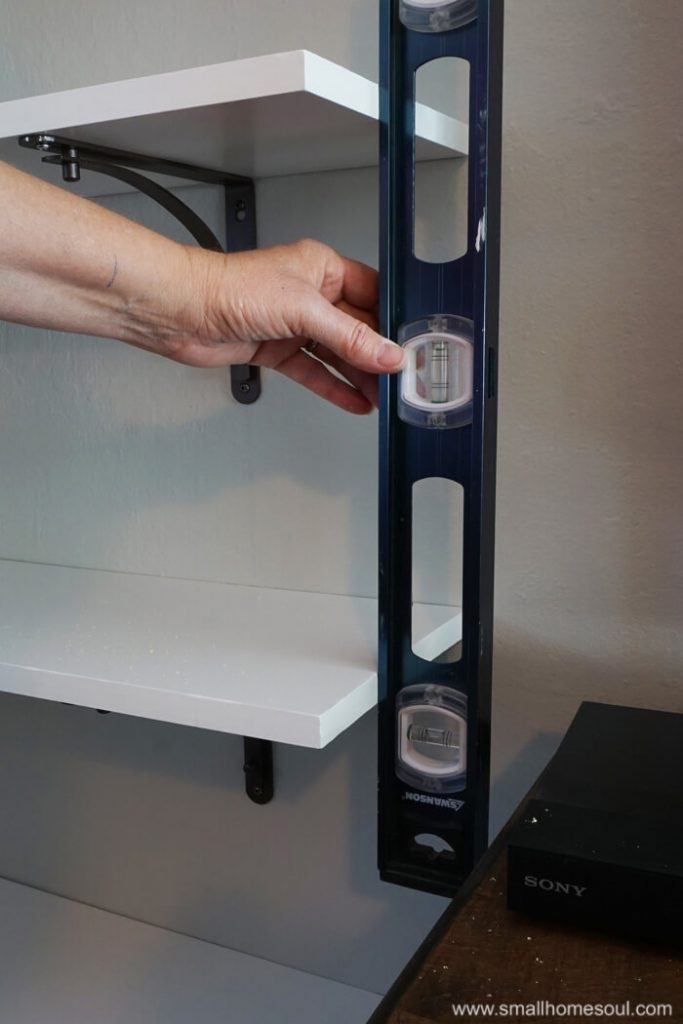 Hold the shelf in place and attach it to the brackets with screws
Continue until all shelves are attached.
And voila! It seems that there are a lot of steps to install shelves. There are but they aren't hard steps; and it'll go quickly if you follow the steps above. I (ok we because my husband was a huge help) did all the hard work to make it easier for you.
Style Your Shelves
Now you get to do some decorating and staging 🙂 oh happy day!! It can take a little time and tweaking to get the look you want but this is a good start. The impact on my living room is crazy good.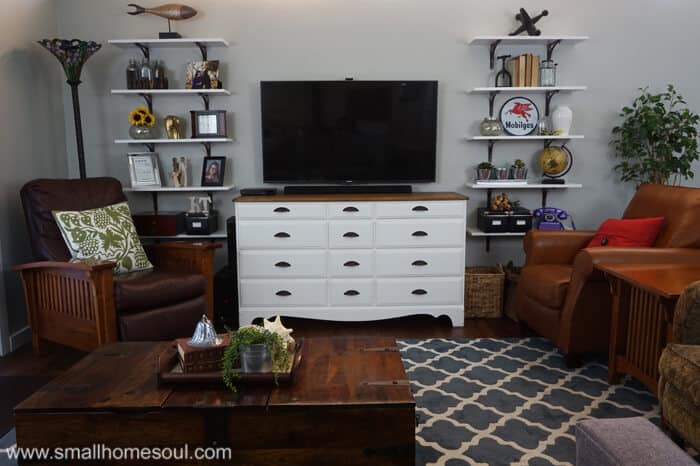 I was worried I wouldn't have enough stuff to fill the shelves but my friend Susie from The Chelsea Project told me to shop my house so I did. Smart lady, thanks Susie!
I have some favorite things I've mixed in. One of our family pictures that love, the Letterpress Nameplate I made, and the "Sisters" figurine from Willow Tree that my sister Michelle gave me. Oh, and the Navy humidor given to my husband by one of his customers. It's more stuff to dust but I don't mind it when it makes me this happy!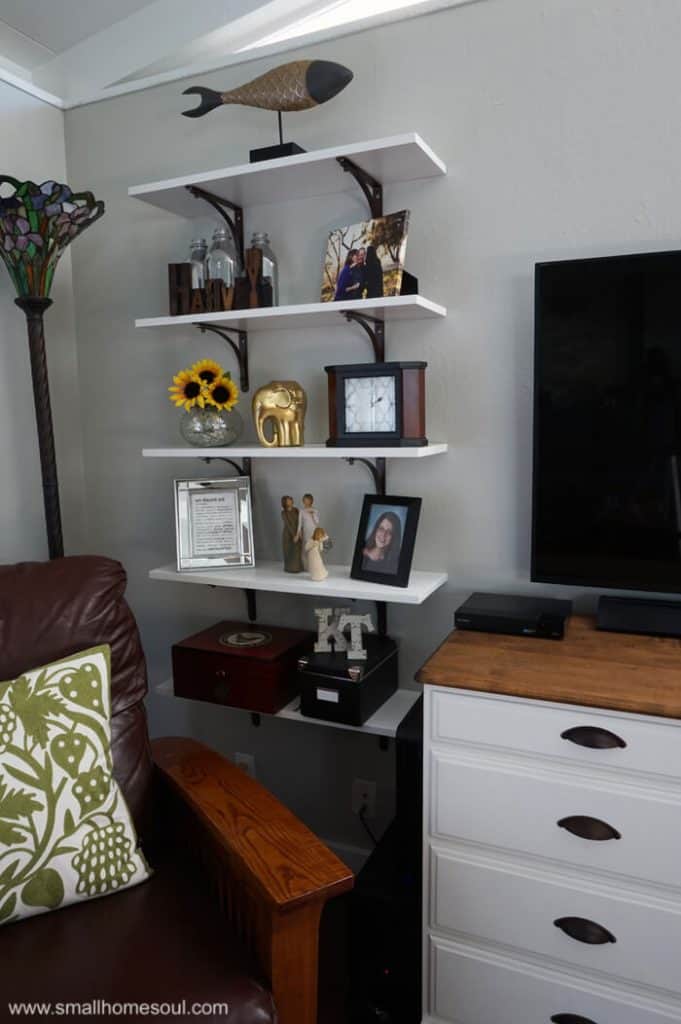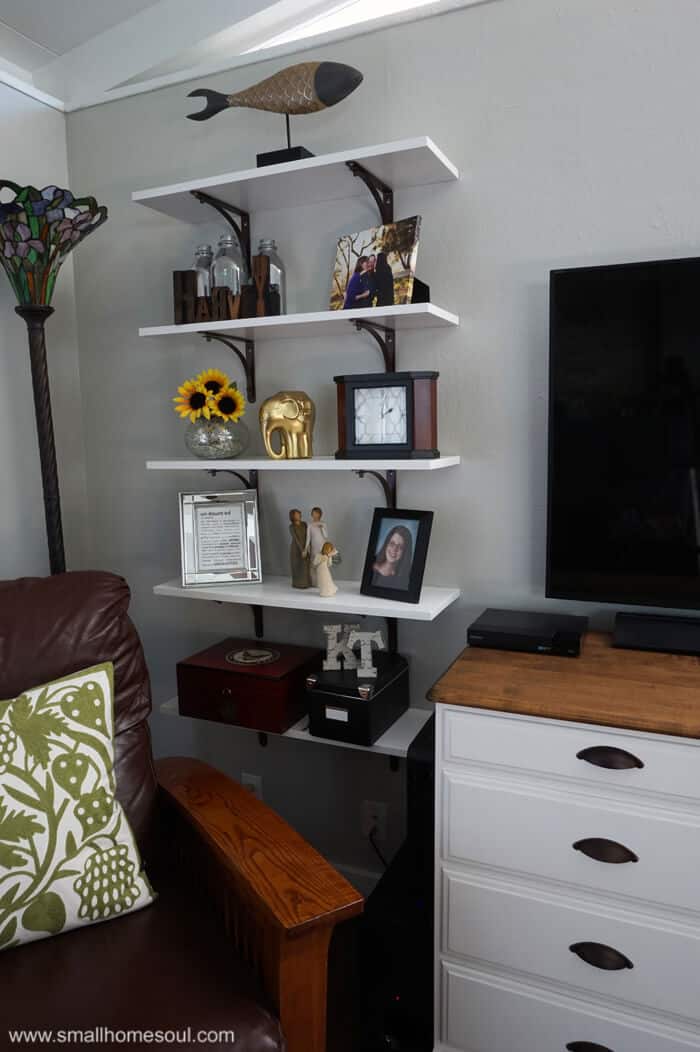 On the other side is the giant jack that reminds me of my dad. He was always stepping on the ones we forgot on the floor, oopsie 🙂 He also owned a Mobil Gas Station with my uncle. That clock makes me feel like I still have a part of him with me.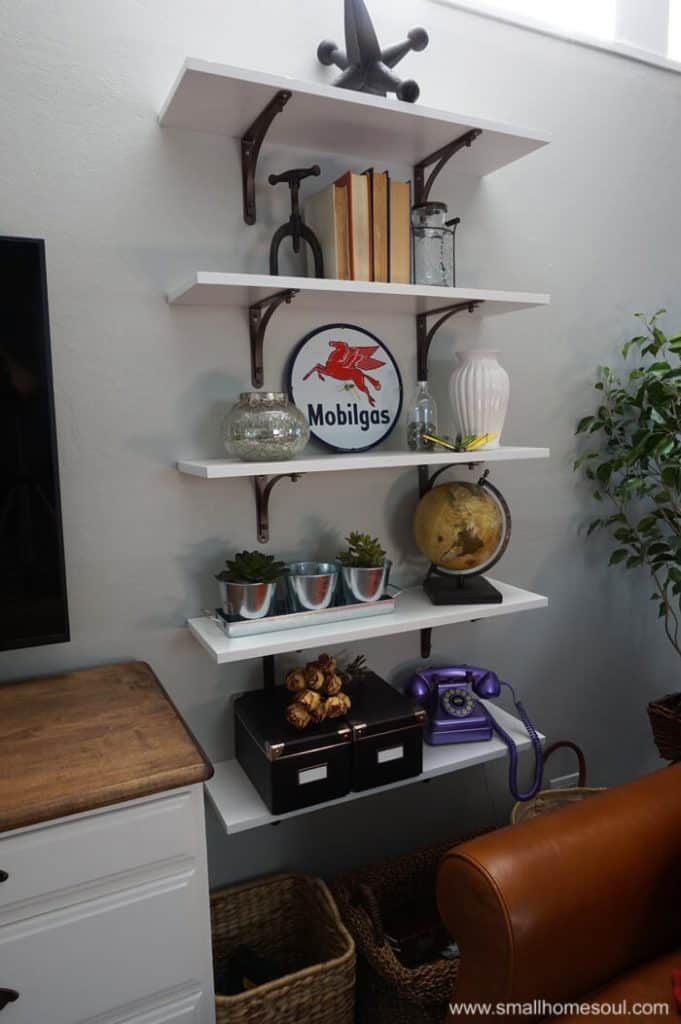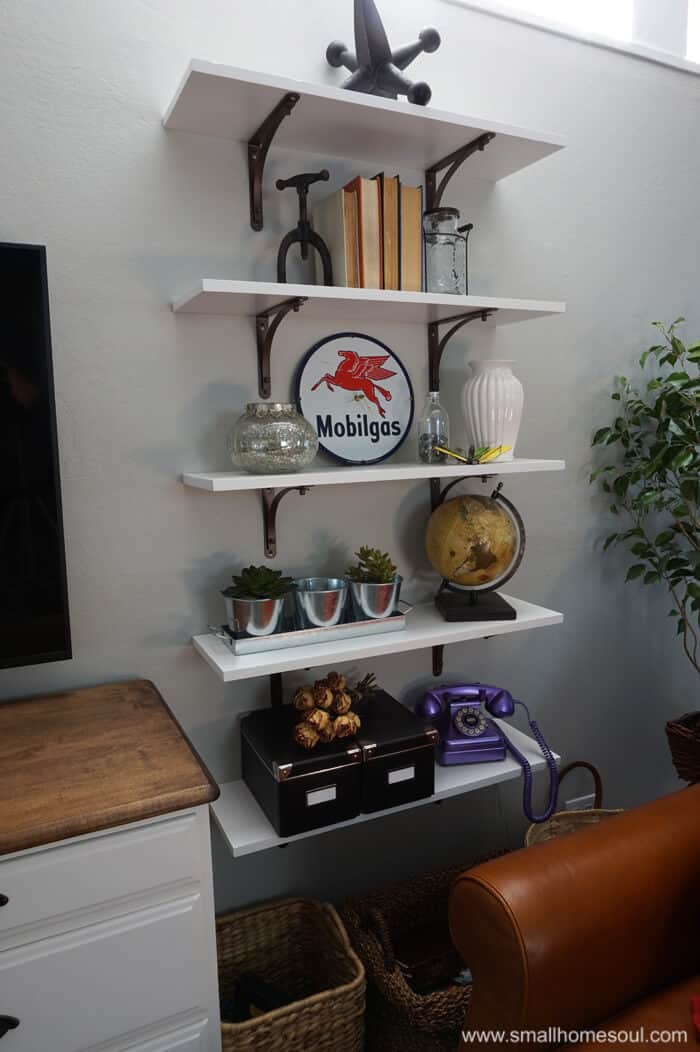 It's not difficult to install shelves when you have tips for dealing with bumpy walls, and the math that makes it much simpler.
And of course, don't forget to Pin it 🙂
Now check out what my friends did with their HomeRight products.
Check out the awesome projects my friends linked up: