Can you call a decorative wall that's not behind a sink a backsplash? Well, I think so and I can't wait to show you how I created this Dollar Store Glass Backsplash I installed as part of a larger bathroom makeover.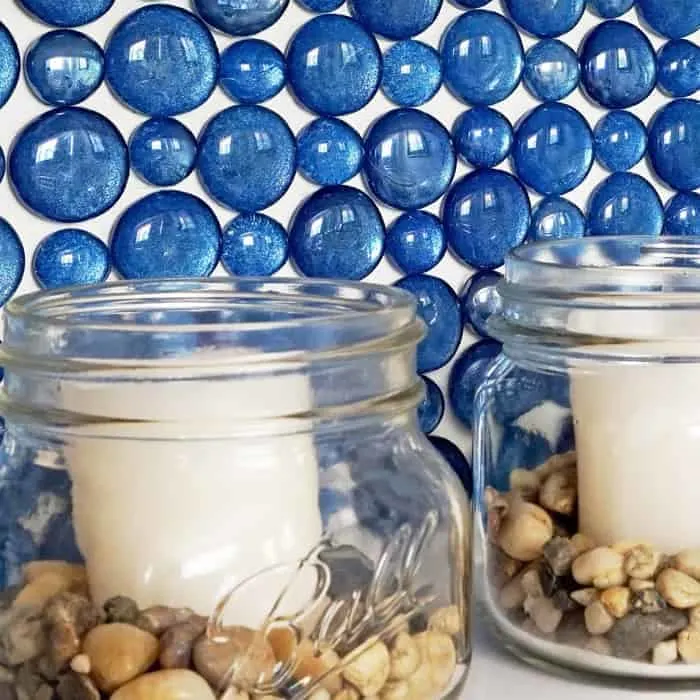 It's so frustrating when you spend hours and weeks working on a project and while assessing all your hard work you realize there is no "wow, awesome, love it," feeling. That's what I was feeling as I was at the frantic end of my $100 Master Bathroom Makeover project.
I had absolutely no idea what I would do to pull the entire bathroom together. I'd painted the TP cabinet white but it looked, meh. What to do, what to do? Then it hit me as I walked through the garage to the front yard. I would install a glass backsplash on the back of the TP cabinet.
Ok, maybe it's not technically a backsplash since it's not behind a water source; but for lack of a better word that's what I'm calling it 🙂
I sometimes do my best work with a looming deadline and thankfully this was one of those times. When a great idea strikes you just have to run with it.
This post contains some affiliate links for your convenience. If you make a purchase through one of my links I may make a small commission.
Glass Backslash Supply List
I'd been holding onto a stash of glass beads that you can get at the Dollar Store. I'd used them for a few parties, and for other craft projects so what was left over I kept in a bag in the garage. Thankfully I had them so they didn't go against my $100 makeover budget allotment.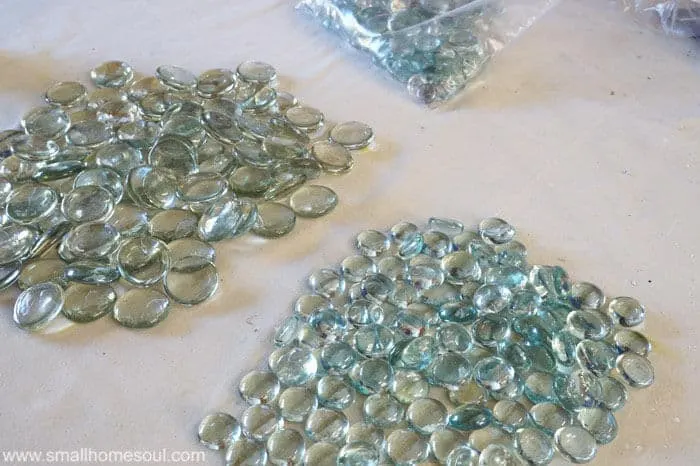 Step 1: Pick a backsplash pattern.
I dug out a bunch in different sizes and did a dry fit on the back of the open shelf. Crossing my fingers to see if my plan would work. This also helped me figure out how many I needed.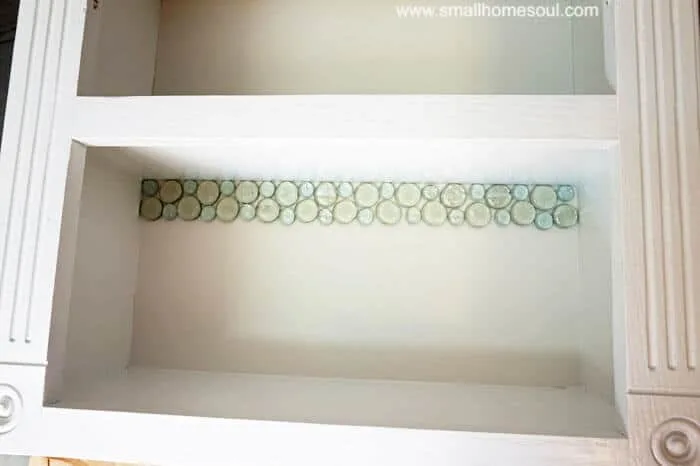 It turned out to be 88 big and 88 small beads. I had enough and some left over just in case.
Step 2: Paint the glass beads.
I knew I needed to glam them up so they would really pop. And I knew exactly what I was going to use and how I was going to do it. Since I already had my spray shelter in the front yard I just took my beads and a can of blue metallic spray paint and got to work painting the backs of the beads.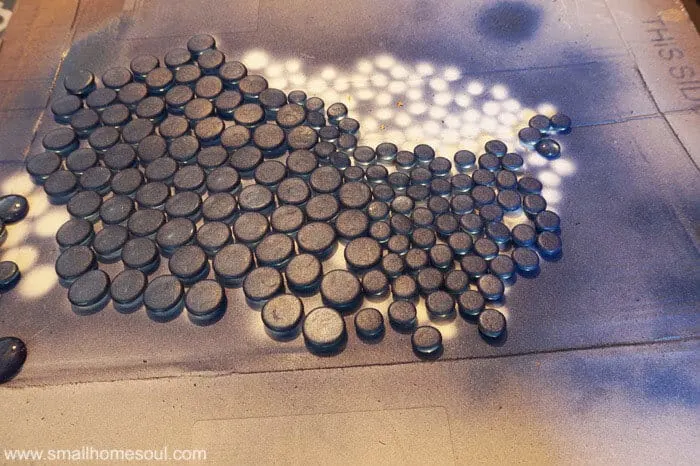 I love metallic spray paint, I used it for the coolest effect on my bathroom light makeover.
I put on a few coats of paint because I wanted the look to be rich and make sure it showed through the thick glass bead. After they were dry I cleaned up the edges that had a little bit of over spray that drifted between the beads. If you're going to grout your backsplash you can skip this step.
Installing your Glass Backsplash
They are looking awesome already and I haven't even started applying them.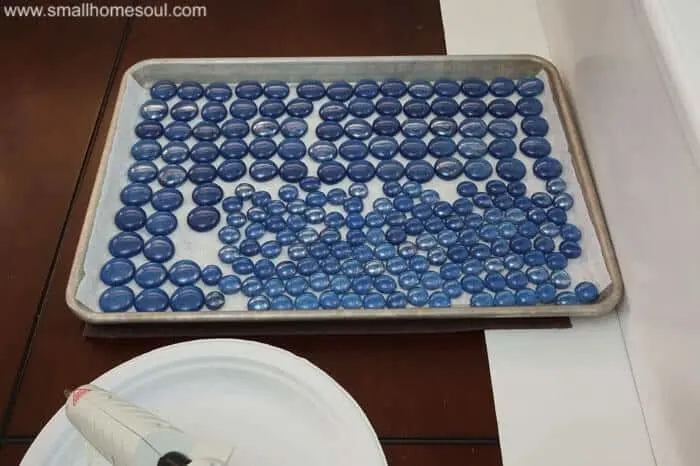 I practiced with a few extras on a paper plate so I was sure they wouldn't pop off the cabinet wall. That would be a huge bummer. So you can see I got out my glue gun and got to work.
Step 3: Attach painted beads with hot glue.
Word of Caution: for the last few projects I've used a high temp glue gun because the gun is bigger. I'll spare you the pictures of my ugly blisters. A few times the beads slipped and that hot glue stuck to and blistered my fingers. Thus, the cold bowl of water in the supply list 🙂
Oh look at that, my ring finger before the injury. I think my fingerprint might actually be altered LOL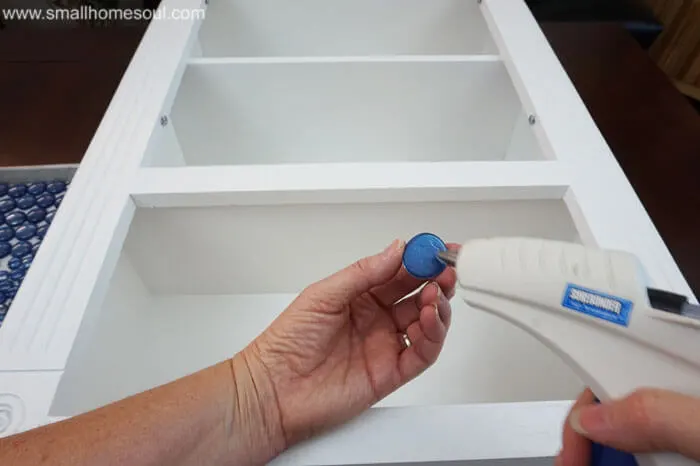 The fit was almost perfect but these glass beads aren't the same sizes. As I glued them in I had to make sure my spacing was good. It would stink if I got to the last bead in a row and ran out of room.
I kept gluing large then small alternately until I got all of the rows finished.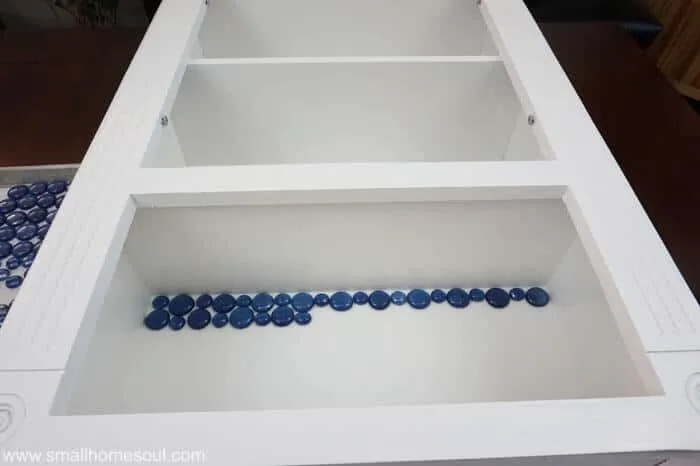 More Glue Gun Projects
Paint Stick Photo Frame – Button Magnets – Faux Succulent Planter
I love love love how it turned out! There are a few things I would do differently. I'll share that in a second.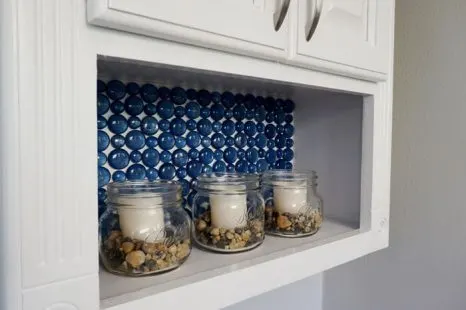 I love the pop of color from the blue in my new glass backsplash and the little mason jars with the faux flame candles! And the faux IKEA Plant in the white IKEA Kardemumma pot looks great on top.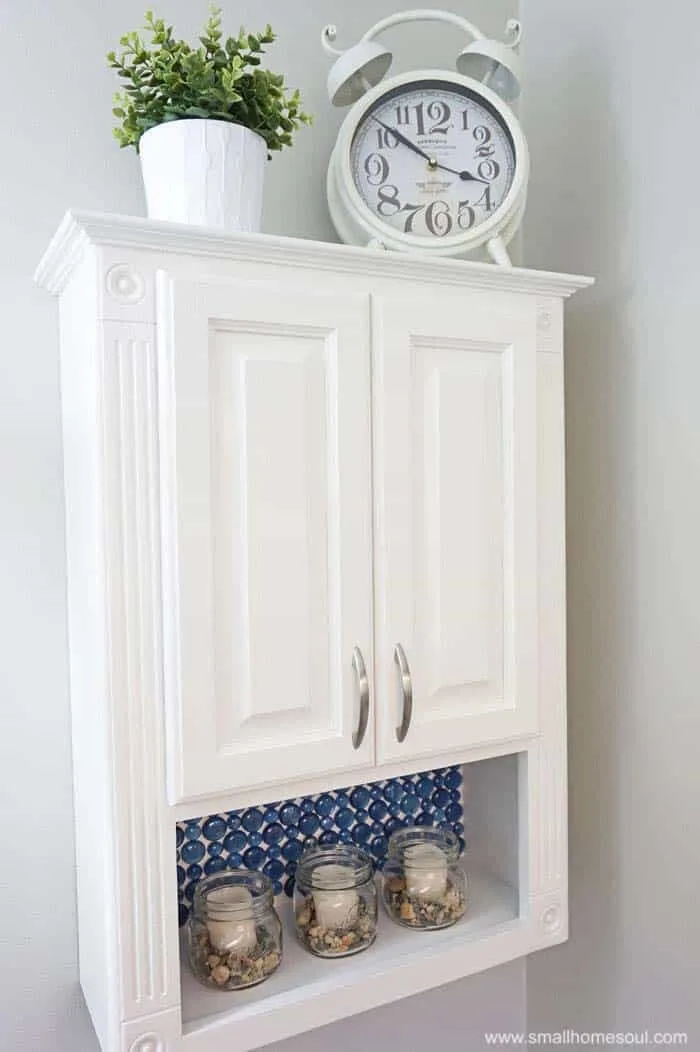 The thing I would do differently? I would apply the glass beads from the bottom edge and work up. The upper edge of the glass backsplash isn't usually visible which would hide the uneven edge of the final row.
Regardless, I love my new glass backsplash so it's a small detail I can overlook. I'm loving it! Those beads and the other changes I made in our Bathroom give it a spa feel.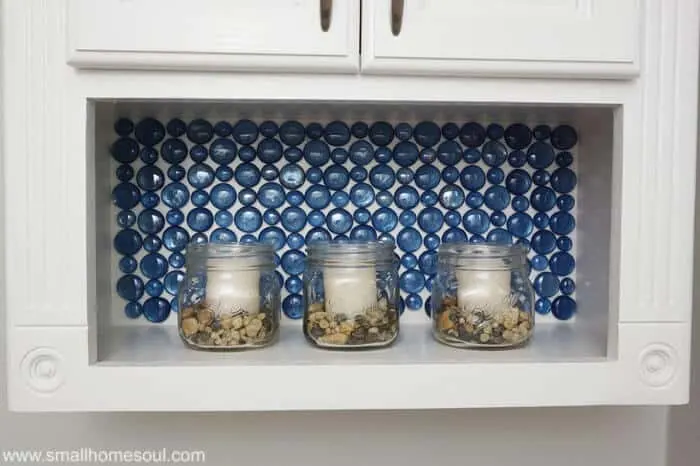 Love it! Pin it!
Until next time,
Toni
You might also like: