Hi Friends!  Creating the perfect place for craft paint can be a little challenging since the bottles are usually very small.  I have the perfect creative Craft Paint storage idea to share with you today so keep reading for all the details on how I did it.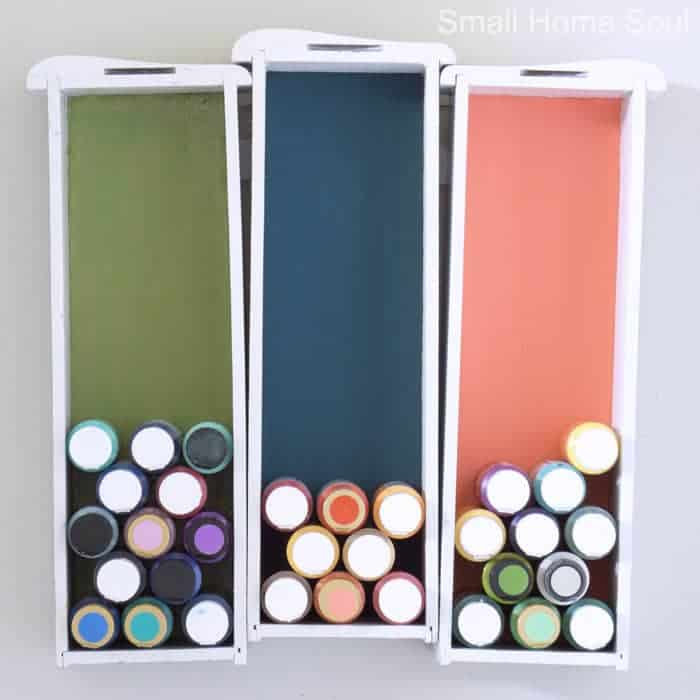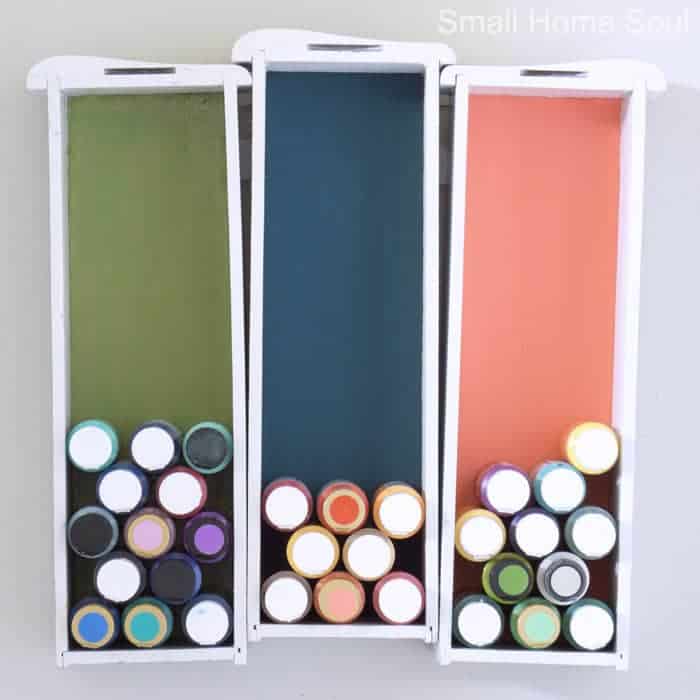 Welcome to the July Pinterest Challenge Blog Hop, hosted by My Pinterventures.  The purpose of this Pinterest Challenge is to motivate all the participants of this hop (and you too) to not just pin a project, but to make it happen!  This month, I'm sharing the Creative Craft Paint Storage you might have seen when I did my Office Makeover recently.  My inspiration came from a blogger who I've been in challenges with in the past and I always adore her projects.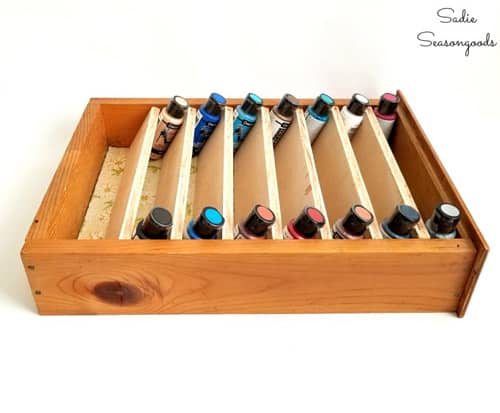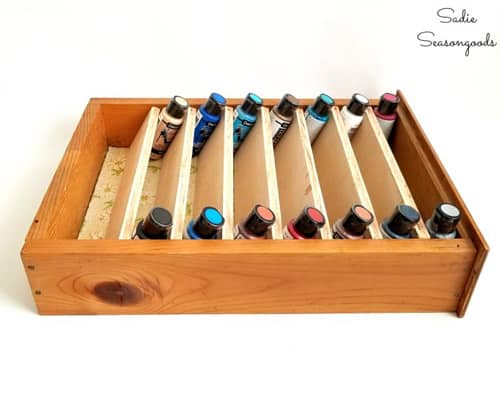 Sarah from Sadie's Seasongoods is so creative so be sure to visit her blog to see how cute her project turned out.  I bought some old sewing machine drawers at a yard sale many years ago but could never figure a good project for them.
That is until scrolling through Pinterest I saw several drawers repurposed for craft paint storage.  I really liked how Sarah used her drawers and knew that this is exactly how I'd use my old drawers too.
This post contains links to products, if you purchase something after clicking on my link I may earn
a small commission (at no extra cost to you).
Craft Paint Storage Supplies
3 Vintage Sewing Machine Drawers or similar box
Sand paper or Sanding Sponge
Craft Paint
Scrap wood or Paint Sticks
Picture Hanging Wire
I knew the drawers were narrow enough to hold the craft paint without the bottles falling over so no need to install shelves, easy peasy.  I pulled out my Table Top Spray Shelter and got busy painting the creative craft paint storage drawers.  But first a little prep like sanding off the years of gunk which was a messy job so be sure to wear a mask.
I wanted a glossy finish so I decided to use spray paint to get the project moving quickly.  Looking back I should have used flat paint or primer first to cover the old varnish/lacquer or whatever they had coated the drawers with that didn't get fully removed from sanding.  It took a few coats to get a smooth finish.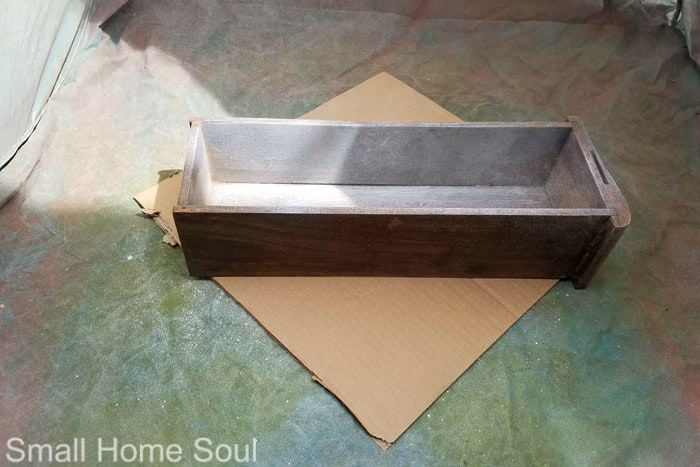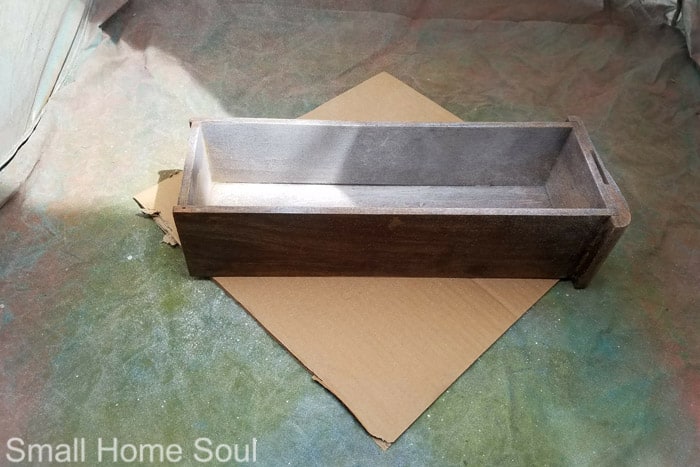 I started with spraying the inside all around and then gave the outside a good coat.  I let each coat dry about 10 minutes before I did the next coat.  Placing the sewing machine drawer on some cardboard made it easy to rotate without touching the freshly painted drawer.  And easy also to move it aside while I painted the next one.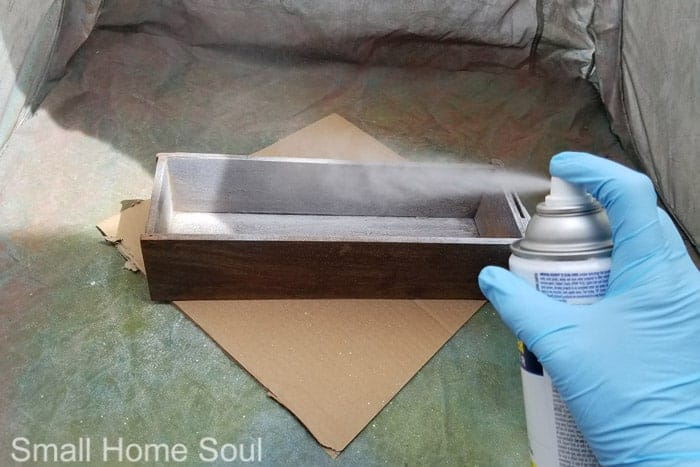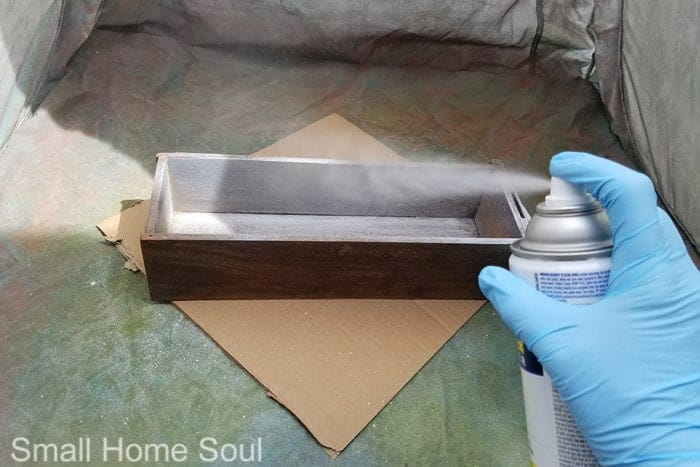 After they were all dry I taped off the inside edge of the drawers as best as I could in a very tight area and painted just the bottom of each drawer one in one of three accent colors from the new office.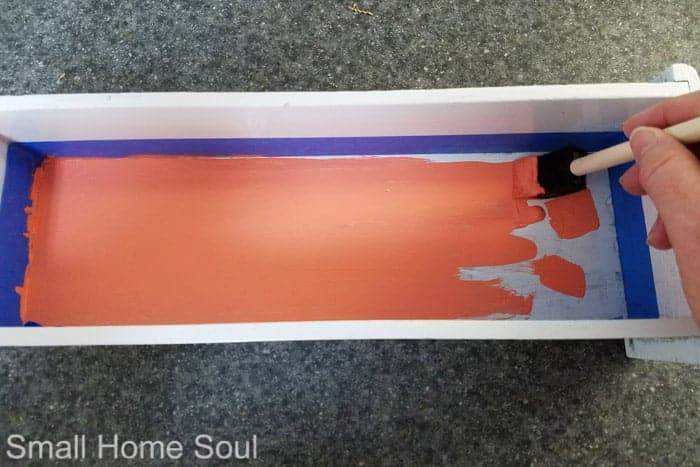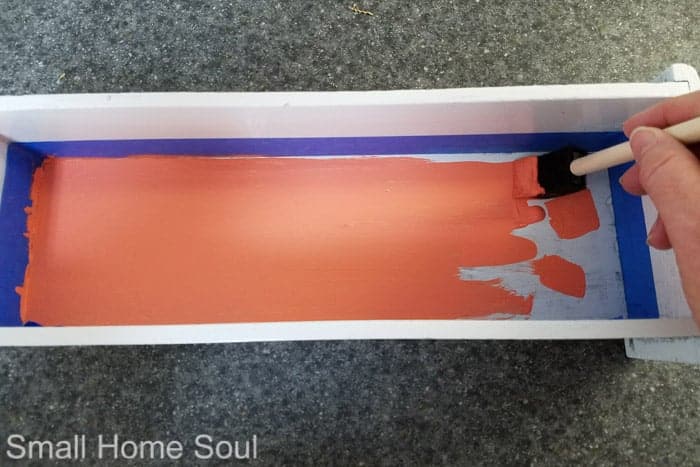 Next I had to find a way to connect them together, which stumped me at first.  I wanted the craft paint storage to remain flush against the wall when hung and I found a paint stir stick was perfect.  I painted the area that would face out with white paint so it blended better when they were hung up.
Assembling your Craft Paint Storage
Using the Powershot Electric Staple Gun I used for my Office Chair Makeover I attached the paint stick with the brad nailer option.  Holding the drawers together tightly I put two brad nails on either side of the gap and it worked perfectly!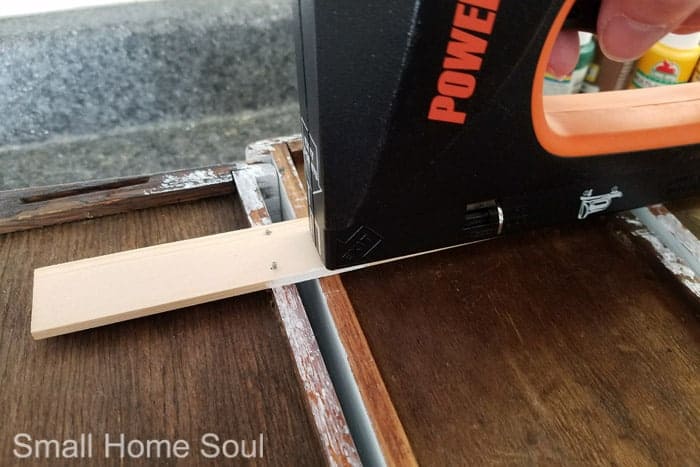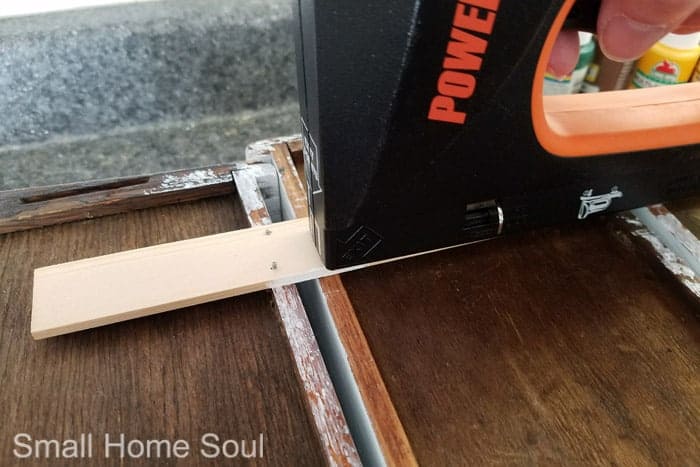 I also added a few brad nails at the bottom front where the drawers meet to keep the fronts together.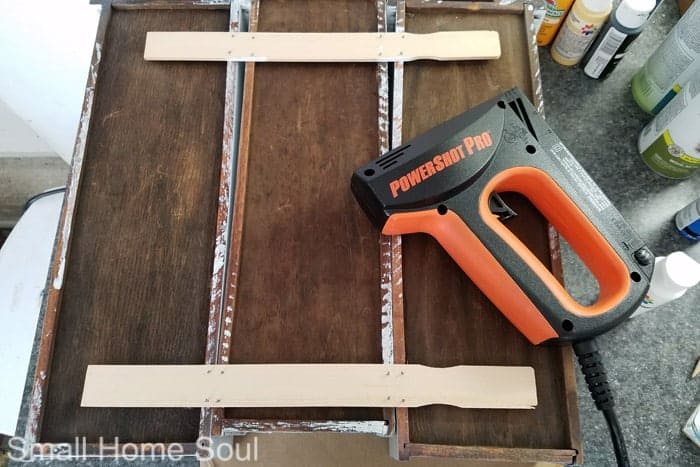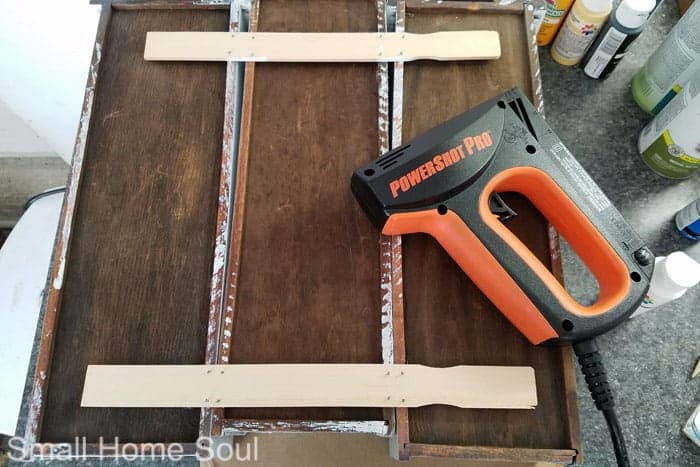 To hang it from the wall I attached strong picture hanging wire on the upper paint stick.  You'll want to use wire strong enough to hold the weight you expect your craft paint storage to contain.
Alternatively you could lay this on it's side on a desk or shelf.  I planned on it being on my desk but I like it better hung on the wall next to our Murphy Bed because it adds a little color to that corner of the room.
And that's how easy it is to make a creative craft paint storage shelf for your office or craft room using vintage sewing machine drawers.
Not counting the paint dry time this project took only a few hours to complete and my new creative craft paint storage can hold over 70 bottles of craft paint.  I have some shopping to do to fill it up 🙂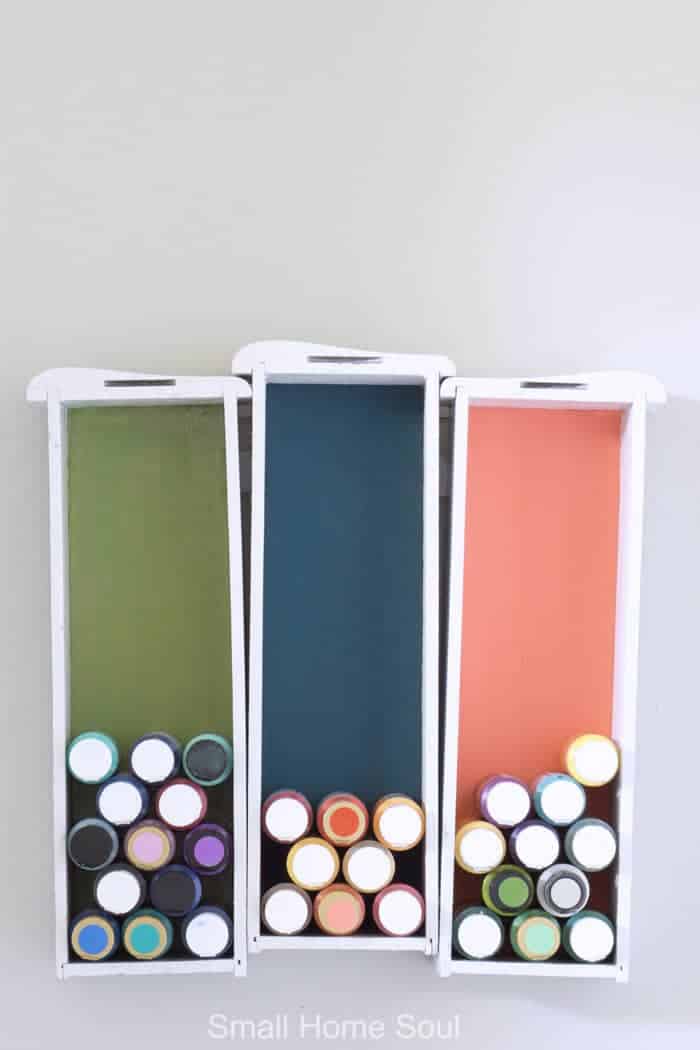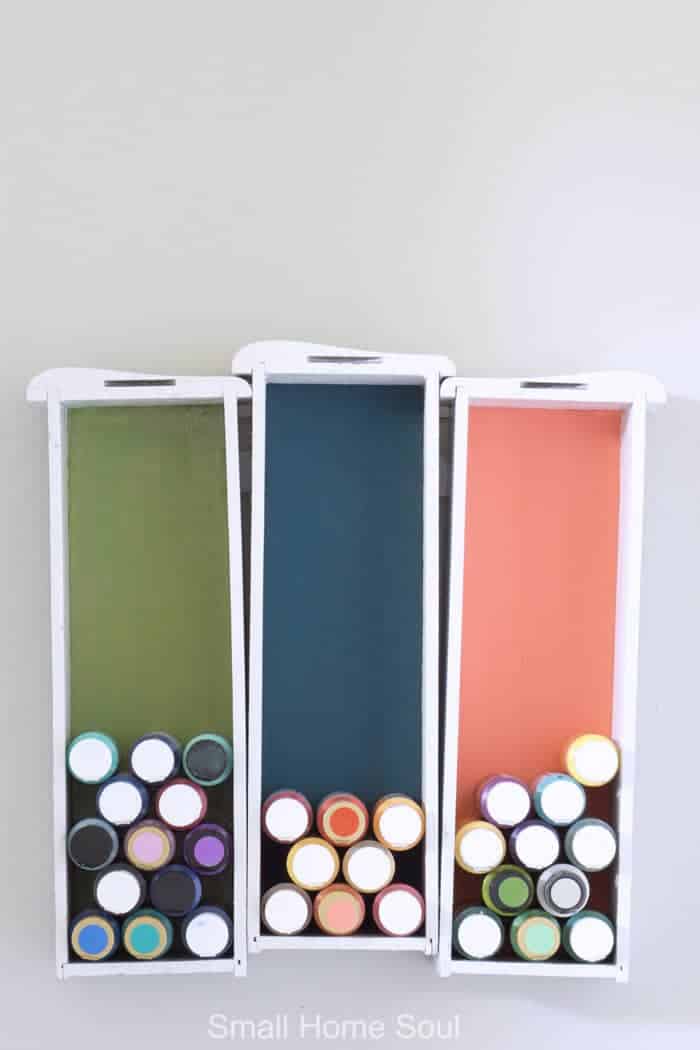 LOVE IT?! PIN IT!!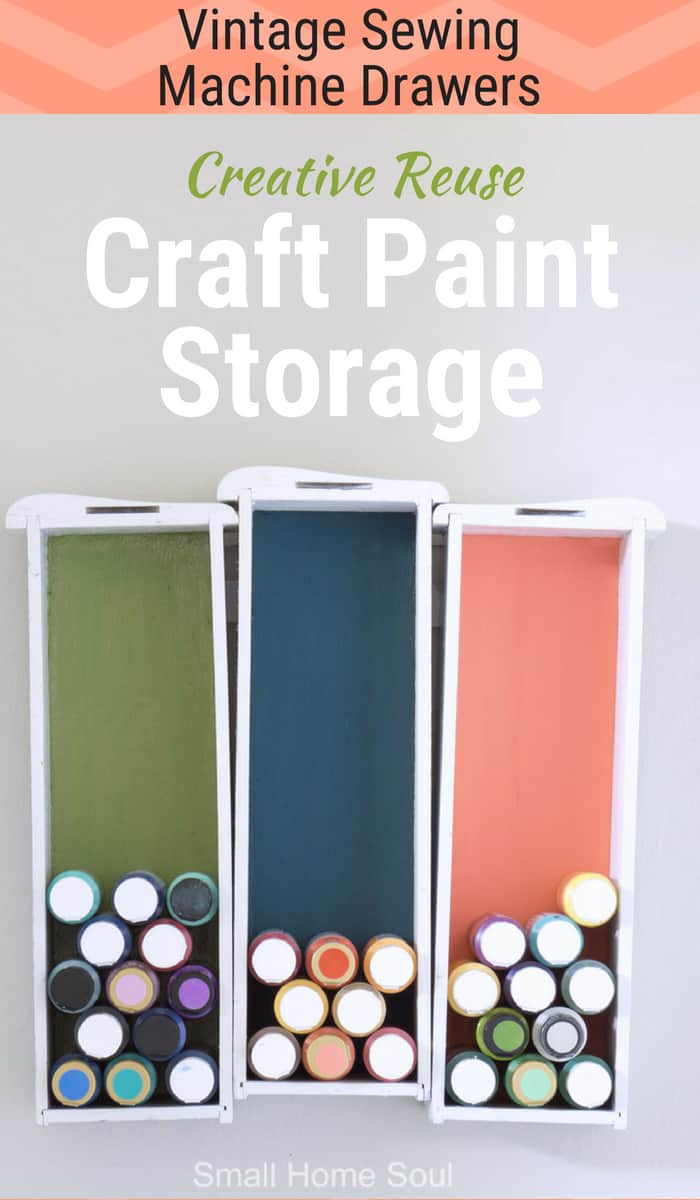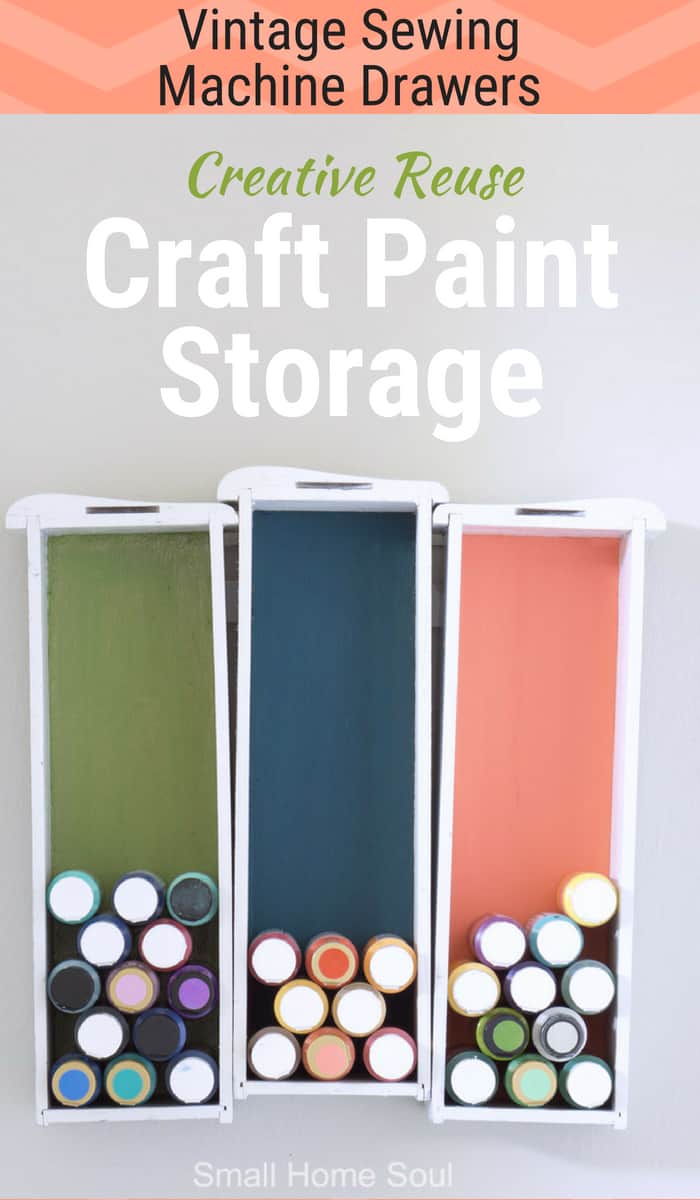 I hope you were inspired to find a creative craft paint storage solution for your office.  I love having all my paint at my fingertips when I need it and I no longer have to dig around in a drawer trying to find the right color!
Until next time,
Toni
To join next month's #pinterestchallenge, click here to sign-up ⇒ August Pinterest Challenge.
---
Now let's see what other things Pinterest inspired!  Head over and visit the other hosts
to see what they crafted,cooked, built, or tried!
Erlene – My Pinterventures • Jenny – Cookies Coffee and Crafts
Debbee – Debbee's Buzz • Laurie – My Husband Has Too Many Hobbies
Bri – Halfpint Design • Julie – Sum of their Stories
T'onna – Sew Crafty Crochet • Beverly – Across the Boulevard
Debra – Shoppe No. 5 • Roseann – This Autoimmune Life • Terri – Our Good Life
• Chelc – Inside The Fox Den • Cherryl – Farm Girl Reformed
Leslie – Once Upon a Time & Happily Ever After • Katrin – Kreativ K
Kelley – Simply Inspired Meals • Joanne – Our Unschooling Journey
Toni – Small Home Soul • Gail – Purple Hues and Me
Rebecca – Hello Central Avenue • Marie –DIY Adulation
Kristie – Teadoddles • Marie – The Inspiration Vault
Lydia – Lydia's Flexitarian Kitchen • Maria – Simple Nature Decor
Michelle – Our Crafty Mom • Emily – Domestic Deadline
Alexandra – Eye Love Knots • Sam – Raggedy Bits